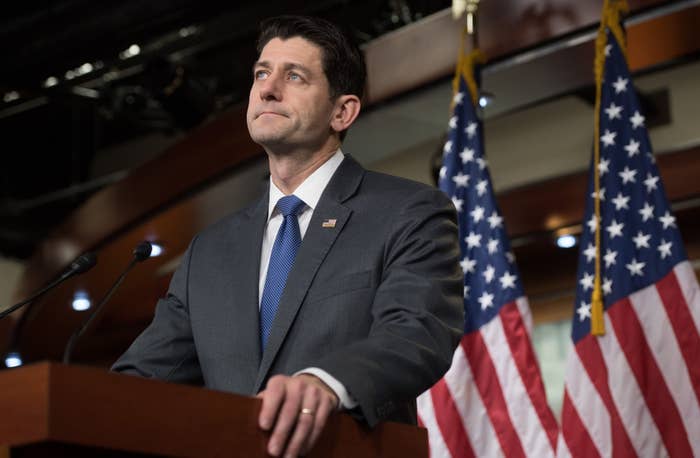 House Speaker Paul Ryan will not seek reelection to his Wisconsin congressional seat.
"You realize something when you take this job — it's a big job with a lot riding on you and you feel it. But you also know that this is a job that does not last forever," Ryan said during a press conference announcing the news Wednesday morning. "You realize that you hold the office for just a small part of our history."

Ryan, who is 48, said he is not resigning, and plans to serve his full term. "But I will be retiring in January, leaving this majority in good hands with what I believe is a very bright future," he said.
Axios first reported the news.
The speaker told Republican colleagues he would not run for reelection during a Republican conference meeting Wednesday, counselor to the speaker Brendan Buck said in a statement. "After nearly twenty years in the House, the speaker is proud of all that has been accomplished and is ready to devote more of his time to being a husband and a father," Buck said.
Rep. Ryan Costello said there were some tears in the conference meeting. Costello and other Republican members said Ryan, who has three children at home, told them he wanted to spend more time with his family, but gave no clear indication of what else he will do next.
"When you have a family and you hear him say that my father passed away when I was the same age as my daughter right now, and I spend five days here, and Saturdays I run around the district and I'm a Sunday dad, I don't want to look back on my life and only have that to speak of," Costello added. "I mean, that's — number one, how do you argue with that? And number two, that was a sincerely stated thing, and I take that for what it is."

Ryan made that argument to reporters Wednesday as well. "I just don't want to be one of those people looking back on my life thinking I'd spent more time with my kids, when I know if I spend another term they will only know me as a weekend father," he said.
Ryan has been speaker since Oct. 29, 2015, when he replaced John Boehner and began an uphill mission to unite a frequently fractured conference.

"We have nothing to fear from honest differences honestly stated," he said in his first speech after being elected by the House. "If you have ideas, let's hear them. I believe a greater clarity between us can lead to a greater charity among us."
Ryan is a prolific fundraiser for the party, which is already worried about keeping its majority heading into this year's elections. There is also now concern in the party that Ryan's decision will spur more Republicans not to run for reelection.
"It may encourage other Republicans to not run again, I think, more so than affecting the money," Rep. Thomas Massie said of Ryan's decision Wednesday. "We've already got twice as many retirements in our party as the Democrats, I think. This may be a signal that it's OK to retire, I don't know."

Almost immediately after Ryan's announcement, Florida Rep. Dennis Ross, who has only been in Congress since 2011, announced he too would retire.
The speaker notched a major personal victory last year when Republicans passed their plan to overhaul the US tax code, something he had long pushed for. With that goal out of the way and an uncertain future for the party's majority in the House after the 2018 elections, some Republicans had speculated for months that Ryan would retire.
He has held his seat in Wisconsin's 1st Congressional District since 1999. He quickly ascended the ranks, becoming the top Republican member on the powerful House Budget Committee in 2007, and eventually becoming its chair once Republicans took control of the House after the 2010 elections.

He came to greater national recognition as ranking member on the budget committee, where he was a foil for President Barack Obama on policy, pushing a budget proposal that became a rallying point for some in his party. In 2012, he joined Mitt Romney's presidential ticket as the Republican Party's nominee for vice president.
Ryan is in many ways an accidental speaker and few in Washington thought he'd stay on in the job for long. When Boehner announced his retirement in the fall of 2015, Ryan told colleagues he had no interest in the job, leaving the speaker's gavel largely open for House Majority Leader Kevin McCarthy. But as the speaker's race drew near, McCarthy dropped out and the fractured GOP conference decided they needed fresh blood in leadership and coalesced around Ryan.
"You all know that I did not seek this job," Ryan said at Wednesday's press conference. "I took it reluctantly. But I have given this job everything that I have."

There is not yet a clear successor for Ryan as speaker, and Ryan said Wednesday he plans to stay in the post until after November's election. McCarthy and House Majority Whip Steve Scalise are both thought to be contenders for the job.
Retiring Rep. Charlie Dent, when asked Wednesday who he thought the next speaker would be, said he hoped that conversation wouldn't come until after November. "I mean, the bigger issue right now is just trying to maintain the majority," he said. "As I've always said, it's a fool's errand to start jockeying for these leadership positions before the battle's over."

Rep. Mark Meadows, the chair of the conservative House Freedom Caucus, said the next few weeks would determine how the showdown for the position plays out. "I think everybody will start jockeying for the position immediately. They won't wait for nine months."
Rep. Trey Gowdy, who is also leaving Congress after this year, said in a statement, "To those within Congress who always seemed to have a better idea or a smarter strategy, now is your chance to run for Speaker. To those outside of Congress who always seemed to have a better idea or a smarter strategy, you do not have to be a member of the House to be Speaker of the House and hence, now is your chance to run for Speaker."
Ryan's tenure over the last two years has also been marked by an at times difficult relationship with Donald Trump. Ryan stalled in formally endorsing Trump after he became the party's presidential nominee in 2016, and even when he did endorse him he wrote that "It's no secret that he and I have our differences." In the summer of 2016, Ryan said Republicans should vote with their "conscience" in November. And after the Access Hollywood tape came out, Ryan told Republicans he would not "defend" their nominee.

But their relationship shifted once Trump took office. The two have frequently met, and are scheduled to have dinner with other members of congressional leadership Wednesday night.
House Democratic leader Nancy Pelosi also wished Ryan well. "I commend his steadfast commitment to our country," she said in a statement.
This is a developing news story. Check back for updates.