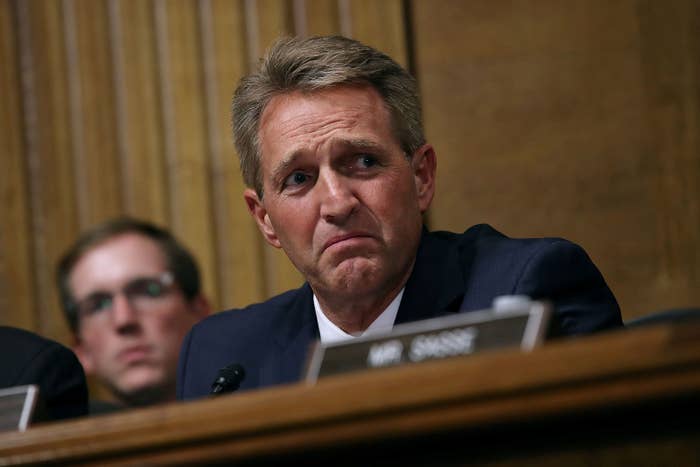 Republican Sen. Jeff Flake said Friday morning he would vote to confirm Supreme Court nominee Brett Kavanaugh.

Flake was seen as a crucial swing vote on both the Senate Judiciary Committee and within the Senate GOP conference.
"Our system of justice affords a presumption of innocence to the accused, absent corroborating evidence. That is what binds us to the rule of law," Flake said in a statement. "While some may argue that a different standard should apply regarding the Senate's advice and consent responsibilities, I believe that the constitution's provisions of fairness and due process apply here as well."
Flake is in the Judiciary Committee Friday morning, where Republicans are expected to vote in favor of Kavanaugh's nomination at 1:30 p.m. The full Senate is expected to take up the nomination in the coming days.
Shortly after he released his statement, Flake was confronted in an elevator by sexual assault survivors. "What you are doing is allowing someone who actually violated a woman to sit on the Supreme Court," one woman told Flake. "This is not tolerable. You have children in your family. Think about them."
Flake was seen as by far the most likely swing vote on the committee, with only Sen. Ben Sasse being seen as another remotely plausible no vote. Because of the tight 11–10 Republican majority on the committee, a no vote by Flake would have allowed Democrats to band together and report the Kavanaugh nomination unfavorably. This would not have prevented Majority Leader Mitch McConnell from moving the nomination forward to the full Senate but it would have been a major embarrassment.

Republicans hold the Senate by a 51–49 majority, leaving Kavanaugh a razor-thin margin to get through. With Vice President Mike Pence able to break a tie, they can only lose one vote. Republican Sens. Susan Collins and Lisa Murkowski are seen as other potential swing votes on Kavanaugh.

Flake's statement comes a day after a long hearing where senators heard from both Kavanaugh and Christine Blasey Ford, who accused Kavanaugh of sexually assaulting her in the early '80s when they were both in high school.

"I wish that I could express the confidence that some of my colleagues have conveyed about what either did or did not happen in the early 1980s, but I left the hearing yesterday with as much doubt as certainty," Flake said in his statement Friday.

During the hearing, Flake never hinted which way he was leaning.

Flake spoke for only about one minute during the Kavanaugh hearing and did not ask any questions. Instead he gave a short speech that praised both Ford and Kavanaugh, and called for humility from his fellow senators. "In the end there is likely to be as much doubt as certainty coming out of this room today," he said.
Flake's speech didn't tip his hand on which way he would be voting, but he did express sympathy for what Kavanaugh had been through.
On Wednesday, Flake gave a floor speech in which he criticized the polarized political environment. He is retiring at the end of this year.