Sen. Jeff Flake, who announced Friday morning that he would vote to confirm Supreme Court nominee Brett Kavanaugh, was then confronted by sexual assault survivors in an elevator who blasted the Arizona Republican, saying, "You're telling all women they don't matter."

Flake was seen as a crucial swing vote on both the Senate Judiciary Committee and within the Senate GOP conference on whether Kavanaugh would be confirmed to the nation's highest court after allegations of sexual assault.
"Our system of justice affords a presumption of innocence to the accused, absent corroborating evidence. That is what binds us to the rule of law," Flake said in a statement on Friday. "While some may argue that a different standard should apply regarding the Senate's advice and consent responsibilities, I believe that the constitution's provisions of fairness and due process apply here as well."
Shortly after the statement was released, Flake found himself confronted by the women in an elevator in the Capitol as he went to vote in the committee.
"What you are doing is allowing someone who actually violated a woman to sit on the Supreme Court," one woman told Flake. "This is not tolerable. You have children in your family. Think about them."

One of the women was later identified as Ana Maria Archila, co-executive director of the Center for Popular Democracy and the Center for Popular Democracy Action.
"Earlier this week, I shared my survivor story for the first time in front of Senator Jeff Flake's office and I know that I am not alone," Archila said in a statement. "Survivors from Arizona and across the country have been flooding his office with their stories. By announcing he will vote 'yes' on Brett Kavanaugh's nomination, Flake showed us that he does not care about our truths and does not care about women. He claims to support civility, but has proven today that he would rather ignore women's stories and support a disrespectful sexual abuser than stick to his values."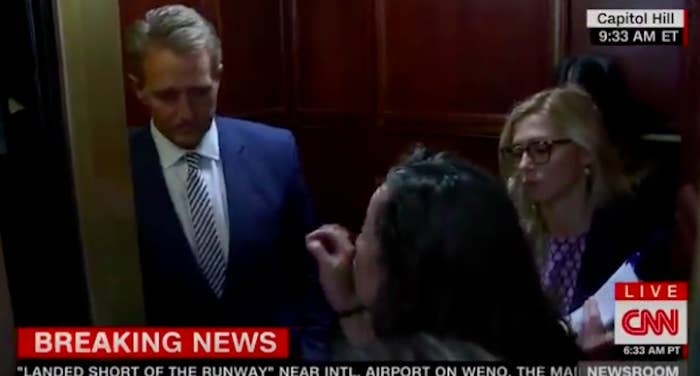 Archila, who told BuzzFeed News she has been in Washington, DC, since Monday protesting Kavanaugh's nomination, went to Flake's office Friday morning where she met another sexual assault survivor.

As the two women were talking, Archila said Flake walked out of his office toward the elevator on his way to the committee vote. Confronting him by the elevator was unplanned, she said.
"Having just seen the news of his statement, and knowing what he was about to do, had us both enraged," Archila told BuzzFeed News.
Another sexual assault survivor who confronted Flake told him that she did not share her experience with anyone because she was afraid she would not be believed.

"You're telling all women that they don't matter, that they should just stay quiet because if they tell you what happened to them you are going to ignore them," she said. "That's what happened to me, and that's what you're telling all women in America, that they don't matter."
The woman told Flake she could not imagine someone accused of violating a woman receiving a lifetime appointment to the Supreme Court.
"What are you doing, sir?" she asked.
During the confrontation, which was captured by a CNN camera, Flake and his team could be seen trying to get into the elevator and close the door.
"Look at me when I'm talking to you," a survivor said. "You're telling me that my assault doesn't matter."
Archila told BuzzFeed News the senator was trying to leave and close the elevator door.
"His staff kept saying 'You can talk to us,'" Archila told BuzzFeed News. "I don't want to talk to you, I want to talk to him. He's the one that's going to vote."
When asked if he was going to address the comments, Flake kept repeating, "Thank you, thank you."
"Saying thank you is not an answer," a woman responded. "This is about the future of our country."
Archila told BuzzFeed News that not being able to speak with Flake made her feel like "our democracy is in the ICU."
"We can't even get through to the people who are elected to represent us," she said.
After a dramatic hearing in which Flake supported Kavanaugh's nomination but called for a one-week delay on a final vote to allow the FBI to investigation, Archila told BuzzFeed News that she feels "heartened and hopeful or a more deliberate process."
"I want to believe in that moment he understood the gravity of the message his vote was sending to the country," Archila said.

Flake said he would oppose Kavanaugh's nomination in the full Senate if Republicans try to bring it up before the one-week delay.

Speaking to reporters, Flake would not say whether the women from earlier in the day changed his mind.
"It has been remarkable over the past week, the number of people who, you know, saw Dr. Ford ... and were emboldened to come out and to say what had happened to them," he said. "And I've heard from friends, close friends, and had no idea. I think that that's important, and people out there need to know that we've taken every measure that we can within reason to make sure that this process is worthy of this institution."
Archila also appeared to hesitate taking any credit for getting through to Flake.

"Yes, I had that interaction with him, but yesterday we heard Dr. Ford be questioned for hours, telling her story because she's trying to protect the country," she said.