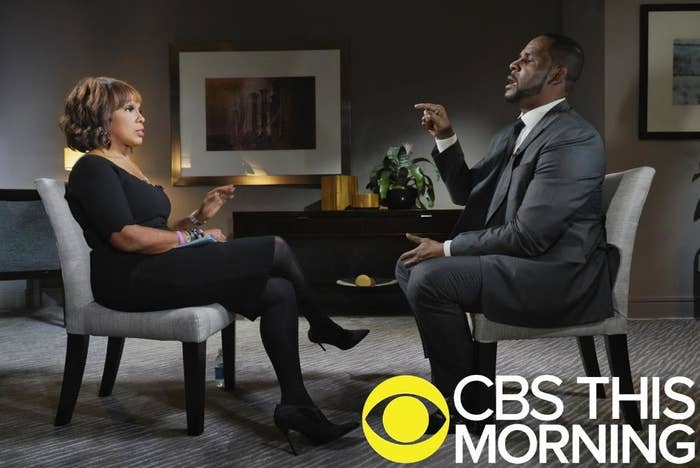 R. Kelly said "I'm fighting for my fucking life" after being charged with 10 counts of aggravated criminal sexual abuse in Illinois.
Kelly made the comments to CBS This Morning's Gayle King in his first television interview since he was arrested in Chicago in February.
"Stop it, y'all quit playin'. Quit playin'. I didn't do this stuff. This is not me," he said, directly addressing the camera. "I'm fighting for my fucking life."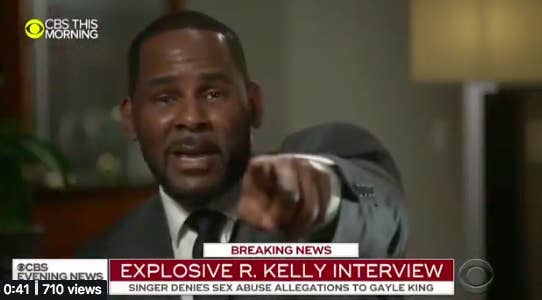 Cook County State's Attorney Kim Foxx said Kelly is accused of forcing oral penetration with two underage victims, one from 1998 until 2001, and another from 2009 to 2010. He is also charged with forced sexual penetration with another underage victim from 1998 until 1999, and with threatening and forcing himself on another victim by ejaculating on her in 2003.

But Kelly dismissed the charges in his interview with King, which is slated to air in full Wednesday morning.
"Not true, whether they're old rumors, new rumors, future rumors, not true," he said.

The charges were filed after a series of public allegations made against the R&B singer since the Lifetime docuseries Surviving R. Kelly aired and a new tape allegedly showing Kelly sexually assaulting an underage girl was sent to prosecutors by Michael Avenatti, the attorney who gained fame by representing porn star Stormy Daniels.
Kelly, who has also been accused of pursuing sexual relationships with underage girls in the past and acquitted on child pornography charges in 2008, told King his current trial was an unfair case of "double jeopardy."
"People are going back to the past and they're adding all of this stuff now, to that — to make all of this stuff that's going on now feels real to people," he said. "I beat my case. When you beat something, you beat it. You can't double jeopardy me like that. It's not fair, it's not fair to nobody."
Kelly denied that he had sex with anyone under the age of 17 and claimed that all the women who had spoken out against him were lying because they felt "scorned" by him.
"What women said about me. So nobody's allowed to be mad at me and be scorned and lie on me?" Kelly said.
When King asked him if he thought everyone was lying about him, Kelly said, "Absolutely. Absolutely. Absolutely. I have been assassinated. I have been buried alive. But I'm alive."
BuzzFeed News was the first to reveal in 2017 that police had been told by parents that Kelly was holding their adult daughters in his Georgia home and Chicago recording studio while controlling every aspect of their lives.
When King asked about those accusations, Kelly became emotional in his defense.
"I don't need to," he said. "Why would I? How stupid would it be for R. Kelly, with all I've been through in my way, way past to hold somebody, let alone four, five, six, 50, you say, how stupid would I be to do that?"
In a second clip released Tuesday night, King asked Kelly what he thought about artists including John Legend and Lady Gaga condemning him over the allegations. Kelly responded that Gaga was being unprofessional and disparaged her.
"It's unfortunate that her intelligence goes to such a short level when it comes to that," he said.
Kelly also argued that the allegations against him could be made against anyone famous, but King pointed out that many have had long careers without any sexual assault accusations.
"This is Earth," Kelly said. "And this can happen to anybody."
But the number of people who have come forward with allegations against Kelly cannot be ignored, the parents of one alleged victim said in a statement Tuesday night. Alice and Angelo Clary have said their daughter Azriel has been mentally abused by Kelly for years.
"R. Kelly is a liar, manipulator and sociopath who must be brought to justice for his decades of sexual assaults on underage girls," the Clarys said in a statement through their attorney, Michael Avenatti. "All of these victims and their parents cannot be lying."