Jussie Smollett, the Empire actor who reported an attack to Chicago police last month that's being investigated as a possible hate crime, says he's angry that some people are doubting him.
"I'm pissed off," Smollett said in a clip of his first interview since the incident, which aired in full on Good Morning America on Thursday morning.

When asked what's making him angry, the actor answered, "It's the attackers and it's also the attacks."
"At first it was a thing of like, listen, if I tell the truth then that's it 'cause it's the truth," Smollett said of his skeptics. "Then it became a thing of like, oh, how can you doubt that? Like, how do you not believe that? It's the truth."

"And then it became a thing of like, oh, it's not necessarily that you don't believe that this is the truth," the actor continued. "You don't even want to see the truth."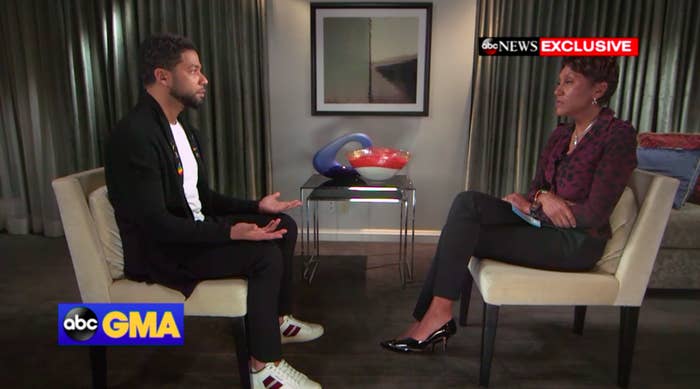 In the Good Morning America interview, Smollett said he believed the two dark figures seen in grainy surveillance images released by police were the men who attacked him.
"For me when that was released I was like, OK. We're getting somewhere," Smollett said. "I don't have any doubt in my mind that that's them. Never did."
Smollett, who plays one of the most prominent black gay characters on television, told Chicago police on Jan. 29 that he had been attacked early in the morning by two men who hit him in the face, poured a bleachlike chemical on him, tied a rope around his neck, and yelled racist and anti-gay slurs. The actor also told authorities that he had received hate mail on Jan. 22.
The Chicago Police Department and FBI are investigating the incident as a possible hate crime.
Smollett told ABC's Robin Roberts that he thinks he was targeted because he's been an outspoken critic of the president.
"I can just assume I come really, really, really hard against 45," Smollet said, referring to Donald Trump. "I come really, really hard against his administration."
However, some started to doubt Smollett's claims when police weren't immediately able to find surveillance footage supporting his report. Others have been critical of his decision to send police redacted phone records that investigators deemed "not sufficient in a criminal case."
"Any redacted information was intended to protect the privacy of personal contacts or high-profile individuals not relevant to the attack," Smollett's publicist said in a statement.
Smollett told Good Morning America that he was not willing to hand over his phone to authorities because it stored private pictures and videos as well as the phone numbers of his friends, family, and cast mates.
"If I had said it was a Muslim, or a Mexican, or someone black, I feel like the doubters would have supported me a lot much more," he said on Thursday's interview. "And that says a lot about the place that we are in our country."

A Chicago police spokesperson confirmed to BuzzFeed News that reports about police possibly charging Smollett for making a false report are not true.
"[Smollett] is still considered a victim," a Chicago police spokesperson said Tuesday.