Chicago Police Have Released Surveillance Images Of Possible Suspects In Jussie Smollett's Alleged Assault
Police said the Empire actor reported that two people yelled anti-gay and racist slurs as they beat him early Tuesday in what investigators are treating as a potential hate crime.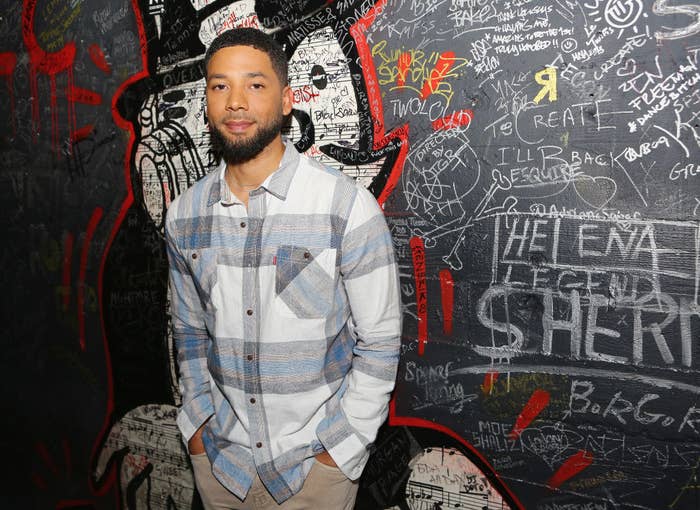 Chicago police on Wednesday released images of two possible suspects in the alleged attack on Empire actor Jussie Smollett after reviewing video surveillance footage.
The images show two dark figures walking down New Street near Illinois Street around the corner from where the alleged assault occurred between 1:30 a.m. and 1:45 a.m. about 15 minutes before the incident, authorities said.
Police said they are seeking to identify the two subjects and interview them to determine whether they were involved in or could have witnessed the incident.
"While video does not capture an encounter, detectives are taking this development seriously & wish to question individuals as more cameras are being reviewed," Chicago police spokesperson Anthony Guglielmi said on Twitter.
Smollett plays the role of Jamal Lyon, one of the most prominent black gay characters on television, on the Fox series.
According to the Chicago Police Department, Smollett told officers he was attacked early Tuesday in the 300 block of East North Water Street by two men who yelled racist and anti-gay slurs, hit him in the face, poured an unknown chemical on him, and tied a rope around his neck. When police arrived on the scene, they said the rope was still around the actor's neck.
The attackers fled the scene and Smollett went to Northwestern Hospital, where he was treated and released. A spokesperson for the actor told the Los Angeles Times on Wednesday that he is recovering at home.
Guglielmi told the Associated Press and other outlets that in a follow-up interview with detectives, Smollett said his attackers yelled, "This is MAGA country."
Brandon Z. Moore, a music manager for Smollett, told Variety he was on the phone with the actor and musician when he was attacked and that he heard the attackers shout "MAGA country."
"I heard that clearly. I heard the scuffle and I heard the racial slur," he said.
Smollett's publicist Pam Sharp and a spokesperson for Chicago police confirmed to BuzzFeed News that Moore was on the phone with Smollett at the time of the attack.
Chicago police Officer Hector Alfaro said both Smollett and his manager reported that they were talking to each other on the phone at the time of the alleged attack, but that detectives have been unable to independently verify the call.
Sharp said Smollett was at home recovering Wednesday and was still planning to perform a concert Saturday in West Hollywood.

"He is recovering and we're very grateful," she said.

On Tuesday, Guglielmi said police were treating the case as a possible hate crime "given the severity of the allegations."

Guglielmi added that in the Streeterville neighborhood where the alleged attack occurred, there is a "very high density" of city and private surveillance cameras that investigators were reviewing.
Chicago police said over a dozen detectives are currently working on the case, with help from the FBI, as public outrage over the alleged attack mounted.
Representatives for Fox told BuzzFeed News they have since increased security on the Chicago set of Empire in light of the alleged attack, but attributed a temporary stop on production due to the frigid weather.
Smollett's family said in a statement to BuzzFeed News on Thursday that he's cooperated with the Chicago Police "from the very beginning."
"His story has never changed, and we are hopeful they will find these men and bring them to justice," the statement says.
"We want people to understand these targeted hate crimes are happening to our sisters, brothers and our gender non-conforming siblings, many who reside within the intersection of multiple identities, on a monthly, weekly, and sometimes even daily basis all across our country."