Jillian Michaels, the former host of NBC's weight-loss reality show The Biggest Loser, is being criticized for body-shaming Lizzo on Wednesday after she said she doesn't know why the public should celebrate the singer's body positivity.
"Why are we celebrating her body? Why does it matter? Why aren't we celebrating her music? 'Cause it isn't going to be awesome if she gets diabetes," Michaels said on BuzzFeed News' Twitter morning show AM to DM. "I'm just being honest. I love her music, my kid loves her music, but there's never a moment when I'm like, 'I'm so glad she's overweight.' Why do I even care? Why is it my job to care about her weight?"
Lizzo, who was nominated for eight Grammys and has topped the charts with her hit singles "Truth Hurts" and "Good as Hell," has built a reputation around her unapologetic and positive messaging about body image and self-love.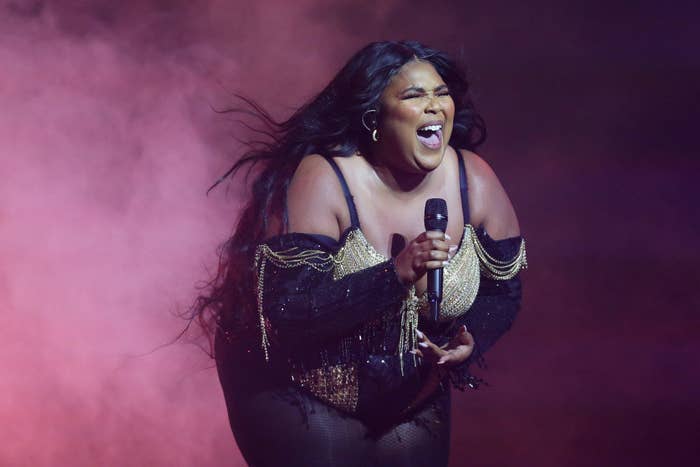 AM to DM host Alex Berg tweeted about her interview with Michaels, saying, "What I was going to say here is that Lizzo has been incredibly important in giving so many of us a possibility model for accepting our bodies as we are and celebrating bodies that are normally ridiculed. Had to restrain myself from defending Lizzo's honor!"
The video clip from the interview has been circulating online, prompting many people to push back against Michaels' comments, criticizing her for body-shaming Lizzo and perpetuating stereotypes.
"Jillian Michaels hates her own body and is worried that if other people hate their bodies less, they'll stop buying the shit she peddles," Sara Benincasa tweeted. "She's worried about the bottom line, not Lizzo's health (or yours, or mine.)"
Twitter user @4WheelWorkOut also pointed out that Michaels' comments as a white woman were especially unwarranted when commenting on a black woman's body.
"Jillian Michaels needs to stfu and leave BW's bodies alone. Fat =/= unhealthy. And thin doesn't mean healthy," @4WheelWorkOut tweeted. "People wanna talk body positivity until a BW actually embraces her body shamelessly."
A representative for Lizzo did not immediately respond to BuzzFeed News' request for comment.
Representatives for Michaels pointed BuzzFeed News to a recent tweet she posted in response to the criticism.
"As I've stated repeatedly, we are all beautiful, worthy, and equally deserving. I also feel strongly that we love ourselves enough to acknowledge there are serious health consequences that come with obesity - heart disease, diabetes, cancer to name only a few," Michaels wrote. "I would never wish these for ANYONE and I would hope we prioritize our health because we LOVE ourselves and our bodies."