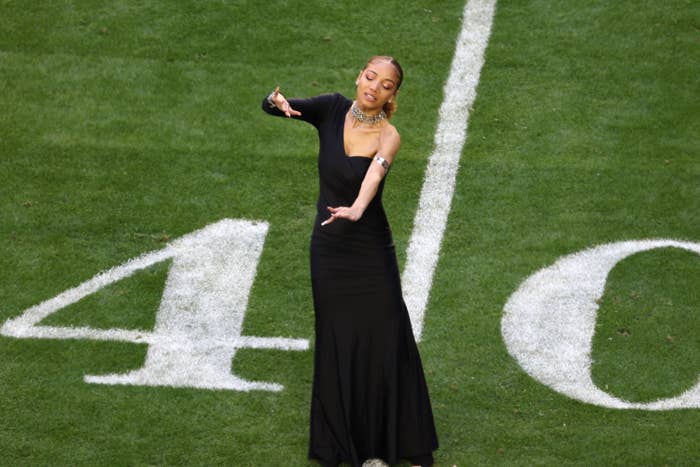 The real MVP of the Super Bowl LVII halftime show was Justina Miles, an American sign language interpreter whose high-energy performances of "All of the Lights" and "Bitch Better Have My Money" have gone viral.
In addition to her Rihanna song interpretations, the 20-year-old Philadelphia native also performed for the duration of Sheryl Lee Ralph's rendition of "Lift Every Voice and Sing."
Twitter and TikTok users said Miles "killed it" and "left no crumbs." One video of her performance has more than 16 million views on TikTok.
"GIRL YOU ATE!!! LITERALLY HAD MY ATTENTION THE WHOLE TIME! LIKE YOUR ENERGY WAS EVERYTHING!!!!!!!!" one person commented on Miles's TikTok.
However, this isn't Miles's first time going viral: She shot to fame in 2020 after a TikTok of her performing "Crush on You" by Lil Kim. Lil Kim shared the video, which got over 1 million views.
Miles isn't just an incredible performer, either — she's also an athlete. She won a silver medal at the 2021–2022 Deaflympics, an international competition similar to the Olympics for the deaf and hard-of-hearing community, with the US women's track relay team. She's now a nursing student and cheerleader at Bowie State University in Maryland.
In a press conference before the big game, Miles said she wanted her performance — particularly her interpretation of "Lift Every Voice" — to empower other Black deaf people.
"I feel that is truly lifting every voice, even my voice," she said.