This is an excerpt from Please Like Me, BuzzFeed News' newsletter about influencers and internet culture. You can sign up here. In our column, Niche Drama, we discuss online community micro dramas.
A conspiracy theory about a player using vibrating anal beads to cheat has rocked the world of professional chess players for weeks — but the serious allegations are just as eyebrow-raising.
In a shock upset, 19-year-old Hans Niemann from the US defeated 31-year-old world champion Magnus Carlsen from Norway on Sept. 4 in the Sinquefield Cup, a $350,000 tournament in St. Louis. Carlsen withdrew from the tournament the following day — the first time he has ever dropped out of a competition — and tweeted a video of Portuguese soccer manager José Mourinho saying, "If I speak, I am in big trouble."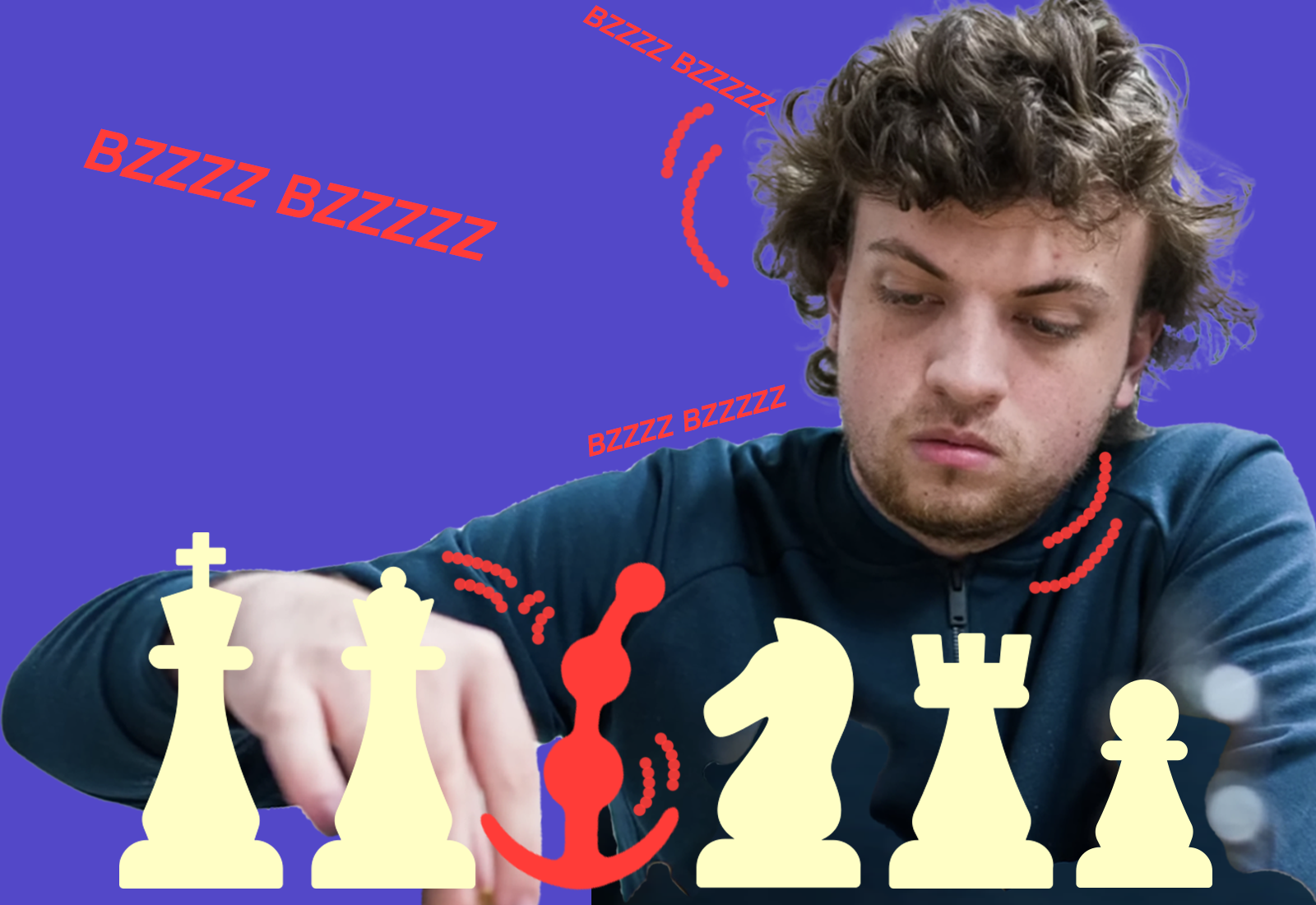 Fellow chess grandmaster Eric Hansen jokingly suggested during a stream on the Chessbrah Twitch channel that someone must have used a vibrating sex toy to wirelessly signal to Niemann what moves he should make. The joke made it to the r/AnarchyChess subreddit and then spread to Twitter, where even Elon Musk weighed in (though he has since deleted the tweet).
The chief arbiter of the Sinquefield Cup said in a statement on Sept. 10 that there was "no indication that any player has been playing unfairly" in the tournament.
Although the goofy conspiracy theory has been an entertaining distraction, the actual cheating allegations against Niemann have genuinely shaken chess enthusiasts.

On Sept. 19, Niemann and Carlsen met again for an online match. Carlsen played just one move, resigned, and turned off his webcam. The gesture was seen as an act of protest.
Carlsen didn't outright accuse Niemann of cheating until Sept. 26, when he tweeted that he believes "Niemann has cheated more — and more recently — than he has publicly admitted." Even then, he kept his allegations vague.

Though he has vehemently denied cheating in his match against Carlsen, Niemann admitted he has done it in the past, starting when he was a child.
In a Sept. 6 interview on the St. Louis Chess Club Twitch channel, Niemann said he violated the rules by using computer assistance in online Chess.com games when he was 12 and again when trying to grow his Twitch channel at 16 but has never cheated in over-the-board matches.
But Carlsen wasn't convinced.
"His over-the-board progress has been unusual," he wrote in his statement. "And throughout our game in the Sinquefield Cup I had the impression that he wasn't tense or even fully concentrating on the game in critical positions, while outplaying me as black in a way I think only a handful of players can do."
Carlsen called cheating an "existential threat" to chess and said he would not play Niemann again. He also mysteriously added that he could not say much more without Niemann's "explicit permission."
But the teen insists he has not cheated recently. "If they want me to strip fully naked, I will do it. I don't care. Because I know I am clean," Niemann told the St. Louis Chess Club. "You want me to play in a closed box with zero electronic transmission? I don't care. I'm here to win, and that is my goal regardless."
Chess.com's chief chess officer, Danny Rensch, said in a Sept. 8 statement that the site had removed Niemann's account and that it had shared information with the player "that contradicts his statements regarding the amount and seriousness of his cheating on Chess.com."
Analysts have chimed in to say they find Niemann's recent gameplay unusual, but there is no publicly available evidence that he cheated in his in-person games.
The International Chess Federation, the governing body that oversees professional chess, does not have any rules prohibiting people who have cheated online from playing in person. Fans are calling for stricter and clearer cheating guidelines.
Like the other cheating allegations faced by famous men in the past few weeks, this scandal could have major cultural implications, but it has nothing to do with vibrating anal beads ... that we know of.