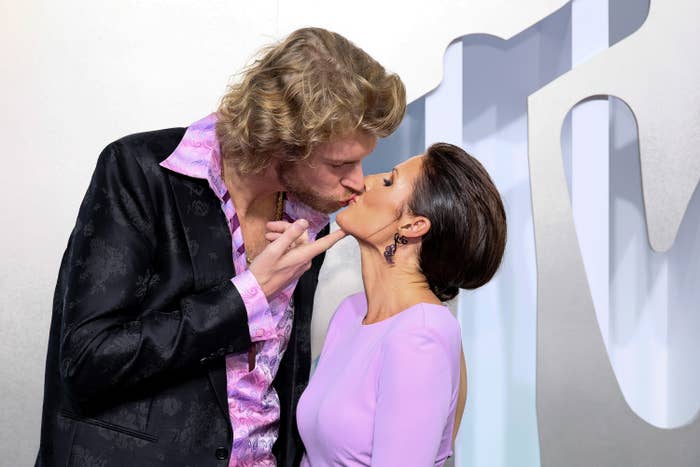 Imagine you're one of the biggest stars in the world — 88 million TikTok followers, a starring role in a surprisingly good Netflix movie, modeling and product deals, and a relationship with a famous musician. Your pop career has become an ironic success, and people are starting to come around to the idea that you're a mainstay in popular culture.

But then your parents split up, your mom makes out with rapper Yung Gravy on the VMAs red carpet, and your dad posts "unbothered" shirtless thirst traps on Instagram. This is life for Addison Rae.
"I feel so bad for Addison Rae her parents are so embarrassing lmfao," one commenter wrote. "Everything I've learned about Addison Rae's parents has been against my own will," @AntiPancreas tweeted.
Addison Rae Easterling, a 21-year-old top-earning TikTok star and blossoming queer icon, first made a name for herself on TikTok in 2019 when it was still considered a dancing app. Then 19, she dropped out of college and moved with her family to Los Angeles. Some of her posts featured her family members, especially her mom Sheri Easterling, 42, with whom she hosted a Spotify-produced podcast. Her brothers, 14-year-old Enzo and 8-year-old Lucas Lopez, appeared in the Snapchat-produced reality series Addison Rae Goes Home.

In July, videos of Rae's 46-year-old father Monty Lopez flirting with young women surfaced on TikTok. Renée Ash, a 25-year-old influencer, revealed a five-month relationship with him, posting Instagram stories that included text exchanges in which he encouraged her to keep things secret. Before Lopez commented on the infidelity allegations, Easterling changed her Instagram bio to say "single mom," and Rae unfollowed her dad.
Drama accounts like @TikTokRoomTM and @teatalk followed every subtle online move Rae's parents made, just as they would with any wildly popular young TikToker, except this time it was the parents, not the star, with the relationship drama.

Commentators like Tana Mongeau and Dave Portnoy have dissected every element of her parent's relationship for their massive audiences. You can't even google "Addison Rae" without wading through dozens of stories about her parents' crumbling marriage.
To some people, Rae's parents' desire to air their breakup on social media is just another example of how parents have found a way to capitalize on the fame of their influencer children. The brand may be Rae, but both of her parents signed to WME's digital talent agency alongside her in 2020.
"I will be okay. My biggest concern is — and always will be — my children and their fragile hearts and minds," Easterling wrote in an Instagram story addressing her separation from Lopez in July. But things have only gotten messier and pettier between the parents online since their official split, reaching their peak with Easterling's appearance on the VMAs after weeks of online flirting with self-proclaimed MILF-lover Yung Gravy.

Yung Gravy, a novelty rapper whose TikTok-ified take on "Never Gonna Give You Up" is one of the most popular songs in the US right now, defended his flirtation with Easterling.
"She's hot. She likes me. Her ex-husband's crazy," he said Aug. 25 on the Sofia With an F podcast. After their VMAs debut together, where they kissed for the cameras, he tweeted, "she's newly single and living her life. leave her alone lol."
Lopez, who has compared himself to Kris Jenner and launched his own agency to represent other TikTok stars, has been repeatedly challenging Yung Gravy to boxing matches, posing shirtless, and kissing influencers in their 20s.
After Easterling's VMAs appearance, Lopez posted a video sticking his tongue out and pointing his middle fingers at the camera set to a breakup song by Chase Hudson, Charli D'Amelio's ex-boyfriend.
The drama just keeps unfolding, but it's going down between two fortysomethings with three kids together, not two teenagers grappling with sudden fame.
On one @TikTokRoomTM post about the remarks Lopez and Easterling exchanged on TikTok, commenters called the parents "embarrassing" and "sad" and pleaded with them to "take it offline."
Though Rae has had public relationship drama of her own, such as her breakup with self-proclaimed TikTok bad boy Bryce Hall, her fame was built on her ability to curate and package the work of others in a widely marketable way — often to a fault.
She has long been criticized for posting TikTok dances without properly crediting the original Black creators and failing to speak out about political issues.
After spending so long positioning herself as an inoffensive, ad-friendly social media personality on her own, Rae is now reckoning with the fact she can't escape her parents' actions. But tweets suggest the public is staunchly on her side, adding to her growing favor online.