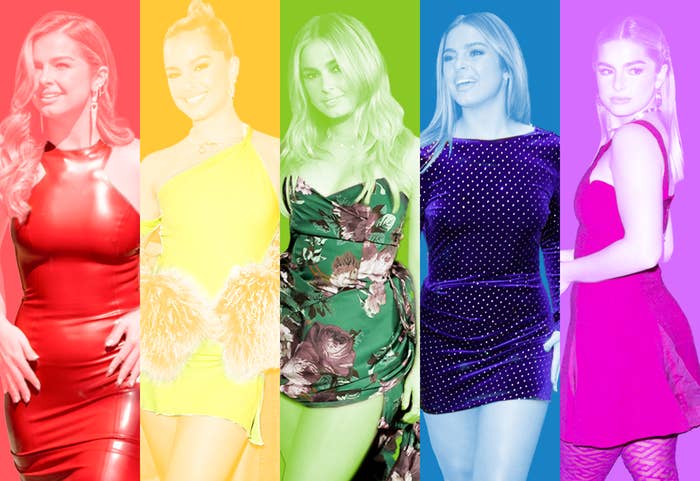 Unreleased songs by TikTok star Addison Rae have been leaking onto streaming platforms for the past few months, and they have quickly gone viral with chronically online queer fans jumping to embrace her music.
"Addison Rae did the first tiktok at stonewall," one commenter wrote. "Harry Styles wishes he was as much of a gay icon as Addison Rae," another person said.


In July, Rae's second single "2 Die 4" was leaked on Spotify. The reaction was instant: #2die4 has been viewed 22.9 million times on TikTok. Then, last week, an entire album of songs was leaked. The songs were sultry — a perfect time capsule of a 2007 Paris Hilton party, hitting the aesthetic bull's-eye of the Y2K resurgence. A revisionist history for the influencer had begun.

"ADDISON SPEARS HAS ARRIVED," one reaction read.
Addison Rae Easterling, a 21-year-old TikToker from Louisiana, has faced backlash for a wildly long list of offenses: blackfishing, not knowing where Korea is, partying during COVID, and most recently, wearing a bikini with references to Christianity. She's been clowned on for her outfits and her awkward celebrity mingling — but she's got over 88 million TikTok followers and was the platform's highest-earning creator in 2020.

Like many of the straight, white, middle-class, privileged teenagers that the TikTok algorithm favored, Rae assumed a role at the perfect intersection of privilege, celebrity internet culture, and cringe. It was easy to pile on.
Winning the internet's favor is an elusive and formidable game, but the positive response to her upcoming music actually worked. More specifically: "she is pandering to the girls and the gays and it's working 😌 🎶," as one TikTok user put it.
"There is a history of this fandom, the affinity between gay men and female performers, that has become a stereotype," Eve Ng, a professor of media studies at Ohio University, told BuzzFeed News. "I think it stems from the heteronormativity of masculinity — and the spectacular female performer is the opposite of that. It wasn't cool to be a fan of pop music. Gay men were ostracized. So there's a campiness to embracing it."
New pop icons are often born in the womb of queer clubs. "I think we break new songs all the time," said Chopstix, a New York City–based DJ and artist. "I can weave in up-and-coming artists easily. At straight parties, people are less willing to dance to music they don't know."
According to data provided by Twitter, the phrase "gay icon" has been tweeted almost 1 million times since 2010. And in the age of standom, many figures have become closely associated with LGBTQ fans, particularly in the genre of pop princesses — like Carly Rae Jepsen, Charli XCX, Kim Petras, Rina Sawayama, Rebecca Black, and Slayyyter.

Chopstix told BuzzFeed News that her sets for queer parties are usually based more around artists than playing individual popular songs. To get everyone singing along, she plays the big personas that people love — the women that represent being a "hot toxic bitch."
"The persona of a near-delusional god complex, confidence exaggerated to the max," she said. "It's music that makes you feel good about being yourself."
What does that look like? Perhaps a song with the lyrics: "My neck? To die for / My legs? To die for / This uh-uh sex? To die for / I want someone who thinks I'm to die for."
Of course, we've seen this before. The history of diva worship between gay men and women performers has stemmed back to the 1950s, and every era has been marked by a divine feminine artist, supported by a legion of gay male fans: Liza Minnelli, Barbra Streisand, Diana Ross, Madonna, Britney Spears, Lady Gaga.
Not all artists are offered this cultural award of becoming an "icon." The roster of historic divas has largely been skinny, white, and heterosexual. But Rae's ironic redemption has revealed an unspoken fandom internet rule: There are two routes to becoming a gay icon. Either a performer is inherently an outcast because of how they look or the ways they don't fit into the status quo (artists of color, queer-identifying artists), or they become so hated, so scrutinized and hated on, that it's camp to stan them. On either path, fans can find something to identify with in being disinvited from the world. And Rae, with her many mistakes and public scrutiny, has been looking camp right in the eye.

In the age of the internet, we've also seen social media stars go down this particular pipeline. Carly Rae Jepsen, Troye Sivan, and Rebecca Black started out as viral YouTube sensations before eventually being dubbed gay pop icons to their fans. The artists faced incredible backlash during their rise to fame, but pop fans embraced them.
Chopstix also said there was a sense of maternal comfort to the worship of pop divas. "People say, 'Beyoncé is mother,'" she said. "She is guiding everybody with music because what she preaches is gospel. We listened to her and took the songs as ways to live our lives."

So how can Rae be an icon when her image has unabashedly been a part of the corporate machine? "Online, especially within the queer community, is very campy," Chopstix said. "Nothing is said with 100% seriousness. Like the stars of RuPaul's Drag Race who release music. The songs are not, like, great pieces of art. But they're funny and full of personality."

Irony is deeply entrenched within the pockets of online fandom, and being a Rae stan is fit for the paradoxical humor. The lyric "boom boom bass to die for" that was mistaken for "pum pum is to die for" became a meme.

These tactics for success don't go unnoticed, Ng said. The intensity of fandom has been recognized by corporations as a key to winning their loyalty. "The industry has taken advantage of the unpaid labor of fans," she said. "Not just more labor-intensive things, like setting up fan sites or making music videos. But even the everyday things that we do now, like retweet stuff or, you know, write comments on message boards."


And with the resurgence of 2000s fashion, the layers of Love Island–branded online irony, and the ability of fans to spread one song via Twitter memes, TikTok audios, SoundCloud leaks, and fancam edits, the perfect storm was brewing for Rae's transition to gay icon.
"shes so mother …" someone wrote under the leaked version of "2 Die 4" on SoundCloud.
"Queer folks can find that sense of community on the dance floor," Chopstix said. "I don't know much about Addison Rae — it feels like people don't like her because she represents TikTok. I only saw a queer artist cover one of the leaked songs. But as long as she's a good person, and she's making songs that bop, why not? She can be mother." ●