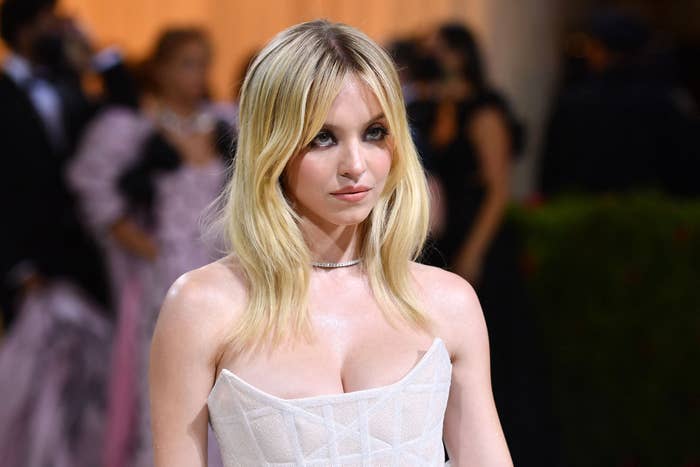 Over the weekend, Sydney Sweeney posted a compilation of photos of her mom's 60th birthday celebrations on Instagram. "No better way to celebrate my momma than a surprise hoedown 🤠," the Euphoria actor captioned the wholesome post. Buried deep in it — literally, in the final picture — was a photo of a smiling Sweeney, with her family lovingly looking at her, and a band playing behind them. An older woman stood in front of a giant cake. And there was a man with a cowboy hat, wearing a T-shirt with a black-and-white American flag with a blue streak across it, the recognizable symbol of the pro-police Blue Lives Matter movement that began as a criticism of Black Lives Matter.
Shortly after Sweeney published the photos, online sleuths descended on the post. She'd tagged her brother Trent in one of the photos, and on his profile, he had posted more images of the party, where some guests were wearing "Make Sixty Great Again" MAGA-style red hats. Predictably, liberal corners of the internet attacked Sweeney and her family, even joking about their participation in the Jan. 6 insurrection. Sweeney's response has been muted — on Saturday, she posted one tweet that pushed back and said "an innocent celebration…has turned into an absurd political statement, which was not the intention."
This kerfuffle over the photos is the second time in a month that Sweeney has made internet waves — in late July, she told the Hollywood Reporter about her financial worries. "If I wanted to take a six-month break, I don't have income to cover that," she told the publication. "I don't have someone supporting me, I don't have anyone I can turn to, to pay my bills or call for help."
Her comments ignited controversy, and not just because she lives in a $3 million home — who can take a six-month break from working in this economy, the backlash went. The complaint was criticized as out of touch. But those angry with Sweeney overlooked the context: She was expressing financial anxiety while talking about wanting to take parental leave. "I've always wanted to be a young mom," she told the publication. "I was worried that, if I don't work, there is no money and no support for kids I would have."
The controversies over Sweeney are distinct but related: Whether it's about politics or about class, Sweeney appears to have crossed unwritten rules of acceptable celebrity — we often demand that famous people act dignified, gracious, and uncontroversial. We often expect celebrities to avoid talking about politics (or be proudly progressive if they get political), and if they can help it, be quiet about money, too. Living paycheck to paycheck and complaining about financial anxiety or having ties to family members who have unsavory politics are violations of those rules. Sweeney is finding out the hard way.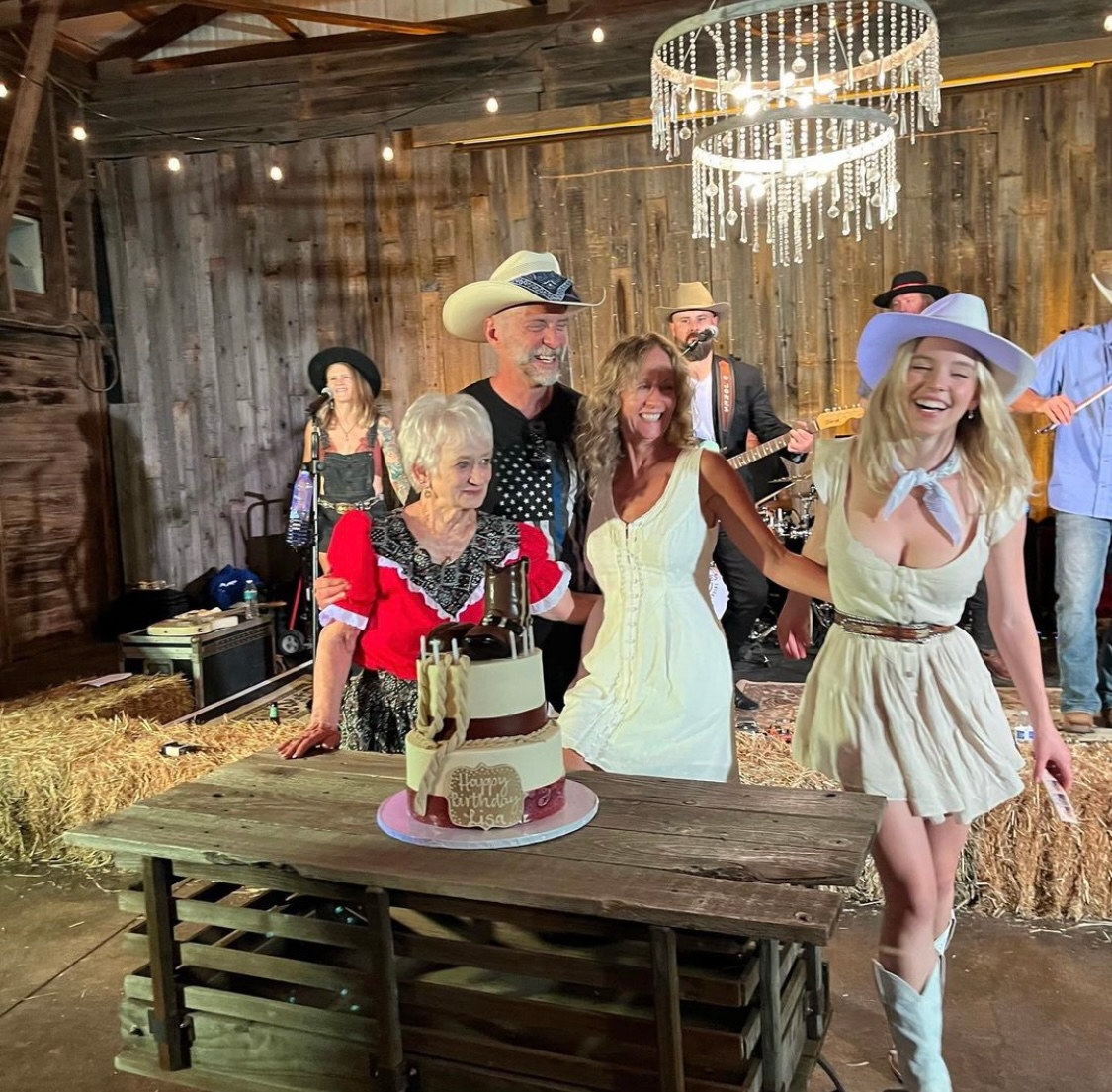 Sweeney's ascent has been relatively swift. Though she's been working for a decade, things started to pick up when she was cast in The Handmaid's Tale and Jean-Marc Vallée's Sharp Objects opposite Amy Adams in 2018. A year later, she joined HBO's Euphoria and was cast in Quentin Tarantino's Once Upon a Time in Hollywood.

Her positively big year, though, was 2021 — Euphoria hit a new level of mainstream popularity in its second season, a season that saw a flashier and bigger role for Sweeney's Cassie Howard, while she also garnered a lot of praise for her role as Olivia, a rich teen with lethal one-liners, in HBO's The White Lotus. Sweeney received praise for both performances — the New York Times called her one of the scariest girls on TV for her turn in White Lotus. If you're scared of Gen Z, the Washington Post wrote, you can probably credit Sweeney's performances for originating that fear. She's been nominated for two Emmy awards, one for each show.
Who exactly is shocked that a white celebrity may have people they love who have unsavory or racist views? Certainly not Black people.
But if celebrity is a form of public theater, then Sweeney's narratives have thus far been relatively thin. As she has gotten more acclaim for her performances, she has been relatively guarded about her personal life. She has been the consummate professional and has gone to great lengths to leave her personal life out of her acting duties. We know she likes to restore old cars. We know she's engaged, but she also doesn't wear her engagement ring or talk about her relationship. On Instagram, we know she has mastered the "dissociative pout." But aside from that, the bulk of her public interviews have been about her career: details about her acting process; frustrations that doing nude scenes has meant being taken less seriously; ambitions for her production company. (On the rare occasion that she has brought her family into her fame, it has been brief and hilarious — she told Ellen DeGeneres that her grandmother's reaction to Euphoria is that Sweeney "has the best tits in Hollywood.")
It was a surprise, then, that she was willing to reveal more in her recent Hollywood Reporter profile. She shared that about 20% of her income goes to staff who manage her career, including lawyers and agents ("I have to pay my publicist every month, and that's more than my mortgage"). She spoke about why she so frequently posts branded content on Instagram ("If I just acted, I wouldn't be able to afford my life in L.A. I take deals because I have to.").
Sweeney also spoke about the cost of her acting career. She convinced her parents to move to LA so she could pursue acting, and she said they gave up their home in Spokane, Washington, for a much more isolated and expensive life in a one-room motel in California. As the financial strain pushed the family, Sweeney said she felt the pressure: "I thought that if I made enough money, I'd be able to buy my parents' house back and that I'd be able to put my parents back together."
Sweeney's money conversation might be uncomfortable for some because it reveals hidden truths about how Hollywood works now. As Kelsey McKinney wrote for Defector, "If Sydney Sweeney cannot afford to take six months off, it is a safe assumption to make that no one in Hollywood without family money can." So Sweeney posts ad after ad to help pay the bills while her Euphoria costar Maude Apatow, daughter of director Judd Apatow, or, say, Stranger Things star Maya Hawke, daughter of Ethan Hawke and Uma Thurman, could spend this crucial moment in their careers focusing on the work.
It's not hard to imagine these relationships extending to politics, where fans expect the actors to be more progressive than they actually are.
If celebrities are meant to be a more glamorous version of us, if what we get out of celebrity is a sense of escape and wonder, then Sweeney broke the rules by revealing that actually, if you don't come from money, life isn't just about the luxury of choice. Celebrities are still governed by the rules that govern all of us, and while it would be absurd to call Sweeney "struggling," her financial limitations seem to resemble a lot of people's crises, just on a larger scale.
Then there's the family dimension. What's the right way to hold a celebrity accountable for something that they didn't do? And what exactly is Sweeney being held accountable for? Having family members who subscribe to Blue Lives Matter beliefs? Close kin who may have been supporters of Donald Trump? Who exactly is shocked that a white celebrity may have people they love who have unsavory or racist views? Certainly not Black people.
In the wake of the 2016 election, the actor Michael Shannon told reporters that if your family voted for Trump, "Fuck 'em. You're an orphan now. Don't go home. Don't go home for Thanksgiving or Christmas. Don't talk to them at all." Shannon's declaration was an attempt at an absolutist moral stance. In reality, it's a black-and-white code that is impossible to maintain.
Complicating matters further is that Sweeney stars in Euphoria, a show that has particularly excelled in cultivating a fanbase that overidentifies with its characters, where its audience has built untenable parasocial relationships with its actors. It's not hard to imagine these relationships extending to politics, where fans expect the actors to be more progressive than they actually are. Sweeney is in the news for not meeting this expectation, but she is far from the only Euphoria cast member caught in this web — Hunter Schafer drew heavy criticism for liking a controversial post a few days ago — but she is the most high profile.
As a consequence of the birthday photo controversy, Sweeney has seen an uptick in support from the right. Conservative commentator Tomi Lahren tweeted that Sweeney should "never bow or apologize to the mob," while multiple right-leaning outlets also pounced on the story. Over the span of a few days, Sweeney has been turned into a site of clashing narratives even though she herself has said very little by way of political views.
Sweeney may well reveal her political allegiances one day, and people may not like them! But for now, all her controversies prove is that she's caught on the wrong side of the expectations of performing celebrity. ●