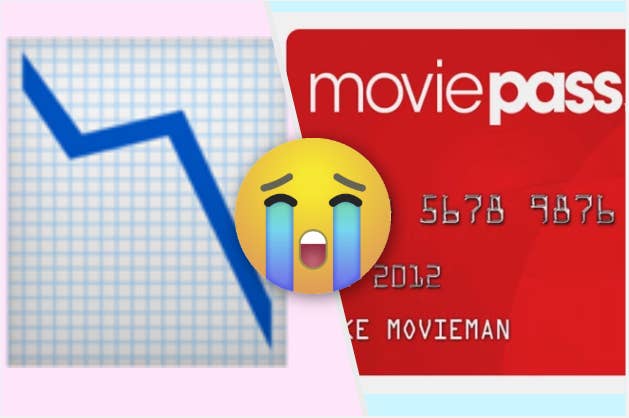 MoviePass, the beloved and beleaguered movie theater subscription service, is hanging by a thread. When the company announced earlier this week it was increasing its rates from $10 to $15 per month and would begin to limit tickets for "blockbuster films" and available showtimes for all movies, experts predicted the company's imminent demise.
MoviePass was running so low on cash last week that it stopped working, but it miraculously staved off immediate doom by taking out, and then paying off, an emergency loan to restore service. But what happens when the very thing that people loved about MoviePass — the ability to see unlimited, popular movies for $10 a month — is suddenly stripped away, replaced with a slightly worse version of MoviePass?
Even the company's leaders seem leery of customers' willingness to tolerate such unexpected changes. "We count on your support and loyalty while we implement these necessary steps for the company you've grown to love," MoviePass CEO Mitch Lowe pleaded in a public letter to users. The company did not respond to a request for comment.
What's remarkable about MoviePass's downfall is how quickly things fell apart in just a few months after the company was acquired by data firm Helios & Matheson in December 2017.
The Beginning
While it was founded in 2011, MoviePass remained just a blip in the entertainment business until last year, when data firm Helios & Matheson agreed in August to acquire a majority stake in the company and slashed its monthly subscription rate from as much as $50 to just $10, which gets you one ticket a day — an absurd deal, particularly in cities like New York where the cost of a single ticket is higher.
Thus began its meteoric rise. In August 2017, MoviePass had just 20,000 subscribers; by June there were over 3 million paying customers for the service. Yes, the company would lose money at the new price, but MoviePass's new owners believed that it could offset the substantially lower price by leveraging valuable data gleaned from customers. Unfortunately, things haven't gone well.
Ongoing Feud With Theaters
As MoviePass devalued ticket prices with an unlimited subscription, the relationship between AMC, the country's largest theater chain, and MoviePass started to crumble. AMC threatened legal action and called MoviePass's price point "unsustainable"; MoviePass temporarily blocked access to 10 of the most popular AMC theaters, like the one in Times Square, to put pressure on AMC to give it a cut of ticket and concession sales. MoviePass eventually re-added those theaters, but AMC then launched its own competing subscription service in June, called Stubs A-List, which it now claims has 175,000 paid subscribers. Other theaters also started offering competing services: Cinemark started a Movie Club, and the popular indie theater chain Alamo Drafthouse also began testing its own subscription service called Alamo Season Pass at a theater in Yonkers.
Disastrous Customer Service
People may love the MoviePass concept, but the service has notoriously bad customer service. Lots of consumers received gift subscriptions to MoviePass over the holidays last year, and the company was not prepared. The sudden surge of customers led to a total disaster in customer service: People waited weeks to receive their card in the mail, even after they started getting billed. Messages to customer service went unanswered for days, even weeks in some cases, and MoviePass's Facebook and Twitter pages were flooded with complaints.
Buying a Film Studio
In April 2018, MoviePass's parent company, Helios & Matheson, bought the film production company Emmett Furla Oasis Films to create MoviePass Films (fun fact: Randall Emmett, one of the partners of Emmett Furla Oasis, is the boyfriend of Lala Kent on Vanderpump Rules). If you squint, you could see how this might have made sense: Netflix, where MoviePass's CEO used to work, started out as a distribution platform, then successfully produced its own content. MoviePass could've used its platform to promote the movies it had a hand in producing to its customers.
Rifat Orgutz, CEO of Sinemia, a competing movie subscription app with more sustainable pricing, told BuzzFeed News, "The idea of partnering with movie studios, we don't think it's a mistake — we think it's a smart move."

Unfortunately, the first movie released under the new partnership, Gotti, was a total flop. It was so panned by critics that the push alert the MoviePass app sent to its users even nodded to the flood of bad reviews.
Shit Hits the Fan
By late spring, the wheels on MoviePass's seemingly unsustainable business model started to fall off and stock analysts were predicting the worst.
At the Cannes Film Festival in May, where Gotti debuted, Helios & Matheson CEO Ted Farnsworth talked about a large line of equity, and told Variety, "We've got 17 months' worth of cash without further raises of capital." However, their public filing showed they only had $15.5 million in cash — less than they needed to cover ticket sales for a month.
Cash ran so low that on Thursday, July 26, MoviePass customers couldn't buy tickets, and instead got an error message.
The company took out an emergency $5 million loan to get back up and running.
It's Official: MoviePass As We Knew It Was Not Sustainable
On July 31, MoviePass announced it would raise its monthly prices to $14.95/month and limit tickets for certain big movies like Mission Impossible: Fallout.
"While no one likes change, these are essential steps to continue providing the most attractive subscription service in the industry," Lowe said.

MoviePass subscribers were not pleased, and many tweeted that they would cancel their memberships.

Investors also aren't convinced. Helios & Matheson's stock price has continued to drop; after the company approved a 250-for-one reverse stock split last week that temporarily boosted its stock from eight cents to $21, by Friday afternoon it was down even further than before, at seven cents per share.

So while MoviePass is still clinging to life — and a seven-cent share price — some fans of the service are already mourning its end. As one MoviePass subscriber tweeted, "'too good to be true' deals can only last so long."