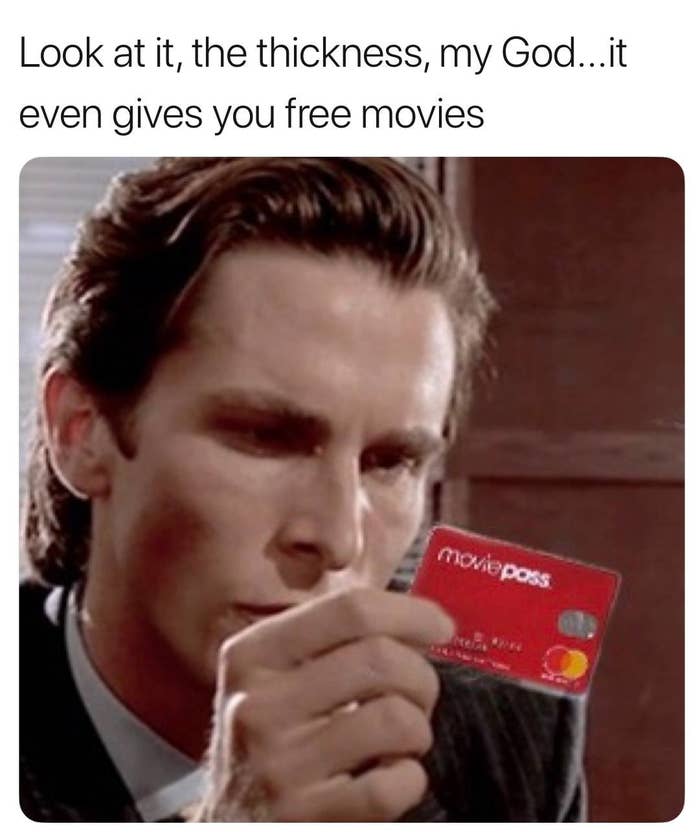 MoviePass, the subscription service that gives people unlimited access to movie theater tickets, has been bleeding money since it dropped its price from as high as $44.95 to a flat $9.95 a month last August. The lower price attracted millions of new subscribers, as well as an onslaught of customer service issues and complaints over jarring changes to its terms of service. The company is searching for another round of capital to stay afloat, and now it's facing a bigger threat: Movie theaters are starting to compete by offering subscription services of their own.
Cinemark, which has 339 theaters in the US, launched a Movie Club in December that's already attracted 230,000 members; it offers subscribers one movie ticket a month for $8.99 and a 20% discount on concessions. AMC, with 649 US theaters, came out with Stubs A-List in June, which lets subscribers see three movies a week for $19.95 a month. Regal Cinemas has also considered testing demand-based pricing that would make it cheaper to go to one of its 561 theaters during off-peak periods. Meanwhile, small cinemas like Alamo Drafthouse, a national chain with dozens of theaters, are experimenting with their own subscriptions that make it more affordable to regularly go the movies.
They're all riffing off MoviePass's simple premise: Customers choose a movie, time, and theater through its app. When they get to the theater, they check in to the movie on the app, and their MoviePass debit card automatically fills with the ticket price. Then they use that debit card to buy their tickets.
"[MoviePass] changed the ticket-buying paradigm," Jeff Bock, a senior box office analyst with Exhibitor Relations, told BuzzFeed News. "Whether MoviePass is around or not, it definitely will have an enduring legacy."
MoviePass, owned by the analytics company Helios and Matheson, had a game-changing proposition when it first launched in 2011 — offer a cheap monthly movie theater subscription, pay the difference in ticket prices to theaters, and recoup the loss through advertising for independent film productions and discounts on services and products for companies like Lyft, Uber, and Starbucks.
"People are using MoviePass to take risks and see small films that don't benefit from marketing dollars," MoviePass CEO Mitch Lowe told BuzzFeed News. "What did AMC do to reinvigorate the movie business other than raise the prices every year? We're introducing a model we should've seen years before." (According to the National Association of Theatre Owners, ticket prices have remained fairly steady. The average ticket price in 1977 was $2.23, which would be $9.40 when accounting for inflation; while in 2017, the average cost was $8.93.)
MoviePass is growing quickly: In June, it announced it had more than 3 million subscribers and expects to reach 5 million by the end of 2018. It reported it makes up more than 5% of total US box office receipts, with its peak weeks nearing 8%. When it advertises films to its subscribers, it said its share of box office receipts increases to over 30%.
The company said it makes additional money by taking a cut of film revenue by advertising to its subscribers on behalf of independent film distributors, which it's done for the films American Animals and John Travolta's Gotti.
But shares of MoviePass's parent company Helios and Matheson Analytics have fallen dramatically since October. In May, the company reported it is burning through its cash reserves, spending an average of $21.7 million a month, and it had only $15.5 million left at the end of April. Although it reported $48 million in revenues, MoviePass lost $98.3 million in the first quarter of this year.
"They need more agreements with movie theaters where you can get discounted tickets and steer subscribers toward certain films," said Eric Wold, an analyst with B. Riley FBR, to BuzzFeed News. "It was going to take a number of years to get to the level of subscribers where it was relevant and it would take a lot of capital to get to that point. ... But it's tough to see if it can get to that point now with other competitors."
Lowe told BuzzFeed News MoviePass is on track to break even, or lose only $1 per subscriber, by the end of 2018. By year-end, Lowe expects to increase the company's revenue by rolling out a "night at the movies concept," a payment system that allows subscribers to use their debit cards to pay for discounted services at specific restaurants or other merchants like Starbucks or care.com, a startup that helps people find caregivers for children or seniors.
"Since we know the theater that you'll watch a movie at, we know the cafés and restaurants around you that have offers," said Lowe. "Or we know you love comedies, so we'll promote, on behalf of a studio, a comedy we think you might like. Every one of these has an opt-out component. The idea is to make it more valuable to use our service as your guide."
AMC Theaters CEO Adam Aron, who has expressed skepticism of MoviePass's business model, told investors in a March call, "We think [MoviePass is] a great concept. We think their price point is unsustainable."
Aron said the company's records indicate that several hundred thousand of MoviePass subscribers showed up at AMC theaters in January an average of 2.7 times each. MoviePass paid AMC more than $32 for each subscriber who showed up that month and paid about $11.90 per movie ticket.
Aron announced AMC's movie subscription program to investors in June, saying the company estimates they can increase the company's annual earnings by $15 million to around $25 million if each member makes no more than 2.5 movie theater visits each a month.
"Looking at the economics, it is so crucial that we design a program that will allow us to be capturing a higher price than what others are charging because that makes possible success for AMC, while other discounters, by contrast, will continue to be hemorrhaging cash," Aron told investors on the call.
An AMC spokesperson told BuzzFeed News that it is "not interested in getting into a back and forth with anyone" on the topic of competing with MoviePass on subscriptions. It also declined to respond to questions about why customers might choose the more expensive AMC option over MoviePass. AMC Stubs A-List does have an advantage in that, unlike MoviePass, it allows subscribers to see the same movie more than once, it doesn't require a debit card to use, and it's the same price for any movie format, including IMAX or 3D.
Whether MoviePass can survive this competition or not, Bock with Exhibitor Relations told BuzzFeed News that its failures and successes will have an enduring impact on the future of movie theater subscription programs.
"Can they keep leading? Can they even finish out the summer?" he said. "Over [the] long term, whether MoviePass is here or not, the fact Cinemark and AMC have programs is great news for moviegoers."