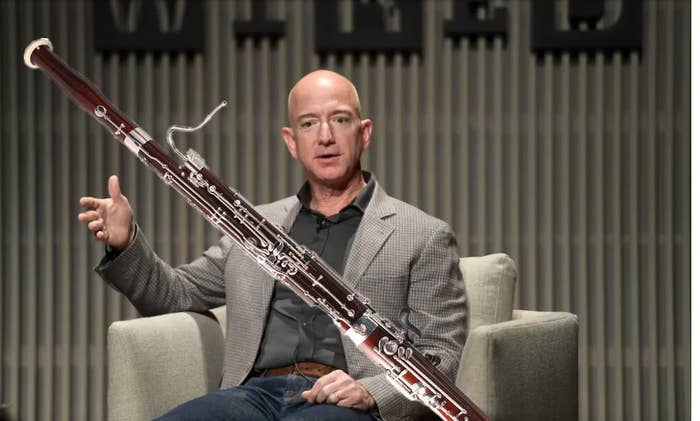 So there I am last week, five minutes into my adult community concert band rehearsal, and my bassoon seat strap BREAKS. Ughhhhh. I am like, Fuck, I am going to literally have to pack up and leave. It's just simply not possible to play the bassoon (the most noble and elegant of the low reeds) without a method of hoisting up its tremendous weight. Thankfully, my extremely kind seatmate happens to have an extra strap, which he lends me for the rest of practice, before I go home and fire up Amazon dot com to order a replacement.

I type "bassoon strap" into the search bar, and see a few options. A little bassoon fact for you: There are two bassoon strap types, a seat strap (which I prefer) that clips onto the butt of the horn and which you literally sit on, or a neck harness so a bassoonist can wear their instrument like a saxophone (ew, saxophones).
But scrolling through Amazon's options, I notice something weird. The first option, labeled "Amazon's Choice" (side note: Do you know that "Amazon's Choice" isn't, like, an editor's pick? It's an algorithmically determined thing based on shipping time, availability, ratings, price, etc. Yeah, I felt lied to too when I found that out) is a $26.78 harness. And...IT HAS A SUBSCRIBE & SAVE OPTION.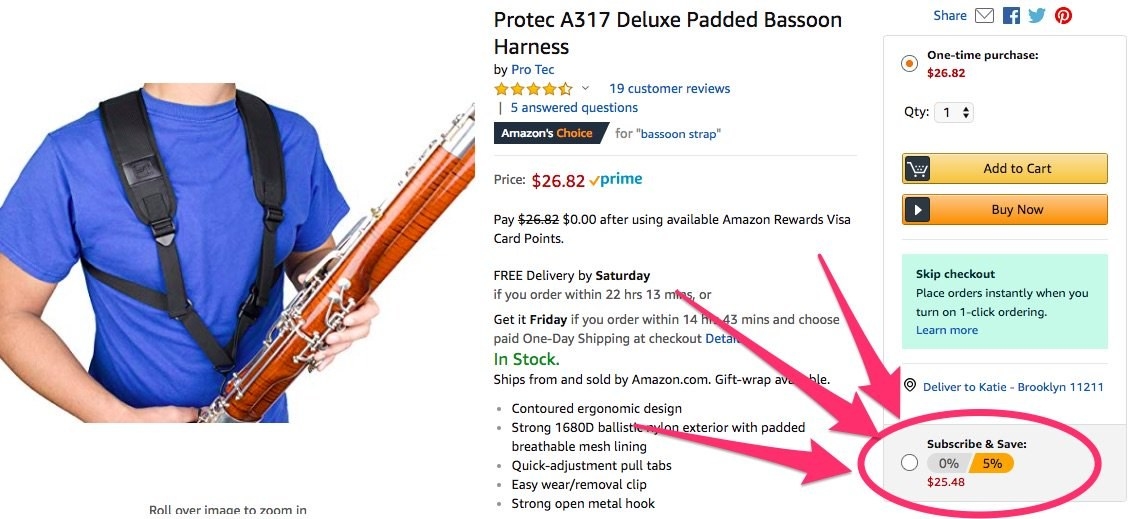 "Somehow Amazon's website, the place where it sells a gazillion things that make a gazillion dollars...sucks?"
Let me tell you about bassoon straps. My last one lasted me 22 YEARS before it finally broke. You do not need to replace your bassoon straps every month, or even every six months. It is unlikely you will need to replace it every decade. Okay, to be fair, the first review is someone complaining this strap broke after four months, but that's the point — it should last much longer!
And this subscribable strap wasn't offered by a third-party seller — it's from Amazon directly. The description stared me straight in the eye: "Ships from and sold by Amazon.com." (Amazon told BuzzFeed News the Subscribe & Save button was an error and has since removed it on this item.)
Amazon is cutting edge in so many ways — it magically drummed up a yearlong publicity cycle for an office opening in the two most obvious cities (New York and DC); it honed an expert precision tool for destroying brick-and-mortar retail businesses; it created a great place to work if you don't mind peeing in bottles; it built a labor force of retirees living in RVs; it's even a pioneer for shitting in people's driveways. So many innovations.
And yet, somehow Amazon's website, the place where it sells a gazillion things that make a gazillion dollars...sucks? The experience of shopping on the site itself fails in spectacularly stupid ways.
For a company that is quite arguably the most important at the moment, that touches infinite aspects our daily lives — how we shop, the groceries we eat, the movies and TV shows we watch, how a massive amount of human labor is compensated, how our government's postal system works — there are simply giant glaring holes in its main product: Amazon.com.
Let's set the bassoon strap subscription aside for a moment and consider Amazon's warranty feature, which is offered for completely random products. It makes sense for big-ticket items that you would normally want some sort of insurance for — electronics. I'd even go as far as a toaster or a set of windshield wipers. But…a $1.23 "2-year protection" plan for a $6.99 set of bottle brushes?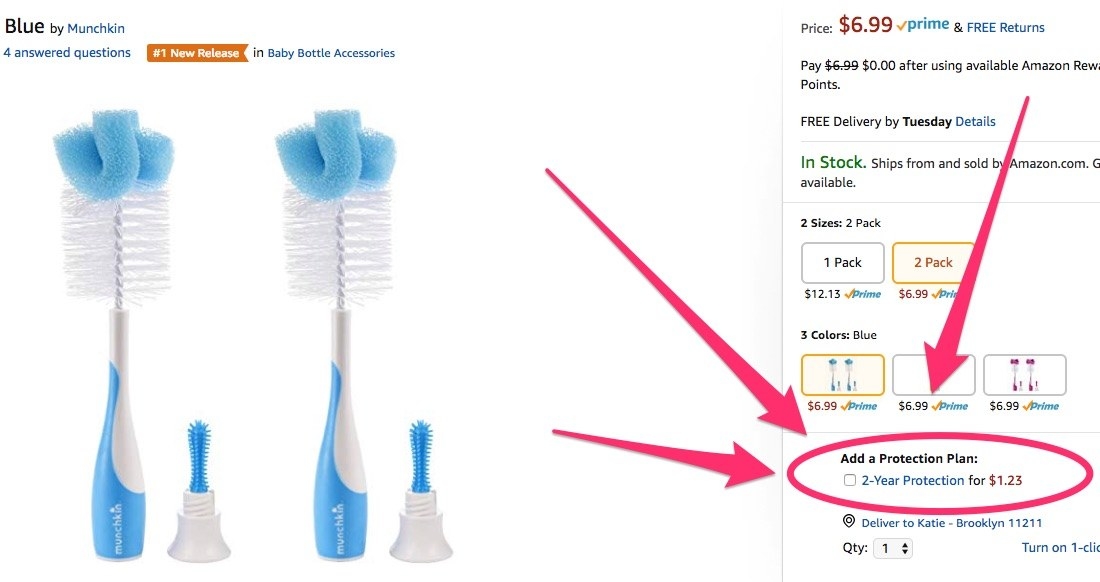 Yeah sure, like I'd get a protection plan for something that gets gross immediately and needs to be thrown away after a month (actually, this would be a genius scam to just get free replacements for two years, but that's not the point). Again, Amazon told BuzzFeed News that this was a mistake and has been fixed on the site after we brought it to their attention.
There are, apparently, a lot of mistakes on Amazon.
Or take this example from technologist Jenn Schiffer, who ordered the morning-after pill from Amazon (which, by the way, isn't a great idea) and got a suggestion from Amazon to make it into a virtual Dash button, which lets people reorder a product with just a click!
To be clear, the only difference between a Dash button for Plan B and one for say, toothpaste, is a moral judgment about women's right to access reproductive health. So, on that level, it's fine that Amazon offers a Plan B Dash button. Still, it's kind of funny, right?
Amazon has all these extra features — Subscribe & Save! Warranty! Dash button! But with Amazon's fractured marketplace, with tons of different sellers, all these innovations become deranged and useless, scammy at worst or irrational at best.
Have you ever tried searching Amazon for an everyday product that comes in a ton of options, like, say, diapers? It's a nightmare: all the different quantity counts, the different sellers. Diapers are the kind of thing people love to buy from Amazon, but it's like diving into a war zone.
And then there are the outright scams. Like the unimaginable shipping prices on a cheap shower drain cover, which could only possibly mean they hope someone accidentally hits two-day shipping so they can charge them $1,000.

Amazon said it took action against this seller after BuzzFeed News pointed it out, as there's a rule against sellers charging excessive shipping prices. Surely, many more are still out there.
These are cherry-picked examples of random items, and Amazon can't police every single item on its site. But Marketplace sellers have also run rampant and obvious scams on the homepage of Amazon — the most valuable real estate in all of e-commerce — with little resistance.
A BuzzFeed News report in October showed that sellers were using an obvious and easy trick to game their way into the "Today's Deals" section on the homepage. They'd jack up the price of a commonplace item, say, a $70 iPhone charging cord, then "discount" it to a normal price, creating a giant discount percentage (85% off!!) to gain entry into the valuable Today's Deal page. A clear and obvious scam was taking place right there on Amazon's homepage. That's wild!
Looking at the big picture, these are all tiny things, mostly harmless. Considering the amount of harm Amazon does to the environment and the people who work for them, it's hard to give much of a shit about whether or not there's a Subscribe & Save option for a bassoon harness. But these little things matter when we're putting massive amounts of money, personal data (including our kids' data), and faith into a company that's falling short of its basic business: running a website that sells stuff.