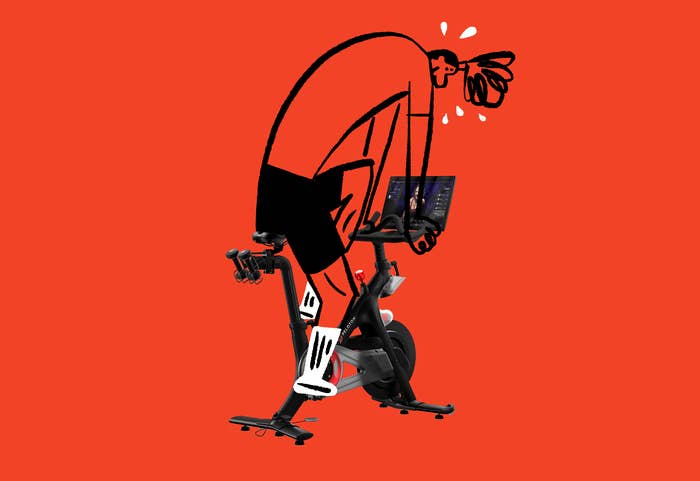 BuzzFeed may collect a share of sales or other compensation from Things We Love links if you decide to shop from them. Some items were already owned by our staffers, and others were sent to us for review, but nothing made the cut unless it was actually loved. We hope you love them too. Also, all prices were accurate and items in stock at the time of publication.
I adore my Peloton bike, and nothing anyone tells me can convince me otherwise. This is not a paid advertisement; I just really love my Peloton.
I was never a big fan of spinning, but my local gym offered some group classes at a convenient time, so I gave it a shot. Soon enough, I became obsessed with the feeling that the activity gave me.
Then the pandemic made my gym go out of business.
I have a strong preference for group fitness classes, but none of the other gyms around me offered what I was looking for: a wide range of classes with music I enjoyed held at a variety of times to fit my flexible yet busy schedule.
So I looked into it, and eventually, after about six months of saving, purchased the Peloton Bike+ (the newest model) for $2,495 with a $300 New Year's discount. I also signed up for the subscription the company offers, which now costs $44 each month (it used to be $40).
I haven't looked back since.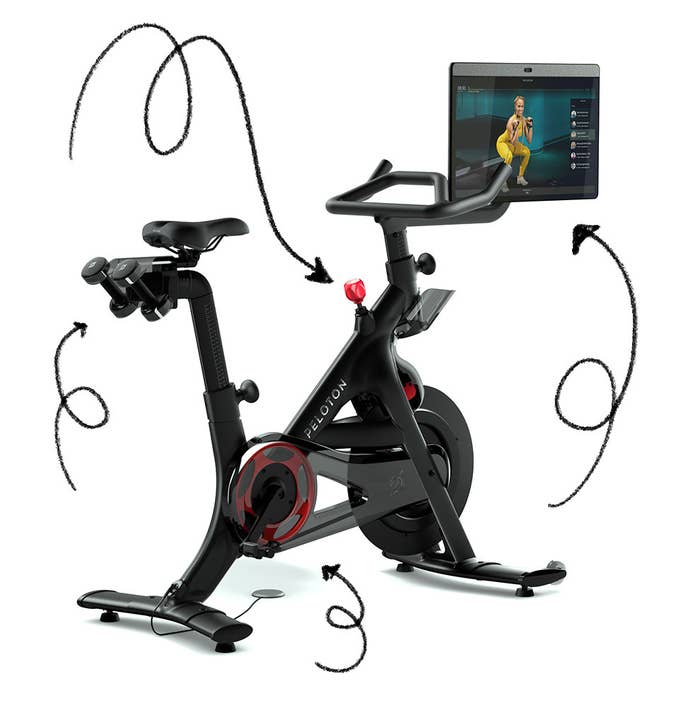 First off, my bike was delivered to my apartment within three days and set up in less than an hour. It's just 4 by 2 feet — smaller than the yoga mat I placed underneath it. No delivery fee. No complaints.
But what really sold me was that Peloton offers thousands of workouts, including many that aren't spinning-related, all of which can be taken live or "on demand" at any time.
There are strength training, boxing, pilates, yoga, meditation, barre, running, stretching, foam rolling, dance cardio, and rowing workouts. Dozens of new classes come out every day, and the company often announces new instructors and types of exercise.
There's truly an option for any fitness or well-being goal I may have, although I did at first have to buy some other equipment like a mat, weights, and adapter pedals to make the most of the class selection. (You can buy more expensive packages that include these accessories with the bike, but I found it cheaper to buy the items separately.)
If you already own a different type of stationary bike or just want to try Peloton's exercise classes, you can download the app and purchase the monthly subscription for just $13 a month. The only real downside is that you can't get the performance metrics the bike offers or have access to live interactions with instructors or other members, like motivational high-fives and shoutouts.
A major bonus is that the screen on the Bike+ rotates 180 degrees, so I can adjust it to the space I need for whatever class I am taking. (Not all Peloton bike models allow you to rotate the screen.) Not to mention the bike runs so smoothly and quietly.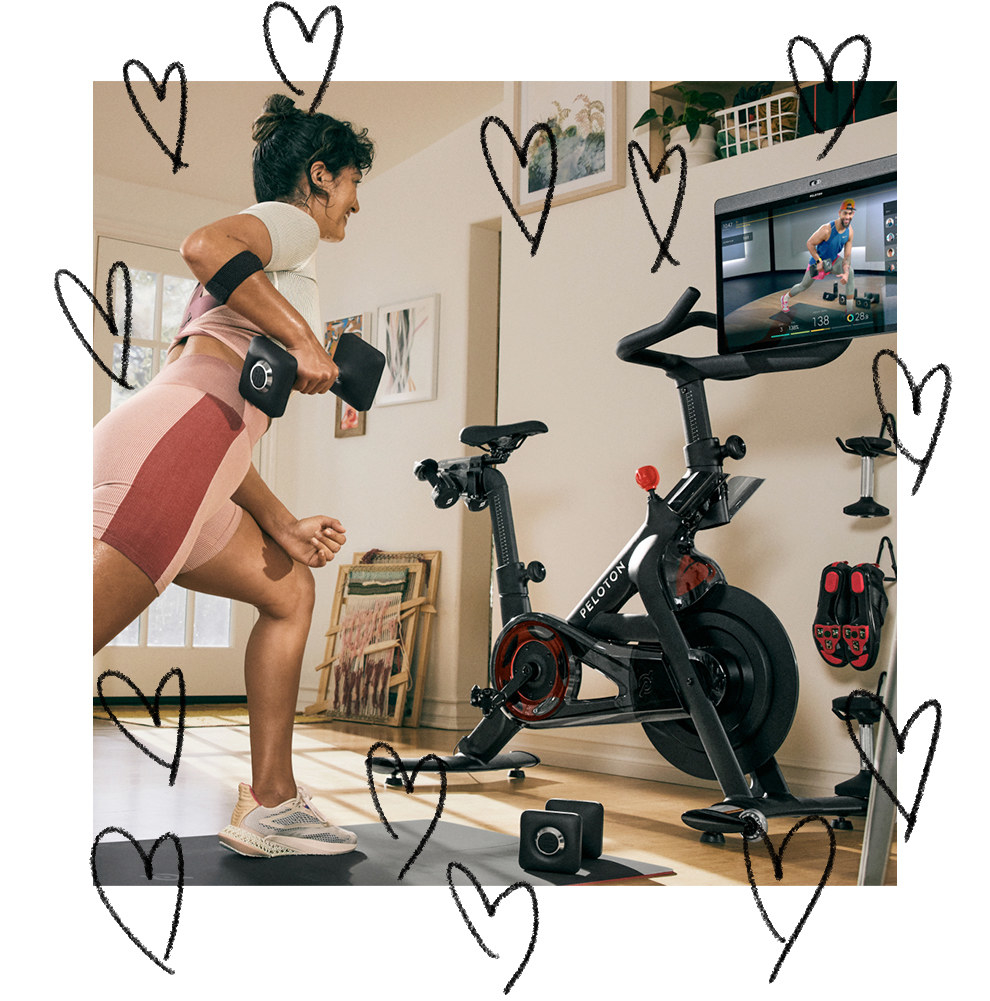 The cherry on top of it all is the fact that I can find a class to match just about any mood or quirk I'm into. Frustrated with my landlord? You'll catch me head-banging during an EDM or classic rock spin class. Feeling nostalgic for my childhood? I'll sing along to a Disney soundtrack while working on my core. Trying to get pumped for a night out with friends? Watch me dance to Megan Thee Stallion in between squats.
The speakers are amazing, too. You can really feel the music vibrate on the handlebars as you ride. And if you want to hear more of the instructor's voice or more of the music during class, you can adjust the volume settings to your preferences. The sound also doesn't travel into the ground — at least none of my neighbors have complained. If noise is an issue, you can connect wired or wireless headphones via Bluetooth.
The class lengths are also versatile. I love knowing that I can wake up and meditate for 10 minutes before work, take a quick 15-minute spin class during the day to get my focus in check, or do a longer 45-minute full-body workout before dinner. And if I'm in a hurry, I can use the search tool to find what I'm looking for; it breaks the classes down by length, instructor, type, body activity, music, difficulty, and language.
While using a Peloton at home is not the same as a group fitness experience at a gym, the giant, nearly 24-inch screen and interactive nature of the instructors' teaching styles make me feel like I'm not alone. Live classes offer some features that recorded ones don't, such as personal motivational shoutouts from instructors. But in any class, you can see your fitness stats in real time and compare them to others who have done the same workout.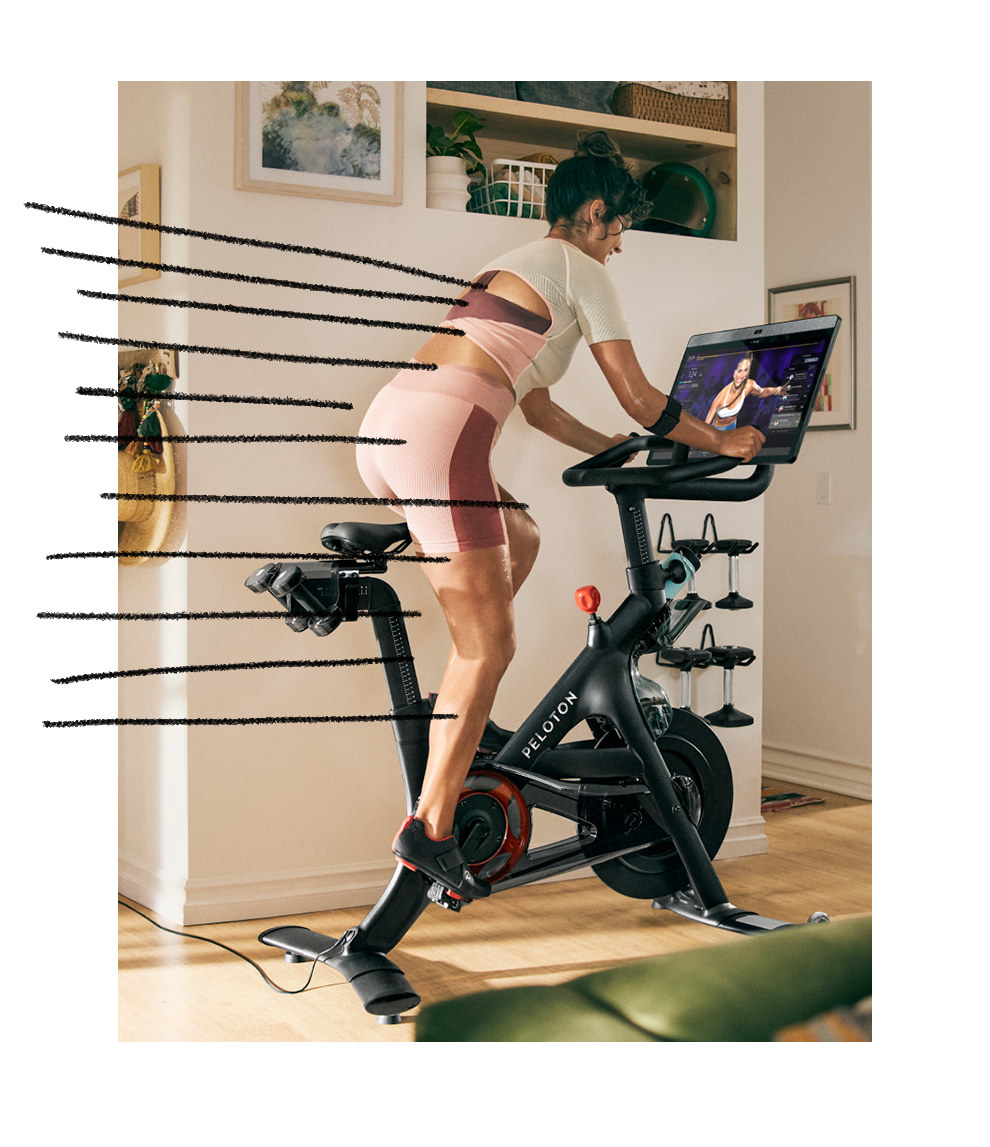 I've truly never exercised so consistently before buying my Peloton bike. It helps, too, that the instructors make the exercise experience a realistic one, admitting when they're exhausted or reminding you that it's OK to modify workouts to fit your needs.
Honestly, I have no complaints about my Peloton. It's quiet, it offers what I want and need, and makes me excited to work out every day. I do wish the subscription was a tad cheaper. I'm lucky to be able to afford it, but lowering the cost could open this resource to a lot more people who like to have a diverse fitness routine.
Nearly a year after buying my Peloton bike, I still believe it's the smartest investment I've ever made into my health and well-being. So yes, my heart breaks a little every time I come across another headline that Peloton is suffering major business blows.
Whatever happens, I'm in for the long run.
You can buy an Original Peloton Bike for $1,445 on the Peloton website or Amazon. The Peloton Bike+ is available only on the Peloton website for $2,495. The monthly subscription fee is $44 for the Peloton all-access membership and $13 for the Peloton App membership.