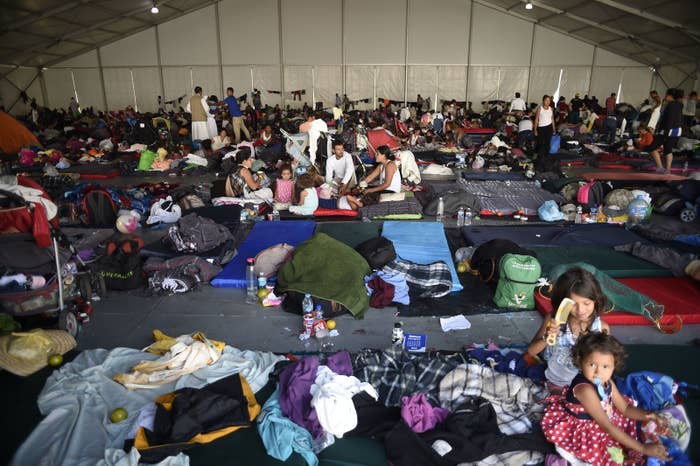 MEXICO CITY — With the midterm elections behind him, President Donald Trump has gone quiet on the migrant caravan. Until Tuesday, it was used as rhetorical gasoline to fire up his base during his unsuccessful battle to preserve full Republican control over Congress.
After weeks of Twitter tirades in which he called the caravan an "invasion" and its members "dangerous fighters," Trump's silence was jarring, making some of the president's critics wonder why there was such extensive coverage of it to begin with.
Inside the Mexico City stadium where migrants have been regrouping and recovering since Monday after more than three weeks on the road, few are aware of the debate awaiting them in the US. In the functional mini-city that's sprung up — replete with clowns, yoga instructors, a volleyball court, mariachis, and a food truck corner — there's not much in the way of talk about US politics.

"I think it was a presidential election? And Trump lost?" Dennis Alvarado told BuzzFeed News when pressed about the midterms. Alvarado, a Honduran migrant, was wearing a T-shirt of the US president resembling Ronald McDonald, the McDonald's mascot.
And though Trump hasn't tweeted about the caravan since Election Day, his administration continues to move against its members before they continue their journey to the US border. The Department of Defense has deployed 5,600 troops — in theory in order to impede illegal crossings, but none are allowed to interact with migrants during their mission. Despite predictions that their operation would end after votes were counted on Tuesday, they will remain in place through mid-December.
And on Thursday, the Trump administration announced that migrants who cross the border between ports of entry will be denied asylum, a new escalation in the government's offensive against Central Americans fleeing economic hardship and gang violence.

Most migrants who've marched with the caravan, however, plan on turning themselves in to immigration authorities at official border crossings.
Claudia Pacheco is one of them. The 38-year-old, who is traveling with her two teenage sons, told BuzzFeed News she was running out of patience after three days in Mexico City. She knows getting to the border will be hard and she wanted to get on with.
It remains unclear how long the caravan, which at one point numbered around 7,200, will remain in the capital.
For now, the migrants are getting their blistered feet treated by doctors and their sore calves massaged by volunteers. Every inch of the massive sports complex where the caravan is resting is taken up by tents, clusters of people playing cards, local vendors selling cigarettes and peanuts, and portable power stations for migrants to charge their cellphones.
Volunteers call out offering jobs from one tent — as security guards in Queretaro State, in this case — while a group of people from the incoming presidential administration, due to take office on Dec. 1, meet with migrants in another.
A routine has emerged as people get used to the sprawling camp, which feels like a carnival at times. A mariachi band serenades people waiting in line for a hot dog or hamburger from one of the six food trucks that have descended on one corner of the complex. Evangelists roam around preaching the word of God, volunteer hairdressers provide free trims, and dentists scour around migrants' mouths for cavities to fill.
In the center of the stadium, a handwritten sign — written by caravan members who have emerged as leaders over the weekslong journey — lays out the day's schedule: a chat about seeking asylum in the US at 8 a.m., women's assembly at 10 a.m., a presentation on asylum in Mexico at 4 p.m., and a general assembly at 8 p.m.
Despite having been the drivers of electoral fury amid Republican supporters in recent weeks, few migrants seemed aware that key elections were held in the US this week, and none could say which positions were up for grabs.
News from the United States trickles down slowly here and mostly through Facebook feeds. When Trump said there were "Middle Easterners" traveling with the caravan, migrants were baffled, not only because they learned about it from reporters, but because they all seemed to know each other in one way or another.
Still, glimpses of the migrants' feelings toward Trump had begun sprouting up around the camp. A life-size devil sculpture was placed between two mega-tents on the field, a sign reading "Trump, NO border militarization" on its chest.
"We call him Trompa," said Luis Gerardo, one of the Honduran caravan organizers who requested that his last name be withheld. The nickname is a play on the word for "mouth," "because of how ill-spoken he is."