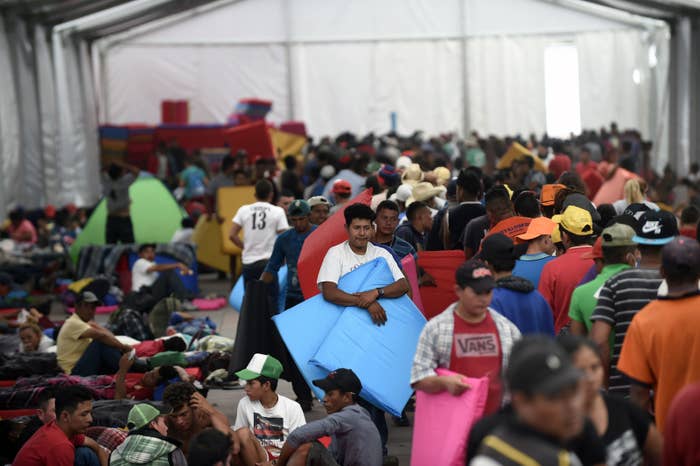 MEXICO CITY — A small tent city rose up in the middle of the Mexican capital as a large contingent of the migrant caravan that entered the country last month streamed into the metropolis. It was an important milestone for the group, which President Donald Trump has used to fire up supporters in the lead-up to midterm elections.
Mexico City represents an oasis of sorts for the worn-down migrants hoping to recover from illnesses and blisters, regroup after splintering into smaller bands, and negotiate for transport to the US border.
Authorities said they expect as many as 5,000 migrants to arrive by day's end at the Estadio Jesús Martínez "Palillo," a sports complex near the Mexico City airport and about 660 miles south of the US border, though it is unclear how long they plan to stay here.
The camp marks a departure from the treacherous road the migrants undertook over the last three weeks, battling downpours and a punishing sun without cover, sleeping on cardboard cutouts on the street in small towns they had never heard of, and begging for coins with which to pay for access to rudimentary, filthy bathrooms.
Three massive tents housing hundreds of families with small children and the elderly were set up in the middle of the field, flanked by smaller ones with medical staff. Clusters of people lay down on donated blankets on the bleachers where cigarette vendors walked around looking for clients. Volunteers played with children, set up a soccer game for older boys, and approached women asking if they needed to speak with psychologists.
A man was giving haircuts beneath the bleachers for a small fee while outside the stadium gates, a table was set up to show migrants how the subway system in the city works.
"Everything you can imagine that causes stress, they are living through it now," said Cecilia Espinosa, a volunteer for the Mexican Institute for Emergency Psychology, a nonprofit group.

Nubia Estrada watched from the bleachers. She was surrounded by her four children, ranging in age from 4 to 17, who were devouring a pile of fresh tortillas. Estrada, a thin woman who looked a decade older than her 34 years, used to sell homemade bread in Honduras, but after the third time she was held up with a gun, fondled, and robbed on the bus, she decided enough was enough.
Estrada first heard about the caravan on HCH, a local television network, on Friday, Oct. 12. She thought long and hard about joining, weighing the risks of such a journey as a single mother. By Sunday morning, she had made up her mind. Anywhere was better than home. They gathered up what they could in a few small backpacks and set off.
The caravan began with a few hundred people, mostly families, but as the segment on HCH — during which the program's hosts falsely claimed that transportation and meals would be arranged by the organizers — was replayed across the country and word of the group spread to neighboring Guatemala and El Salvador, it grew to some 7,200 at one point.
The timing of the caravan has been fortuitous for Trump, whose string of threats to the governments of the Northern Triangle and Mexico gave his anti-immigrant base a new rallying cry days before the midterm elections. He has claimed repeatedly that "criminals and unknown Middle Easterners" as well as "very tough fighters" were mixed in. Of the thousands who crossed into Mexico, Mexican authorities deported two Hondurans from the caravan last week, sought for homicide and drug charges at home.
People in the caravan had read a handful of stories about Trump's troop deployment to the border, but, deeply faithful, they remain certain that he will soften his stance once they reach the border and he sees that they are harmless, eager to put their heads down and work.
As this caravan made its way up through Mexico, at least two others formed in Central America and started the journey north, signaling a definitive new migration trend in the region. While caravans have taken place once a year for the last decade, mostly to make a political statement about the mistreatment of migrants by Mexican authorities, new, far bigger ones have been forming since April to help people travel safely to the US.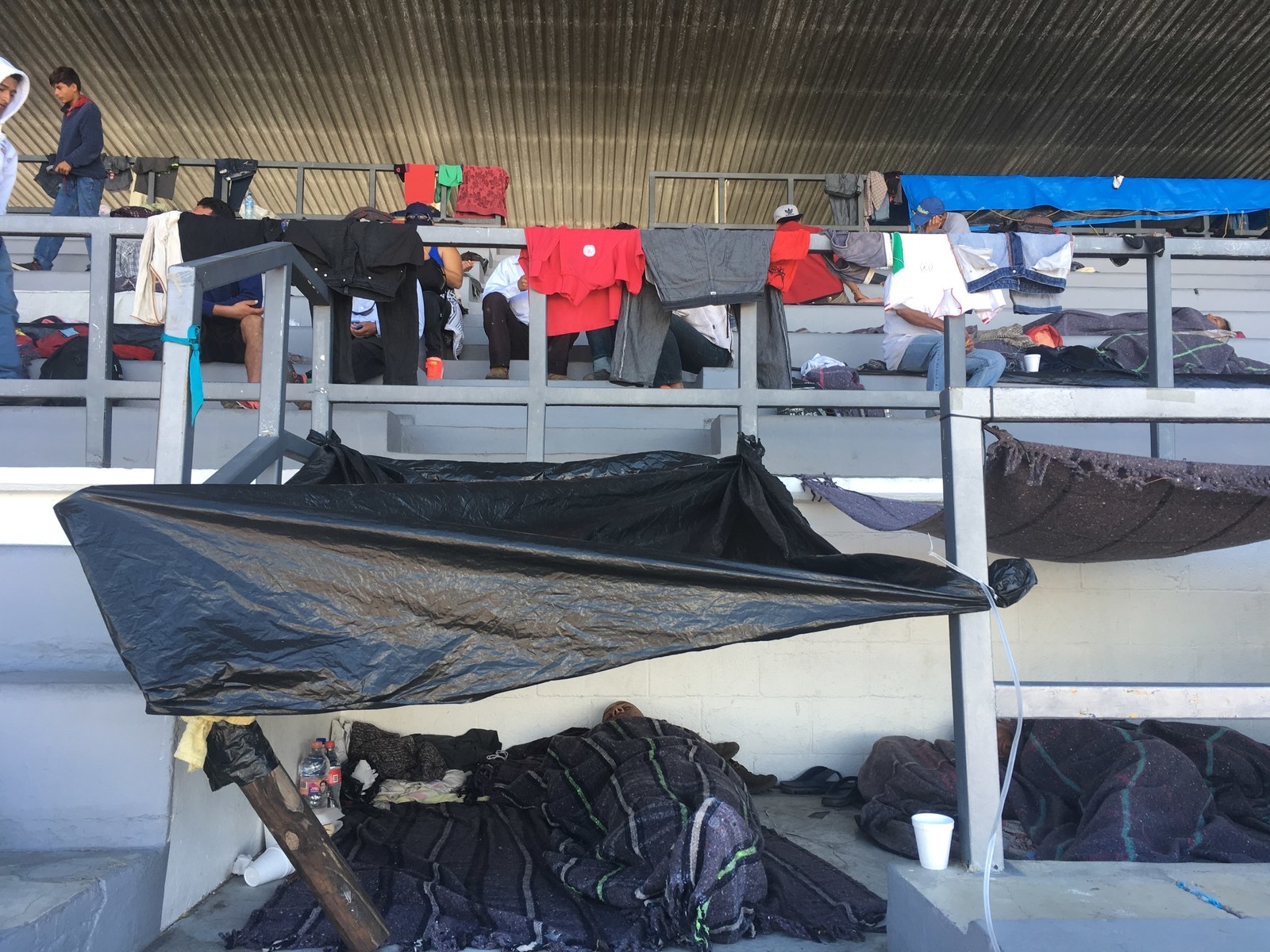 This one, which left Honduras last month, is the biggest by far, posing an unprecedented logistical and diplomatic challenge for outgoing President Enrique Peña Nieto and the incoming administration, headed by Andrés Manuel López Obrador, due to take office Dec. 1.
Federal authorities had conditioned humanitarian aid on accepting a kind of detention, providing it only to migrants who applied for asylum — forcing them to stay in southern Mexico during the administrative process. More than 2,790 have applied for refugee status so far, and another 478 refugee-seekers have asked to be "voluntarily returned" to their countries of origin, according to Mexico's Interior Ministry.
But on Monday morning, international organizations, such as UNICEF and the Red Cross, erected their tents on the field in Mexico City, regardless of the travelers' legal status. Migrants on the bleachers curled up into balls, draped an arm across their eyes and fell deeply asleep. Those who were too sore made their way to a shaman, part of a local church, who was treating a handful of shy patients.
The shaman closed his eyes as he pressed his hands to a woman's aching knee, saying a prayer under his breath. Then, he inserted an acupuncture needle just below her kneecap. Next to him, a volunteer was giving a woman a massage while another performed auriculotherapy on another patient.
As the assembly waited for the bigger group of migrants who would arrive later in the afternoon, the stadium was quiet.