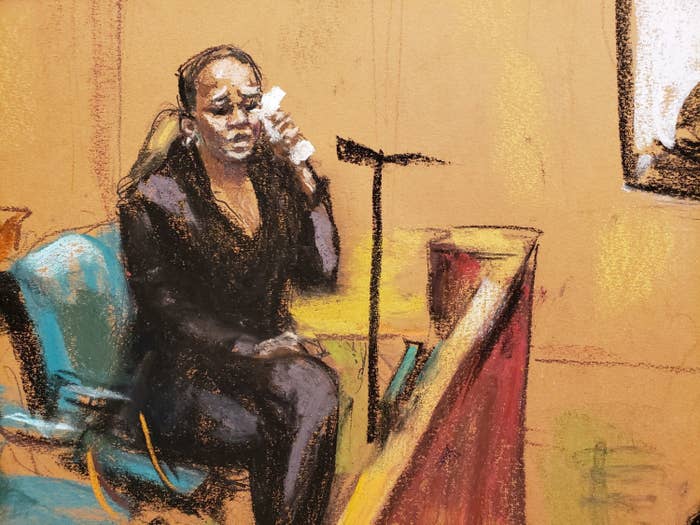 A former talent manager who later became an assistant to R. Kelly testified in court in Brooklyn on Friday that the singer threatened her over a teenage singer's lawsuit, saying she needed to "pick a team."
"He said, 'Generally in these situations, people come up missing," the witness, Cheryl Mack, told the jury in the singer's trial on sex trafficking and racketeering charges. He has denied any wrongdoing.
Mack was subpoenaed by prosecutors to appear in court, and she acknowledged in her testimony she did not wish to be there. She became emotional at several points while on the stand, occasionally taking long pauses in order to collect herself before answering questions.
She testified that she first met Kelly in 2005 when she was working as an Atlanta-based talent manager. In 2009, she began managing a 17-year-old singer, identified in court as Precious, and Kelly agreed to work on music with her. Precious, who was also from Atlanta, began living in a hotel near Kelly's house and working in his studio there.
But the partnership between Kelly and Precious ended "abrupt[ly]," Mack said, and without her managerial input. She found out when Kelly called her and said she needed to come to Chicago immediately — Precious was going to sue him, Mack said Kelly told her, with Mack recalling he said it had something to do with sexual harassment.
"When she left, everything just happened so fast," Mack said, testifying through tears. "He told me she was trying to file a lawsuit, and I needed to pick a team."
It was at that point, Mack said, that Kelly said "people come up missing" in situations like the one they found themselves in. "I took it as a threat," she said.
After that, Kelly's manager drove her downtown to the office of Kelly's lawyer. There, she said she was given an affidavit to sign that had been fully written out. Anxious to leave, she said she didn't read the legal document before signing, but recalled it included a few yes-or-no questions about whether Kelly had ever had sexual relations with Precious or given her alcohol. She said she does not recall if she answered the questions.
It is unclear if Precious ever wound up filing a lawsuit, but Mack said she later learned the allegations had been "resolved" in some way. Prosecutors did not identify Precious, and they have not said why they did not call her to testify.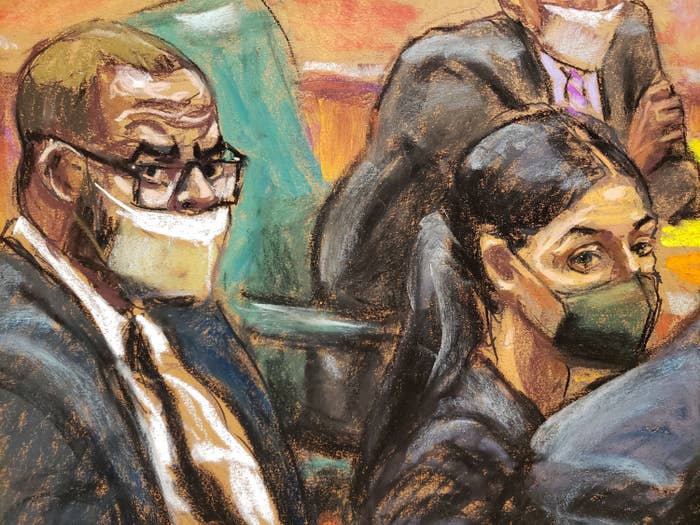 Mack said she flew home to Atlanta and didn't see Kelly again until 2013. By then, she was working with music executive Devyne Stephens, who had the idea that they could reinvigorate Kelly's career. "They hit it off, and we went to work," Mack said.

Kelly became Mack's primary client, and later she began working as Kelly's executive assistant.
But working closely with Kelly, Mack said she witnessed many of the odd and disturbing things that a number of Kelly's other former associates have testified about.
She said Kelly was often accompanied by several "female guests," who were handled with strict rules. At Kelly's basketball games, she recalled, these women would sit facing a wall. When one entered a room where there were men besides Kelly present, the men would promptly leave so as not to interact with the woman, she said.
Once, Mack booked a show for Kelly that the singer felt he wasn't paid enough for. As a result, Mack said, he reduced her pay to "nothing" for three to six months "to offset what he thought [the payment] should've been."
Like others in Kelly's circle, Mack also said she had to write an apology letter to him that he dictated after they got into another dispute over money. "I apologized out of fear," she said. "I was 1,000% scripted."
One night in 2015, after one of Kelly's shows, Mack said she was sitting in a hotel room with Kelly and Jane, a pseudonym for one of the women Kelly is accused of abusing. Jane moved closer to Kelly and began massaging his legs, and Mack said she took that as her "cue to leave."
"I was very uncomfortable," she said. "That wasn't my business, I was there to work."
The next day, Mack wound up quitting. She was at McDonald's with the singer and his entourage, when he suddenly began accusing her of "spoiling" the surprise of a birthday gift for his stylist. Kelly was enraged, she said, yelling at her, cursing, and pounding the table.
"I just had enough," she said. "And in that moment, I quit."
Prosecutors are thought to be near the end of their case against the singer. It is not yet known what evidence or witnesses his defense team will present to the court.