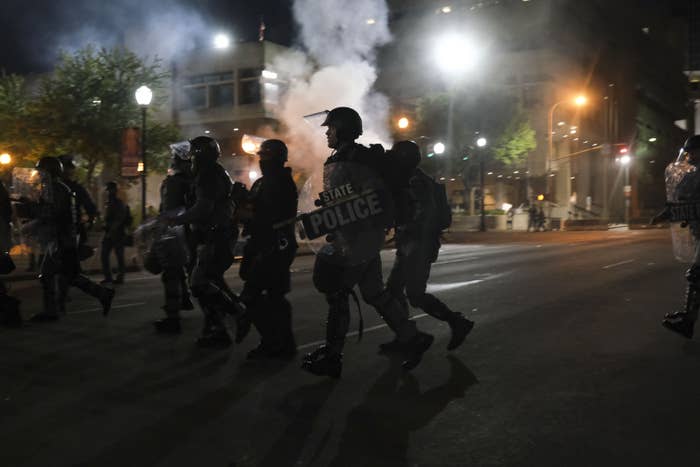 A man was arrested Wednesday night over the shooting of two police officers at a Louisville protest sparked by the Breonna Taylor charging decision.
Larynzo Johnson, 26, was charged with 14 counts of wanton endangerment and two counts of assaulting a police officer, Interim Louisville Metro Police Department Chief Robert Schroeder said in a press conference Thursday.
According to the charging document seen by BuzzFeed News, police said Johnson "intentionally used a handgun to fire multiple bullets at officers...causing serious physical injury" to two of them.
Johnson allegedly fled after the shooting and was found in possession of a handgun upon his arrest.

His arraignment is scheduled for Friday morning.

Schroeder said the two officers, identified as Aubrey Gregory and Robinson Desroches, were expected to recover. Gregory was shot in the hip and has since been released from the hospital, while Desroches is in a stable condition after undergoing surgery for being shot in the abdomen.
"We are extremely fortunate these two officers will recover," Schroeder said.
In a press conference Thursday, Louisville Mayor Greg Fischer expressed his gratitude to the police department and called the shooting of the two officers "completely unacceptable."
"Violence will only be a source of pain, not a cure for pain, and we know that violence is never the answer," Fischer said.
The shooting came mere hours after a Kentucky grand jury announced that the three officers involved in killing Breonna Taylor would not be charged over her death. One of the officers, former detective Brett Hankison, was charged with three counts of first-degree wanton endangerment because he shot a bullet through a neighbor's wall, injuring none of the neighbors.
Massive protests erupted in Louisville following the decision, with people grieving and gathering in the streets.
More than 100 protesters were arrested in the city on charges of "looting" and "unlawful assembly," the Associated Press reported.
In cities nationwide, including New York, Atlanta, and Philadelphia, thousands more marched the streets in protest against the decision.