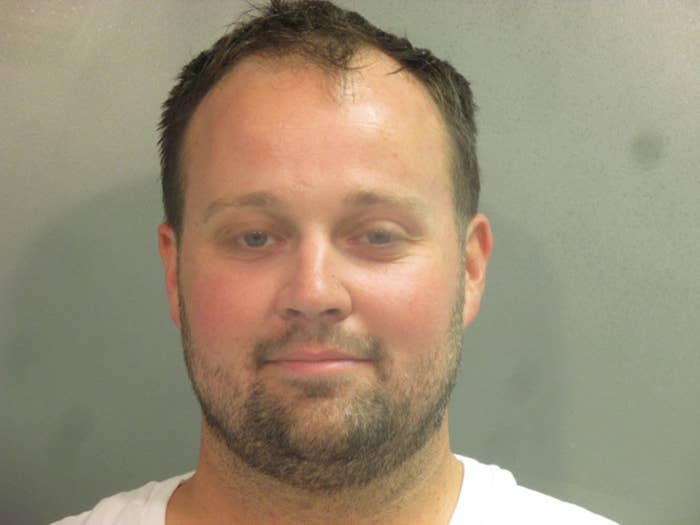 Josh Duggar's federal prison sentence has been extended, inmate records show.
Duggar, who previously starred in the reality TV show 19 Kids and Counting, was found guilty in December 2021 of possessing child sexual abuse materials. In May, he was sentenced to 12.5 years in prison.
According to prison records as of March 17, Duggar is scheduled to be released from the federal facility in Seagoville, Texas, on Oct. 2, 2032. His release date had previously been set for August 2032.
Though the reason for the change to Duggar's sentence was not immediately clear, multiple tabloids reported in February that he'd been moved to solitary confinement, allegedly for having a contraband cellphone.
A spokesperson for the Federal Bureau of Prisons confirmed Duggar's new release date was accurate but declined to comment on the reason.
"For privacy, safety, and security reasons, the Bureau of Prisons (BOP) does not discuss the conditions of confinement of any inmate, including possible investigation or sanctions in prison, or reasons for changes in release plans," the spokesperson said.
Justin K. Gelfand, the defense attorney who represented Duggar during his trial, did not immediately respond to a request for comment from BuzzFeed News.
According to evidence revealed during his trial, Duggar was found to have downloaded more than 600 pictures and videos depicting child sexual abuse. Prosecutors said they included videos of prepubescent girls being raped, whipped, threatened with knives, and held in a dog cage while naked. A Homeland Security Investigations agent who testified during the trial said one video, which showed a toddler being raped and tortured, was one of the most disturbing things he'd seen in his whole career.
In a sentencing memo, Assistant US Attorney Dustin Roberts said Duggar had a "deep-seated, pervasive, and violent sexual interest in children."
Previously, Duggar had been accused of molesting five young girls — four of whom were his younger sisters — when he was a teenager, which prosecutors presented as evidence that he posed a danger to children. Duggar issued an apology in 2015 after reports of the allegations were made public, saying he had acted "inexcusably."
"His past behavior provides an alarming window into the extent of his sexual interest in children," Roberts said.
Ahead of his sentencing, the mother of an unidentified child who appeared in the sexual abuse content Duggar had downloaded made a statement emphasizing the impact of his crimes.
"My daughter is a real person. She was horribly victimized to provide this source of 'entertainment,'" the woman said. "She is exploited anew each and every time an image of her suffering is copied, traded, or sold."
She also passed on a message to Duggar from her daughter: "Don't you know no one should do that to a little girl! Don't you know it hurts!"
Duggar continues to maintain his innocence and is trying to overturn his conviction through an appeal. According to the Associated Press, defense attorney Gelfand argued in a February appeals court hearing that Duggar's rights had been violated, saying investigators found the child sexual abuse images because they seized his phone when he was trying to call his lawyer.
If you are concerned that a child is experiencing or may be in danger of abuse, you can call or text the National Child Abuse Hotline at 1-800-422-2253 (4.A.CHILD); service can be provided in over 140 languages.