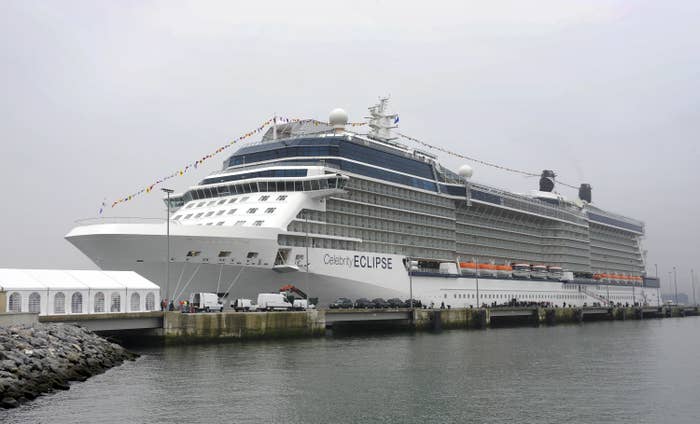 A cruise ship was turned away from docking in Chile over coronavirus concerns and will instead sail for 10 days to San Diego, passengers on board told BuzzFeed News.
Since the early morning hours of Sunday, the Celebrity Eclipse — a Celebrity Cruises ship with a capacity of almost 3,000 — had been locked in a standoff after Chile banned cruise ships from docking in its ports.
It was just one of cruise ships that has left passengers stranded on board as companies have suspended trips and ports have restricted access because of the coronavirus.
The Celebrity Eclipse attempted to dock in San Antonio, Chile, on Sunday after Celebrity Cruises announced Saturday night that they had suspended operations due to coronavirus travel restrictions.
Though no one on board has reported being sick, passengers were left stuck and unsure when or how they would be let off, and wound up spending two extra nights on the ship waiting for answers.
The cruise company confirmed the port closure in a tweet Sunday and said they were working with the Chilean government "to provide a controlled debarkation plan for that would ensure all guests have travel arrangements to leave the country."
But late Monday night, passengers told BuzzFeed News a solution had not been reached to debark in Chile, and the captain had said they would instead sail on to San Diego.

A spokesperson for Celebrity Cruises confirmed the new plan to BuzzFeed News.
About 20 Chilean citizens on board were permitted to debark in Valparaiso, Chile, with the help of Chilean officials who sailed to the boat to facilitate their transfer to land.
All other passengers, which include people from several different countries, will sail on to San Diego — raising questions about how many of them will make it home amidst heightened travel restrictions and possible quarantining.
Celebrity Cruises' decision to suspend trips coincided with the same decision by many other major cruise companies. On Friday, President Donald Trump announced that Carnival Cruise Line, Norwegian Cruise Line, MSC Cruises, and Royal Caribbean — Celebrity Cruises' parent company — had "all agreed to suspend outbound cruises for thirty days."
The widespread cruise suspensions came just after Chile's minister of Health, Jaime Mañalich, announced a ban on cruises docking at the country's ports, after an elderly British man on one ship tested positive for the coronavirus.
There are no reports of anyone testing positive for or showing symptoms of COVID-19, the disease caused by the coronavirus, aboard the Celebrity Eclipse, which departed March 1 for a two-week voyage from Buenos Aires to San Antonio.
The ship arrived off the coast of San Antonio around 2:30 a.m. on Sunday, sailing in circles as it tried to negotiate permission to dock with local authorities.
Passengers — many of whom had originally planned to continue on with the ship to San Diego — spent hours in long lines to give their passport and flight information to crew members in preparation to debark. Simultaneously, many of them scrambled to book new flights and hotels.
On Monday, a spokesperson for the US State Department said it was working with the cruise ship.
"Our team is in communication with U.S. government partner agencies, such as the CDC, and relevant local authorities," the statement said. "We stand ready to provide all appropriate consular services to the U.S. citizens on board, in accordance with guidance from local health authorities and in coordination with the CDC."
Despite the chaos, the vibe has stayed sunny, and dining and recreational activities have continued, Rev. Ian Johnston, a British passenger, told BuzzFeed News.
"Mood on board is very good," Johnston said. "People [are] being very friendly and lots of humorous banter."

Johnston said it had been an "amazing trip," and he said the cruise line was assisting his fellow passengers in making new travel arrangements.
Denise Tulk, whose parents are on board from Cambridge, Ontario, told BuzzFeed News "they're doing fine, just anxiously waiting news."
"Apparently things are pretty calm and since no one is sick, people are just waiting to hear any news but they know it's out of their hands," Tulk said.
Another passenger on board, who wanted to remain anonymous, said he had heard some passengers arguing and blaming US Speaker of the House Nancy Pelosi and the media for panic over the pandemic.
"My family is riding this out in our room for now," he said.
While inconvenient, the passenger said he understood "Chile's unease with accepting so many American passengers."
"I haven't seen symptoms on board, and the captain reports no cases," he said. "But I'd be wary of exposing my country to a large group of Americans right now, too."
Around 4 p.m. local time on Sunday — more than 12 hours after arriving near San Antonio — an announcement was made that previously collected luggage would be returned to owners and dinner would be served.
The anonymous passenger said the captain announced there would be free drinks every night they are there, which he took as a pretty clear hint it might be a while before they can leave.
"So this may be a long haul," he said.
Shortly after that, the captain announced that passengers would need to spend the night on the ship. Chile's minister of Tourism had approved them to debark, the captain said, but the minister of Health still had not. They had, however, been given permission to refuel and get more food and supplies.
Jennifer Hirschorn, a Washington, DC resident, told BuzzFeed News she was sipping a daiquiri at the bar around the time news came that they'd be staying at least one more night aboard.

"People are currently dancing to 'Hey Ya!' on the pool deck, so spirits remain high for now," Hirschorn said.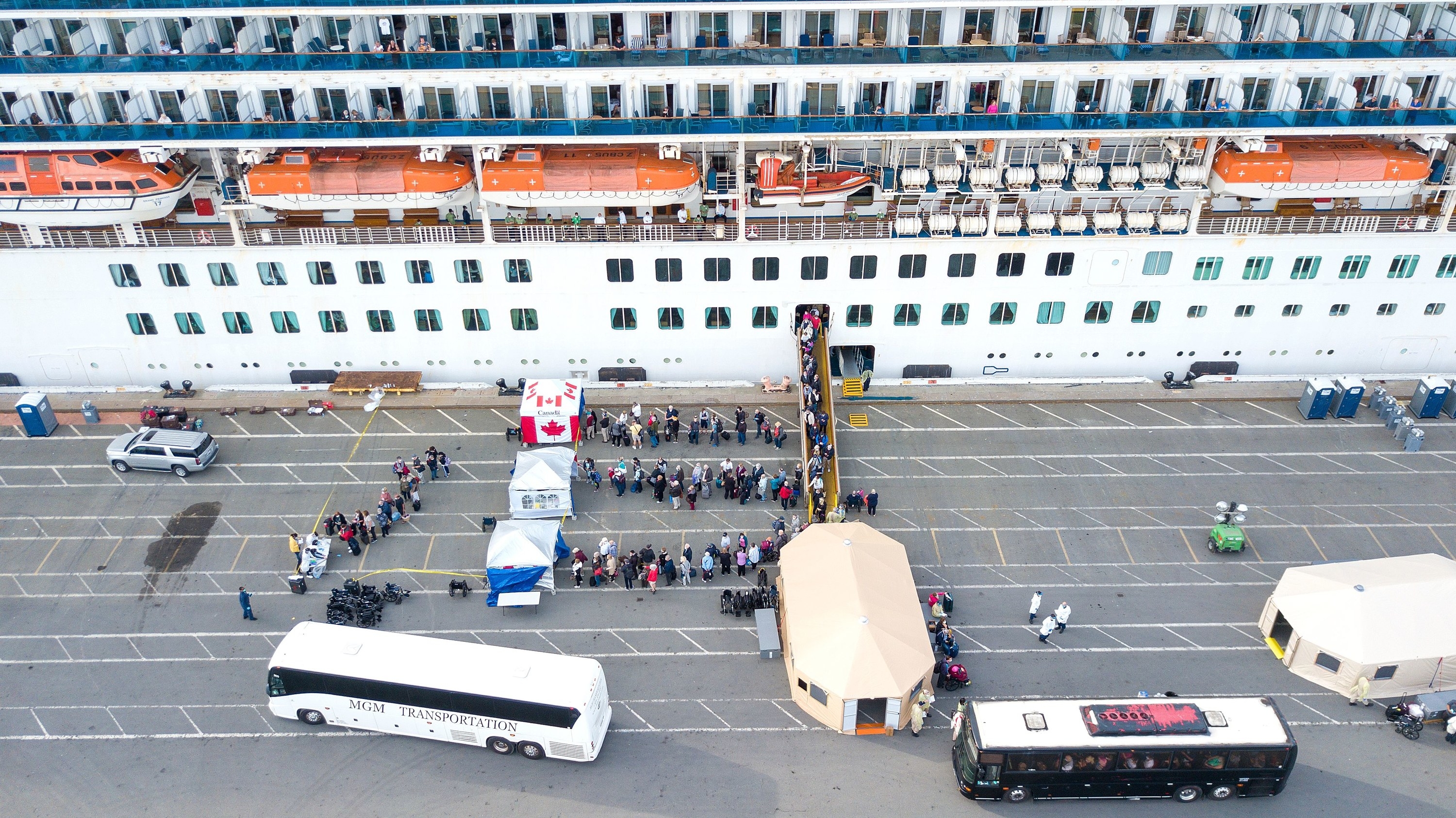 The Celebrity Eclipse wasn't the only cruise ship stuck sailing open waters, desperately looking for somewhere to dock.
The MS Braemar, a Fred Olsen Cruise Lines ship carrying more than 600 people, has been refused entry at several ports in the Caribbean, CNN reported on Sunday. Twenty passengers and another twenty crew members are reportedly exhibiting flulike symptoms and are quarantining on board.
The British cruise company still does not know where or when passengers will be allowed to debark, and are reportedly even considering sailing back to the UK.
Another ship, the Grand Princess, was held at sea for several days after 21 passengers tested positive for COVID-19. The passengers were eventually allowed to disembark in Oakland, California, and all were quarantined.
Rick and Wendy, a married couple from New Jersey on the Holland America Line ship Zaandam, told BuzzFeed News they woke up to a note under their door Sunday morning that the vessel was not being permitted to dock in Punta Arenas, Chile.
No one on their ship is currently known to have COVID-19, but they're now concerned about getting quarantined a long way from home.
"A lot has changed since we left New Jersey on Friday the 6th," he said, mentioning the CDC warning about cruises that came out two days later on March 8.
On another Holland America Line ship, the Nieuw Statendam, passengers were temporarily not permitted to disembark in Fort Lauderdale after a passenger died of undisclosed causes during the cruise. About 65% of passengers got off the boat after the CDC initially cleared it, but the ship then halted the disembarking process.
Hours later, the cruise line announced the deceased passenger had tested negative for COVID-19, and passengers would be allowed to continue disembarking.
Still, one anonymous passenger expressed her concern with how the Nieuw Statendam dealt with medical issues aboard. She said she'd had a headache, cough, sore throat, and fatigue for a few days, but was told by the ship's medical staff not to worry about it if she didn't have a fever. She was also told seeing a doctor on board would cost an additional fee, since they were closed.
"Free drinks for all but no free medical advice for those not feeling well," the passenger said. "Pretty sad."