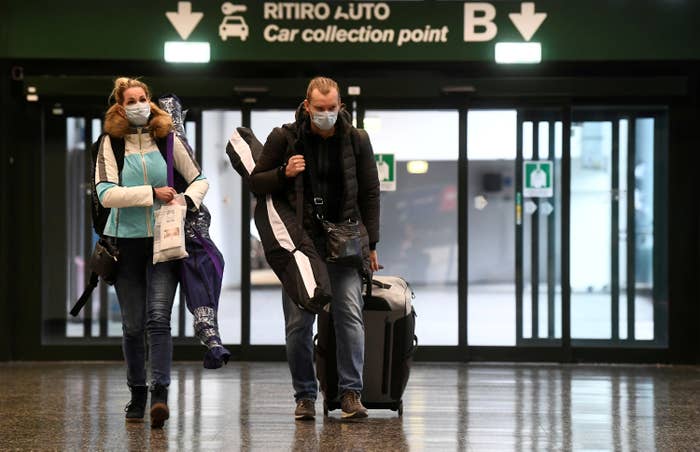 Two days before her flight home from the Maldives, Shannon O'Connor got an email saying her Alitalia flight was canceled. She called customer service, which put her on hold for two hours — and hung up on her twice.
When she finally got through, the customer service representative told her that there were no flights leaving the capital Malé and that she would not be getting a refund or help booking a new route. O'Connor said that several other Italian citizens at the same resort were also left stranded by Alitalia.

"I believe this has to be illegal!" O'Connor told BuzzFeed News in an email.
The coronavirus outbreak has created worldwide airline chaos, leaving many people either stranded abroad or frustrated or confused about their travel plans due to canceled flights or suspended routes to and from coronavirus-affected countries.

It's especially bad in Italy since the entire country was put in a coronavirus lockdown on Tuesday, with travel restricted to reasons of work, health, and emergencies. Italy now has over 9,000 coronavirus cases, more than any other country apart from China, and more than 460 people have died.

Alitalia, Italy's flag carrier, announced Sunday that it was suspending national and international flights to and from Milan's Malpensa airport from March 9. The airline said it was also reducing the number of flights between Venice and Rome due to the drop in demand.
For travelers like O'Connor, Alitalia told BuzzFeed News Tuesday that it was forced to suspend flights to and from the Maldives because the Maldives authorities had ordered a ban on entry for travelers from Italy, including passengers transiting through Italian airports.

Alitalia said it would offer those affected by the reorganization a change fee waiver for rebooking their travel.
But several Alitalia customers on social media said the airline had canceled their flights without offering any information on refunds or rebooking flights.
Others with questions about refunds or canceling their Alitalia flights due to coronavirus-related travel restrictions expressed frustration with the lack of information and being unable to get through the airline's customer service.
The airline said that it would offer "rebooking without penalty or the possibility to ask for a voucher for an amount equal to the value of the ticket purchased or its residual value valid for the purchase of other tickets to any destination operated by Alitalia" for passengers affected by those cancellations.
In response to people's complaints about Alitalia's customer service, the airline said, "We are sorry for the long queues at customer service numbers, but you will understand that is rather justifiable in such a situation when thousands of passengers have to be rebooked or managed."
Potentially thousands of Italians are expected to be stranded in the UK — while many British tourists are stuck in Italy — after British Airways and Ryanair were among several airlines to halt flights to and from Italy following the countrywide lockdown and the UK's warning against all but essential travel to Italy.
Both British Airways and Ryanair said that customers impacted by the suspensions could rebook their flights or receive a refund.
The Italian Embassy has already started to receive a "significant number" of inquiries from its citizens visiting the UK who now fear being stuck there, a diplomatic source told BuzzFeed News. The source estimated that currently, "hundreds" of people could be hit by the suspensions, but the figure could eventually rise to the "thousands."
Many tourists expressed their concerns and confusion over being stranded in Italy.
Airlines in several other countries including Spain, Australia, Ireland, and Norway also halted their flights to and from Italy.
Apart from the immediate impact of the coronavirus on the travel industry, airlines are gearing up for long-term repercussions of the worsening global outbreak.
Australia's largest airline, Qantas, slashed almost a quarter of its international flights for the next six months due to the drop in travel demand, the Sydney Morning Herald reported.
US airline carriers too announced scaling back flights this year. Delta said it was cutting international flights by 25% and domestic routes by 10% to 15% while American Airlines planned to cut its summer international flying by 10%, the Washington Post reported. The CEO of Qantas and the CEO and president of United said they would forgo their salaries this year, while the CEO of Southwest said he would take a pay cut.
Threatened with redundancies, several airlines, including Qantas, Cathay Pacific, Lufthansa, and Emirates, asked their employees to take unpaid leave — while Norwegian said it was going to temporarily lay off a "significant share" of its workforce, CNN reported.
Qantas chief executive Alan Joyce warned that many airlines could collapse in the face of the ongoing coronavirus crisis.
"We know we can ride this out," Joyce said. "Not all airlines in the world will."