Liz Gehrlein Marsham had been working at DC Comics for less than three weeks when she said a veteran editor named Eddie Berganza cornered her, stuck his tongue in her mouth, and attempted to grope her.
For Marsham, who was 29 at the time, a foot in the door of DC had been a dream come true. "I was so excited," she told BuzzFeed News. "I ran around the office the first week taking pictures of things and sending them to my parents."
But the six years after that 2006 encounter were a "period of slow heartbreak," Marsham said. Berganza's actions and DC's response would change the course of her career — and become fodder for the rumor mill surrounding Berganza and the increasingly open secret of his misconduct. Marsham would be forced to choose between working under Berganza, who she said made her feel profoundly unsafe, or avoiding him at the cost of advancing the career she'd been so proud to start at DC.
"By the time I left," Marsham said, "I was really demoralized. I was physically ill from being stressed all the time and trying to hide it. I just felt like I needed to get out, however I could."
Within an industry that has created some of the most influential American fiction serving as the basis for blockbuster films, TV shows, and video games, Berganza has become notorious for the contrast between his personal conduct and professional success. Professionally, he's moved through the ranks at DC from group editor to executive editor and back again, shepherding properties like Superman and Wonder Woman — properties that grow more valuable by the day as superhero movies dominate box offices and define pop culture. Berganza has become a quintessential company man at a big company inside an even bigger company; DC Comics is part of DC Entertainment, which is owned by Warner Bros., part of Time Warner Inc.
"I just felt like I needed to get out, however I could."
While Berganza's misconduct is alleged to have occurred years ago, with no fresh accusations suggesting he continues this behavior, the recent reckonings of powerful Hollywood figures like Harvey Weinstein and Kevin Spacey have emboldened more victims across more industries to tell their stories. Now, for the first time, three women who say Berganza targeted them in the past have come forward to BuzzFeed News. Five people, including two of those women, confirmed that they spoke to higher-ups at DC about Berganza's behavior.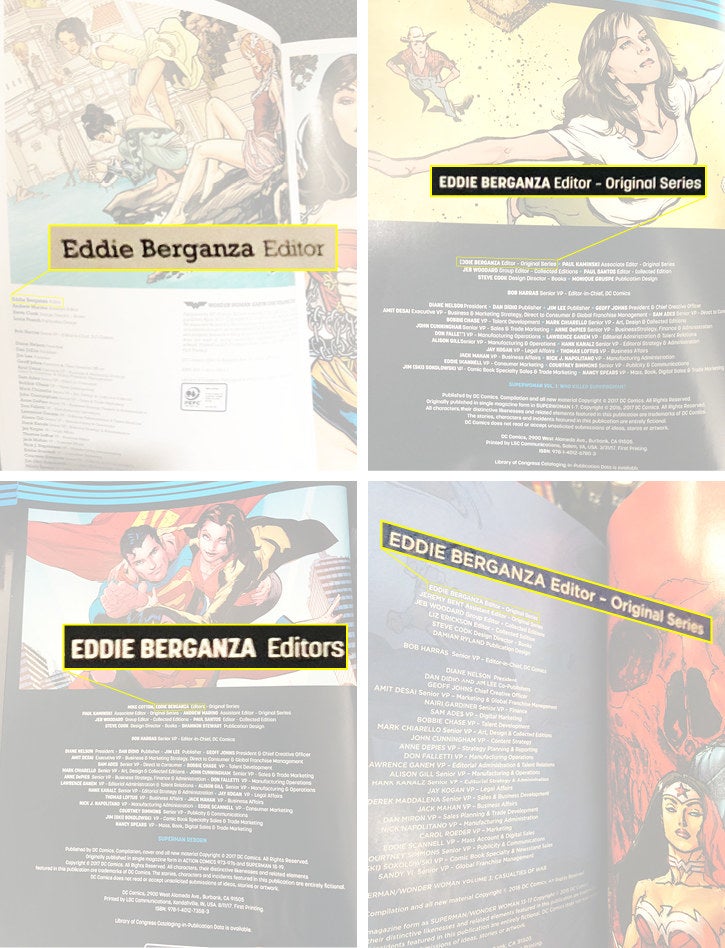 Among the women who reported Berganza to human resources, none still work for DC. None are even working at mainstream comics publishers anymore; they've largely put superheroes behind them.
"We all left, and he's still there," said Janelle Asselin, a former DC editor who spearheaded the multi-employee HR complaint against Berganza in 2010. "That, to me, tells me what DC Comics' priority is." (Three days after this story was published, DC Comics fired Berganza.)
Berganza did not respond to requests for comment for this story. A representative for DC Comics said DC and WB were "committed" to a harassment-free workplace. Unlike cases in other industries, the people who spoke to BuzzFeed News did not know of settlements, payouts, or nondisclosure agreements with women who say Berganza harassed them. Instead, what has kept many of these stories confined to gossip, blogs, and occasional social media posts is the small size of the comics industry, and fear of being blacklisted by the biggest publishers in comics.
For 25 years, Berganza has flourished at DC, while women — at least for the latter part of those years — either left the company or avoided it altogether because of him. The women with the most egregious stories about Berganza, expecting they'd be accused by some in their industry of engaging in a "witch hunt," have kept quiet, scared of losing jobs, friends, and livelihoods. Until now.

Berganza, 53, joined DC in the '90s. He's written for Superman, Batman, and Titans, but has spent most of his professional life as an editor, known in the industry for cultivating relationships with writers and artists. In recent years, Berganza has overseen the publication of Superman, Supergirl, and Wonder Woman comics, just as major films and TV series based on these titles from the DC Universe were released.
"Any big book from DC was gonna come from his office," one former DC employee said.
In 2010, DC's editor-in-chief, Bob Harras, wrote an enthusiastic companywide email heralding Berganza for being "at ground zero for all DCU's major storylines!" He praised Berganza's 19-year career at DC Comics and credited him with the success of several series. Today, Berganza is overseeing Dark Knights: Metal, a series that is a huge seller, in which the Justice League battle evil versions of Batman, and is running just as the first Justice League movie hits theaters.
"I didn't like the idea of being in professional proximity with him or having his name on something I worked on."
But Berganza's editorial skills aren't all he's known for in the comics industry. At best, he developed a reputation for making offensive jokes or line-crossing comments in the presence of or at the expense of women; one former staffer recalls hearing Berganza tell a female assistant that a writer needed to make a character in a book they were editing "less dykey." Asselin recalled Berganza once telling her that the reason he didn't hit on her was because he had too much respect for her spouse. But at worst, he's alleged to have forcibly kissed and attempted to grope female coworkers. One woman said when she started at DC, she was warned about Berganza — advised to keep an eye on him, she said, and to not get drinks with him. "People were constantly warning other people away from him," said Asselin, a vocal critic of gender dynamics in the comics industry.
Berganza's reputation spread throughout the comics industry, so much so that Sophie Campbell, an established writer and artist, turned down an opportunity to work on a Supergirl comic two years ago because Berganza was the editor overseeing the project, even though she wouldn't have had to speak directly to him during the job. It would've been a cool gig, Campbell told BuzzFeed News, but it also "felt scuzzy and scary."
"I didn't like the idea of being in professional proximity with him or having his name on something I worked on," she said.
A former DC employee said Berganza's reputation was "something that I didn't like, but I stomached it. Everybody did. It was a gross open secret."
In December 2006, just after she started working at DC Comics, Marsham went to a party at McGee's, a New York City bar frequented by the DC staff.

Marsham had a beer or two and was sitting at the bar when she found herself chatting with Berganza. He had a camera, and when he leaned in for a selfie with Marsham, she says he kissed her on the lips. Marsham was taken aback. When she told Berganza she wasn't expecting that, he suggested they take another photo, leaned in, and stuck his tongue in her mouth as she chewed on a french fry, Marsham said.
She didn't know how to react. She recalled blurting out, "There's a fry in my mouth!" When Berganza proposed they kiss again, Marsham said she told him no while laughing awkwardly, still shaken and confused. Berganza walked away. Later in the night, he approached and tried to grope her, she said, one hand reaching for her hip and the other aiming for her side under her breasts. She said she dodged him, and Berganza laughed it off.
Joan Hilty's story uncannily foreshadows Marsham's. In the early 2000s, Hilty said, at a staff get-together at McGee's, Berganza grabbed her and repeatedly tried to pull her in for a kiss. "I said no — he kept insisting," said Hilty, at the time a cartoonist and editor at DC in her thirties. She said she eventually snapped, "If you don't take that arm off me, I'm gonna break it."
Unlike Marsham, Hilty had been at DC for half a decade, working her way over to the superhero books from Vertigo, a DC imprint for adult readers. She was Berganza's contemporary as well an industry veteran. Outspokenly feminist and openly gay, Hilty had no qualms about speaking out against sexism — but, like Marsham, she stayed quiet about the incident for years.
"I tried to laugh it off, basically," Hilty said. "I told myself it didn't matter because it had been outside the workplace, or because I was gay, or because I didn't report directly to him. I chose to overlook that it was a work-related event, that the power imbalance made it worse, and that it was wrong under any circumstances."
"I worried every time we had a new young intern come into the office that was female."
Among DC employees, Marsham told BuzzFeed News, there was a sense "we had all fought really hard to get there." At the same time, the wolves were always at the door: "We had jobs people were lining up around the block to get." The result was a workforce deeply invested in jobs that felt increasingly precarious — especially in an industry as small and insular as comics, where DC and Marvel are referred to as "The Big Two," meaning the main and largest publishers. Even now, Marsham said speaking up about Berganza means that her "name will forever be linked to his. A lot of people at DC will be mad at me and consider this a betrayal."
After their encounters with Berganza, neither Hilty nor Marsham reported him to supervisors. Their reluctance to name Berganza is illustrative of the code of silence that exists around harassment in the male-dominated comics industry.
"Women do now fill far more of the editorial and creative ranks in the comics industry, but there are still very few women in senior editorial management," Hilty wrote in a 2014 Guardian op-ed. In the same piece, she described Berganza's attempted assault, without naming him, as a "textbook incident" of the kind of harassment commonplace in the comics industry — the first time she had ever discussed it publicly.
Hilty was laid off from DC in 2010, part of a restructuring process preceding DC's eventual move from New York City to Burbank, California. Three months later, Harras promoted Berganza to executive editor.
Berganza's continued success isn't an anomaly. Women in comics point to a long history of their industry rewarding accused predators while victims are quietly pushed to the margins or blacklisted. By the time Berganza started at DC, editor emeritus and DC Comics "goodwill ambassador" Julius Schwartz had spent decades allegedly groping promising female artists and greeting female colleagues with what former DC employee Heidi MacDonald described as "a big wet kiss on the mouth no matter how much I squirmed away."
When MacDonald worked at DC in the late '90s until the early '00s, she told BuzzFeed News, "there were so many weird and creepy attitudes about women that I had to put up a shield of 4 inches of lead."

By the spring of 2010, Berganza was rumored to be in the running for DC's executive editor job. When Asselin heard about the potential promotion, she said she was outraged that anyone with Berganza's reputation would be considered for a position that oversaw so many women.
"I worried every time we had a new young intern come into the office that was female," Asselin said. "I just became very concerned with what he was going to do next. The more stories I started to hear from other people the more I started to feel this was a compulsion, that he couldn't stop if he had tried and he wasn't trying to stop. That scared the shit out of me."
A total of five people — four then-current employees, including Marsham and Asselin, and one ex-employee, Hilty — confirmed to BuzzFeed News that they shared their Berganza stories, observations, or concerns with HR that summer.
"At the time I was so terrified that this would affect myself or my partner's prospects in comics."
In addition to Marsham and Hilty telling their stories, Asselin said she told HR about Berganza's reputation — about what she called the "general unease about him." Another former employee, who said he'd seen Berganza kiss Marsham at McGee's that night in 2006 — though didn't know the kiss was nonconsensual until Marsham later told him — also told HR about "the Berganza Line," a term he'd heard that was used to describe the line between what was acceptable and unacceptable to say at work.
"I remember just feeling sad it had come to this," the former employee recalled. "There were times when Eddie could be nice a really good coworker. There were a lot of times, for me, he was really patient and really kind. … I was sad this person that I had a perfectly nice working relationship with would do something like that," he said, referring to the bar incident.
Marsham remembered being told by HR that because of privacy protections, she might never know whether or how Berganza was reprimanded or punished. But, she said she was told that she should trust that her complaint was being taken seriously. In concurrent conversations with supervisors, Marsham made it clear that she didn't feel safe working with Berganza, she said. She didn't trust him to control himself.
For a month, there was no official word on Berganza's professional fate. All conversations with HR were conducted over the phone, and none of the former DC employees with whom BuzzFeed News spoke recalled receiving any follow-up or documentation of their complaints.
Then, in late October 2010, a staff meeting was called, Marsham recalled. The new copublisher announced a reorganization that promoted Berganza to executive editor. Whereas before, the executive editor would have had staffers reporting directly to him, under the reorganization, Berganza's role was now strictly creative, reviewing content for all DC Universe books alongside the editor-in-chief. All the people who would have reported to the executive editor were to now report to the editor-in-chief. Asselin called it a "huge promotion with none of the responsibilities."
He sent an email to DC Comics' top leadership — all male — apologizing for the "extra stress my actions have caused."
A few months later, DC launched a reboot of its superhero universe. Marsham then was a coordinating editor, which required her to be in often daylong closed-door meetings with a handful of senior editorial staff — all men — including Berganza. She was horrified. She sought out Harras, the editor-in-chief, and asked if Berganza was now officially supervising every book in the DC Universe. Harras, who Marsham said knew about her encounter with Berganza, confirmed that he was.
"You know I can't edit books that [Berganza] has oversight on," Marsham said she told Harras. "I guess I just won't be able to edit any books."
Harras, she recalled, didn't protest. He asked if she was OK with that.
After that conversation, Marsham stopped editing books. She focused instead on scheduling and administrative tasks, effectively removing herself from the creative process. At one point, Marsham met again with Harras, along with the HR director at the time, Debbie Stegman, to discuss editorial assistants. "At that meeting, I said out loud that I could never recommend a woman [assistant] being placed with Eddie," Marsham told BuzzFeed News. Harras and Stegman did not respond to requests for comment.
Though Asselin was the catalyst for the group HR complaint, encouraging others, including Marsham, to come forward, Asselin said she never wanted to get Berganza fired or ruin him. She just didn't want to see him in a role where a woman he'd allegedly assaulted was forced to work closely with him. Berganza's promotion was "massively demoralizing" for Asselin. She'd wake up in the morning and cry because she didn't want to go to work, she said. Less than a year after Berganza's promotion, she left DC. All the women she knew who participated in the complaint eventually left DC too.
"It changed how I felt about comics forever," she said. "Because we put our trust in them to do the right thing."
One former DC employee who spoke to HR about Berganza later said he did so because he thought some professional intervention might stop the editor from misbehaving in the future.
"This never should have happened, but one one would hope after something like this, it wouldn't happen again," the ex-employee said.
Two years later, it did.
In March 2012, during WonderCon, an annual comics convention in Anaheim, California, Berganza allegedly forcibly kissed another woman at the bar in a Hilton hotel lobby. The woman, then 27, who spoke to BuzzFeed News but asked to remain anonymous for fear of retaliation, was trying to network, hoping to break into the industry by going to her first comics convention. She was there with her boyfriend at the time, a writer who works with DC and who declined to comment.
After Berganza stuck his tongue down her throat, the woman told BuzzFeed News, some people pulled him off of her. She quickly ran up to her hotel room, frightened by what had just happened. She didn't know what she could do about it. She wasn't a DC employee, and more than that, she said, "At the time I was so terrified that this would affect myself or my partner's prospects in comics, worried it would jeopardize either of our careers." Ultimately, the woman did not report the incident to DC Comics.
"The overall tone was like, 'I can't believe he did it again. Surely he's going to be fired now.'"
A week after WonderCon, on March 26, the industry blog Bleeding Cool published a blind item about a "senior comic book figure" who'd tried to make out with the partner of one of his freelance employees in a hotel lobby. (The blog later named Berganza as that senior figure.) The day the blind item was published, Marsham said, Berganza abruptly left the office; he wasn't back in the office until April 9. During that time, he sent an email to DC Comics' top leadership — all male — apologizing for the "extra stress my actions have caused."
According to the email BuzzFeed News obtained, Berganza wrote that he was "really sorry for all this. You have my word, I will not allow this to happen again. The current situation have allowed me time to think, not to mention scared the hell out of me. There's nothing that would make me want to do this again."
When he returned to work, Berganza's travel to conventions was temporarily restricted. His title also changed from executive editor back to group editor, an effective demotion. Someone who worked for DC at the time said the job change "was seen as the consequence … something to show that he was at least reprimanded in some way."
Internally, the incident in 2012 "was a toxic nightmare for morale," Marsham said. She couldn't help but notice, though, the difference in the reaction to Bergaza's behavior then versus when she came forward in 2010. "The overall tone was like, 'I can't believe he did it again. Surely he's going to be fired now,'" she said.
Meanwhile, Marsham blamed herself for what happened to the woman in the hotel lobby. "I thought it was my fault," Marsham told BuzzFeed News. "If I had reported earlier... then she would have been safe."

Within the comics industry, Berganza has sympathizers. One former DC employee who spoke to BuzzFeed News said it was "not fair" that allegations years in the past should be revived, and he accused some women of making it "their personal mission to destroy this man's career."
"[This] man made an error in judgment, but served his time and paid the penalty," the former employee said. "The continued assault against him equates to a witch hunt, which is a problem that needs to be eradicated from the industry."
This former employee said DC took complaints about Berganza seriously, and that it was his understanding Berganza "has behaved appropriately in the workplace since that time."
Another DC employee echoed this perception that Berganza is reformed. No new allegations involving him have surfaced since the 2012 WonderCon incident. His reputational rehabilitation apparently coincided with DC's long-awaited companywide move from New York to California in 2015, when about half the staff left the company rather than go west.
But that didn't stop many people, following another DC staff restructuring in 2016, from openly criticizing Berganza's continued employment, citing the past complaints of harassment against him.
"I think it just reinforces this idea that superheroes are for boys, and comics are a place that women aren't welcome."
That restructuring resulted in the departure of Vertigo editor Shelly Bond, a two-decade veteran of DC comics, whose position was eliminated while Berganza stayed employed. As comics professionals vented online, the company finally issued a statement in response to the outrage. Without mentioning any specific cases, DC said it "disciplines those who violate our standards and policies," but would review its sexual harassment policies and expand employee training.
When presented with the allegations in this story, DC reiterated that it wouldn't comment on any specific personnel matters.
"DC and WB are unequivocally committed to cultivating a work environment of dignity and respect, one that is safe and harassment free for all employees," a company spokesperson said. "We take all claims of harassment very seriously and investigate them promptly. Employees found in violation of the policies are dealt with swiftly and decisively, and subject to disciplinary actions and consequences."
Today, there are a many more women working at DC compared to a decade or two ago, said MacDonald, the former DC employee who's now a comics journalist. "I'd like to think they're not in jeopardy. I'd like to think this is not a situation that can recur," she said. "But actions speak louder than words."
People in the industry haven't forgotten about Berganza, least of all the women who left comics or avoided work at DC because of how the company handled his alleged misconduct. For many of those women, DC's response in both 2010 and 2012 represented a clear statement about whose careers it valued. And this statement has had a "chilling effect" on women across the comics industry, MacDonald said.
"I think it just reinforces this idea that superheroes are for boys, and comics are a place that women aren't welcome," she said. "Whether as readers or creators." ●
UPDATE
This story has been updated with Berganza's firing.