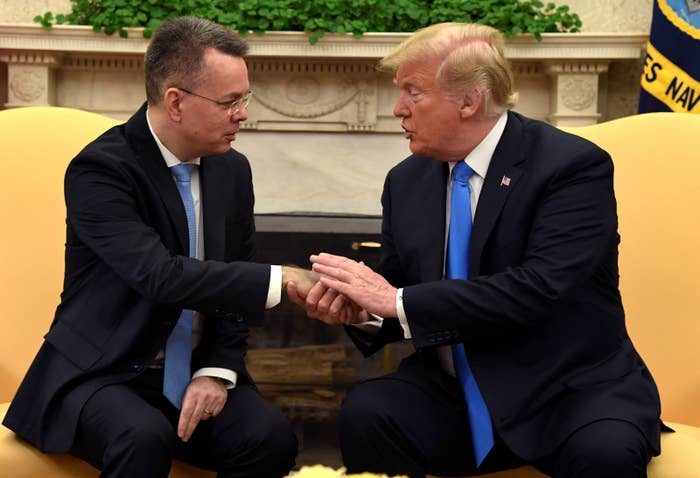 Pastor Andrew Brunson arrived in the US and met with President Trump at the White House Saturday, after spending two years detained in Turkey.
"I just want to congratulate you, because you have galvanized this country," Trump said. "I mean you just take a look at this, there is so much interest, and it is your faith, it is your strength, what you've done, gone through..."

"It's a great honor to have you back home," Trump added.
Brunson thanked the president and his administration for the work they did to get him released.
Trump jokingly said that he wouldn't ask Brunson if he plans to return to Turkey but Brunson responded by saying, "We do love Turkey. We were there for 25 years. And we love the Turkish people."
Brunson then got on his knees and prayed for the president:
Lord God, I ask that you pour out your holy spirit on President Trump, that you give him supernatural wisdom to accomplish all of the plans that we have for this country and for him. I ask that you give him wisdom on how to lead this country into righteousness. I ask that you give him perseverance and endurance and courage to stand for truth. I ask that you protect him from slander, from enemies, from those who would undermine. I ask that you make him a great blessing to this country. Fill him with your wisdom and strength and perseverance. And we bless him, may he be a great blessing to our country, in Jesus's name, we bless you. Amen.
Following the prayer, Trump said he had one question: "Who did you vote for?"
Amid laughter, Brunson said he sent in an absentee ballot from prison.
Ahead of Brunson's arrival, Trump tweeted: "It will be wonderful to see and meet him. He is a great Christian who has been through such a tough experience." He also thanked Turkish President Recep Tayyip Erdoğan for his help.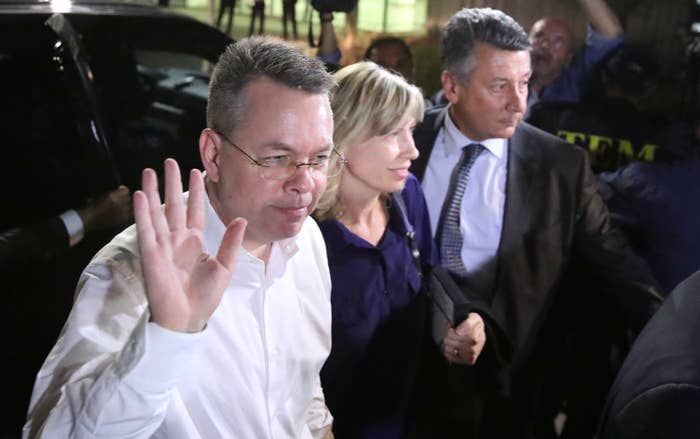 The North Carolina evangelical pastor was detained two years ago after being accused of helping coup plotters.
Brunson was released Friday after a judge issued a sentence that amounted to time served. He had faced up to 35 years in prison for terrorism-related charges and espionage, according to the AP. He was only convicted on the terrorism-related charges.
The judge also lifted a travel ban on Brunson. A White House spokesperson told reporters Friday afternoon that a flight carrying Brunson had cleared Turkish airspace. The plane made a stop in Germany, where Brunson was given a medical checkup and the plane refueled.
When Brunson and his wife arrived in Germany, Richard Grenell, the US ambassador to Germany, presented Brunson with an American flag, which he "immediately kissed," Grenell tweeted.
On Saturday, Trump denied reports that the White House had struck a deal with Turkey in exchange for Brunson's release, tweeting, "There was NO DEAL made with Turkey for the release and return of Pastor Brunson."

News of Brunson's impending release was first reported Thursday by NBC News, which said a secret deal had been made between the White House and Turkish officials.