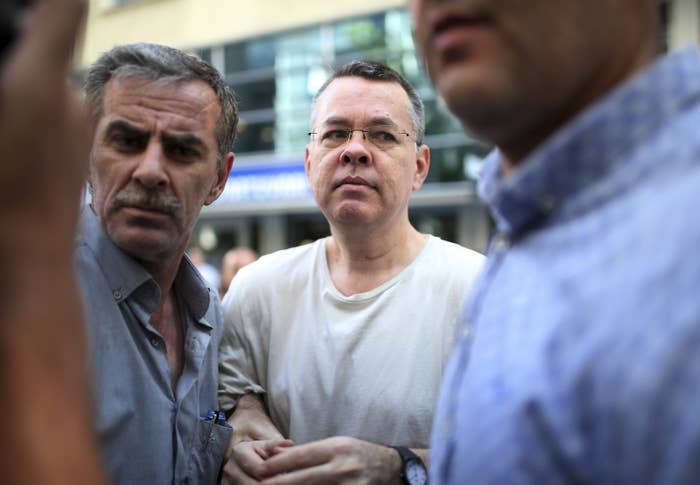 Pastor Andrew Brunson's two-year detention in Turkey ended on Friday with his latest court hearing resulting in his freedom.
The North Carolina Evangelical pastor was ordered released by a judge who issued a sentence that amounted to time served.
The judge also lifted a travel ban on Brunson, and a White House spokesman later told reporters on Friday afternoon that a flight carrying Brunson had cleared Turkish airspace. The plane was expected to land at Joint Base Andrews in Maryland after refueling in Germany.

Brunson had been detained since 2016 after being accused of helping coup plotters.
News of Brunson's impending release was first reported on Thursday by NBC News, which said a secret deal had been made between the White House and Turkish officials.

What the Trump administration agreed to in return for the release and whether other Americans being held were also likely to be released was unknown. Human rights organizations have expressed concern in the past that the Trump administration's focus on Brunson would lead to neglect of other American cases, including that of a NASA scientist who also was detained in the aftermath of the 2016 coup attempt.
Merve Tahiroglu, an analyst at the Foundation for Defense of Democracies, speculated that the US agreed to ease sanctions or drop the sanctions leveled against two high-level Turkish officials over the Brunson case.
"I don't think [Turkish President Recep Tayyip Erdogan] got much more," she said in an email.

The Turkish Embassy in Washington did not immediately respond to a request for comment.

"My thoughts and prayers are with Pastor Brunson," President Trump tweeted after news of the release, "and we hope to have him safely back home soon!"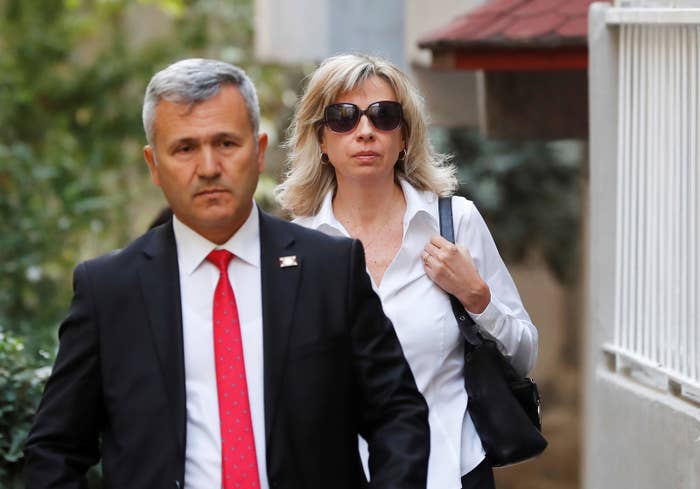 It was not the first time the Trump administration thought it had made a deal to assure Brunson's release. In July, Erdogan and Trump fist-bumped at a NATO summit over what was reportedly a deal over Brunson. What Trump took to be a promise of Brunson's release, however, ended in house arrest.
Prominent officials who had closely followed Brunson's case tried to coax this reported deal into reality.
Sens. Jeanne Shaheen, a Democrat from New Hampshire, and Lindsey Graham, a Republican from South Carolina, both of whom had previously visited the detained pastor, released a statement along with Republican Sens. Thom Tillis of North Carolina and James Lankford of Oklahoma after reports of Brunson's expected release broke.
"It is our greatest hope that the Pastor will finally be allowed to return home to his family in the United States after his hearing tomorrow," they said in a statement seemingly meant to signal that Brunson's release would result in a rapprochement in US-Turkish relations. "This significant step would not only allow the Brunson family to move forward with their lives, but it would help improve U.S.-Turkey relations for the long-term."
Whether that geopolitical reset would occur without the release of other Americans detained in Turkey is unclear.
"Let me also take this opportunity to remind you that we have locally employed staff who have also been detained," State Department spokesperson Heather Nauert said at a press briefing on Thursday, "in addition to the NASA scientist who is still in Turkey as well, who is an American citizen. All of those cases have the United States government's tremendous concern, and we are watching those carefully."
"Now, Pastor Brunson's case happens to be tomorrow," she added, as though Brunson's case had not gotten far and away more attention from the administration than those of the other Americans, and as though Magnitsky sanctions had not been leveled against Turkish individuals for his case alone.
"We don't have any further information on it other than that the Secretary spoke yesterday, and he said it's the right thing for them to do to release Pastor Brunson. It's the humanitarian thing to do for Turkey to release him," she said.
The release coincided with the case of Jamal Khashoggi, a Washington Post columnist whom Turkish authorities say was killed in a Saudi consulate in Istanbul. Turkish officials say they have evidence of the US resident being interrogated, tortured, and killed. Some have already begun to speculate that Brunson's release is meant to encourage Washington to confront Saudi Arabia.
As of Thursday, that confrontation seemed unlikely, at least from the White House — Trump noted that Khashoggi was a resident, not a citizen, of the US and opposed stopping arms sales to Saudi Arabia.