The Justice Department and FBI have turned over to BuzzFeed News and CNN the latest cache of highly secretive interview summaries from former special counsel Robert Mueller's investigation into Russia's interference in the 2016 election and President Donald Trump's attempts to obstruct the inquiry.
The documents include interview summaries from Trump adviser Jared Kushner, former campaign chair Paul Manafort, former deputy campaign manager Rick Gates, and former White House chief strategist Stephen Bannon.
Excerpts from some of the interview summaries, known as FBI 302s, are sprinkled throughout Mueller's report, but many details were omitted. For example, interview summaries released to BuzzFeed News last month revealed that former FBI deputy director Andrew McCabe told investigators he had met with other officials several times after FBI director James Comey was fired to discuss "whether there was predication to open an obstruction investigation on Trump" and other Russia-related investigations.
The summaries also showed that senior advisers Stephen Miller and Kushner, along with former communications director Hope Hicks, sometimes drafted tweets for Trump, that Bannon didn't think the "Putin stuff" was a big deal, and that former national security adviser Michael Flynn sought guidance from Obama administration officials Susan Rice and Ben Rhodes "about how to do things."
Since last November, the government has released about 1,700 pages of interview summaries representing more than 100 interviews. The majority of the documents released thus far have been heavily redacted. BuzzFeed News began a legal challenge last month to one particular category of exemption from the Freedom of Information Act.
The Mueller report was the most hotly anticipated prosecutorial document in a generation, laying out the evidence of Russia's interference in the 2016 election and Trump's attempts to obstruct the investigation. But at 448 pages, it reflected only a tiny fraction of the primary-source documents that Mueller's team had amassed over the course of its investigation.
Last May, BuzzFeed News, and later CNN, filed Freedom of Information Act lawsuits against the FBI and Justice Department to gain access to the thousands of pages of interview summaries of all the witnesses who spoke to FBI agents and investigators.
Here are the highlights from this installment:
Jared Kushner explained back-channel meetings with then–Russian ambassador Sergey Kislyak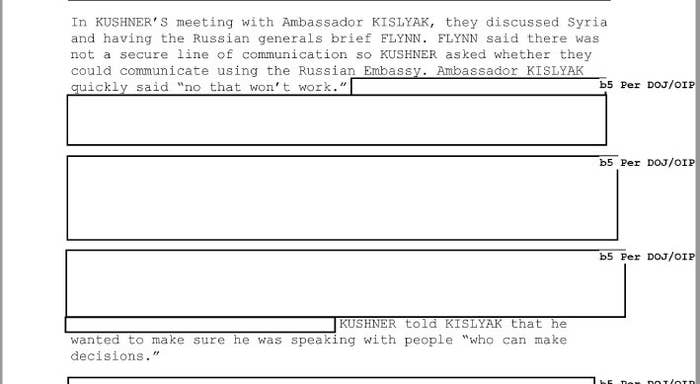 The documents include a heavily redacted interview summary from April 11, 2018, with Jared Kushner, the president's son-in-law and senior adviser, which was released following a lengthy review by intelligence agencies.
Kushner told investigators during the eight-hour interview that former HBO chair Richard Plepler invited him to a Time Warner luncheon with Henry Kissinger and Dimitri Simes, who ran a pro-Kremlin think tank in Washington, DC. Kushner told agents he pursued Simes at a time when "the campaign was having a hard time getting people to support them."
Simes had reportedly tried to peddle to Kushner compromising information on Bill and Hillary Clinton's ties to Russia. But Kushner told investigators he "never got from Simes information that could be 'operationalized.'"
During his interview with investigators, Kushner also discussed his meeting then–Russian ambassador Sergey Kislyak who said to Kushner, "we like what your candidate is saying. It's refreshing."
Kushner said "they discussed Syria and having the Russian generals brief" national security adviser Michael Flynn. According to the interview summary, Flynn said there was not a secure line of communication, so Kushner asked whether they could communicate using the Russian Embassy. Kislyak quickly said, "no that won't work."
"Kushner told Kislyak that he wanted to make sure he was speaking with people 'who can make decisions,'" the 33-page interview summary said.
Kislyak also met with Avi Berkowitz, an attorney and political adviser to Trump and Kushner. Kislyak told Berkowitz that Kushner "should meet with someone else who was a better channel through which to communicate to Putin."
Kushner also discussed his meeting with Sergey Gorkov, the head of the Russian state-owned bank Vnesheconombank (VEB). Kushner told investigators he did not prepare for the meeting and that no one from the transition team had "googled Gorkov."
"The meeting with Gorkov presenting Kushner with two very thoughtful gifts; a bag of dirt/soil from the town in Belarus where Kushner's family is from and a painting," the interview summary says.
Kushner told investigators he did not recall anything about VEB "being sanctioned, or any discussions of US sanctions."
A former foreign policy adviser ripped into Trump's "shady" campaign and the president himself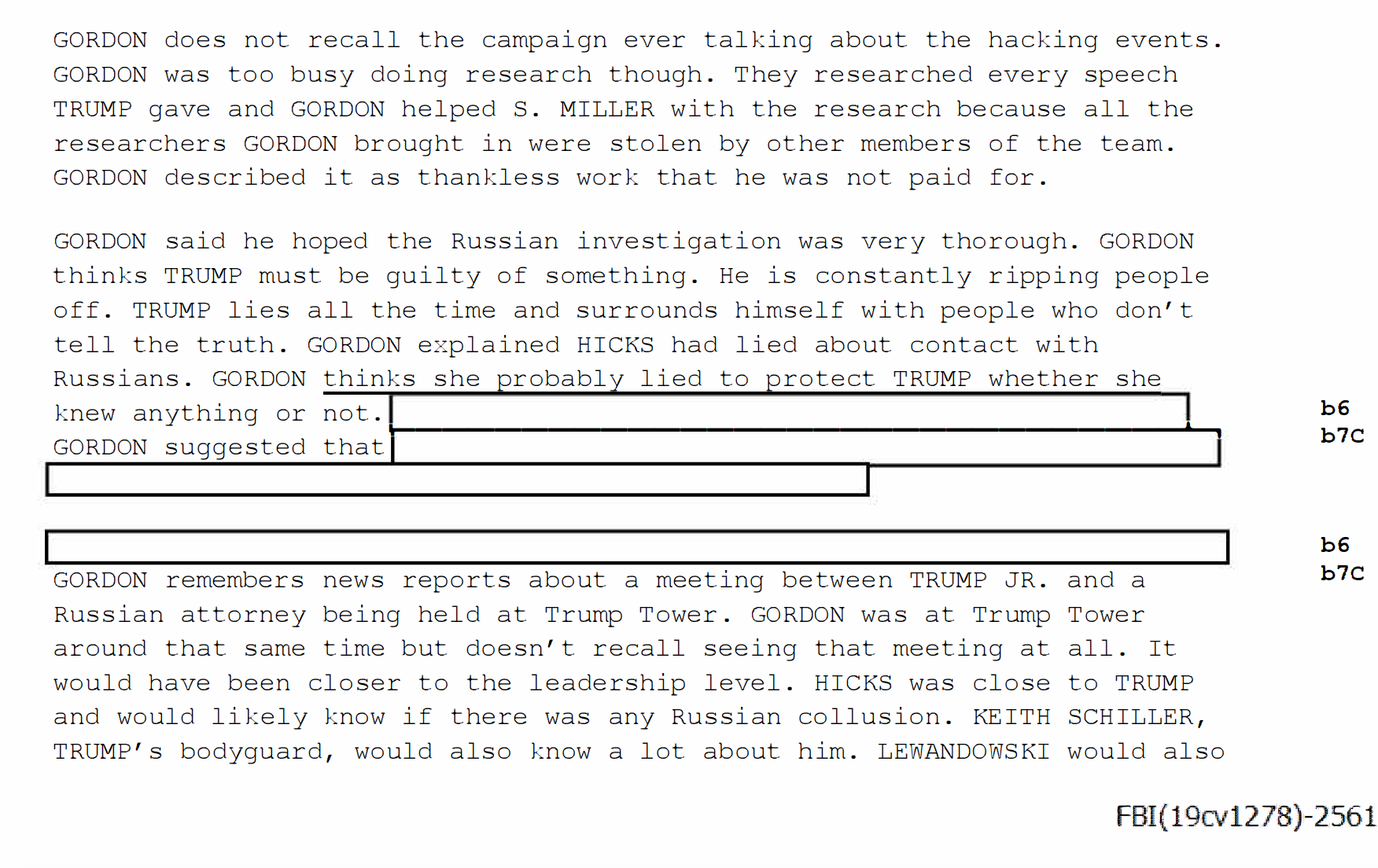 J.D. Gordon, a Trump campaign adviser during the 2016 election, unloaded on Trump and the campaign, telling Mueller's team he was "glad the interviewing Agents were speaking with him as he believed there were a lot of shenanigans happening at the highest levels."

Gordon, a Navy veteran and former Pentagon spokesperson, spoke in unusually vivid detail about dysfunction within the campaign's foreign policy team and the controversial changes to the Republican platform surrounding Ukraine during the 2016 convention. Several noteworthy details from his interviews with the special counsel's office were excluded from Mueller's final report.
"Gordon described the Trump campaign as being disorganized and chaotic at times and stated it was important for the Agents to understand that concept when conducting this investigation," according to an August 2017 interview summary.
Among Gordon's complaints were that Trump spokesperson Hope Hicks had lied about contacts between the campaign and Russians.
"Gordon said he hoped the Russian investigation was very thorough," the summary says. "Gordon thinks Trump must be guilty of something. He is constantly ripping people off. Trump lies all the time and surrounds himself with people who don't tell the truth. Gordon explained Hicks had lied about contact with Russians. Gordon thinks she probably lied to protect Trump whether she knew anything or not."
He also complained that he didn't get paid for his work on the campaign as promised, prompting him to quit on Aug. 10, 2016.
"Gordon was offered a position with the Presidential Transition Team but said he wouldn't show up until he got a check and he never received payment," the summary says. "The campaign was shady and dishonest."
Gordon said then-senator Jeff Sessions, who ran the campaign's foreign policy team and later became Trump's attorney general, was a "good friend" who had offered him the campaign job. But things didn't go well, according to Gordon.
"Gordon described the foreign policy team as being run like a 6th grade student council with no real authority or power," the summary states. Gordon also said that "the last person to speak to Trump has the most influence on his decisions," and that Jared Kushner "had a lot of say with Trump."
In one apparent example of campaign dysfunction, Gordon said that Walid Phares, another foreign policy adviser, "had come up with a list of ambassadors to meet with and when Kushner found out, Kushner said only he would be meeting with ambassadors." Kushner "came up with an idea, which Gordon jokingly referred to as 'win a call with Kushner,' where campaign members were asked to write bios on various ambassadors and Kushner would have a phone call with whoever wrote the best ambassador bios about those particular ambassadors." Phares quit two weeks into the gig after Rick Dearborn, another campaign official, told the advisers "they couldn't meet with ambassadors."
Gordon and someone whose name is redacted "got stuck writing the bios," and Kushner eventually met with ambassadors for the United Arab Emirates and Saudi Arabia, according to the summary.
"At one point, [REDACTED] sent Dearborn a note about Kushner's outreaches after finding out [REDACTED] tried to setup a meeting with the Saudi prince," the summary says. "Gordon had [REDACTED] talk to Dearborn about going through the embassies to setup meetings because back channels are always about money."
Gordon said it was Sam Clovis, another campaign adviser, who came up with the list of who would serve on the foreign policy team. The list included Phares, Carter Page, George Papadopoulos, and Keith Kellogg, among others.
"Eventually Clovis was pushed out of his role," Gordon's summary states. Page and Papadopoulos "were bad news for the campaign." Papadopoulos pleaded guilty to lying to the FBI as part of Mueller's probe.
In May 2016, Gordon and Phares were planning to fire Papadopoulos "after a story broke about his statements to the British press," but Clovis wanted to give him another chance, the summary says. "They were worried that if they fired Papadopoulos he would go to the press and tell them that the foreign policy advisor team was a scam."
Gordon spoke to investigators about two key events that Mueller scrutinized in his final report. His interview summary paints a more vivid picture of one of those events, an encounter with Sergey Kislyak at a reception following an event for ambassadors in Cleveland at the same time as the 2016 Republican National Convention.
Mueller's report said that "Gordon ran into Kislyak as the two prepared plates of food, and they decided to sit at the same table to eat." There, they were joined by Page and the ambassadors from Azerbaijan and Kazakhstan. "As they ate, Gordon and Kislyak talked for what Gordon estimated to have been three to five minutes, during which Gordon again mentioned that he meant what he said in his speech about improving U.S.-Russia relations."
Gordon's interview summary notes that the reception was "a networking event" that offered free food and drink, and that Gordon and Kislyak encountered one another at "the chicken satay tray." Gordon also said that he "knew the Kazakh ambassador prior to this event." Page, according to Gordon, "briefly spoke with Kislyak and the Azerbaijan ambassador." Gordon said he and Kislyak not only spoke about US–Russia relations; they also "talked about Russia's attempt to warn the U.S. about the Boston bomber."
Gordon also shed light on how the Republican platform came to present less forceful language around Ukraine and Russia than what was originally proposed.
On March 31, 2016, the foreign policy team held a two-hour meeting in Washington, DC, Gordon said. It was then that Papadopoulos proposed a Trump–Putin meeting.
"Gordon described Papadopoulos as acting on his own and wheeling and dealing," the interview summary states. "Papadopoulos said he was working with the ambassador in the United Kingdom and Putin was interested in meeting with Trump, working through the ambassador to make it happen. Sessions said it was a bad idea and shut it down. Apparently Papadopoulos kept doing it, repeatedly going around Gordon."
During both his August 2017 interview and a 2019 interview with Mueller's office, Gordon recalled comments Trump made about Ukraine and Russia. "In that meeting, Trump said the Europeans should do more about the situation in Ukraine," reads the summary of an interview with Gordon on Feb. 14, 2019. "Trump had also said he wanted better relations with Russia and he didn't want World War III over Ukraine."
Mueller's report detailed how months later at the RNC, delegate Diana Denman proposed an amendment to the platform that expressed support for Ukraine in the midst of Russia's "ongoing military aggression" — support that included "providing lethal defensive weapons to Ukraine's armed forces."
"Gordon stated that he flagged this amendment because of Trump's stated position on Ukraine, which Gordon personally heard the candidate say at the March 31 foreign policy meeting — namely, that the Europeans should take primary responsibility for any assistance to Ukraine, that there should be improved U.S.-Russia relations, and that he did not want to start World War III over that region," the Mueller report says. The amendment was eventually edited from "lethal assistance" to "appropriate assistance."
In his 2017 interview summary, Gordon said Denman was "hell-bent on arming Ukraine" and that he had heard that she "had been to Ukraine and was involved in elections monitoring there. Denman was a [Ted] Cruz delegate and a protagonist."
Gordon said Denman "was upset" by his desire to "withdraw the whole amendment." He also said that Trump and Manafort "exacerbated the issue by lying about the platform in the news on July 31."
"Manafort denied the campaign's involvement in changing the platform in an interview with Chuck Todd," the summary states. "Gordon explained that the campaign was involved in legitimately changing the amendment through debate. Trump doesn't pay attention and ended up saying the same thing in an interview with George Stephanopoulos. Trump said he had heard the campaign was involved in the change but he had nothing to do with the platform change."
Near the end of his interview that day, Gordon heaped more criticism on Trump — but stopped short of accusing him of collusion. Though the beginning of the sentence is redacted, the summary says "Trump was involved in inappropriate activity" and that "Gordon made this statement based on 3500 lawsuits Trump is involved in, business deals with Russia, not paying his policy office. The investigators could likely find something illegal Trump was involved in but Gordon is not aware of any election meddling that Trump was involved in."
A delegate interview contradicted Mueller's finding

In May and June 2017, prosecutors and FBI agents interviewed two delegates to the Republican National Convention to understand what happened with the party's platform on Ukraine.
One delegate proposed language pledging "lethal defensive weapons" to Ukraine in its fight against Russia, but the platform was softened to promise "appropriate assistance."
In his report, the special counsel wrote that his investigation didn't establish that the efforts by Gordon — a Trump official watching the process — "to dilute a portion of the Republican Party platform on providing assistance to Ukraine were undertaken at the behest of candidate Trump or Russia."
Diana Denman wanted the party to take a strong stand and arm Ukraine. She said Gordon told her he needed to clear that amendment with "New York." Denman asked Gordon three times with whom he was speaking in New York. Gordon reportedly told her it was Donald Trump.
"Denman noted she only shared Trump's name as the guy in New York with the interviewing agents and refused to tell it to reporters," the summary said.
Denman's amendment was set to the side — the only one tabled during the meeting. Another delegate, Rachel Hoff, said the campaign hadn't weighed in elsewhere about the platform and described Gordon's move as a "rare intervention."
The committee ultimately watered down Denman's proposal.
Gordon told the FBI that Trump often said he wanted to avoid "World War III" with Russia over its invasion of Ukraine. He denied changing the platform and said Denman was "hell bent" on arming Ukraine.
Gordon denied telling Denman that he was ever on the phone with Trump and said he called Rick Dearborn, another campaign adviser. He "might have said to Denman that he had talked to Trump about these issues in the past" and accused Denman of leaking the changes to the press.
The FBI summary notes, however, that Gordon acknowledged Trump and Manafort "exacerbated" the matter by making misstatements on TV about the campaign's involvement in the platform changes.
A Trump campaign aide said Flynn set up a transition period call between Trump and the Afghan president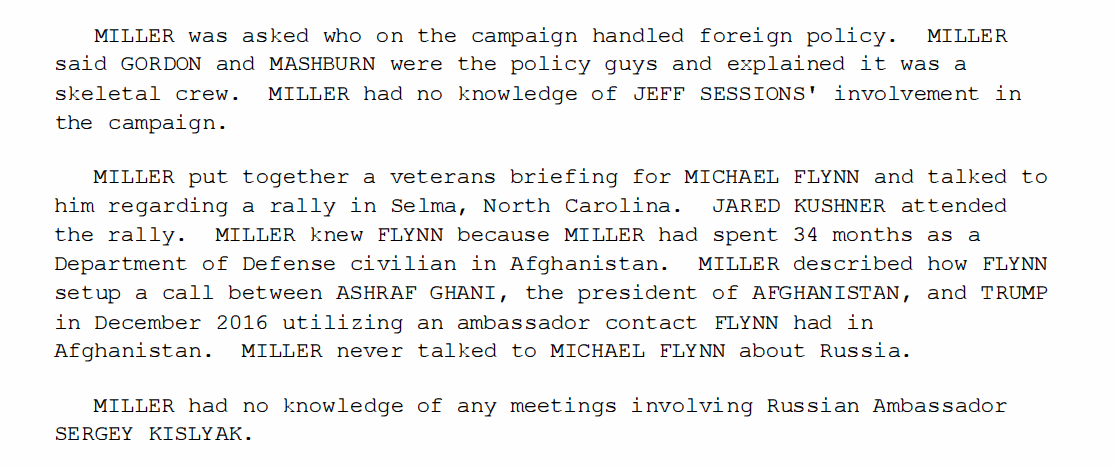 Matthew Miller, another Trump campaign aide, says he knew Michael Flynn — Trump's eventual national security adviser who was fired less than a month into the job — from time spent as a civilian Defense Department employee in Afghanistan.
Flynn used his connections there to set up a phone call between Afghan President Ashraf Ghani and Trump during the transition period, a summary of an October 2017 interview with Miller says. Flynn set up the call "in December 2016 utilizing an ambassador contact Flynn had in Afghanistan."
Miller also provided details about the changes to the Republican platform in 2016 regarding Ukraine. "The campaign was there to target amendments that may be troublesome," Miller's interview summary reads.
"It was as non-nefarious as it comes since the NATO mentality was if you attack one you attack all and it shouldn't just fall on the U.S. to defend Ukraine," Miller said of the changes. The interview summary states, "Miller didn't think it made sense for the platform to lock the president in to making such a significant commitment to defend Ukraine. Gordon talked to Denman about lightening the amendment and eventually the lightened version passed the vote."
Miller also described Denman as "grandmotherly," the summary says. When he and Gordon spoke with her about changing her amendment, she was "hesitant about the changes but didn't object."
Roger Stone met with a Russian national who wanted to sell him dirt on Hillary Clinton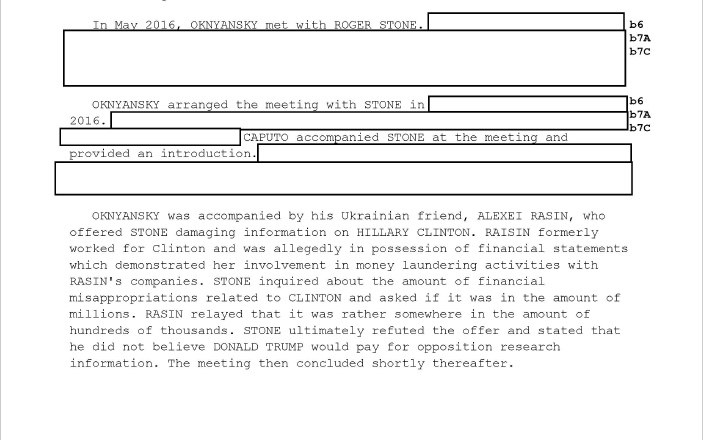 The documents included an interview summary with a mysterious figure: Henry Oknyansky, also known as Henry Greenberg, a Russian national who in 2016 wanted to sell Roger Stone dirt on Hillary Clinton for $2 million.
Stone's meeting with Greenberg was publicized in a Washington Post story in June 2018. A month later, investigators from Mueller's team met with Greenberg at the special counsel's office in Washington, DC.
Greenberg told investigators he met with Stone and Republican strategist Michael Caputo in May 2016. Greenberg was joined at the meeting with his Ukrainian associate, Alexei Rasin, "who offered Stone damaging information on Hillary Clinton."
"Rasin formerly worked for Clinton and was allegedly in possession of financial statements which demonstrated her involvement in money laundering activities with Rasin's companies. Stone inquired about the amount of financial misappropriations related to Clinton and asked if it was in the amount of millions. Rasin relayed that it was rather somewhere in the amount of hundreds of thousands. Stone ultimately refuted the offer and stated that he did not believe Donald Trump would pay for opposition research information. The meeting then concluded shortly thereafter," the interview summary states.
Greenberg said Rasin has tried to find other buyers for the information he had but was unsuccessful. Greenberg told investigators his motivation was purely financial as he would have received a portion of the proceeds from the sale.
The Washington Post story quoted Stone as saying that Greenberg was a longtime FBI informant. The interview summary says Greenberg used to communicate with FBI special agents whose names are redacted and that he "still maintains contact with many individuals who may be of interest to the FBI."
Former FBI director James Comey found government documents while packing for a move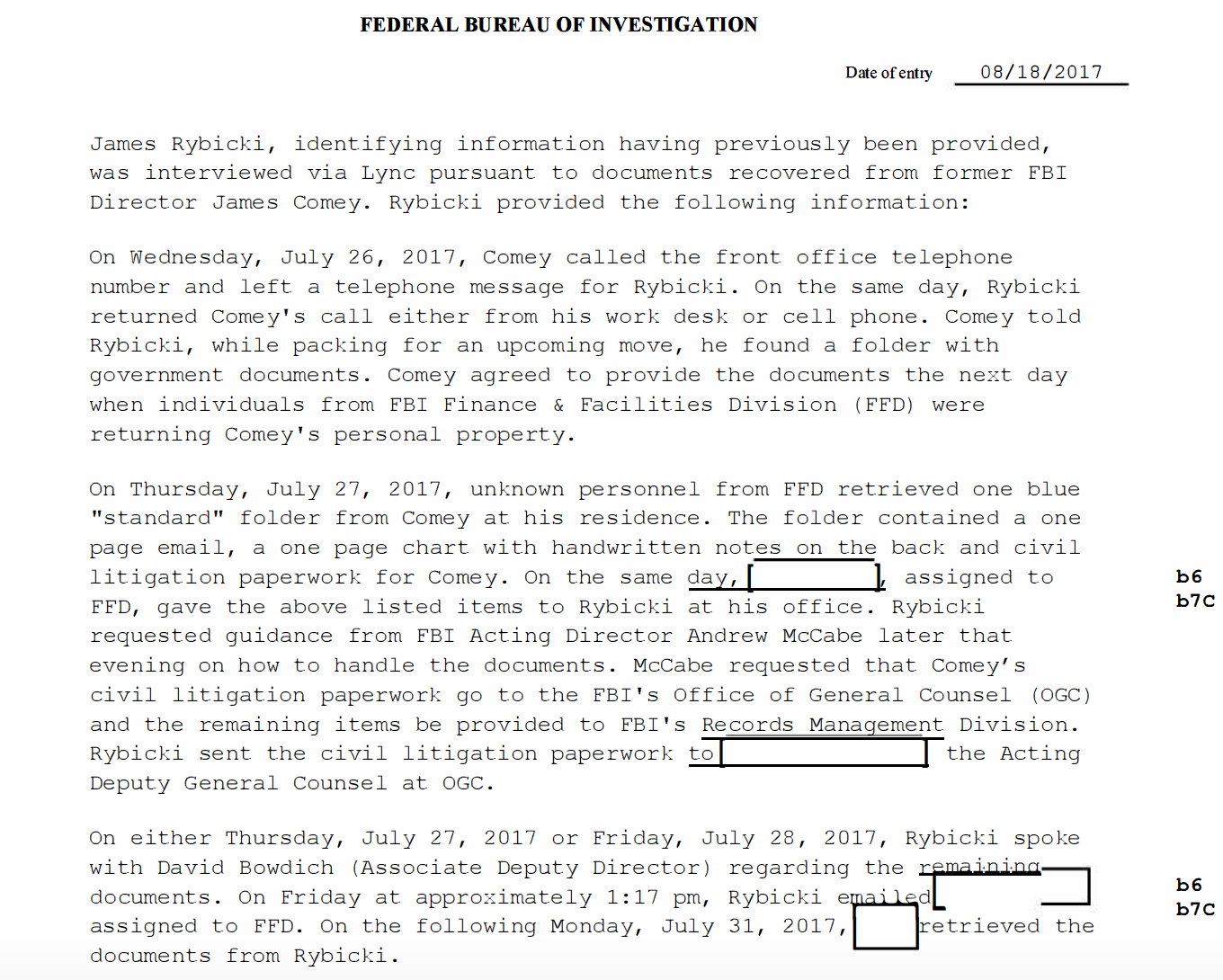 Former FBI director James Comey called the bureau two months after Trump fired him to let officials know that "while packing for an upcoming move, he found a folder with government documents," according to the interview summary of James Rybicki, Comey's former chief of staff.
Rybicki told Mueller's team in early August 2017 that a couple weeks prior, Comey had "called the front office telephone number and left a telephone message for Rybicki," who returned Comey's call the same day.
"Comey agreed to provide the documents the next day when individuals from FBI Finance & Facilities Division (FFD) were returning Comey's personal property," the interview summary says.
The next day, employees from the FFD "retrieved one blue 'standard' folder from Comey at his residence," the summary says. "The folder contained a one page email, a one page chart with handwritten notes on the back and civil litigation paperwork for Comey." The interview summary doesn't go into any more detail about the nature of the documents.
Rybicki got the records on the same day, then "requested guidance from FBI Acting Director Andrew McCabe later that evening on how to handle the documents," the summary says. McCabe asked that "Comey's civil litigation paperwork go to the FBI's Office of General Counsel (OGC) and the remaining items be provided to FBI's Records Management Division. Rybicki sent the civil litigation paperwork to [REDACTED] the Acting Deputy General Counsel at OGC."
The interview summary says Rybicki also spoke with then–FBI associate deputy director David Bowdich "regarding the remaining documents." Someone whose name is redacted "retrieved the documents from Rybicki" a couple days later.
Previously released interview summaries detailed how Rybicki and Comey kept track of the memos the former FBI director wrote about his interactions with Trump.

Rob Goldstone talked about a gift to Trump from a Russian real estate mogul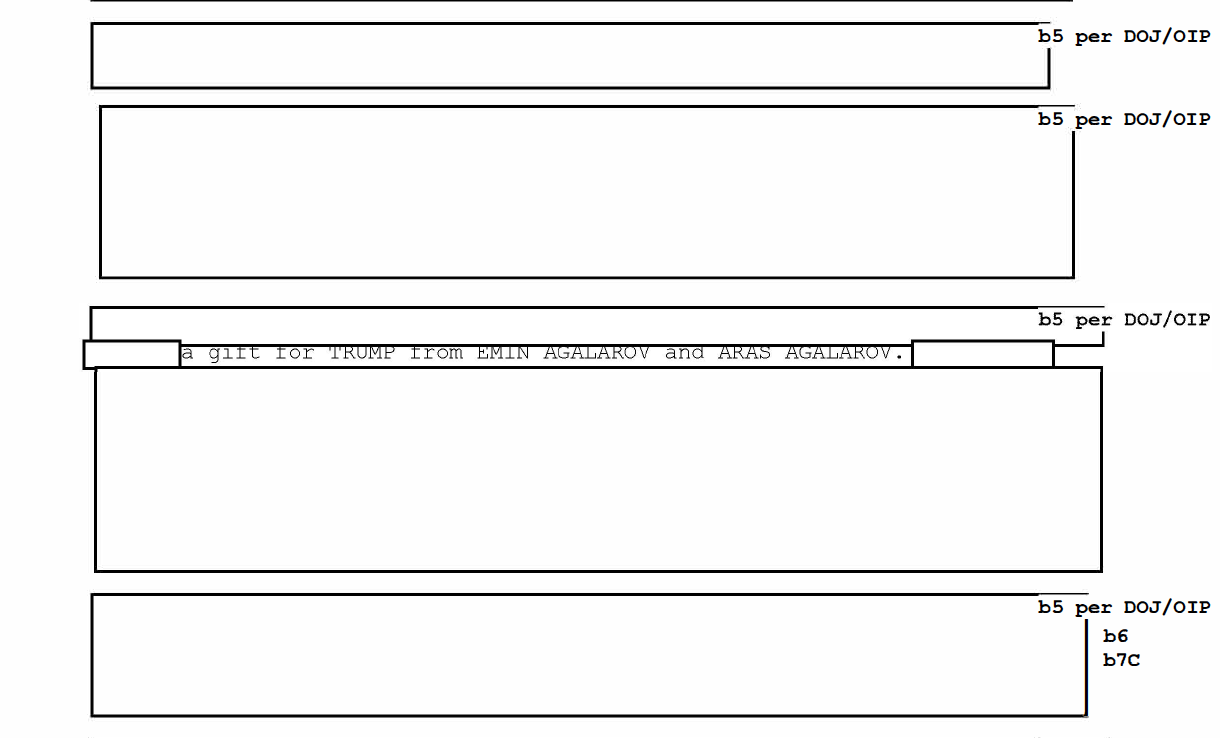 An interview summary for Rob Goldstone, the music publicist who worked for pop singer Emin Agalarov and helped set up the June 2016 Trump Tower meeting, appeared to provide more detail about gifts that Emin's father, Russian real estate giant Aras Agalarov, gave Trump. The Mueller report simply states that Agalarov and Trump "exchanged gifts and letters in 2016," citing Goldstone's February interview and others. The newly released summary, however, includes a line that says "a gift for Trump from Emin Agalarov and Aras Agalarov" — father and son. It's unclear when the Agalarovs gave this gift, as everything around the line is redacted. However, a report by House Democrats in early 2018 found that "At key campaign milestones, the Agalarovs sent notes wishing good luck, conveying congratulations, and offering gifts to Donald Trump" and that the "communications generally occurred through Rob Goldstone."
The summary also provides a more specific date for when Goldstone says he stopped working with Emin Agalarov. The Mueller report says it was in late 2016, while Goldstone's interview summary says October 2016 — a month before Trump was elected.
An adviser said he told Papadopoulos to "shut up" and not engage with Russia

Sam Clovis, the Trump adviser who briefly served in the Agriculture Department, told FBI agents he ordered George Papadopoulos to "shut up" and to not engage with Russia during the 2016 campaign.
Clovis described three attempts by campaign surrogates or supporters to set up meetings with Russia, but said he warned his colleagues to steer clear. During his October 2017 interview, Clovis called himself a "Sovietologist" and said he recommended a policy that any paid members of the campaign be required to report any contact with a foreign official.
"Russia can be very sneaky and will try to distract you on one side while sneaking by you on the other side," Clovis told the agents.
He explained that he felt like he was "herding cats" while organizing the scattershot foreign policy team and others on the Trump campaign. The summary by FBI agents recorded Clovis saying Gen. Michael Flynn did not have "much depth or thought." He said Papadopoulos couldn't be trusted to not talk to the press. He called Stephen Miller a "chameleon." He said Ivanka Trump was the president's "blind spot, his princess."
Clovis told the agents that he worked briefly with Ivanka on policies about the Family and Medical Leave Act but he had to remind her that "they were running as Republicans" — and helped her develop more conservative policies.
Describing himself as one of the few people who emerged from the campaign without any "scars," Clovis said he was troubled when the Republican Party changed its platform on Ukraine at the convention and that he fretted over Trump's relationship with Russian President Vladimir Putin.
"The 'bromance' Trump had with Putin bothered Clovis but the press and the public fed on it," FBI agents wrote. "Clovis felt he had to clean up after with a shovel because Trump played up his bromance with Putin for the public."
Manafort maintained close contact with the Trump White House
Roughly 200 pages of the summaries are dedicated to "proffers" by Rick Gates, interviews with FBI agents after his plea deal to tell them everything he knew on more than a dozen subjects.
Among the items:
Gates described a meeting at the Grand Havana Room in Manhattan with Paul Manafort and Konstantin Kilimnik, who is suspected of being a Russian spy. There, Manafort was showing off about his success on the Trump campaign and told Kilimnik about a strategy to win blue-collar workers in Michigan, Minnesota, Pennsylvania, and Wisconsin — the very states about which Manafort would later turn over internal polling data.
At that same meeting, Gates said Manafort turned down an offer to work on behalf of ousted Ukrainian politician Viktor Yanukovych.
Manafort's proximity to the Trump White House continued through at least February 2018. Gates told the agents that Manafort spoke regularly to intermediaries — such as Kushner and Rudy Giuliani — to get associates appointed to administration jobs.
Gates told the agents about his involvement in "insider trading and/or securities fraud offenses" connected to an identity theft company. This section is heavily redacted.
Flynn was the campaign official who came up with the "lock her up" slogan, Gates said.
Giuliani was on tap to be attorney general — but, Gates said, he "overplayed his hand" and felt he was due a much more influential role in the administration.
After the election, Gates said he was approached by an unidentified person who was close to the prime minister of Malaysia, who was accused of looting $700 million from a state development fund called 1MDB. Gates said the person asked him to help "resolve the 1MDB issue between the Malaysian government and the US government."
Gates recalled that Trump told this person the "issue would be resolved" but "Trump did not expound on what he meant." The person suggested meetings with H.R. McMaster, then the national security adviser, and then–secretary of state Rex Tillerson, but Gates said those meetings wouldn't be possible. Gates drafted talking points about 1MDB but eventually dropped the issue by February 2018.
A Manafort associate had "no doubt" he'd met with Russian intelligence

In January 2018, former BBC journalist Jonathan Hawker voluntarily met with agents and prosecutors about his consultancy work with Gates and Manafort; Hawker said he split with the duo "because of his experience in Ukraine and not being paid in full."
In heavily redacted portions of the FBI interview summary, Hawker was asked about work done by the law firm Skadden, Arps, Slate, Meagher & Flom with Manafort in Ukraine. The firm ultimately settled a lobbying case with the Justice Department. Hawker described Gates and Skadden lawyer Alex van der Zwaan as having "the active nightlife" while in Ukraine.
Hawker told FBI agents about his final meeting with Kilimnik, following the Russian invasion of Ukraine in late 2015. Kilimnik told Hawker about a "PR opportunity in Russia" and invited the American to meet with someone from the Russian foreign ministry.
The FBI summary doesn't include the name of the person that Hawker met with, but he did tell agents that "he had no doubt the person he met with was a Russian operative." Hawker said he submitted a proposal for the job but asked for such an "outrageously high price" that there was no way he would get it.
Trump, Mueller, and the big chess match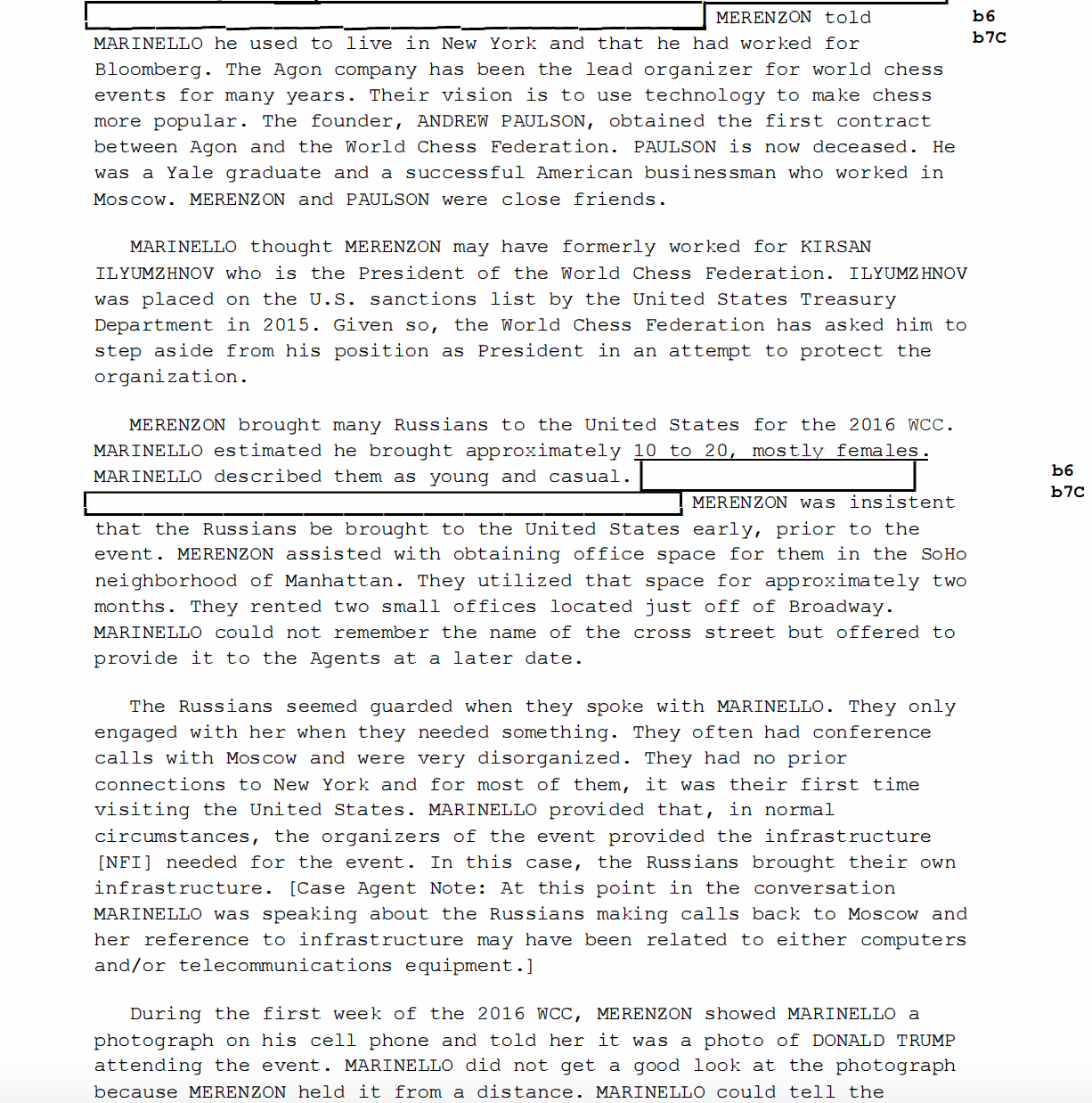 The documents released Monday include an interview with a prominent figure in the chess world, which sheds more light on the special counsel's interest in a major match attended by powerful Russians just days after Trump was elected.

Mueller's report says that senior Russian government officials — such as press secretary Dmitry Peskov and Kirill Dmitriev, the head of Russia's sovereign wealth fund — traveled to New York for the match between Norwegian and Russian players in November 2016. Dmitriev tried to use the event to meet people close to Trump but was apparently largely unsuccessful, according to the special counsel's findings. Otherwise, the event is scarcely mentioned in the Mueller report; in written responses to Mueller's team, Trump said he didn't attend the event — though the Trump Organization had been asked months before to host it.
"Although one World Chess Federation official recalled hearing from an attendee that President-Elect Trump had stopped by the tournament, the investigation did not establish that Trump or any Campaign or Transition Team official attended the event," the Mueller report states.
That official was Beatriz Marinello, who was then the vice president of the World Chess Federation. Mueller's team spoke with her in May 2018, and the interview is cited only in this one instance in the final report.
But the complete interview summary, released Monday, fleshes out what the FBI heard about Trump's purported attendance at the match and a Russian businessperson's role in organizing the event. Marinello said "various celebrities and prominent businessmen from New York attended," including actor Woody Harrelson, and that "the event was full of Russians." She said she "remembered seeing the Russian Press Officer at the event," but couldn't remember the person's name.
"Another individual at the event claimed that Putin was in Florida on that day," the summary says. "Marinello believed that statement to be false however, as she did not see any news coverage of Putin being in Florida."
Marinello said Ilya Merenzon, the CEO of a company called Agon, organized the event. She said she thought he "may have formerly worked for" Kirsan Ilyumzhinov, the president of the World Chess Federation who was placed under US sanctions in 2015.
"During the first week of the 2016 WCC, Merenzon showed Marinello a photograph on his cell phone and told her it was a photo of Donald Trump attending the event," Marinello's interview summary reads. "Marinello did not get a good look at the photograph because Merenzon held it from a distance. Marinello could tell the photograph depicted three men but could not identify any of them. Marinello did not see Trump at the event but stated that it was possible he had attended in the VIP area and that she may not have seen him."
Marinello recounted to investigators how more than a year later, she went to Moscow and on the way back ran into Merenzon on her flight. "Marinello recalled asking Merenzon, 'Do you still have the photo?' to which Merenzon quickly responded, 'No,'" the summary says of the March 2018 encounter. "Marinello clarified that she did not specifically ask Merenzon if he had the photograph of Trump but she was positive he understood her inquiry to be related to it based on his response."
Marinello said Merenzon had "brought many Russians to the United States for the 2016 WCC," according to the summary. Marinello guessed that he had brought 10 to 20 "mostly females," whom she described as "young and casual."
"Merenzon was insistent that the Russians be brought to the United States early, prior to the event," the summary states. "Merenzon assisted with obtaining office space for them in the SoHo neighborhood of Manhattan. They utilized that space for approximately two months. They rented two small offices located just off of Broadway."
Marinello said the Russians "seemed guarded" when they spoke with her and "only engaged with her when they needed something."
"They often had conference calls with Moscow and were very disorganized," the summary says. "They had no prior connections to New York and for most of them, it was their first time visiting the United States. Marinello provided that, in normal circumstances, the organizers of the event provided the infrastructure [NFI] needed for the event. In this case, the Russians brought their own infrastructure." A "case agent note" says Marinello could have been referring "to either computers and/or telecommunications equipment" when she spoke about infrastructure.
Throughout the interview, Marinello said she would look for additional information to give the FBI agents, indicating that they were interested in learning more. For instance, near the end, she agreed to search "various documents" to try to find the names of the Russians who worked at the 2016 event for the FBI agents. She also said she would give them copies of the invitations that the Russians received and would search "her cell phone for any additional information which could provide further insight about Russian activities at the 2016 WCC."
"Hannity tailored his shows to the agenda Manafort suggested."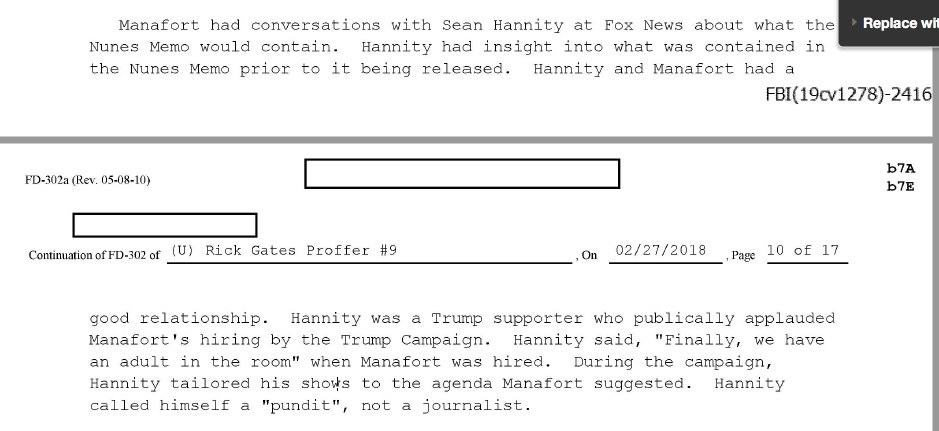 Sean Hannity continues to be a major presence in the interview summaries. BuzzFeed News previously reported that Hannity had been mentioned more than a dozen times since the Justice Department and FBI began releasing the interviews last November. He often provided guidance and advice to witnesses in the Mueller probe without disclosing it to his audience.
The latest entry for Hannity includes this detail from Gates's FBI interview summary in February 2018. Hannity was a Trump supporter who publicly applauded Manafort's hiring by the Trump campaign. Hannity said, "Finally, we have an adult in the room" when Manafort was hired. During the campaign, he tailored his shows to the agenda Manafort suggested. Hannity called himself a "pundit," not "a journalist."