Stephen Miller, Hope Hicks, and Jared Kushner sometimes drafted tweets for President Donald Trump. Steve Bannon didn't think the "Putin stuff" was a big deal. Former national security adviser Michael Flynn sought guidance from former Obama administration officials Susan Rice and Ben Rhodes "about how to do things."
Those are some of the key findings in hundreds of pages of FBI interview summaries from former special counsel Robert Mueller's investigation into Russian interference in the 2016 election, which were released Monday to BuzzFeed News and CNN in response to a Freedom of Information Act lawsuit.
The documents also contained a summary of an interview that Kushner, the president's adviser and son-in-law, had with FBI agents and federal prosecutors in November 2017. But the five-page summary, known as an FBI 302, was almost entirely redacted. Intelligence agencies are still reviewing another Kushner interview summary from 2018 for classified information. Kushner's interview summaries have been some of the most highly sought-after records from Mueller's investigation; they were requested by the House Judiciary Committee last year as part of its impeachment inquiry.
Only three lines were left intact: "A few weeks after the election [REDACTED] Kushner, Flynn, and Kislyak met together at Trump Tower [REDACTED]" — referring to Sergey Kislyak, the former US ambassador to Russia — and "Kushner" and "vaguely remembers Flynn handling Russia on the issue."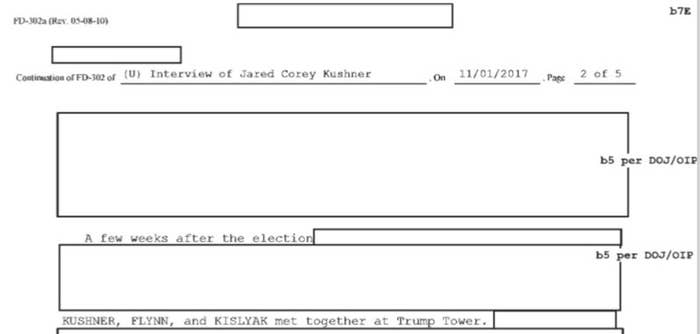 In addition to Kushner's interview summary, the FBI and the Justice Department turned over 289 pages of heavily redacted summaries of interviews with former White House press secretary Sean Spicer, former White House chief of staff Reince Priebus, Trump's former personal lawyer Michael Cohen, Justice Department attorney Jody Hunt, former FBI deputy director Andrew McCabe, Mark Corallo, who was a spokesperson for Trump's legal team, real estate mogul Tom Barrack, who served as chair of Trump's inaugural committee, and more than a dozen others. Excerpts from some of the interview summaries are sprinkled throughout Mueller's report, but many details were omitted.
Here are the highlights:
Tom Barrack described inauguration spending as "careful," called Trump "frugal"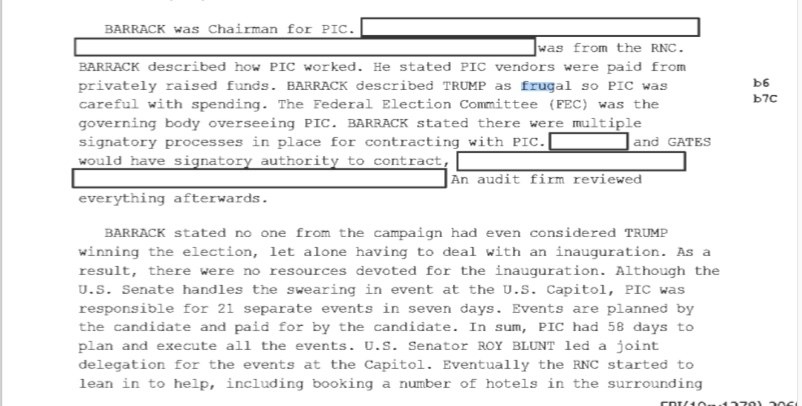 The summary of the interview with Barrack represents the first time the billionaire financier has spoken at length about his informal advice to Trump during the campaign. It answers some questions about the inauguration events, which Barrack oversaw. Barrack said he was friendly with political consultant Paul Manafort and introduced him to the Trump campaign, for which he went on to serve — briefly — as campaign manager. Barrack called Manafort a "close friend" but also an "opportunist."
The interview shows just how little Manafort thought of his predecessor on the campaign, Corey Lewandowski. According to Barrack, Manafort blamed Lewandowski for planting negative stories about Manafort's work in Ukraine. Barrack told the FBI agents: "Lewandowski always felt Manafort had an agenda to take over the campaign. It was Lewandowski's position that Manafort wanted to use Trump to Manafort's own advantage."
Barrack said Trump's support of Manafort ended following an August 2016 TV interview, in which Manafort "took individual credit for turning around the campaign."
Trump's inauguration was the most expensive in history, but Barrack said Trump was "frugal" and that the committee was "careful with spending."
It is unlawful for inaugural committees to accept foreign donations, but Barrack explained that it was approached by "many Chinese businessmen" and a Venezuelan subsidiary of the Citgo company. He did not believe there were any foreign donations — but he explained that if there were, Treasury Secretary Steve Mnuchin "would know it."
A spokesperson for Barrack's company did not immediately return a detailed message seeking comment.
Steve Bannon wasn't happy when he heard Jared Kushner tried to open a back channel with Russia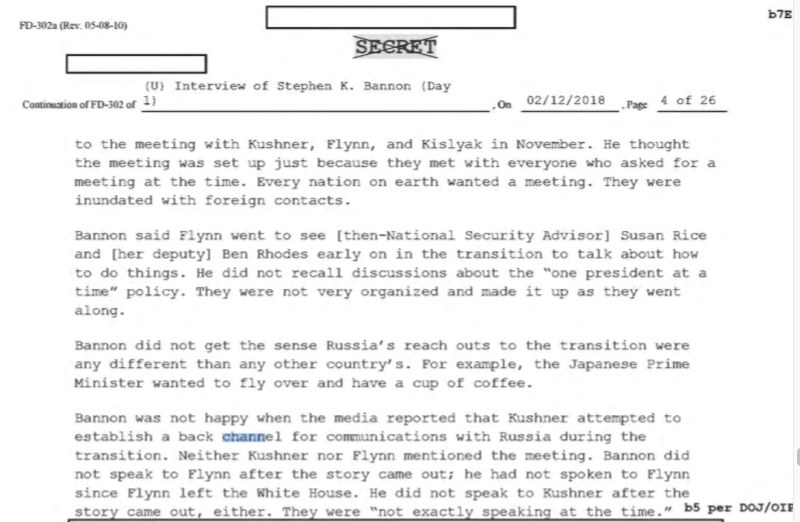 Former White House chief strategist Steve Bannon told FBI agents and investigators for Mueller's team that after the election, there was disarray in the Trump camp and no "real transition" team was in place because campaign officials had not believed that he would win.
"People in the campaign thought it was not necessary to have a strong transition team going into the election, in part because they were so far down in the polls. Trump was also superstitious about things like that. Bill Hagerty, the director of the transition, had scheduled a trip to the Bahamas for after the election, assuming they would not win," Bannon said during a meeting at Mueller's office on Feb. 12, 2018.
Bannon said that after the election, Flynn went to see Obama's national security adviser Susan Rice and her deputy, Ben Rhodes, for advice "about how to do things."
He told the FBI that during the campaign "he thought the Putin stuff was not a big deal" and he didn't think Russia's "reach outs" to the transition after the election was "any different than any other country's."
"For example, the Japanese Prime Minister wanted to fly over and have a cup of coffee," Bannon told investigators.
He also told Mueller's team he wasn't happy when news broke that Kushner "attempted to back channel for communications with Russia during the transition," likely referring to a private meeting with then-Russian Ambassador Sergey Kislyak to discuss a plan for secretly communicating with the Kremlin. "Neither Kushner nor Flynn mentioned the meeting."
"Bannon did not speak to Flynn after the story came out; he had not spoken to Flynn since Flynn left the White House. He did not speak to Kushner after the story came out, either. They were 'not exactly speaking at the time,'" the interview summary said.
Bannon also told investigators he spent "at least three hours" trying to convince Trump's attorney, Rudy Giuliani, to be attorney general. But Giuliani told Bannon he was not interested due to his age and because "had no energy for the position." Giuliani was much more interested in being secretary of state, but Bannon worried there would be "issues" in Giuliani's confirmation if he was nominated "because of some of his companies and foreign contacts."
Rick Gates described networking with well-placed Ukrainians

During a January 2018 interview, Gates, the former deputy campaign manager, described the earliest connections among a group of Ukrainian oligarchs and fixers and his business with Manafort in Ukraine. He said he was introduced to a man named Konstantin Kilimnik for the first time in 2007. Manafort introduced Kilimnik as someone who worked for the International Republican Institute in Moscow.
Kilimnik described himself as someone who brought a Western "mindset" to Eastern European political campaigns. According to Gates, an unidentified employee of the consulting firm Davis Manafort Partners told him that Kilimnik had "attended a prominent language school" and subsequently worked as a linguist for Russian intelligence.
"Kilimnik was well connected in Russia and Ukraine and could obtain information easily," Gates told the FBI agents.
After then–Ukrainian president Viktor Yanukovych fled Kyiv in 2014, Kilimnik said, he built a relationship with members of that country's opposition. He worked with Serhiy Lyovochkin, who boasted that he had a "cadre of candidates" running for office across the country. Lyovochkin later became a politician in Ukraine and was one of the two people to whom Manafort reportedly sent polling data.
Gates, who was accused by the special counsel of conspiracy to obstruct justice, recalled a meal in May 2016 with Kilimnik and Manafort at the Havana restaurant in Manhattan. Kilimnik told them that Yanukovych was considering getting back into Ukrainian politics and wanted their help. Manafort declined, Gates said.
James Comey's chief of staff filled in details on the former FBI director's firing

Comey's chief of staff, James Rybicki, provided investigators with additional details related to the immediate aftermath of his boss's firing in May 2017. The day after firing Comey, Trump reportedly called Andrew McCabe, then the deputy director of the FBI, to complain that Comey was allowed to use an FBI airplane to return to Washington, DC, from Los Angeles, where he had been on official business. The call is recounted in the Mueller report, which says Trump told McCabe "that Comey should not have been permitted to travel back to Washington, D.C. on the FBI's airplane."
Rybicki's interview dates Trump's anger about the plane ride to the night of Comey's firing, when McCabe returned from a meeting with Trump at the White House and told Rybicki that the president "was upset."
"Before permitting Comey to return on the FBI airplane, Rybicki and others consulted with the FBI's Office of General Counsel and determined Comey's use of the airplane was de minimus given the need for the pilots, Director's detail, and the airplane itself to return to Washington," Rybicki's interview summary says.
In another interview, Rybicki discussed the fallout of a one-on-one conversation between the president and Comey in February 2017. The subject of the conversation was Flynn, who had been fired the day before because of contacts with Russians and who was being scrutinized by the FBI. The 2017 Valentine's Day meeting, during which Trump told Comey that Flynn "was a good guy" and asked the FBI director to "let this go," was a pillar of Mueller's obstruction of justice probe.
The Mueller report states that after the discussion in the Oval Office, Comey requested a meeting with then–attorney general Jeff Sessions and asked "that Sessions not leave Comey alone with the President again." A June 22 interview with Rybicki provides new information about that meeting with Sessions, including Rybicki's impression that the attorney general didn't understand Comey's concerns.
Comey asked Rybicki to contact Jody Hunt, Sessions' chief of staff, the day after the conversation with Trump to schedule the meeting, Rybicki told investigators. "Hunt agreed to the meeting and added Sessions wanted to talk with Corney about another matter, possibly media leaks," the interview summary says.
"Rybicki accompanied Comey and was present for the meeting," it continues. "Comey told Sessions, 'I work for you, and you should not be asked to leave meetings like that' and leave me alone with Trump, or words to that effect."
But Rybicki wasn't convinced that Sessions had gotten the message. "After the meeting, on the way back to FBIHQ either in the car or elevator at FBIHQ, Rybicki expressed to Comey his concern that he didn't think Sessions really understood the point of Comey's message," the summary says. Rybicki then asked Comey if he should follow up with Hunt "to reiterate this concern." The summary does not say whether that happened.
"Rybicki does not remember anything in particular as to why he thought Sessions did not understand Comey's concern, but just did not think Sessions fully comprehended the importance of being there when Trump and Comey were together," the summary reads. Rybicki then started telling Hunt about any contact between Comey and the president, "or would make sure such meetings were scheduled so Sessions could attend." Though the documents released Monday include an interview with Hunt, that summary is heavily redacted.
Rybicki's June 22 interview also shed light on a conversation with Dana Boente, a senior Justice Department official who was overseeing the Russia investigation at the time. During an April 11, 2017, phone call, Rybicki told Boente that the White House counsel might call him because Comey had previously told Trump to go that route when seeking information about the probe.
"Boente said something along line [sic] of, 'I was hoping he had forgotten about that', or words to that effect," Rybicki told investigators.
In an earlier interview, Rybicki provided details about how senior FBI officials prepared for a meeting in January 2017 in which Comey briefed Trump, then the president-elect, on allegations contained in the document now known as the Steele dossier. Though the June 9, 2017, interview summary doesn't cite the dossier by name, it says that the "principal leaders of the intelligence community had discussed who would deliver the information that would be presented" at the Trump Tower meeting in early January, and they agreed that it should be Comey. The former FBI director later testified that the meeting was about the dossier.
"The FBI team agreed that Comey should memorialize his exchange with Trump because of the sensitive subject matter, the fact it would be their first meeting together, and because Comey anticipated he and Trump would be alone," Rybicki's interview summary states. Comey had a "classified laptop" in his vehicle so that immediately after the meeting at Trump Tower ended, he could write a memo about it.
"Rybicki could not recall how far in advance the FBI team discussed Comey's meeting with Trump, but opined it was at least a few days," the summary adds.
That interview with Rybicki shows how he and Comey kept track of the FBI director's conversations with the president, which Comey memorialized in writing. Rybicki said he had printed copies of his written accounts, which Comey signed or initialed "in blue ink." Rybicki kept them in folders in his desk drawer, he told investigators. He even got a menu card from Comey after his dinner with the president at the White House on Jan. 27, 2017, where he said Trump asked him for loyalty. Rybicki also said that they referred to calls from the White House switchboard as calls from "the Royal Crown."
Sean Spicer said Trump never asked Comey for loyalty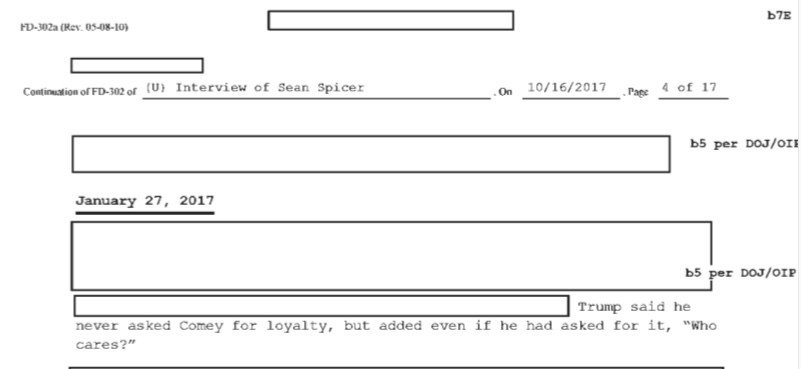 The 17-page interview summary with former White House press secretary Sean Spicer is heavily redacted, and only four lines are public. In one of them, Spicer told the agents: "Trump said he never asked Comey for loyalty, but added even if he had asked for it, 'Who cares?'"
Andrew McCabe saw people bawling in the hallways
McCabe, the former FBI deputy director, told investigators during a Sept. 26, 2017, interview that he was "shocked" by Comey's firing and went into "crisis management mode." He recalled seeing people "in the hallways of the FBI 'bawling' and described the termination as 'very emotional' for employees."
McCabe described for investigators several meetings with Trump in which the president peppered him with questions about his wife's campaign for the Virginia State Senate.
"It was clear to McCabe that Trump mentioned McCabe's wife repeatedly to make a point and send a message, like a bullying tactic," the interview summary says. "Trump probably raised the issue in order to give McCabe an opportunity to 'walk away from it' and tell Trump it was mistake [sic] for his wife to have run for office. Instead, McCabe took the opportunity to defend his wife's decision to run."
Twelve hours after this meeting, the summary states, "Trump again brought up McCabe's wife's campaign 'out of the blue' and 'rubbed his nose in it,' asking McCabe how his wife felt about losing, insinuating she was a loser."
McCabe told investigators he believed this was Trump's way of telling him "he had something on him and to insinuate McCabe had a connection to [Virginia Gov.] Terry McAuliffe."
The summary says McCabe believed Trump wanted him to express his "loyalty" to him by distancing himself from his wife, "almost as if it was required to become acting director."

A day after Comey was fired, Trump called McCabe. The president said something like, "This is great, have you seen all the coverage, we are hearing from hundreds of people how happy everyone at the FBI is, is that what you're seeing, too?" The interview summary states McCabe told Trump "it was not exactly what he was seeing, and Trump asked 'Do you think people are happy?' McCabe responded he 'guessed it was possible' people in the FBI were happy."
McCabe told investigators he met with other FBI officials several times after Comey's firing to discuss "whether there was predication to open an obstruction investigation on Trump, but that was not their primary concern."
"McCabe first wanted the team to look at the four or more open Russia investigations at the time and to decide if there were others that should be opened," the interview summary said.
McCabe said one of the questions that popped up during discussions he had with other FBI officials about obstruction "was the fact that by investigating the Trump campaign, they were, by definition, 'sort of' investigating Trump."
"As such, they wondered whether it would be accurate to tell Trump he was not under investigation," McCabe's interview summary states.
Sessions, then the attorney general, fired McCabe in 2018, two days before he was scheduled to retire.
Stephen Miller wrote tweets for Trump

Does Trump write his own tweets? According to Stephen Miller, a senior policy adviser, not always. In a Dec. 14, 2017, interview with the FBI, Miller said that during the presidential campaign, he sometimes drafted Trump's tweets — and Kushner, former communications director Hope Hicks, and Dan Scavino, the White House's social media director, likely did too.
"Miller would write a variety of possible Twitter messages for Trump. Trump would put a check by the ones he wanted and Scavino would send out the Tweets. It was clear to Miller that when the team wasn't around Trump would write and send his own Tweets. Hicks, Kushner and Scavino likely also drafted Trump's Tweets for him but Scavino was the only one authorized to take more liberties with what was Tweeted," Miller's interview summary said.
Miller also told investigators he didn't know who had access to Trump's phone and whether it was "password protected."
"Miller didn't recall other people using Trump's phone but thought most people reached out to Trump through Hicks who would hand Trump her phone," his interview summary said.
Miller was also asked by FBI agents about whether he was aware of former deputy campaign manager Rick Gates "conducting any inappropriate activities while working with the campaign."
Miller said he "vaguely remembered" Kushner keeping tabs on how Manafort and Gates "handled money." He told the FBI that Manafort was concerned about the campaign "coming across as overly enthusiastic about a 'Russia reset 2.0.'"
Miller was asked about Trump thoughts on Ukraine, around the time of the 2016 change to the GOP platform. Miller said no one ever discussed the platform change with him.
"Trump would say, 'Who's gonna send their kids to defend Ukraine?'" the interview summary said. "War against Russia was not something Trump was interested in."
Flynn's attorneys "firmly" told Trump's legal team they couldn't share information after Flynn started cooperating
The documents include a summary of a March 2018 interview with attorneys for Flynn, who was charged with lying to the FBI. The interview concerned conversations that Flynn's lawyers had with Trump's lawyers after Flynn began cooperating with the government. Mueller scrutinized those conversations — in particular, a voicemail from Trump's former attorney John Dowd — as part of his obstruction probe. Though a transcript of that voicemail was previously released, the summary released Monday mentions Ty Cobb, another one of Trump's former lawyers, as being part of the broader conversations. And though the Mueller report stated that Flynn's lawyers returned Dowd's voicemail the day after receiving it and "reiterated that they were no longer in a position to share information under any sort of privilege," the summary adds the detail that Flynn's lawyers made that point "firmly."
Since last November, the government has released a little more than 100 of these interview summaries — nearly 1,300 pages — representing roughly 42 of the more than 500 witnesses who spoke to Mueller's investigators. The majority have been heavily redacted under numerous FOIA exemptions that protect personal privacy, attorney client privilege, grand jury secrecy, ongoing investigations and national security. This month, BuzzFeed News began a legal challenge to one particular category of exemption from the Freedom of Information Act.

The search for the secret documents behind the Mueller report began last May, when BuzzFeed News, and later CNN, filed Freedom of Information Act lawsuits against the FBI and Justice Department to gain access to the thousands of pages of interview summaries of all the witnesses who spoke to FBI agents and investigators.
BuzzFeed News is now pursuing five separate lawsuits to pry loose all the subpoenas and search warrants that Mueller's team executed, as well as all the emails, memos, letters, talking points, legal opinions, and financial records it generated. In short, we are seeking all communications of any kind that passed through the special counsel's office. We also requested all the documents that would reveal the discussions among Attorney General William Barr, former deputy attorney general Rod Rosenstein, and other high-ranking officials about whether to charge Trump with obstruction.
In response, Justice Department lawyers claimed the volume of records requested could total 18 billion pages and take centuries to produce.
Read Part 5 of Mueller's Secret Memos