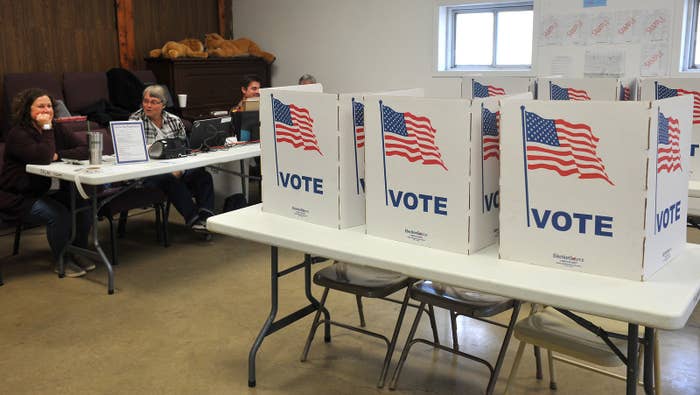 After circulating online both ahead of the midterm elections and after them, bogus claims of voter fraud spread to the president's Twitter feed, despite having no basis in reality.
Hashtags like #StopTheSteal and #VoterFraud2018 were part of what seems to be a coordinated push by conspiracy-oriented Twitter accounts to spread bad information and amplify certain conversations. They were also themes on Instagram and Facebook as officials rushed to recount votes in races in Florida and are still counting ballots in Arizona and Georgia.
The president repeated baseless claims pushed by those accounts. Without evidence, he cited ballot tampering and ended one tweet on the subject with, "An honest vote count is no longer possible-ballots massively infected. Must go with Election Night!"
Since Thursday, Trump sent seven tweets about the election, baselessly making claims like, "Trying to STEAL two big elections in Florida!" and "Rick Scott was up by 50,000+ votes on Election Day, now they 'found' many votes and he is only up 15,000 votes." Although most of his tweets focused on Broward County in Florida, they echoed the conspiratorial thinking of falsehoods that spread online.
Donald Trump Jr. also got in on the action, tweeting a 2012 article about 200,000 voters who may not be citizens without mentioning either its date or the detail that, as the editor's note says, "The initial list of 180,000 names was whittled to 2,625, according to the Florida Department of State," and "only 85 noncitizens were ultimately removed from the rolls out of a total of about 12 million voters at that time."
So far, Florida delivered the most stinging rebuke to Trump's claims when a judge rejected Republican Gov. Rick Scott's request to have state and local police oversee ballots and election equipment. The judge said Scott and his Senate campaign did not present any evidence of fraud or misconduct.
The Arizona secretary of state also published a blog post explaining why it takes so long to count ballots in response to questions.
Thomas Hicks, the commissioner of the Election Assistance Commission, said he had been to several states. "I have not seen widespread voter fraud," he told BuzzFeed News.
Department of Homeland Security officials told the media on Election Day that while it was unlikely foreign hackers could affect the election, they were worried that a foreign propaganda effort, particularly from Russia, could undermine Americans' faith in their elections. And after the votes were cast, senior officials privately expressed relief, grateful that they'd maintained trust from both parties.
But, when asked about Trump's tweets, the agency referred BuzzFeed News' request for comment to the Department of Justice. Neither the DOJ nor FBI responded to questions from BuzzFeed News.
The National Association of Secretaries of State declined to comment, referring instead to the individual states. Requests and phone calls seeking comment from the secretaries of state in Arizona and Florida also went unanswered. A spokesperson for Georgia's secretary of state said she will provide comment on Nov. 13, after the office reopens from the Veterans Day holiday.
Statistically, voter fraud rarely happens. In a review of a collection of studies dating back to 2009, New York University's Brennan Center for Justice concludes that "a look at the facts makes clear fraud is vanishingly rare, and does not happen on a scale even close to that necessary to 'rig' an election." A 2014 report by the Government Accountability Office echoed that.
"It is quite simply not based in reality," said Sean Morales-Doyle, a counsel on the democracy program at the Brennan Center. "There are extremely rare instances of this kind of thing happening. It's more likely that people are stricken by lightning than if they impersonate someone at the polls."

Morales-Doyle said "voter fraud" has become a catch-all term, but what it really means is someone impersonating someone else at the polls.

"I think unfortunately the rhetoric around voter fraud is a very powerful narrative that a lot of people listen to and dive into," he said. Morales-Doyle also thinks that confusion about how elections work could be a contributing factor to the voter fraud narrative.

Tweets and posts about voter suppression during the midterms focused on faulty voting machines and tampering with ballots. Many were videos taken out of context and later debunked by election officials. Years-old conspiracies about George Soros also came into play, dreaming up a false link between the Hungarian American billionaire and a company that sells voting machines.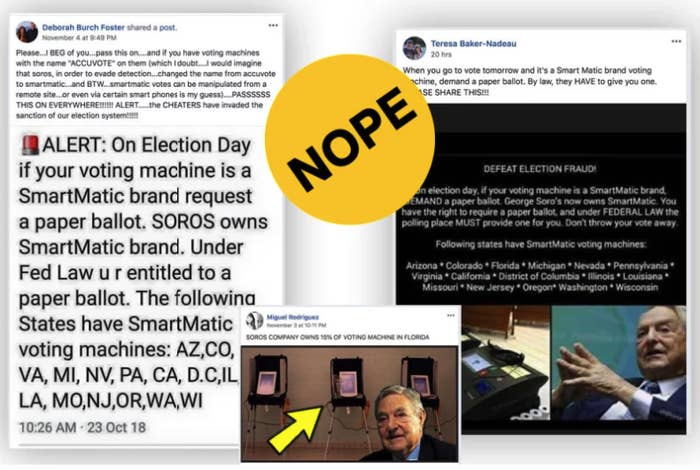 Another popular conspiracy was a crossover between scare tactics surrounding the migrant caravan that's currently hundreds of miles away from the US and baseless claims that buses were bringing illegal immigrants to voting stations so they could cast ballots for the Democrats. Prominent Twitter users propagated that claim during the midterms.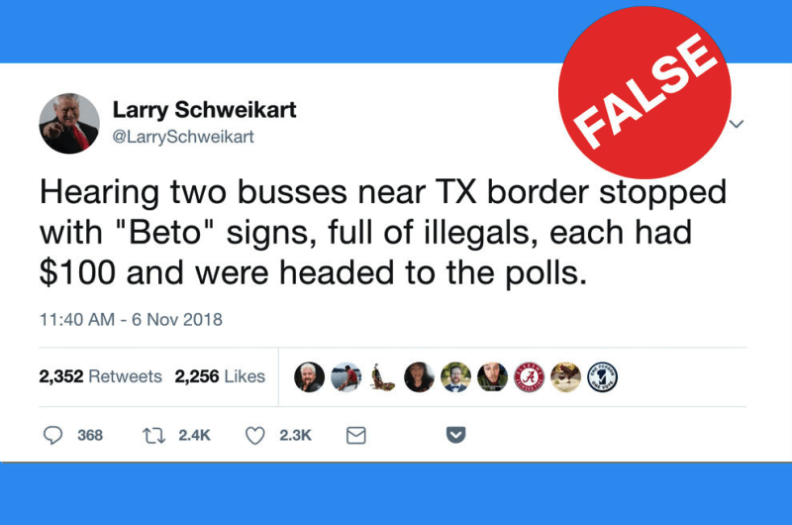 Even after Election Day came and went, false voter fraud claims were not put to rest. Instead, the hashtag #StopTheSteal began spreading. Accounts used it to, without evidence, say ballots were being altered or destroyed in key states.
One early claim using that hashtag tweeted a screenshot of a story headlined, "Broward County elections supervisor illegally destroyed ballots, judge rules." Without the context, it's easy to think the headline is about the midterms, but it's not. The story has to do with ballots from a 2016 congressional race that were the subject of a lawsuit.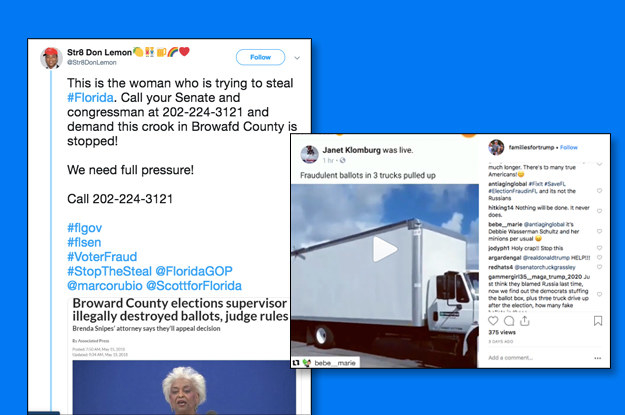 After the midterms, images of trucks became the subject of online conversations. Videos spread across platforms with captions like, "Fraudulent ballots in three trucks pulled up." The videos made no effort to provide any kind of evidence for the outlandish claims but nonetheless stirred up suspicion and anger among social media users who saw them.

Researchers Zach Verdin, Brett Horvath, and Alicia Serrani have been tracking Twitter conversations about voter fraud and recently published a report on the topic. They found evidence of coordinated activity on Twitter to spread narratives about voter fraud, including the above tweet about illegally destroyed ballots and Beto O'Rourke bringing buses "full of illegals" to the polls.

The report was produced by a volunteer network of technologists, artists, and academics, including the San Diego Supercomputing Center's Data Science Hub at University of California San Diego and IV.ai. The project was organized by Guardians.ai.
"The group of accounts that we show in our report are highly active in spreading the #StopTheSteal hashtag," said Verdin, one of the researchers. He said they observed the hashtag initially being used by those who oppose Trump talking about voter suppression; then it was taken over by those who support Trump as they tweeted about voter fraud.
"There is evidence of a coordinated attempt to 'flip' the #StopTheSteal hashtag so that it can be used as a rallying cry to make claims about voter fraud in Florida and Georgia," Verdin said.
In their research, the team looked at a sample 200 accounts and over 140 million tweets. They stressed that these are not uniformly bots or trolls, and that real people get caught up in them too.
"Content generation is one of the hardest parts of these operations," Horvath said. "So if you can outsource that and just find a real human tweeting aggressively, a bad actor can go in without basic knowledge [of the topic] and start amplifying their messages through at-mentions and replies without them knowing."
A couple of months ago they began thinking about midterms and the themes they thought would come up. They saw a spiking pattern of voter fraud mentions, which they describe as a "heartbeat." Verdin said there was a similar spike leading up to the 2016 elections. Donald Trump also made outlandish claims about voter fraud without any evidence during his presidential campaign.
"A lot of consistency in the spikes just showed us that these were coordinated," Serrani said. "There was no actual news story that these tweets were actually talking about. They were kind of self-generated spikes."
The team stressed they don't know the origin or the source of the accounts leading these spikes, and cautioned against drawing a connection to state actors. In a thread, Twitter acknowledged that there was malicious activity on its platform during the midterms, but said it was homegrown. The company did not answer questions about current coordinated campaigns around election fraud, instead linking to this thread:

"Statistically, voter fraud doesn't even really happen at a very high level. ... So to have so many accounts online drive a conversation that doesn't really exist," Serrani said, "Really does show you the impact that these accounts are having on real people, which is, real people think that's an issue but it doesn't really exist."
UPDATE
This post has been updated to include a comment from EAC Commissioner Thomas Hicks and Sean Morales-Doyle, a counsel on the democracy program at the Brennan Center.