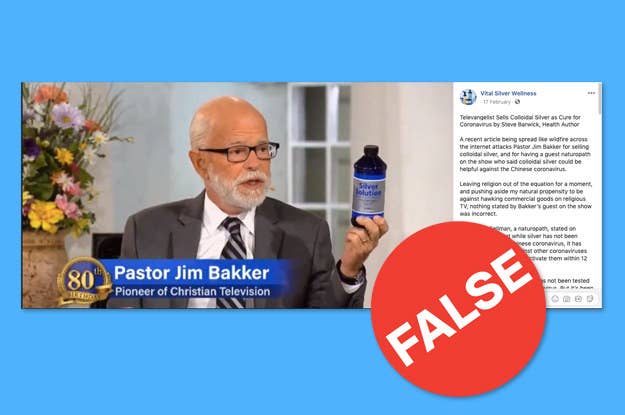 A cottage industry of fake and ineffective COVID-19 treatments and cures has spread in recent weeks, including air purifiers, vitamins, and even bleach. None of these treatments prevent or cure the disease, according to the World Health Organization.
The Federal Trade Commission and the US Food and Drug Administration announced Monday that seven companies selling "scam" coronavirus treatments had been threatened with seizure and legal action.
"The FTC says the companies have no evidence to back up their claims — as required by law," the announcement said. "The FDA says there are no approved vaccines, drugs or investigational products currently available to treat or prevent the virus."
Named in the complaint was The Jim Bakker Show, the program belonging to the Christian televangelist who rose to fame in the '70s and fell from grace after a fraud conviction and sex scandal. After five years in prison, he resumed hosting his television show on the PTL Satellite Network in 2003. Bakker's show promotes sales of "Silver Solution," also known as colloidal silver, alongside vitamins, food rations, and heritage seeds.
The Jim Bakker Show did not respond to requests for comment from BuzzFeed News.
"Well let's say it hasn't been tested on this strain of the coronavirus, but it's been tested on other strains of the coronavirus, and has been able to eliminate it within 12 hours, totally eliminate it, kills it, deactivates it," said a guest on the show, naturopathic practitioner Sherrill Sellman. (The show's website took down its archived version of the episode, which ran Feb. 12.)

A 16 oz bottle of Silver Solution costs $40.00 on the show's website.
The FTC and FDA weren't the only ones who took note of Bakker's promotion of his Silver Solution. The New York attorney general issued a cease-and-desist letter last week, demanding a disclaimer be added to the products. Twitter said the companies will not be allowed to run advertisements on its site. Facebook, where one company still runs ads unrelated to COVID-19, did not respond to a request for comment.
On Tuesday, Missouri Attorney General Eric Schmitt announced that his office filed a lawsuit against Jim Bakker and Morningside Church Productions, Inc. for misrepresenting Silver Solution as a treatment for COVID-19. The lawsuit requests a restraining order and permanent injunction against Bakker selling Silver Solution as a virus treatment.
Two other companies warned by the FTC, N-Ergetics and Vital Silver, were also selling colloidal silver, claiming it could treat the coronavirus.
N-Ergetics said in a statement that it addressed the concerns raised in the warning letter.
The head of Vital Silver, which falsely claimed that "it's actually widely acknowledged in both science and the medical industry that ionic silver kills coronaviruses" on its Facebook page, said it made changes based on the letter.
"I was unaware that my company [was] violating FDA standards, or that any of the statements could be considered fraudulent," Jennifer Hickman, who runs the website, told BuzzFeed News.
Hickman's company also sold hand sanitizer that did not contain alcohol. According to the World Health Organization, hand sanitizer must be made of at least 60% alcohol to help prevent COVID-19 infection.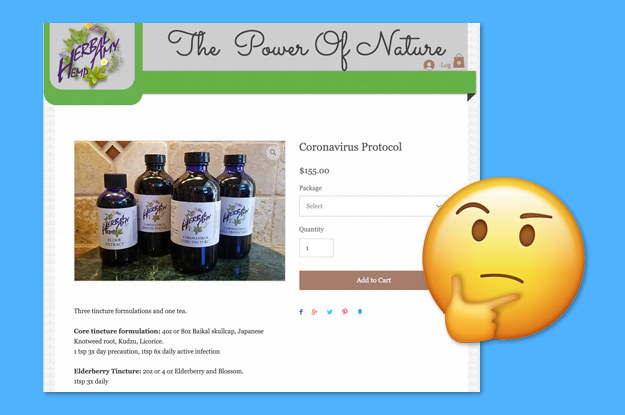 One Canadian website, Vivify Holistic Clinic, recommended drinking boneset tea six times a day to get rid of a coronavirus infection. The clinic falsely claimed it cured other coronavirus infections and SARS.
Three of the seven companies flagged promoted their false claims on Facebook but did not have wide followings.
One company, Guru Nanda, used Facebook and Twitter to promote its essential oils, like tea tree and eucalyptus, for coronavirus and even promoted "Corona" as a discount code for its products.
The head of Guru Nanda told BuzzFeed News that the company removed references to COVID-19 from its products. "My mission is to provide the purest and best natural essential oils sourced from all over the world at an affordable price," said Puneet Nanda.
Quinessence Aromatherapy still has misleading statements on its Twitter account, claiming vitamin C can help prevent infection and tweeting a link with the text "Essential Oils to Protect Against Coronavirus." It did not respond to a request for comment from BuzzFeed News.
The website Herbal Amy was also selling fake prevention products, including one called "Coronavirus Protocol" for $155. Amy Weidner, who runs the site, removed product statements that were highlighted in the warning letter, one of which falsely claimed it could treat coronavirus and SARS infections.
Weidner told BuzzFeed News that her website is "not selling any treatment products." The product is still for sale on her site.
UPDATE
This story has been updated with the price of Silver Solution. It has also been updated to include details of a lawsuit filed against Jim Bakker and his company.