Standing atop a plush red pedestal surrounded by red velvet rope, Jesus is 15 feet tall and untouchable. His outstretched white marble hands show the markings of his crucifixion; his hair drapes over his shoulders, and his robe cascades around him. And though you could probably reach your hand over the velvet rope to touch some part of the Messiah without being caught, it still feels like there are a dozen eyes looking down from the buildings in the fake town square that surrounds him on all sides.
This is Morningside.
Located 30 miles southwest of Branson, Missouri, by car, Morningside is a giant compound on 600 acres of land that functions as part church, part business, part apartment complex, part suburb. From the outside, it looks like a shopping mall, but the inside — with a cinema that's actually a prayer room, and a chapel — looks like a Hollywood backlot set for an Americanized idea of a European town square.
At the far end of the square is a granite stage surrounded by cameras and sound equipment. Three dozen chairs are set up around tables, which, although filming is supposed to begin in 15 minutes, sit empty. The Jim Bakker Show used to film here five days a week, but when I visited this past March the two scheduled episodes were both canceled because Jim Bakker — the once prominent televangelist whose very public fall from grace in the late '80s resulted in a stint in prison — suddenly came down with an awful case of walking pneumonia. The taping had been canceled quickly and without notice, but there was no one there to miss it. Instead, the only audience for the empty stage was 36 white plastic buckets, each about a foot and a half tall.
They're the kind of buckets that might be used to feed slop to pigs on a farm, and inside each are 18 dishes in freeze-dried food packets, making up almost 50,000 calories that, according to the purple labels slapped on their sides, have a 25-year shelf life. Just add water and, as Bakker says, "imagine — the world is dying and you're having a breakfast for kings."
Nearly 30 years after fraud convictions and a sex scandal forced him to step down from his position as head of The PTL Club — one of the biggest televangelism shows in American history — and lose his platform, his network, and his theme park, Bakker is back and his message is simple: The end times are upon us, and he and his gear will help us survive.
In the Book of Revelation, the last section of the Bible, some Christians believe that God lays out a vision for his return. Revelation is the only apocalyptic book in the Bible, and its interpretation varies even within Christian denominations. Some people believe this book is a parable; some a warning; and others, like Bakker and his followers, believe that it plainly lays out the plan and circumstances for the second coming of the Messiah, verbatim. Their belief is that Revelation, as it is written, includes major events that will happen during this prophesied return: An Antichrist will be revealed. The Four Horsemen of the apocalypse will ride. There will be an earthquake and the sun will become black. Stars will fall from the sky. The water will be poisoned. The length of time before a New Heaven and a New Earth are created and eternity with God begins, known as "the Tribulation," is widely disputed, and ranges from three and a half years to seven, depending on your interpretation of the Book of Daniel; for Bakker, it's seven.
A political climate of fear over increasing liberalism in the United States certainly didn't hurt the perception that Christ's return was imminent.
"A time of trouble is upon us," Bakker warns during one episode of The Jim Bakker Show. Though he is still charismatic, his voice rising into a yell and dropping into concerned whispers at will, he doesn't pace the stage like he did in his PTL days. There are no more drumrolls to build hype, no more flashing stage lights, no more suits and ties and running makeup to create drama. There is only Jim Bakker, sitting next to his bubbly, amen-ing wife Lori, his voice even and desperate as he pleads convincingly — what with all the hurricanes, and the bird flu, the people who murder babies, and the asteroids — that the world is coming to an end. "There are two different ones, one right after another, that are going to hit the Earth," Bakker says. "You know what I heard a scientist say? We are living in a galaxy shooting gallery." And once those two asteroids hit, the Bible, according to Bakker, promises seven years of chaos and war, anarchy and famine. That's what the buckets are for: $2,800 will get you 28 buckets, enough to sustain a person for those at least seven years of hell, plus two and a half years of extra meals to share with your neighbors.
In 2013, when Bakker began preaching about Christ's return, the narrative made sense for a religious group focused on spreading God's Kingdom on Earth. A political climate of fear over increasing liberalism in the United States — helmed by President Barack Obama — certainly didn't hurt the perception that Christ's return was imminent. "[Obama's] reign," Bakker prayed in November 2016, let him "change the rules of America, to change even the Bible's standards." But as the tide has turned and Donald Trump — a man Bakker believes God anointed for the presidency — is becoming friendlier to the country's evangelical leanings, Bakker is still preaching the end of the world.
After you've been so certain that everything is spiraling toward disaster, how do you reckon with a win that makes it seem like, as Bakker said, "good times are here again"? While Bakker might have been happy with the results of the election, he still doesn't see them as a solution. He recognizes that the country is still starkly divided, and that the divide places his church firmly on one side of the fight. And it doesn't hurt that in Bakker's case, the end of the world is also good for business.
Driving through the gently winding roads of the Ozark Mountains, it's easy to understand why someone thought Blue Eye, Missouri, would be the perfect spot to build a religious haven. Less than five miles north of the Arkansas border, this land is beautiful, with a vast prairie sky stretching out overhead. Every driver who passes makes sure to wave. And at the top of a big hill sits the giant, colorfully painted main building of Morningside, surrounded by parking lots, a trailer yard, and, farther out on the property, homes where people live quiet lives among the mountains.

Mae Pullman, an older woman with grandchildren who won't tell me her age, sits near the entryway to the main building. She comes down from her apartment to welcome visitors almost every day. On a day when Bakker is filming, she says she might greet as many as 40 or 50 people, but on a day like today, when the day's episode has been canceled, she says she's only seen seven people trickle through. But she's not bored. She likes this pace of life, and besides, she has a sudoku. Pullman and almost 100 other people pay to live on the Morningside campus, renting or owning space on the property. She's been here for eight and a half years and lives in an apartment upstairs from the main building, while other residents are scattered throughout the property, either on the top of the hill or at the bottom of the valley. Her family lives in California, and she tells me it was hard to leave them. "I know this is the place for me," she says, her eyes welling with tears. "This is where God wants me to be, I just know it." Her favorite guest to greet, she tells me, is the reason this whole place exists: Jim Bakker himself.
Bakker is 77 and a celebrity of sorts, famous in very specific evangelical Christian circles for his long career as a televangelist as well as the messy public end to that fame. Bakker is a Michigan-born, Bible-college-educated evangelical who began his career as a televangelist within three years of his marriage to his first wife, Tammy Faye, in 1961. (Tammy, who died in 2007, was famous for her extravagant eye makeup, which always bled down her face when she cried on the show.) Together, the Bakkers became one of the most prominent televangelist couples in the 1970s and '80s, just as televangelism began its rapid rise to massive popularity in America.
After a few failed launches, the couple became famous for The PTL Club (standing for either "praise the Lord" or "people that love," depending on whom you ask), which they cohosted from 1974 to 1987. It functioned as a kind of late-night-style show, where Jim and Tammy Faye acted as hosts to famous ministers and artists like Billy Graham, Oral Roberts, Mickey Rooney, and Mr. T. On each episode, they would enter the stage to rapturous applause, holding hands and waving to their fans. On set, the couple would be flanked by a full choir on one side and a backing band on the other. The spotlights were bright, often reflecting the shine off Jim Bakker's forehead, the iridescent highlighter surrounding Tammy Faye's big, big eyes, and the shiny tears bleeding down her cheeks as she sang or backed up Bakker's religious testimony. Bakker would speak slowly, his cadence even and just slow enough to draw viewers in, making them feel as though he and Tammy Faye were delivering private messages to them, sent directly from God.
The show aired on the PTL Television Network, which Bakker founded in 1974. During the '70s it became so popular that the Bakkers built a headquarters for their ministry and the show on 2,500 acres of property that spanned across the Carolinas and named it Heritage Village. As their popularity soared, the couple's empire expanded into a multimillion- dollar enterprise — including a theme park called Heritage USA — based on Bakker's version of the "prosperity gospel." The prosperity gospel, which many other evangelists also preached, claims this: Believers who donated to God's work (notably the church) would in turn be blessed with physical, spiritual, and financial prosperity themselves. Bakker later said in his 1996 autobiography I Was Wrong, which chronicled his time in prison, that while this kind of ministry was not biblical, those donations made him a celebrity and his ministry prosperous enough to allow him to continue to spread the gospel.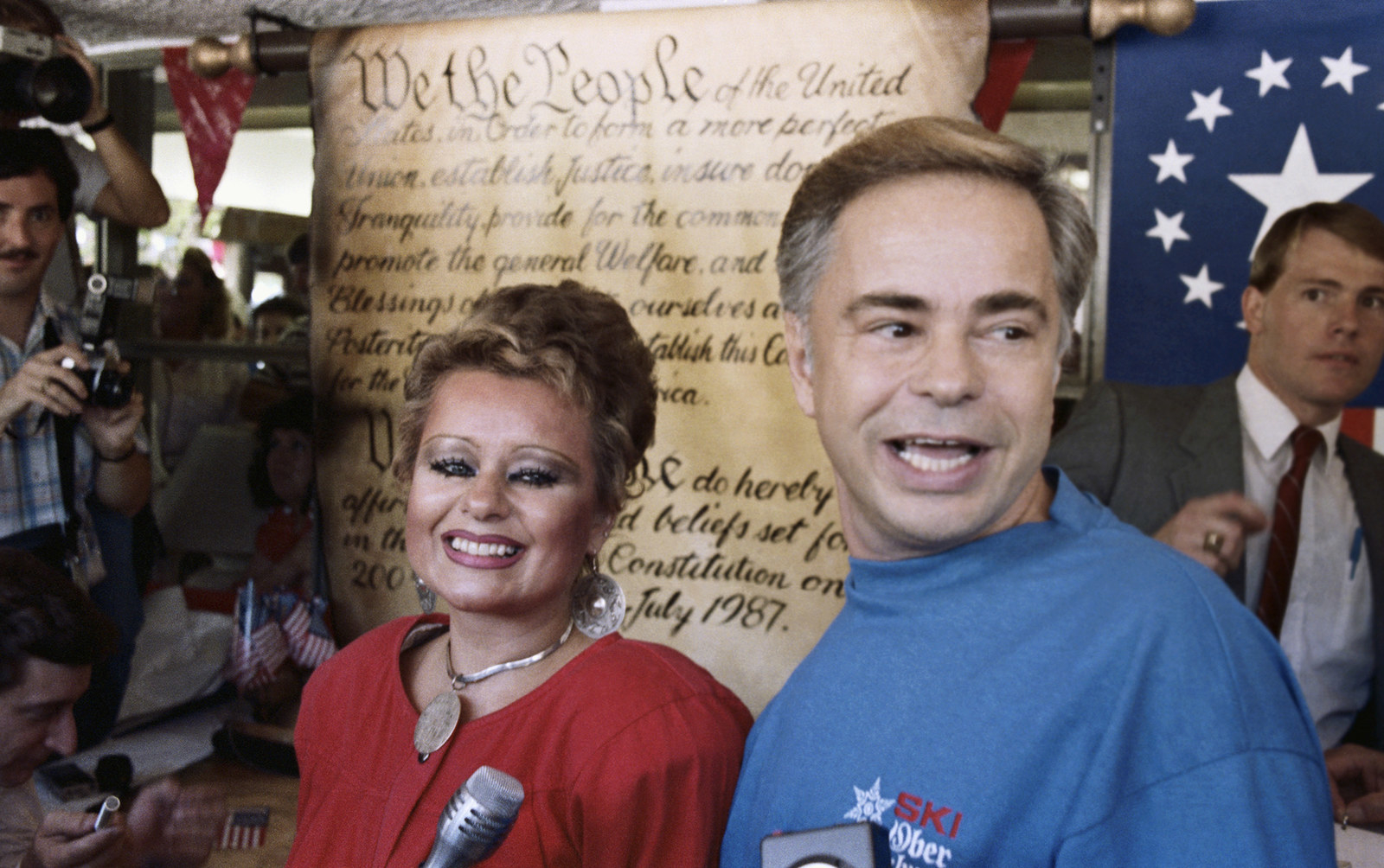 For the first 20 years of his career, Jim Bakker was untouchable: a beloved pastor, a seemingly ideal husband and father of two, and a towering example of American enterprise and innovation. At the height of its popularity in the mid- '80s, The PTL Club reached 5.7 million monthly viewers, according to a 1985 study commissioned by the Christian Broadcasting Network. In 1986, proceeds for the ministry came to $129 million, and by 1987, PTL employed almost 3,000 people and had an annual budget of well over $150 million. But as the Bible promises in Proverbs: "Pride goeth before destruction, and an haughty spirit before a fall."
In the late 1980s, two scandals brought an end to Bakker's ministry. The first was financial: The PTL Club had been making a lot of money via televised fundraisers during which they encouraged viewers to pay for memberships and overpriced swag marketed as ways to donate to the ministry. In 1987, the Charlotte Observer published more than 600 stories revealing a misuse of funds in the ministry and covering Bakker's subsequent scandals. The charges of fraud were all connected with fundraising activities by the ministry and its use of tax exemptions based on its status as a nonprofit religious organization. Bakker was later indicted for fraud in 1988: eight counts of mail fraud, 15 counts of wire fraud, and one count of conspiracy to commit fraud. In 1989, he was found guilty on all 24 counts and was sentenced to 45 years in federal prison.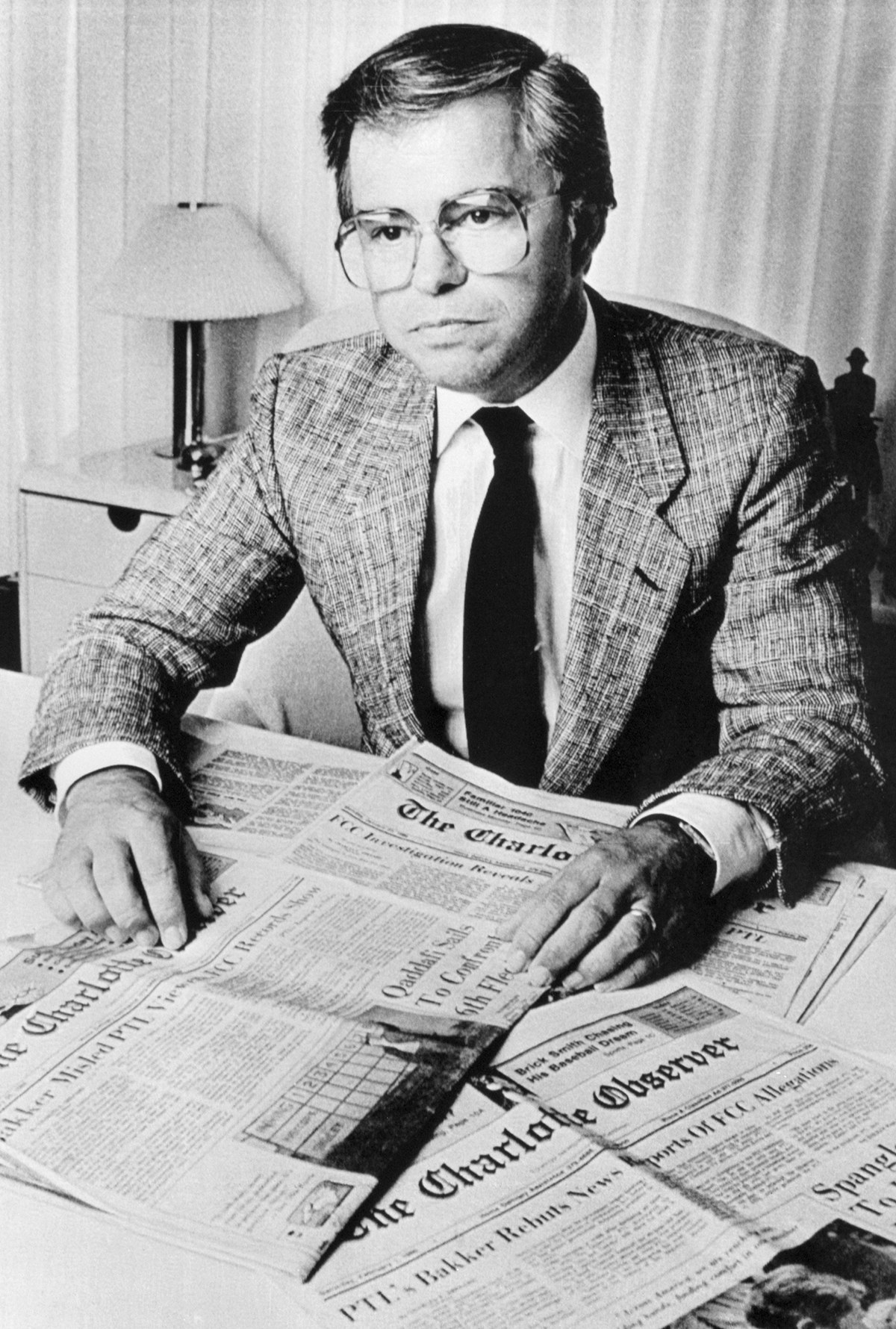 That alone was not enough to cause a complete fall from grace within the televangelical community, though. It was a woman named Jessica Hahn who finally brought the televangelist down when, in 1987, Hahn accused Bakker and another man of raping her when she was 20 years old. Hahn, who has said in many interviews that she idolized the Bakker family, said she met with Bakker in a hotel room in Florida in 1980, believing that she was there to watch his children. There, she claimed, she was drugged by Bakker's accomplice and then raped by both men separately. Hahn kept quiet for seven years before the Charlotte Observer broke her story. Bakker later claimed that though he did have sex with Hahn, and that his company cut her a $265,000 check to pay for her silence, he did not rape her. Criminal charges were never filed, but once it became clear that his secret was going to be revealed through the Observer story, Bakker stepped down as the head of PTL. And the Assemblies of God ministry, which Bakker was a part of, immediately expelled him. Bakker's fall quickly became one of the most epic scandals in American evangelical history.
With a vacancy at the top of the power pyramid at PTL, Jerry Falwell — a Southern Baptist evangelical pastor who founded the fundamentalist Liberty University — took over the ministry almost immediately after the resignation and referred to Bakker as "probably the greatest scab and a cancer on the face of Christianity in two thousand years of church history." (It should be said that taking over PTL from Bakker proved to only be a blip — from March 1987 until October of that year, several months after the ministry filed for bankruptcy — on Falwell's extensive résumé.)
Bakker entered prison in 1989, but he did not serve the entire 45-year sentence. In 1991, a court of appeals upheld his fraud conviction but voided the original term, slashing his sentence to 18 years. In 1992, Bakker's sentence was again reduced, this time to eight years, and he was released on parole in December 1994 after having served barely more than five years. By then, his marriage to Tammy Faye had fallen apart, and because of his absence from the network he created, donations to PTL sharply declined under Falwell. The IRS revoked the ministry's nonprofit status, requiring more than $55 million in back taxes, and in 1988, after Falwell's resignation, new ownership bought the company for $65 million in a bankruptcy sale. "Without a miracle of God, we will never minister again,'' Bakker told the New York Times in 1987.
"I was appalled that I could have been so wrong, and I was deeply grateful that God had not struck me dead as a false prophet," Bakker wrote in I Was Wrong. In 1998, Bakker married a woman named Lori Graham, also a former preacher, and together they began to stage a return. Bakker had previously worked in what he often called "the ghetto" of Los Angeles, ministering to a primarily black community. But after he married Lori, the two moved back to North Carolina until, in 2003, Bakker got the opportunity to return to his primary pulpit — television — when a wealthy Missouri man offered to fund his comeback.
The Bakkers moved to Branson, Missouri, and began broadcasting The Jim Bakker Show from the now-defunct Studio City Cafe, before moving to Morningside five years later, in 2008. "I've always thought of the Lord. He is the reason I'm back on television, because I felt a calling," Bakker told the local news the following year. "This is the dream of my lifetime." Morningside was built by Jerry Crawford, a man who credits Bakker and his show with saving his marriage. According to early reports by the Salt Lake Tribune, Crawford invested $25 million in Morningside, and still owns most of the property used for housing development. (Critics of Bakker who I spoke with claim that he cannot own the property because the IRS revoked PTL's tax-exempt status in 1988, and the ministry still owes $6 million in back taxes.)
But on campus, members of The Jim Bakker Show staff tell me that it's best that the ministry not own anything they don't need. "We do everything we can to make sure that everything is in the right bucket," Mark Graham, Lori Graham Bakker's 57-year-old brother, tells me. (Via Graham, Jim Bakker declined multiple requests to speak to me for this story, citing a deep distrust of the press, a hectic schedule, and his sickness.) Graham added that it was important "that our members' money is going exactly where they want it to be going." Graham has been with Morningside as a vice president for seven years despite being "a city guy" who isn't much for this country lifestyle. He's (mainly) talking about people around the country who watch The Jim Bakker Show and call in to give offerings to the ministry in exchange for items like mugs, or cross hats, or the buckets of food for doomsday preparation.
In Morningside lingo, these traded supplies or offerings are called "love gifts." Technically, the ministry isn't selling these items; instead, the organization's business model requires that the ministry function on donations, and those donations are a lot easier to get if people get something in return, be it a mug that says "PTL" on it or a bucket of food for the apocalypse. So there's no purchasing happening. But of course, the reason why Bakker is promoting all this stuff is partly financial. Christian television programs — in order to maintain their nonprofit status — are legally prohibited from selling advertisements. So producers pay for their own airtime and production costs, as well as any staff salaries. That's why almost all Christian television programming functions in the same format: some kind of preaching, along with a solicitation for support.
In prison, Bakker famously studied the Bible all the way through for the first time, quickly determining that the prosperity gospel he had preached before (that God would bless you if you believed and donated) could not possibly be true. The biblical evidence was wishy-washy, and it no longer held true in his personal life, either. Before his stint in prison, before his fame and money and prosperity crumbled before his eyes, Jim Bakker didn't talk a lot about the second coming of Christ.
However, in the last three years the second coming has become drastically more prominent in his teachings and on his show. Now, instead of convincing his viewers to give money so that they might later receive blessings from the Lord, Bakker is instead asking them to give money so that he can help them save themselves when the end times begin. Given the intertwining of fundamentalist Christianity and the Republican Party, it makes sense that there would be an uptick in doomsday rhetoric after the 2012 re-election of Barack Obama. The world seemed to be changing, and not in a way Bakker and his followers wanted.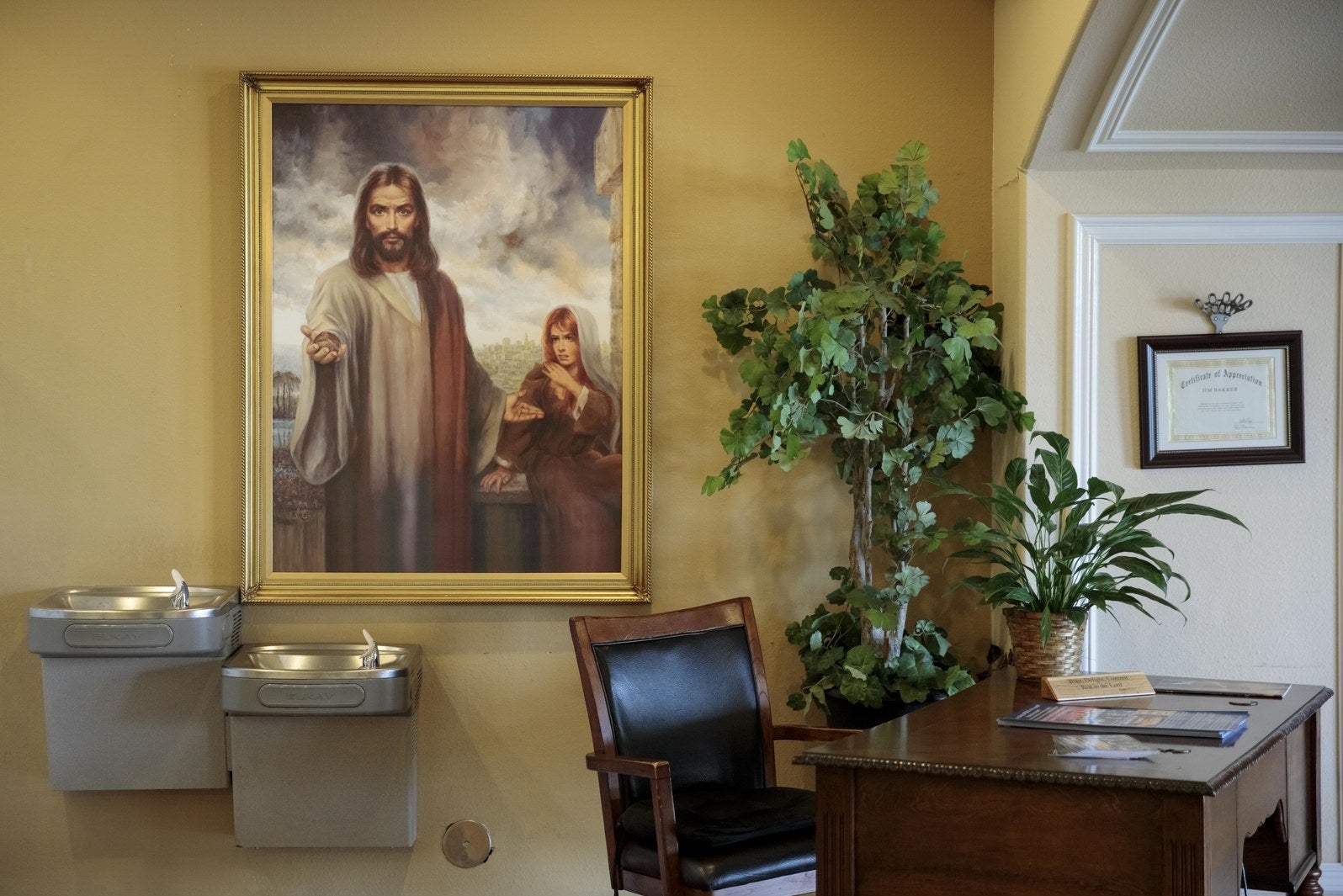 Here at Morningside, the scandal that brought down Bakker's ministry and ruined his first marriage is never mentioned outright. It is described as a "moral indiscretion" in his bio on the show's website, and only briefly alluded to by members of the Morningside community and only while discussing how well-run the business is now. Many of Bakker's biggest fans have stayed with him through his scandals and subsequent revival. They are devout in more ways than one, and they feel deeply misunderstood not only by the world at large, but by their own faith. Bakker and his followers are separated from what they view as a secular, liberal world, but by preaching about Christ's imminent return in a manner not all evangelical Christians agree with, they've alienated some fellow believers as well.

Many members of the Morningside community are fundamentalist Christians, meaning they believe in the strict, literal interpretation of the Bible as the holy word of God. Fundamentalism is a fairly new (late 19th century) form of Protestantism that is not uncommon in the United States. According to a Pew Religious Landscape study from 2014, 70.6% of Americans identify as Christian, and 25.4% identify as evangelical Protestant. In Bakker's part of the country, those numbers are a little higher than the national average: 36% of people in Missouri and 46% of people in the neighboring state of Arkansas identify as evangelical Protestants. Jim Bakker is a former Assemblies of God pastor, a denomination largely believed to be not only evangelical, but fundamentalist — more extreme in their interpretations of the Bible. (It's important to note that most Christians who subscribe to fundamentalist views don't call themselves fundamentalists.) A key component of fundamentalist belief is the second coming of Christ. Like at any church, the members of Morningside vary in their conviction, but everyone I talked to believes that the Bible is God's word, that Mary was a virgin, that Christ died for their sins, rose again, and will come back one day.
According to the Pew Report, 64% of evangelicals believe that small government is good; 63% believe abortion should be illegal in all (or at least most) cases; 55% believe homosexuality should be discouraged; 57% do not believe in any form of human evolution; and 56% believe government aid to the poor does more harm than good. Unlike some other religious groups in the United States, which are shrinking, the Pew Report found that over a seven-year period, from 2007 to 2014, the number of evangelical Protestants grew from 58.8 million to 62.2 million. This growth, however, is not absolute. Pew's own margin of error states that there could be as many as 5 million new evangelical Protestants, or as few as zero. Overall, the report says that the US evangelical Protestant population has dropped by 1% since the last Pew polling seven years prior, despite a possible growth in numbers.
Evangelical Christianity emphasizes "the Great Commission," the command Jesus gives in Matthew 28 to go and make disciples. As technology has evolved, evangelical Christians have used those new mediums — like television — to emphasize having a personal relationship with Jesus Christ. Sociologist Jeffrey K. Hadden argues in "The Rise and Fall of American Televangelism" that three things allowed evangelicals to gain dominance in broadcasting: theology, the FCC ruling on public service time (which said that television stations were allowed to broadcast religious programs while still receiving "credit for public interest broadcasting"), and ambivalence from secular programming and the public.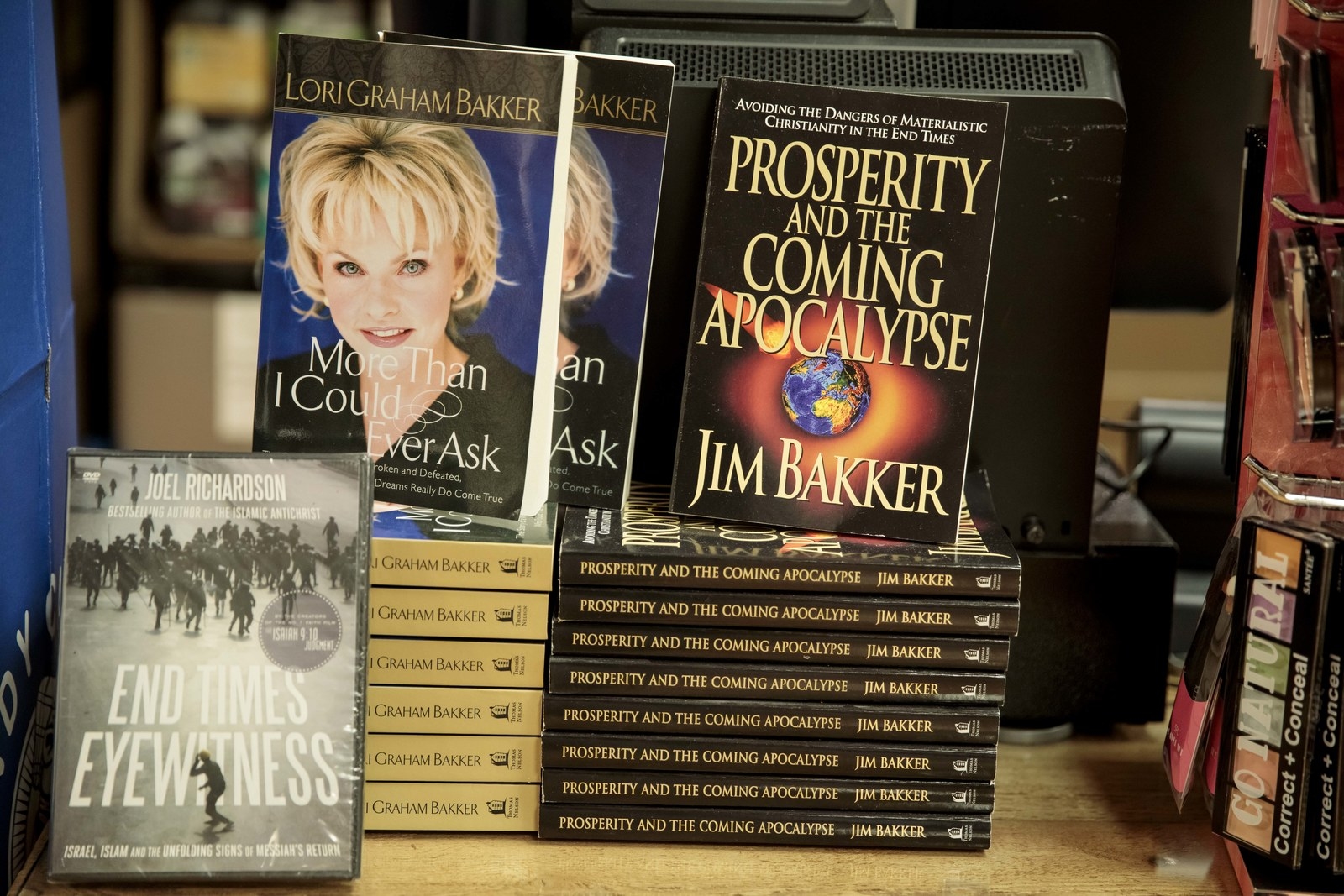 Religious broadcasters rose to prominence on the radio airwaves in the 1920s and '30s, but it wasn't until the 1960s when the first great wave of televangelism began. Televangelists like Rex Humbard and Oral Roberts preached biblical literalism, including the absolute existence of the devil, hell, and the second coming of Christ. And the ratings were great. Early fans of televangelism were often Southerners and the elderly. In 1960, Pat Robertson founded the Christian Broadcasting Network, and more than a decade later, in 1973, Paul Crouch and Bakker founded Trinity Broadcasting before Bakker left to found PTL in 1974. According to Hadden's records of Arbitron ratings, over a 20-year period from the late '60s to the mid-'80s, the average number of viewers watching a given religious TV show jumped from around 5 million to almost 25 million.
And then, after almost 25 years of bliss, the scandals of the late '80s hit the televangelism world: Bakker's, along with Jimmy Swaggart's many extramarital affairs, and Peter Popoff's false prophecy revelations, to name a few. But scandal isn't what changed televangelism. "Contrary to popular perceptions, the scandals were not the beginning of a deeply troubling period that still besets religious broadcasting," Hadden writes. Instead, he argues, oversaturation, lack of regulation, and "the insatiable urge on the part of some broadcasters to mix religion and politics to the point that the two become virtually undifferentiated" were the ultimate downfall of the popularity of televangelism. There were so many players trying to make money off the same space, and so few big names, that many religious broadcasters (including Bakker) had all but disappeared by the early '90s.
After almost 25 years of bliss, the scandals of the late '80s hit the televangelism world: Bakker's, along with Jimmy Swaggart's many extramarital affairs, and Peter Popoff's false prophecy revelations, to name a few.
The modern-day Jim Bakker Show in many ways falls into all of the same problems Hadden wrote about back in 1993. The show competes with dozens of other Christian television programs, and they don't have a stable home on air. When Bakker began his show with Tammy Faye back in the '70s, they had their own national network. And though Bakker retained the rights to use PTL branding, and his gift shop still sells PTL coffee mugs, The Jim Bakker Show now appears only on various Christian television channels like Angel One, Daystar, World Harvest Television, and The Word Network, and 14 local networks in nine states, or streamed online.
No one at Morningside had (or was willing to admit) viewership numbers, and Nielsen — which rates all major television shows — doesn't rate Christian television. In 1979, the National Religious Broadcasters (NRB) claimed that approximately 130 million people listened to religious radio and television programs. As William C. Martin, professor emeritus of religion and public policy at Rice University, writes in his 1996 book With God on Our Side: The Rise of the Religious Right in America, though, those numbers could not be substantiated by other people, and subsequent studies by nonreligious organizations found the regular audience for religious programs from 1969 to 1979 to be about one-tenth of the NRB's numbers. Kristi Blankenship, a recording artist who also sings on Morningside's worship team, tells me that the core group of people who attend ministry events (show recordings and group events like weddings and birthdays) is somewhere around 40 to 60 people. The ministry told the evangelical magazine Charisma that its audience is "similar to the former PTL viewership — worldwide, multicultural, multigenerational, multidenominational."
Ultimately, ratings aren't as important for Christian television. There's no focus on viewership numbers because, unlike network television or premium television, they don't make money from advertising sales — rather, they depend on viewers like you.
Around the outer edges of the square in the center of the Morningside building, there are dozens of plastic folding tables mounded with camo gear, folding chairs, 36-inch snow shovels that collapse into small boxes, giant rolls of duct tape, and something called a folding BBQ. On another table there are dozens of industrial-grade flashlights, packages of batteries, iPhone backup chargers, hammers, and multitool pocketknives.

These are all items for sale in the Morningside General Store. You can also buy a dozen different sizes and translations of Bibles, a mug that says "mom" on it, and basic groceries alongside reflective heat blankets.
Bakker lives nearby, in a house off the Morningside property. The people on his campus love him and respect him, but they are not his primary audience. His church exists in the living rooms of people all over the country, his message disseminated through cable wires. In many ways, Bakker's new show is simply a spinoff of the original, talk-show-style PTL Club. It's filmed the same way almost every time: Jim, Lori, and the week's guests sit behind a curved table, sipping out of PTL mugs and engaging in a conversation about that week's topic — be it scriptural, personal, or political. Because the show has most recently been focused on signals of the end times, Bakker and the guests discuss events in the news, from sources like WorldNetDaily, the Washington Free Beacon, and Breitbart News.
On an episode from October 2015, Bakker brought Michael Snyder, publisher of the Economic Collapse blog, on to the show to discuss what Bakker called "the beginning of the end." Together, they sped through half a dozen scriptures, including Ezekiel, 2 Peter, Isaiah, and Luke, as well as an evaluation of the 2008 stock market crash and subsequent financial crisis, to arrive at a harrowing conclusion: The rapture would most definitely happen during our lifetime.
"Would Jesus vote to kill babies? Would Jesus vote people who lie and steal into office?"
"A lot of people look at us as an end-times ministry, and that gets misconstrued big-time," Mark Graham tells me. "The essence of the ministry is being prepared for whatever may happen" — "whatever might happen" including acts of nature, such as hurricanes, earthquakes, tornadoes, and drought. While there is some data to back up Bakker's claim that these events are occurring at an increased rate, there's no surefire way to know whether they are the signs of an angry God or the signs of global warming. The show also tells viewers to pay attention to diseases coming from animals, like bird flu and swine flu. "We believe things are happening," Graham says. "Maybe things are cyclical, scientifically, or maybe they're biblical as in the word of God."
In 2016, Bakker went even further, saying that Obama "sounded like the representative for Antichrist." Bakker, of course, is not alone in that kind of rhetoric about the former president. Prominent Republican Michele Bachmann frequently stopped just short of calling Obama the Antichrist, though she did say his actions had apocalyptic implications while quoting scripture; a heckler interrupted Obama to yell that he was the Antichrist in 2011; in a 2014 Fox News interview, Pastor Robert Jeffress said Obama was paving the way for the Antichrist. The accusation was so rampant that in a 2016 issue of New York Magazine, Obama himself joked about it.
Obama's presidency was the perfect time to stoke fear among conservative evangelicals: The Supreme Court had upheld same-sex marriage as a constitutionally guaranteed right in June 2015, and war continued in Syria, creating instability and fears of ISIS "infiltrat[ing] every single church in America." As 2015 wound down, The Jim Bakker Show began to focus its sights on the 2016 election and what would happen if a conservative candidate did not win a spot in the White House.
"Hillary Clinton is a very wicked and un-Christian woman," Bakker said in August 2016. "She supports gay rights and abortion. I would say she is a bride of Satan. If America elects her, it could lead to Armageddon." For most of the election cycle, Bakker believed that Clinton would win, and that it would take (as he said multiple times) a "miracle" for Donald Trump to become president. Bakker — like many Christians — believed that God was sovereign over the election and that he would choose the winner, but that if he chose Clinton it meant damning things for the country. "God could allow Hillary to be elected because God sends judgment to a nation by giving them what the Bible says is immature leadership," Bakker said in September 2016.
Politically, Bakker's followers subscribe to a platform of beliefs actually popularized by Bakker's successor Jerry Falwell in 1979: the Moral Majority, which would become Falwell's most enduring impact on the American evangelical Christian Church. The Moral Majority was the politicized viewpoint of the fundamentalist movement — which was, in their words, pro-family, pro–Christian morals, pro-America, and pro-life.
More than any other issue raised during the hundreds of hours The Jim Bakker Show has taped, abortion is the one that connects Bakker's certainty that the apocalypse is coming with his encouragement to vote Republican. "What would Jesus do?" Bakker asked in one segment. "Would Jesus vote to kill babies? Would Jesus vote people who lie and steal into office?" Later he said: "We're either going to continue to murder a million babies a year in the United States of America or we're going to turn. And the Bible says if we turn from our wickedness ... he'll heal our land."
Morningside also places an anti-abortion stance close to the core of their mission. On the campus, down a dirt road and past some visitor cabins, there is a big white house for pregnant women to convalesce in, called Lori's House. Lori's House is presented as an alternative to abortion for women in difficult situations, where a woman can come at any point during her pregnancy and be supported (financially, emotionally, and with career services) until her child is 3 months old — so long as the mother is over 18 years old, drug-free, not fleeing an active or dangerous domestic violence situation, and "willing to abide by expectations in the Resident's Manual." The house is a pet project for Bakker's wife Lori, who in her book More Than I Could Ever Ask writes about how she herself had five abortions before the age of 22. On a tour of the grounds, Mark Graham tells me that a "handful" of women have been through the program, but he doesn't have exact numbers.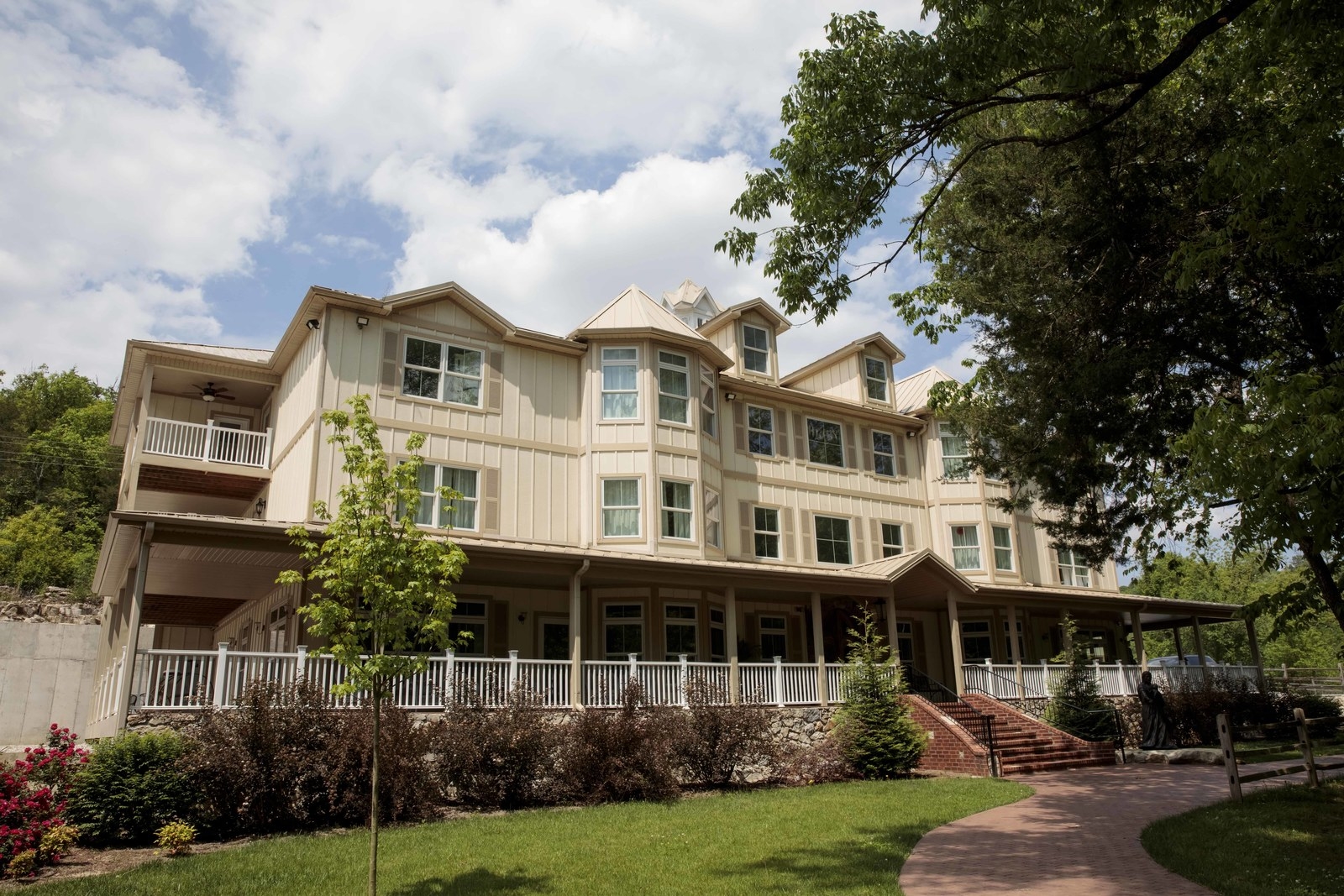 Bakker's fans — at least the ones I spoke to — are mainly women and empty nesters, and live outside cities. Many of them have followed Bakker throughout his career: They watched The PTL Club years ago, were devastated when Bakker went to prison, and have read his book I Was Wrong. "I was sad that he and Tammy got a divorce," Carol Gentry of Parkville, Missouri, tells me. She watches the show around once a week now because "I just like Jim. He doesn't make me feel dumb, and he talks about things that matter." What matters? Politics, mostly.

All but one of Bakker's fans who I spoke with used The Jim Bakker Show as supplementary religious teaching. They still have a church in their community that they attend, and they watch The Jim Bakker Show on the weekdays in between. But not Dolores Dais-Green, a sheep rancher from Loving, Texas. Dolores has been watching the The Jim Bakker Show for about five years now, every morning at 9 on the World Harvest Television network. "I watch that show because I can connect with Jim and Lori. They seem to be such everyday people," she says. "The stuff they talk about on the show, it's stuff that we everyday people struggle with. It's helped me be a better person."
Dais-Green is worried about many things: the Leviathan spirit, natural disasters, pestilence, bird flu, swine flu, Palestine, the second coming of Christ, ISIS, blasphemy, and immigration. Over the course of our conversation she expresses fear that the world is crumbling before her, that people are falling farther and farther away from God.
"I am awake," Dais-Green says. "People say that I am crazy, but I am not crazy. Jim Bakker is not crazy. We know that something is happening, and we are trying to do something."
Mostly, Dais-Green says she has been called "crazy" by the church she used to attend. She asked the church to preach on the book of Revelation, to reveal the truth of the Bible that she believes people need to know about because it's happening right now. She uses a verse from Hebrews 5:12 in our conversation, which chastises young Christians for their dependence on easily digested topics of faith instead of trying to tackle more meaty ones. Revelation, in her opinion, is the meat. "I guess I got thrown into the fanatical group," she says, because her church asked her to leave.
Dais-Green's faith is tightly bound together with her politics. She says she is a Donald Trump supporter. She wants the swamp of Washington, DC, cleared out, and she wants America to return to the America she lived in during her childhood.
Her biggest personal cause is immigration. She wants her governor, Greg Abbott, to get rid of sanctuary cities in Texas. (In fact, Abbott recently signed legislation banning them.) "It used to be a little shelf in the grocery store had a few little Mexican things on it, but now there is a whole section of the store that's written in Spanish," she explains. "They are supposed to assimilate. It went from like five Mexican families around us to like 20. There are Muslim people living in Graham [a nearby town]. They took over the convenience stores," she pauses. "I don't want to have to physically fight those people here on our own homeland for our Christian American values, but I will. They are an invading force, I feel."
Bakker, she believes, aligns with her on these issues. "When you live on the land, with the land, off the land, you have a different perspective than people in the city," she says. "You have to protect what's yours." Dais-Green offers to pray with me, and talks adoringly about her family and her children.
Dais-Green hasn't bought any buckets of food from The Jim Bakker Show. She says they are too expensive and that, as a rancher, she has the land to provide for herself. But she is preparing. "Christ is coming back, sweetheart," she tells me. "I hope you're ready."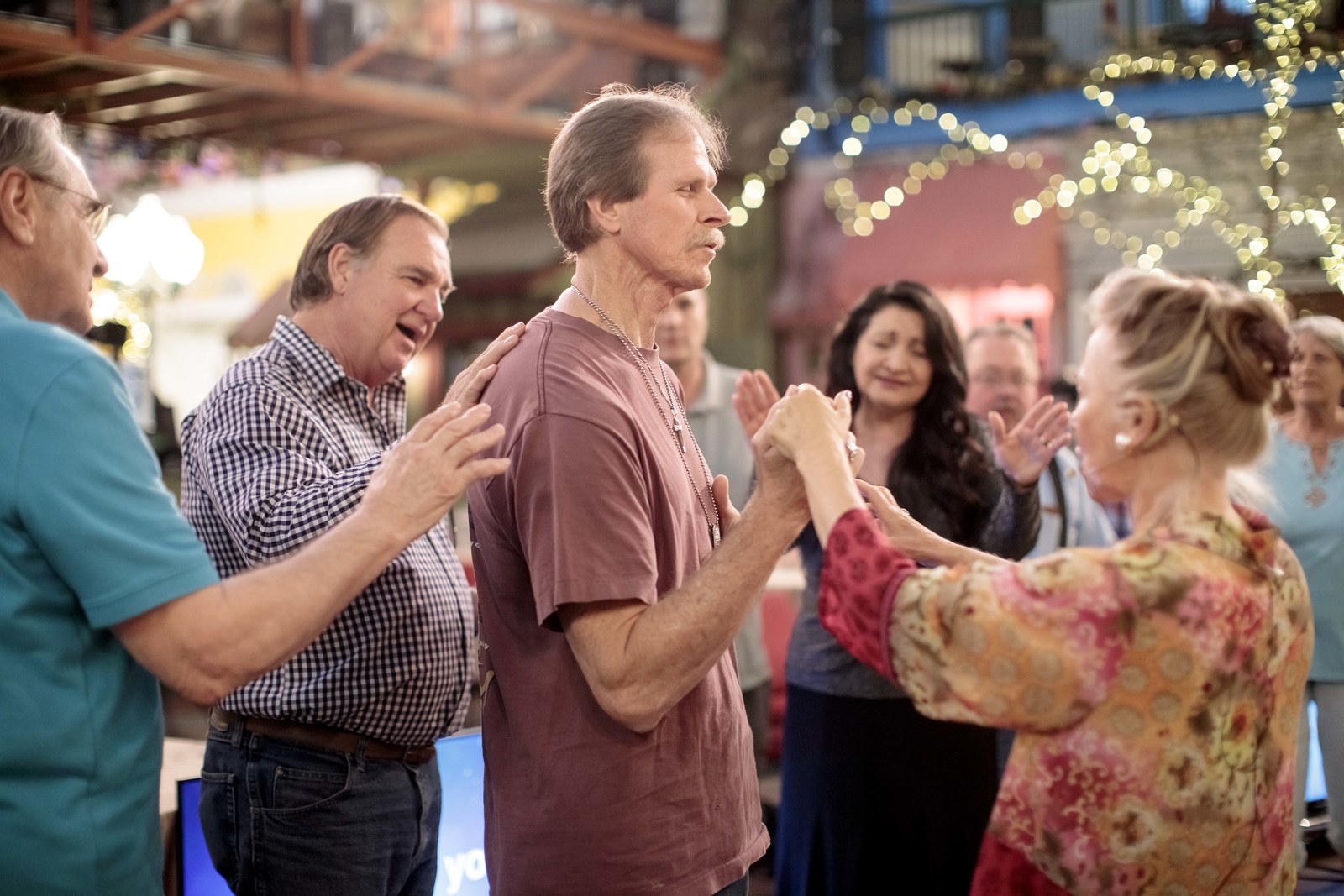 Before the votes for the 2016 presidential election had been cast, Bakker was none too subtle about whose side he was on. He's been a clear Republican for most of his career, starting with the March for Jesus in the '70s, and continuing through his praise for Reagan and Bush, and later his hearty endorsement of Mike Huckabee in early 2015. But while some pastors second-guessed their political affiliations after Donald Trump was declared the Republican nominee, Bakker fully supported him.

"I'm not supposed to tell you this," Bakker said on his show last September. "But I have eyewitnesses. Donald Trump is a very tender man, and he weeps. He wants to please God more than anything else. He wants to be president of the United States and make things right in this country because he loves God almighty." Then, with eyes shining, he declared: "God has called, I believe, Donald Trump."
On the show, Bakker has admitted that this endorsement hasn't made him popular. Bakker says he lost friends, and at times tried to water down his endorsement to seem less political. "I don't care who gets elected, we're in the last days," Bakker said in an episode that aired in October, right before the election.
But on election night, Bakker hosted his own results broadcast. He, Lori, and other members of the Morningside community filmed their reactions to the election results live while Fox News coverage played on television screens behind them. As Donald Trump was declared the winner, Bakker smiled at the camera and pounded the table in excitement. As the camera panned across to the audience of around 40 people, women jubilantly danced through the aisles. When the camera returned to the stage, Lori was wearing a white "Make America Great Again" hat with gold lettering. And then, while his eyes filled with tears and emotion caught in the back of his throat, Bakker announced that he thought Trump's election was "the greatest miracle I have ever seen."
"All the polls were wrong and the prophets were right! God was right!" Bakker yelled. He compared this political victory to other miracles throughout biblical history.
"It is the hour of the church in America again," Bakker promised, saying that a Trump victory would bring God back into America. In later shows, Bakker congratulated his viewers and fans for their part in helping elect the president. He was probably right, too. White evangelicals make up one-fifth of all registered voters and almost a third of voters who identify as Republican. White evangelical voters voted in high numbers for Donald Trump: 80%, according to exit polls. Trump won Missouri with 56.8% of the vote, and in Stone County, where Morningside is, Trump took almost 80% of the vote.
"I think I helped this election. Trump thinks I did, because he called and thanked me."
"I think I helped in this election. Trump thinks I did, because he called and thanked me," Bakker said in his "Is the End Near? (Day 2)" episode this past December. "I'm not political about it. I want to save America from the things that are coming." The Bakkers were invited to Trump's inauguration, which they attended, along with the Presidential Inaugural Prayer Breakfast, and an inaugural ball. In a later episode, Bakker would say that the "spirit of God came" to Washington, DC, for Trump's inauguration, and that the Trump hotel ballroom "looked like heaven to me." He admitted that he cried during the ceremony, feeling so overwhelmed at what God had done for America.
For the evangelical right, the 2016 election was truly a time for celebration. Republicans now had control of the presidency and Congress, and would soon appoint a conservative Supreme Court justice. Suddenly, it was as if the clouds had parted, the rain had stopped, and God's promised rainbow had appeared for America.
On May 4, 2017, Trump signed a "religious liberty" executive order that, as New York Magazine wrote, "features a vague (and thus not very effective) exhortation to the federal government to promote and defend religious liberty." The order will supposedly protect people and organizations who claim religious objection to the mandate of Obamacare that requires contraception coverage. LGBTQ groups have also denounced the order. "President Trump made good on his promise to ease a ban on political activity by churches and other tax-exempt institutions," a post on the Morningside website reads. To the Morningside community, this was seen as a win, a protection of their belief system by the man they helped elect.
Nonetheless, Bakker's alarmist rhetoric hasn't shifted. After that election-night episode with its dancing and jubilance, Bakker continued to preach that the end times were upon us. "The end-time stuff is not a good thing," Phil Naessens, a blogger who writes about extremism in evangelical churches, says. "It's not heretical, because there's a biblical case to be made for Christ's return. I think what makes Jim Bakker a heretic is that's all he talks about, is end times. He takes certain current events and points them toward the end times, and then tries to scare people with this stuff and then sell them this food."
When reached by phone, representatives for the show did not answer questions about how many buckets of food they have sent out to date. They're still being promoted on almost every episode, alongside filtration water bottles and a dozen or so other items for emergency situations.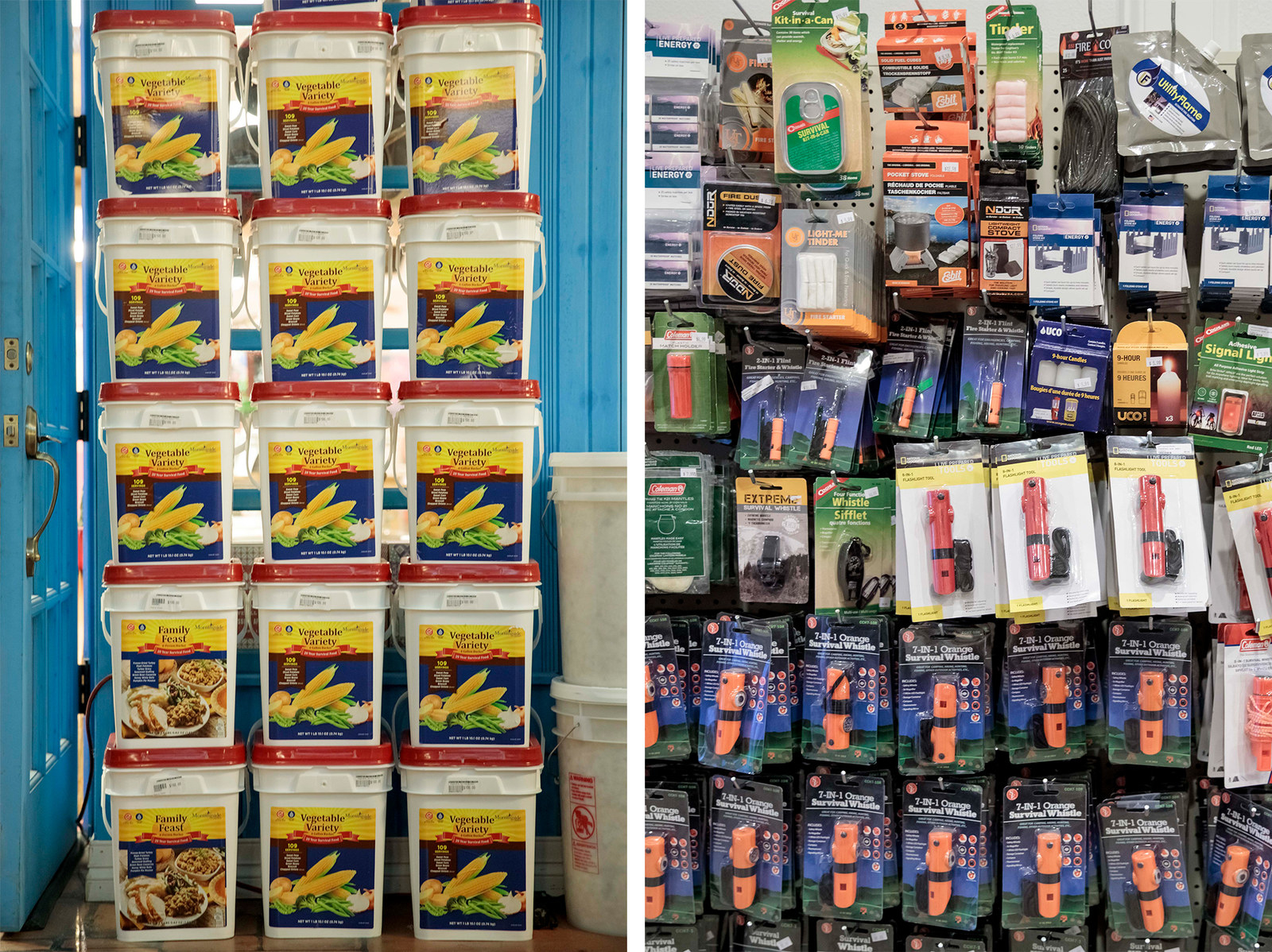 In every room at Morningside, there are televisions mounted on the wall. Like a sports arena, there's no room where the main event isn't playing at full blast. While I'm there, the channel dedicated to playing the show on loop is airing an episode with special guest and end-times pastor John Shorey, from his series called Why We Should Continue to Prepare. In it, Bakker implores his followers to listen to what the Bible says. He quotes 1 Thessalonians 5:3, saying, "For when they shall say, Peace and safety; then sudden destruction cometh upon them, as travail upon a woman with child; and they shall not escape."
Bakker believes that this time — the Trump administration, 2017 — is the beginning of Americans crying "peace and safety," like the Bible forewarned. Just because Trump is president, Bakker warns, does not mean that Americans are safe. Christ is coming back, but there is still turmoil to prepare for.
Although there is very little talk of immigration on The Jim Bakker Show, there is plenty of discussion around ISIS, Muslim extremism, and how war in the Middle East is a sign of Christ's impending return. Bakker is prone to anti-Muslim rhetoric. On a Feb. 1, 2017, episode, Bakker said that during his trip to Washington, DC, for the inauguration the festivities were dampened by "radical Muslims" who "wanted to destroy us."
He also said that people protesting Donald Trump (notably at the Women's March on Washington) were possessed. He mentioned that he ran into "four little rotten girls" and that their protest "was a possession, it's the demons ... They have worked for the dark side, the other side. We have millions of demon-possessed people in this country now." The backlash against America's increasing diversity and liberalism seems to come from a similar fear. "This is a war that we are in right now. It is a war of good and evil," Bakker said in an episode that aired in January 2017. "I believe that the Antichrist is alive. I believe his spirit is marching in the streets."
It's obvious how closely the rhetoric of The Jim Bakker Show centers around fear: fear that Christian family values will come under siege, or that Muslim extremism will take over the country, or that asteroids will destroy Earth. "Any time that you put fear into a message, you're going to get a reaction," Naessens says. "[Bakker's] hope is that he gets a reaction that pays his bills." But in 2017, Bakker's rhetoric doesn't look as extreme as it used to; in fact, it's aligned him with a president who has also profited hugely from capitalizing on some (if not all) of the very same fears. What makes Bakker more than just a fringe minister in Missouri who used to pray on TV or a man selling buckets of freeze-dried goop is that he and his particular, paranoid brand of Christianity are being welcomed — even advocated for — by the man who is in many ways steering the political and cultural course of our entire country. And if fear is the currency that got Bakker here, there's no reason he would stop telling people to be afraid now.
"People have stopped storing food, and I'm concerned about it," Bakker says. "People feel like because Trump was elected, good times are here again. But I'll tell you what: America is fighting like never before. There are thousands of people who would kill our president if they could ... that's how evil the world is. Something big is going to happen soon."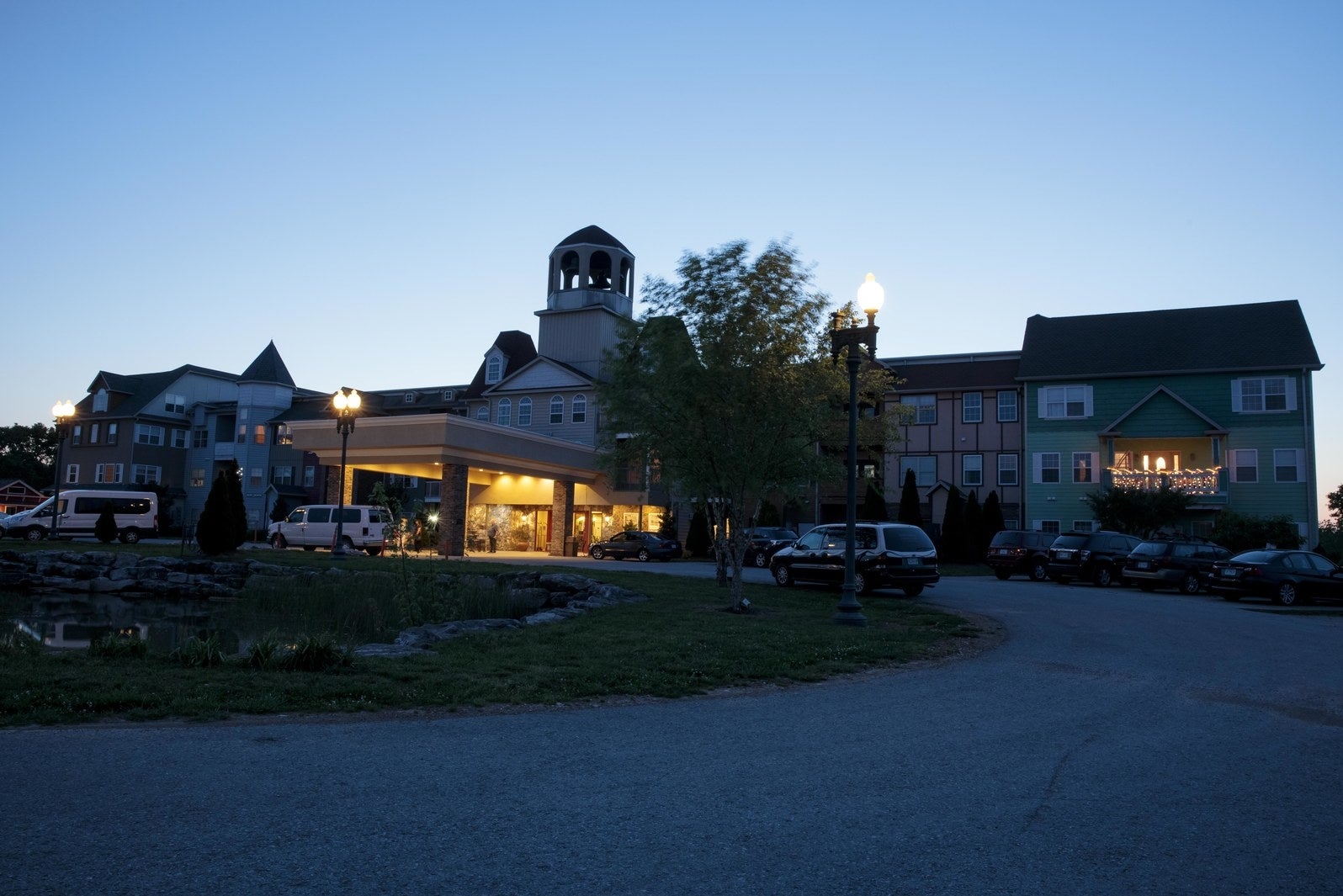 At the very front entrance to the Morningside complex — next to a billboard with an arrow pointing where to turn in — is a guard shack. It's giant, with a tall steepled roof, and outfitted with big screens that, at least on the occasions I've passed by, are never turned on. The big security gate never comes down. Bad things do happen in Blue Eye, Missouri. Like much of the country, residents are dealing with an opioid crisis, and just under 15% of the county lives below the poverty line. But there's not really much to guard against, as anyone coming to Morningside isn't coming by accident.
I ask Graham if the guardhouse is ever manned, and he laughs and says "sometimes." But I drive in and out of the Morningside property half a dozen times over three days and am never stopped. The guardhouse is one of the most recent expansions to the property. Like many things on the property that the organization owns, it was paid for by love gifts from its viewers. "You have to protect what's yours," Bakker said on his show, before asking his viewers to donate for the construction.
Graham can't tell me what the ministry's future plans are, though he says they are already in motion: A new studio is being built — so that Bakker doesn't have to film in the middle of a building with bad acoustics anymore — along with a giant barn on the top of a hill at the very back of the property; and more houses are being built by individual owners. But as far as the rest of the plan, for the ministry, for the property, and for the show? "Jim keeps it right up here," Graham says, tapping the side of his head.
Bakker, most of his fans believe, talks to God. When he speaks about hearing from the Lord on the show, he gets obviously emotional. "He is very convincing, very charismatic, and seems to care deeply for the people he works with," Naessens said. "I'm sure that deep down inside he believes in the Bible, and he believes what he's saying."
Thirty years after everything fell apart for him — being accused of rape, going to prison for fraud, losing his ministry and most of his credibility — Jim Bakker is seemingly back on top. At the end of every episode, Jim and Lori face the camera together and deliver an exhortation: "Remember that God loves you — he really does!" From where they are standing on the stage in the center of the Morningside complex, they can see the tables full of employees and fans, and a dozen or so cameras. From the stage, the giant beam that crosses the room shines light down upon them and illuminates all those buckets of food lined up in a row, blocking their view of the shimmering marble Jesus. ●
Kelsey McKinney is a freelance writer who lives in Washington, DC.