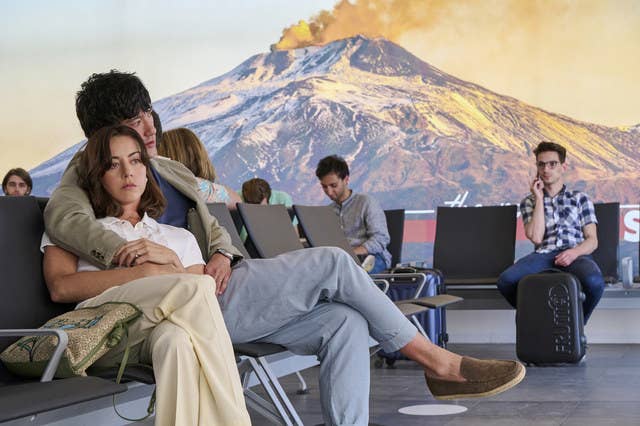 It's White Lotus Finale Recap Day, for those who celebrate, which inevitably means I will spend hours scrolling past GIFs of Aubrey Plaza looking disgusted, Jennifer Coolidge looking disheveled, and Theo James referencing his prosthetic dick. Yeah, I've heard about all that. But it's lost on me.
Admittedly, I've held a three-pronged grudge against The White Lotus since Season 1, which I found criminally overrated. First of all, I couldn't stand the manufactured abruptness with which all the characters' lives began to fall apart once on vacation. How could newlywed Rachel (Alexandra Daddario) have just figured out her entitled mama's boy of a husband was a prick? Why did Mark (Steve Zahn) with the daddy issues just find out about his late father's AIDS diagnosis? The timing struck me as too convenient, even random. The attempts to integrate the characters' storylines — beyond the fact that they were all vacationing at the same time and place — felt similarly stilted. Rachel's aimless conversation with CFO Nicole (Connie Britton), whose career she once blurbed for a "women in tech" article, felt like two Sims forced into contact by their bored creators.
This season, show creator Mike White effectively remedied the backstory problem for me. We launched right into interpersonal conflicts that grew organically from the fact of each family's vacation. Harper (Aubrey Plaza) was suspicious of Cameron (Theo James) and Daphne's (Meghann Fahy) sudden interest in maintaining their friendship with her and husband Ethan (Will Sharpe), and the resulting invitation to Sicily. Dominic Di Grasso (Michael Imperioli) reeled from wife Abby and daughter Kara's decision to bail from a much-anticipated family event. Portia (Haley Lu Richardson) couldn't figure out her role on her boss's romantic getaway. The social tensions arose logically from the premise of the show. Thank god.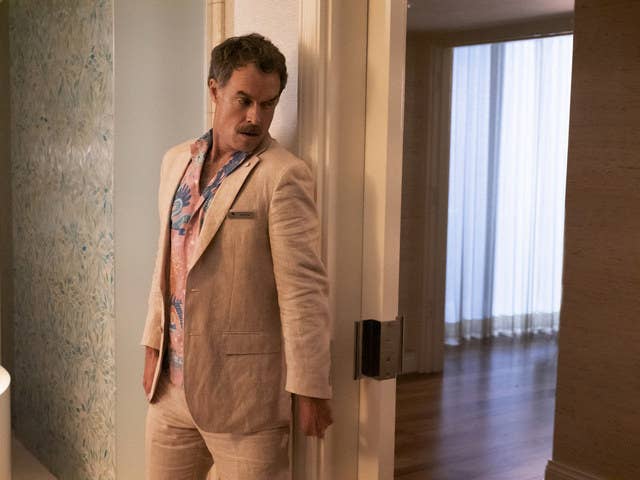 But this brings me to grudge number two. To me, The White Lotus's original sin is the misuse of its opening plot device. It's an archetypal introductory scene to a mystery story: Someone's dead! Let's flash back. But a traditional murder mystery's pleasure derives from establishing the crime scene and encouraging the viewer to guess how the victim died. The White Lotus merely wants you to ask: who died? It's not as interesting — or answerable— of a question, and you can't linger on it long. In Season 1, that lack forced White to abandon the murder plot for six episodes until it came back as an accident, as if he realized he had to close the frame narrative in the last 10 minutes of the script. Armond's (Murray Bartlett) pooping-to-getting-stabbed journey was glorious, a clever feat with great shock factor. But I always found the dangled mystery annoying, because nobody — including the audience — had enough breadcrumb clues to solve it. Instead, we had to simply let the plot wash over us, until we waded through enough showtime to earn the knowledge that had been teased from the beginning.
As for the second season, its remarkably successful escalation of the characters' petty fights only exacerbates how out of place the murder plot feels. No one could say Tanya's death came out of nowhere. Quentin's (Tom Hollander) shadiness has been flaunted since at least the end of Episode 5, when Tanya caught him getting fucked by his "nephew." But Season 2 suffers from the opposite problem of the first. This time, the mystery gets a long wind-up but little justification. Greg's sudden transformation from doting love interest to fat-shaming, evasive asshole to greedy mastermind is explained in two lines: In Episode 3, Tanya says, "Ever since you've found out that you're gonna have a lot more years, I feel like you just realized that you were gonna be stuck living them with me." In the finale, she realizes, "The prenup! The prenup! The prenup!"
I thought the first season reveled in shameless, changeless wealthy people without much interest in the people who worked for them.
Which, sure. As Portia keeps reminding everyone, Tanya apparently has "half a billion dollars." But considering how neatly laid the actual plot points of the murder are — Greg coaxes Tanya to Sicily, acts strange, leaves suddenly, sends some "high-class gays" to comfort her while she's down, then springs his trap — the reasoning is barely there.
The climactic scene itself though is, once again, excellent. Tanya weeping her way through a three-man shootout, fumblingly plotting her escape, then bonking herself in the head during a sudden flop off a yacht: chef's kiss. Coolidge's haplessness is hilarious, White's comedic timing impeccable. But again, the various storylines feel like a mashup of what could have been separate, better shows. Give me 10 full hours of Meghann Fahy making a knowing wife's ambivalent face. Give me 10 full hours of Jennifer Coolidge yelling frantic nonsense at an old, gay Italian yacht captain. Combining them was efficient, I guess, but it gave me whiplash, and now I need a neck massage.
As for my last grudge, well, I just wish Season 2 hadn't abandoned its attempts at class critique. The way this season's characters orient their lives around money is so straightforward. Lucia (Simona Tabasco) wants it, Greg wants it, Quentin wants it. Cameron loves it, Ethan just got it, the Di Grassos have it and spend it. Season 1 was more interested in wealthy people's self-indulgent isolation from the rest of the world, and the way money ceases to be enough for them. Instead, the characters chase the aesthetics of pious progressivism (see liberal arts phonies Paula, played by Brittany O'Grady, and Sydney Sweeney's Olivia), or of labor as identity (see Rachel's insistence that she is a journalist!), or of philanthropic mentorship (see Tanya's abandoned plans to help Belinda open a spa).
I thought the first season didn't go far enough in its class critique, that it reveled in shameless, changeless wealthy people without much interest in the people who worked for them. But it makes sense that the second season moved away from that kind of class analysis entirely. It's thornier and harder to pull off. It doesn't earn as many adoring tweets or GIFable punchlines. Given how much The White Lotus already has to juggle, and how thin it stretches itself across two genres, it doesn't make sense to squeeze more into seven hours of television. At the very least, drizzling in some class critique would probably cut into all the beloved butt scenes.
I know I'm on the doomed side of public opinion. The White Lotus is gorgeous, and it's sensational, and the community that has rallied around it week after week to theorize about what comes next is always having so much fun. Even during my grumpy contrarian research for this piece, I was glad I knew enough to laugh along with this ranking of who most deserves to die. And whatever my complaints about its failed genre fusion, The White Lotus is undoubtedly a more memorable show because of its enormous ambition. But I'm still holding out for the show I wanted The White Lotus to be. I want a show that's just as witty and pretty and biting, but which doesn't feel beholden to the murder formula, tasked with killing people because it said it would, rather than ensuring that the stakes make sense. ●