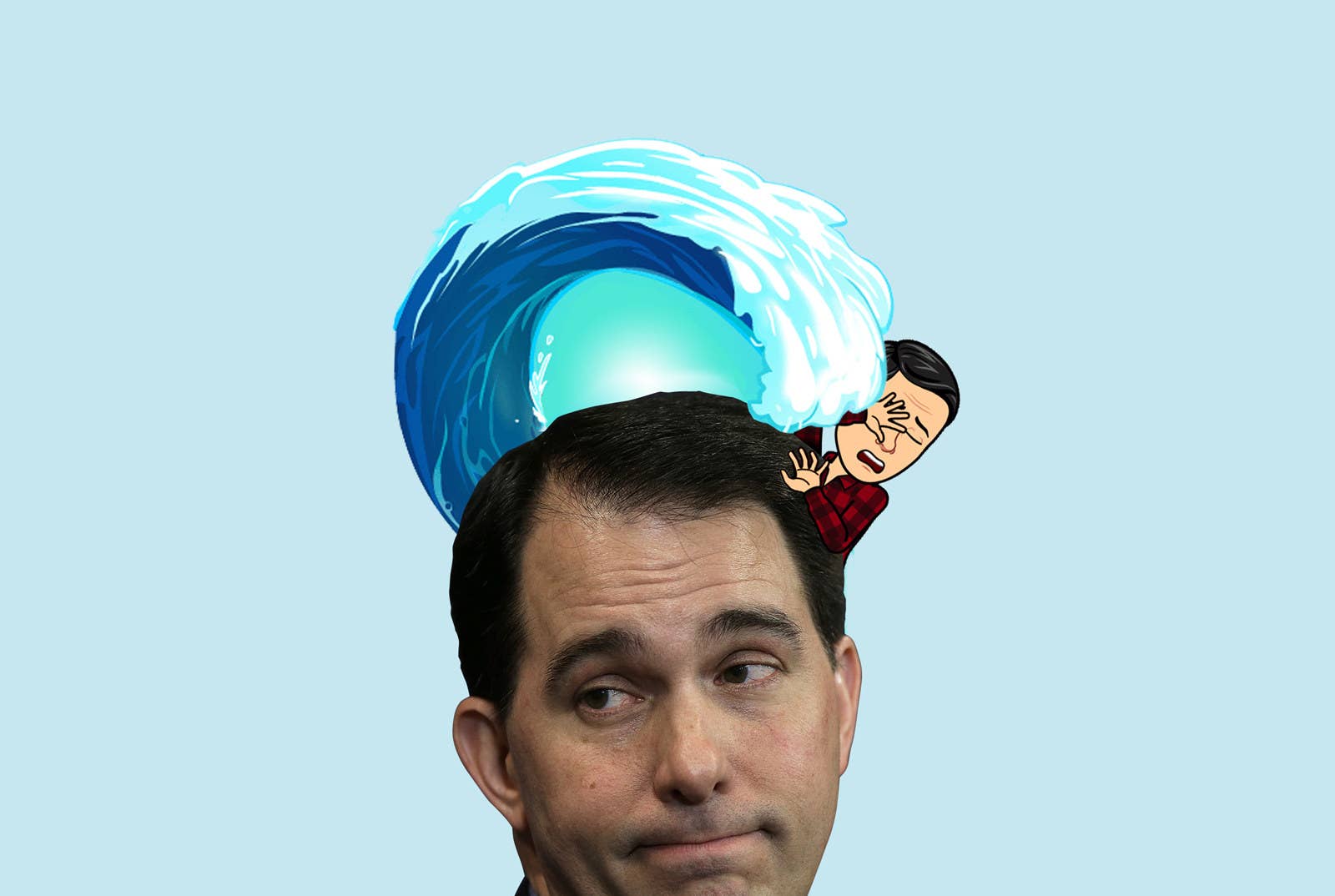 BURLINGTON, Wisconsin — Picnics aren't supposed to be maudlin. But last weekend, as they piled their plates with bratwurst and tipped back cans of Pabst Blue Ribbon at Speaker Paul Ryan's annual Fall Fest, Wisconsin Republicans wrestled with their mortality as a powerhouse in state and national politics.
Gov. Scott Walker, who is seeking a third term in November, delivered the biggest buzzkill. Believe the polls, he told the nearly 300 activists gathered here inside a tarpaulin tent in the middle of an apple orchard. Even the recent one that shows him losing by 5 points.
For months Walker has been warning about the possibility of a Democratic "blue wave" to anyone who will listen. The fear is that not many will. President Donald Trump routinely trashes unfavorable polls and brags about how he outperformed them in 2016. Focus groups conducted over the summer by a Trump-aligned organization found conservative voters largely happy and confident about the midterm elections.
So atop a stage crafted with bales of hay, Walker on Saturday once again played the role of the Republican Party's Cassandra: a teller of hard truths trying to avoid the kind of tragic fate worthy of a mythological Greek prophet.
That new Marquette Law School poll that shows Democrat Tony Evers leading Walker, 49% to 44%? Yes, it was the same poll that at the same point in 2016 showed Wisconsin Sen. Ron Johnson down by 6 points, Walker noted. And, yes, seven weeks later Johnson won a second term by 3 points.
"I want to be very clear about why Ron won," Walker told the audience. "It was not because the poll was wrong. What changed was not the poll. We changed the poll. We changed the poll."
Cautioning against complacency is common in political campaigns. Often it's a fundraising tactic to keep the cash coming. Maybe it started that way for Walker, but the poll numbers — and the fusion of an anti-Trump, anti-incumbent climate — have elevated the threat. The threat isn't only to Walker. It's also a referendum on Wisconsin's status as an epicenter of the conservative movement.
The last eight years have been triumphant for Republicans here. Walker's tangle with organized labor over collective bargaining rights, his survival of a subsequent recall vote, and his brief but momentarily top-tier presidential campaign made him a national figure. Ryan rose from House budget hawk to vice presidential nominee to speaker. Reince Priebus began the decade as the state party boss, graduated to three terms as head of the Republican National Committee, and then went to the White House as chief of staff after Trump became the first Republican to win Wisconsin's electoral votes since 1984.
Now Walker is in a jam. Ryan is retiring (though Republicans are optimistic that Bryan Steil, the younger but uncanny doppelgänger whom Ryan blessed as his successor, will win his seat). And Priebus is back in the private sector after lasting all of six months in the Trump administration.
Fall Fest brought the trio together again. It was at once a time to be sentimental and scared.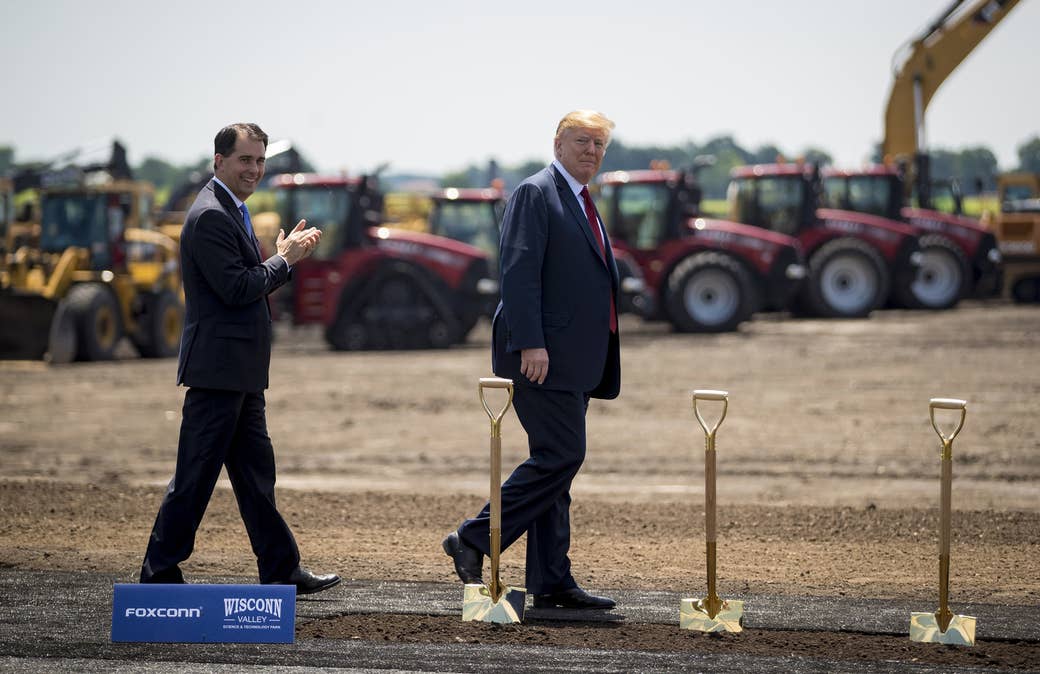 "Wisconsin was the birthplace of the Republican Party, and right now we are the birthplace of the new conservative revolution in America," said Brad Schimel, the state's attorney general, offering the crowd a bit of disputed trivia. But Schimel is nervous about his Democratic opponent. "He's just counting on a blue wave."
Priebus recalled the early days of Fall Fest "17 or 18 years ago," when a few dozen party faithful filed into a barn. "A lot more beer and everything else going on."
The beer was flowing Saturday, too: old-school favorites with history in nearby Milwaukee like PBR and Miller High Life. Dutch the Elephant, a statue bestowed with Ronald Reagan's nickname, greeted those who had paid $25 for a seat underneath the big top.
Walker and others bragged about a state unemployment rate that has fallen from 9.3% to 3% since January 2010. The rate was already dropping — it was down to 8% when Walker took office — but Republicans are framing their case around improved economic fortunes.
"I hope that what we have here in Paul Ryan and Ron Johnson and Scott Walker and one of the best state parties in the country, I hope that it isn't just normal here," Priebus said. "This is a unique place to be, and we have to fight for it."
Most of the other speakers recognized how close Republicans are to losing it all.
"I know that those poll numbers are not where we want them to be," said Lt. Gov. Rebecca Kleefisch. "I can promise you that the governor and I have our noses to the grindstone every day because we know how hard you are working, and we are so grateful, guys."
Ryan, at his last Fall Fest as a member of Congress, reminisced about how his seat was a Democratic gimme decades ago. "We cannot allow this complacency to occur," he said. "I've watched this state and this district and this party come from a small minority."
America First Action, the Trump-supporting political action committee that conducted the summer focus groups with voters skeptical of a blue wave, has since observed "a significant uptick in Republican enthusiasm," a spokesperson for the group told BuzzFeed News.
The president, according to the Marquette poll, has a 42% approval rating in Wisconsin less than two years after a tight win in this purple state. Trump's approval rating among Republicans is nearly double that. Walker, Senate candidate Leah Vukmir, and others need his supporters to turn out this fall.
Walker, 50, began his reelection push last year with confidence. His approval numbers were ticking upward and he was completing a term as chair of the Republican Governors Association that, if nothing else, had helped him maintain his national profile.
But the dynamic changed quickly after two big upsets. In a January special election, Democrats picked up a state Senate seat that a Republican had held for 17 years. Less than three months later, a liberal judge beat a Walker ally for a spot on the Wisconsin Supreme Court. Walker, in a series of early April tweets, warned that "we are at the risk of a #BlueWave." It was a departure from his typically sunny presence on social media, where he posts photos of himself wearing an Aaron Rodgers jersey and deploys a bitmoji to cheer on the Badgers, Brewers, and Bucks.
Since April, the Walker campaign has sent more than a dozen "blue wave" fundraising emails, many signed by the governor. "We're trailing our opponent by 5 points! You have seen the headlines," Walker wrote to his supporters last week. "A Blue Wave is coming!"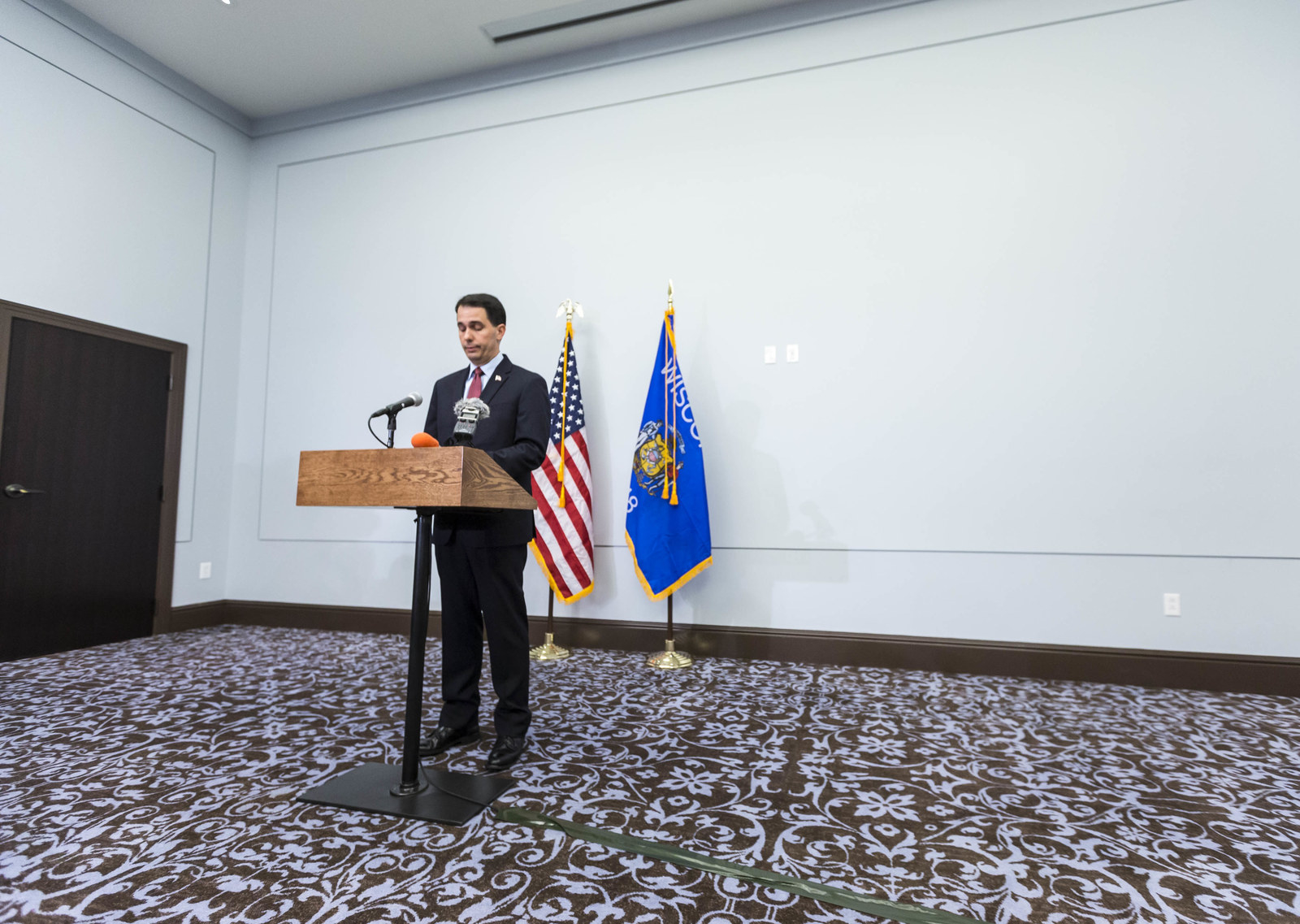 One thing Walker has going for him is money. The most recent campaign finance reports filed with the state showed he entered September with $4.1 million in cash — more than twice as much as Evers, the elected state schools superintendent who in August won an eight-candidate primary. Outside groups, including one backed by billionaire Charles Koch, are spending to protect Walker too. And Walker's incumbency affords him steady access to free media coverage. (His advisers declined BuzzFeed News' repeated requests to interview Walker for this story.)
Evers, 66, will take whatever coverage he can get. In a Tuesday publicity stunt with his running mate, Mandela Barnes, he drove a 24-mile route that Walker traveled by state airplane in 2016. Last week he held an outdoor press conference a few blocks from the state capitol in Madison, where he was guaranteed at least an audience of statehouse reporters who could swing by during their afternoon Starbucks run.
"We're absolutely thrilled with the energy and the enthusiasm that this campaign is generating," Evers said over the wind as a few dozen supporters stood behind him for what he described as a celebration of early voting already underway. "We're talking to Democrats, and independents, and, frankly, Republicans. People in the state of Wisconsin are ready for change."
Jared Leopold, a spokesperson for the Democratic Governors Association, said his group sees Wisconsin as one of its top opportunities to knock off a Republican incumbent. He also noted that Walker doesn't have the polling lead to match his nearly $8.5 million in spending this year.
"He recognizes that he's a guy who's lived on the margins for his political career," said Leopold, acknowledging Walker's prescient "blue wave" warnings. "That's OK if you're running with wind behind you, but if the wind is in your face, there's very little room to maneuver."
There's a little less when all of your pleas to Republican voters to take the threat seriously seem to go in one ear and out the other.
The same Marquette poll that Walker says voters should believe also shows Vukmir, a state lawmaker trying to unseat Democratic Sen. Tammy Baldwin, trailing in her race by double digits. Toward the end of the Fall Fest program, after Walker and before Priebus and Ryan, Vukmir arrived decidedly off-message. She told the activists in the audience that the "polls have been all wrong." She was sure she was winning. "I don't pay any stock in these polls, do you?"
Their response — loud, decisive, and nearly in unison — might haunt Walker.
"No!" ●