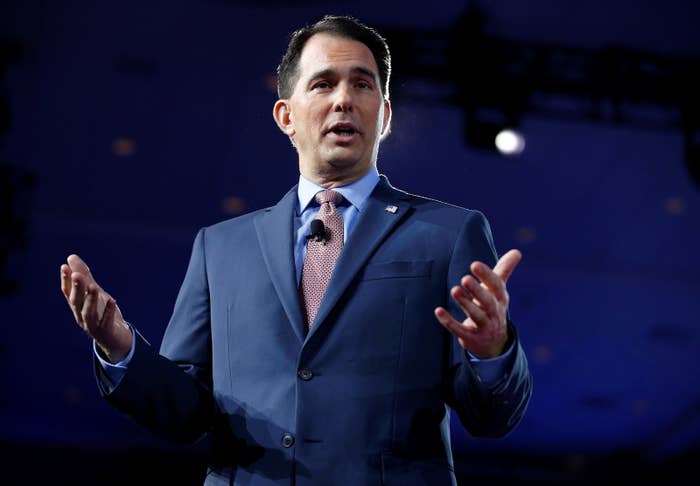 Scott Walker's political rebound is supposed to be grounded in Wisconsin, where he's expected to run a robust gubernatorial campaign in a state where he has done nothing but win.

But Walker, whose surprisingly quick rise and fall as a Republican presidential contender hurt his standing at home, also is carefully and somewhat quietly maintaining his national brand.
His role last year as chair of the Republican Governors Association helped. Walker raised money for (ultimately unsuccessful) candidates in New Jersey and Virginia. He also planted flags in three states important to anyone with White House ambitions by endorsing the new governor in Iowa, helping a top GOP gubernatorial prospect in Nevada, and — beyond the scope of his RGA duties — buying in early on the winner of a special House election in South Carolina.
Walker even went to bat for the Republican incumbent in the unexpectedly high-profile race for mayor of Omaha, Nebraska, after Bernie Sanders got behind her challenger.
His RGA chairmanship is over, but Walker's efforts to influence races outside Wisconsin continue. Already in 2018 he has headlined a fundraiser for Rep. Steve Pearce's bid for governor in New Mexico, picked a favorite in Michigan's heated gubernatorial primary, and chosen sides in a combative Senate primary in West Virginia by endorsing Patrick Morrisey. This month he will headline a fundraiser for Illinois Gov. Bruce Rauner, who survived a close primary and has perhaps the steepest challenge of any governor up for reelection this year.
Those close to Walker insist his first priority is reelection in Wisconsin. But they also acknowledge that Walker is methodical and strategic about his endorsements, and that a governor whose political identity is rooted in a clash with organized labor and public employee unions puts a priority on helping candidates who embrace conservative principles consistent with his brand.
"Gov. Walker endorses candidates who are willing to go big and bold, with reforms to state government that take on the big government special interests," Brian Reisinger, a senior adviser to Walker's political team, told BuzzFeed News.
Walker's activity is not unusual for a former presidential candidate or governor who's still regarded as a bright prospect within his party. But it does underscore the complicated relationship Republicans have with President Trump as midterm elections approach. Many borrow from Trump's anti-establishment playbook and hope for his support in tough primaries; others hope he keeps his distance, especially in the fall. And that creates some space for an old 2016 rival such as Walker — who, unlike, say, John Kasich, is not seen as a threat to challenge Trump in 2020 — as a safe alternative. (Texas Sen. Ted Cruz and Florida Sen. Marco Rubio also have waded into the 2018 endorsement pool.)
Walker's judgment and coattails, at least locally, will be put to the test Tuesday in a Wisconsin judicial election where a Walker ally is seeking a seat on the state Supreme Court. And Democrats are planning an aggressive campaign against Walker in November.
"Scott Walker is more focused on keeping his frequent flyer status than keeping his job as governor of Wisconsin," said Jared Leopold, a spokesperson for the Democratic Governors Association. "Over and over, Gov. Walker has put his national ambitions ahead of the people of Wisconsin. Scott Walker's jet-setting has shown he's more interested in his own national political dreams than the dreams of Wisconsin families."
All of this political activity creates an opportunity for Walker, still a young man at 50, to collect IOUs, should he decide to run for president again down the line.
"Gov. Walker knows what others know — that Nevada is an important swing state, that this year's election for governor is crucial, and that Nevada needs a strong conservative leader," said Andy Matthews, a spokesperson for Adam Laxalt, the Republican frontrunner for governor in Nevada for whom Walker raised money last year. "He has fought for the ideas that will help improve the lives of the people of Wisconsin, just as Adam will do here in Nevada."
Walker's old-fashioned conservatism and the fight with unions that led to a 2012 recall he survived are part of the appeal. "Gov. Rauner and Gov. Walker share a commitment to common sense reforms that make their states competitive in a 21st century economy and promote good government," said Will Allison, a spokesperson for Rauner's campaign.
Other Republicans ascribe Walker's value to his Midwestern, regular-guy personality. Call up his Instagram feed and you'll see everything from photos of him on the job to a bitmoji of Walker doing a glass-shattering slam dunk to celebrate a Milwaukee Bucks victory.
"He's just a nice guy," Bill Schuette, the Michigan attorney general whose 2018 gubernatorial bid Walker is backing, told BuzzFeed News. "To me he's Midwest, which means hard work. You look a guy or woman in the eye; handshake is as solid as the Great Lakes are deep. He's genuine."

After beating the recall and winning reelection in 2014 — his third statewide victory in four years — Walker was on a fast track to the 2016 presidential race. For a while, before anyone knew what to make of Trump, he was viewed alongside early frontrunner Jeb Bush as the class of the GOP field. But Walker flamed out quickly and dropped out in September 2015.
Walker's allies are eager to note that his political fortunes have improved at home and across the country. His job-approval rating has climbed back to roughly where it was when he won a second term four years ago. And since 2016 he's had a knack for picking primary winners in House races, including Ralph Norman in last year's special South Carolina election.
"The governor is laser-focused on his reelection, so his ability to pick winners and his popularity with those seeking support is an important reflection of his strength," said a source familiar with his endorsement strategy. "He's entering 2018 from a position of strength despite the expectation he'll be a national target, and his endorsements reflect his ability to navigate those waters. There are few people who have their finger on the pulse like Scott Walker."