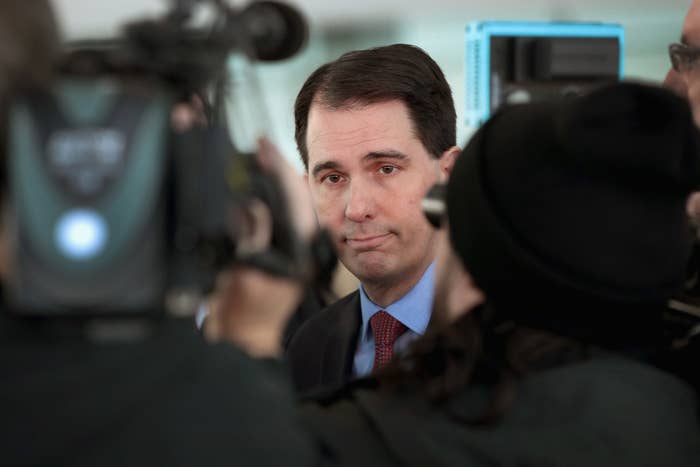 A liberal candidate backed by Democrats won a statewide judicial election in Wisconsin Tuesday night, a major warning sign for Republicans in a solidly purple state that will play an important role in the midterm elections.
The state's Republican governor, Scott Walker, who is facing reelection in November, warned in a series of tweets after the election that the liberal victory showed "we are at risk of a blue wave in Wisconsin."
In a race that drew outsized national attention despite its local nature, the liberal candidate, Rebecca Dallet, racked up endorsements from national Democratic figures like former vice president Joe Biden and Sen. Cory Booker.
Her conservative opponent, Michael Screnock, is a longtime ally of Walker's who tried to paint Dallet as a liberal activist. She, in turn, began her first ad in the race by criticizing Donald Trump, who the ad said had "attacked our civil rights and values."

Many saw the contest, the first statewide election in the Upper Midwest, as a bellwether for Democratic enthusiasm across the region, where Donald Trump unexpectedly won both Wisconsin and Michigan in 2016 and came within a narrow margin in Minnesota.
Conservatives have fared well over the past decade in statewide Wisconsin elections, especially judicial races, where conservatives are typically more motivated to come to the polls by issues like abortion.
What happened Tuesday will be a significant boost to Democrats — and is likely to worry Republicans, who were hoping the state Supreme Court election would prove that traditional conservative priorities still turn out voters in an election year where the political tide was against them.

Instead of a reliable stream of conservative voters, turnout was weaker in places like Waukesha County, in the Milwaukee suburbs — the same places that Walker will rely on to win in November. Meanwhile, a surge of Democrats showed up in strongholds like Madison, home of the state's flagship university, and in central Milwaukee.
Dallet narrowed the still-wide margins some in the Republican suburbs, and took home a staggering 80% of the vote in liberal Dane County, home to Madison. Left-wing candidates tend to win by big margins there — but not usually that large.
Dallet also performed better than Hillary Clinton did in some areas where Donald Trump won in 2016 — another troubling sign for Republicans.
Voters and outside groups from both parties poured money into the race — more than $2 million, at final tally. The state Republican Party gave $300,000 to Screnock, a huge chunk of the $800,000 he raised overall.

The Wisconsin Democratic Party, meanwhile, tested its ground game for the 2018 midterms, where they're hoping to upend Walker and reelect the vulnerable Democrat Tammy Baldwin. Their efforts, a party spokesperson said, surpassed anything they'd done in a spring election.
In central Milwaukee Tuesday, voters who turned out in freezing rain said they were motivated by opposition to Screnock: His close ties to Walker, as well as his endorsement by the National Rifle Association, which Dallet's allies had sought to use against him, soured voters. President Donald Trump, they said, was hanging over the race, motivating people who typically did not show up for April elections to come to the polls.
Meanwhile, at Screnock's watch party Tuesday night, an intimate gathering of mostly friends and family, some argued that there was much less of a national dynamic at play. "People in the Midwest are tough," said Jack Pender, Screnock's campaign manager. "They brave the weather consistently and they like to get out and vote. I think a lot of people probably did make the decision that it was probably better safe than sorry…and stay at home. It is what it is. It's part of living in the Midwest."
Screnock himself, who was interviewed by BuzzFeed News shortly before the election was called for Dallet, brushed off the idea that a win in a swing state like Wisconsin signals that the country is in a wave — and that it was Dallet who politicized the race and made it about the rest of the country. "She invited that stuff," he said.