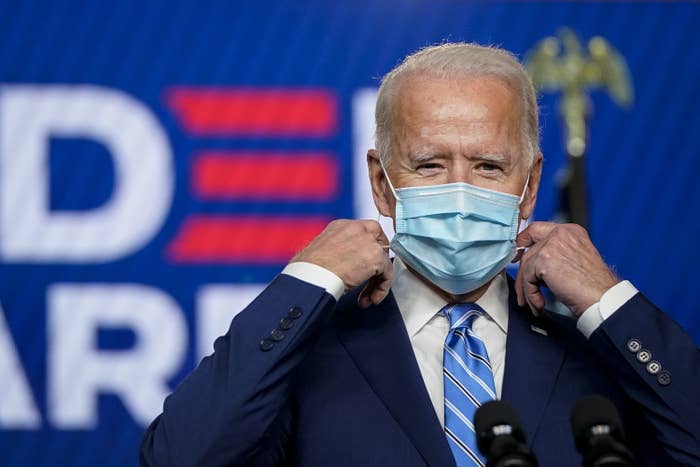 WILMINGTON, Delaware — We're approaching 48 hours of ballot counting and doomscrolling and weird pop-up news conferences from Rudy Giuliani — but there is still no conclusion to the 2020 election.
Though both sides claim to be on track to win, their very different approaches to this period of uncertainty tell the larger story.
President Donald Trump and his allies, including former campaign officials and the irrepressible Giuliani, are trying to pipe more chaos into the process with tweets demanding that the counting stop and through lawsuits with questionable merit designed to cast doubt on the integrity of the process. Joe Biden and his team, meanwhile, have been a veritable fount of confidence and patience. His campaign manager opened a Thursday morning briefing by bragging that she was well rested and repeatedly returning to a message for nervous Democrats that amounted to Chill out, everyone. We got this.
"Our data shows that Joe Biden will be the next president of the United States," campaign manager Jennifer O'Malley Dillon said at the beginning of the videoconference, issuing what would be her first of three "next president" declarations over the next 20 minutes.
"Voters have turned out in record numbers for the vice president and because of that — and because he sees the same data we do and knows he is losing — Donald Trump continues to push a flailing strategy designed to prevent people's votes from being counted," she added a moment later. "What we're seeing in these legal suits is that they are meritless and nothing more than an attempt to distract and delay what is now inevitable."
O'Malley Dillon walked through each of the states where ballots are still being counted, expressing varying levels of optimism for all except North Carolina. Biden himself said in brief remarks Wednesday that "it's clear that we're winning enough states to reach the 270 electoral votes needed to win the presidency." Biden, the former vice president, has stopped short of declaring victory — something Trump untruthfully did in the early hours of Wednesday — but said that "when the count is finished, we believe we will be the winners."
Nevada, Pennsylvania, Arizona, and Georgia are all still counting ballots today, and North Carolina will be sorting through ballots for days. Things are expected to tighten in favor of Trump in Arizona, while they are expected to tighten in favor of Biden in Pennsylvania. Nothing is definite.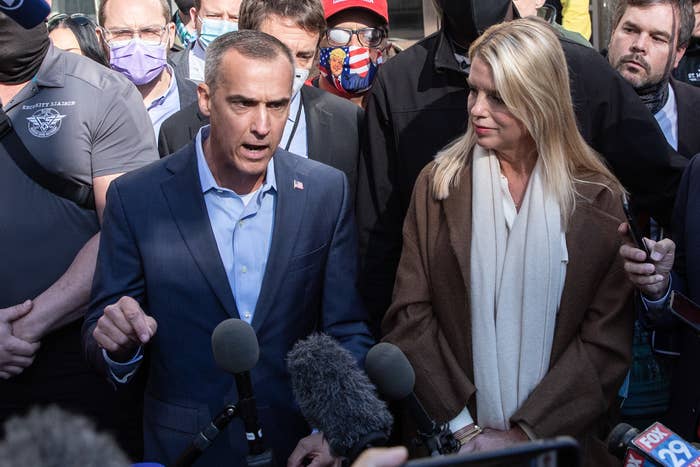 Meanwhile, Trump has been tweeting stuff like "ANY VOTE THAT CAME IN AFTER ELECTION DAY WILL NOT BE COUNTED!" — a fundamental and likely intentional misunderstanding of how actual votes are counted, where some states allow ballots postmarked by Election Day to be counted even if they come in days later.
In an unusual move just after noon, Trump's campaign sent out a statement from the president that reads in its entirety: "IF YOU COUNT THE LEGAL VOTES, I EASILY WIN THE ELECTION! IF YOU COUNT THE ILLEGAL AND LATE VOTES, THEY CAN STEAL THE ELECTION FROM US!"
The Trump campaign is trying to project optimism as well, all while calling for a stop in vote counting in states that could tilt toward Biden. In a press call Thursday morning, the Trump campaign expressed optimism at closing the gap in Arizona, where Biden is currently ahead, and winning Georgia and Pennsylvania. Just Wednesday, the campaign insisted it had already won Pennsylvania. (It has not.)
"We will win Pennsylvania," Bill Stepien, Trump's campaign manager, told reporters. "I have as much confidence today as I had yesterday, as I had last week."
The campaign also held legal press briefings in two states — Pennsylvania and Nevada — to push its baseless claims about vote-counting fraud.
The president himself tweeted Thursday morning to "STOP THE VOTE," a request that he has no standing to make, and that even if he did would result in Biden winning the presidency with current leads in states amounting to 270 electoral votes.
Jason Miller, senior adviser to the Trump campaign, said the president's tweet was not directed at military ballots and other lawfully casted ballots, but rather ballots that were "mailed in or magically appeared in a sack of ballots after Election Day." There is no indication that such ballots actually exist.
There have been largely peaceful — though at some ballot-counting locations, tense — protests around the nation. Biden's supporters are crying out, "Count every vote" — which election officials are trying to do, just not at the speed many would like — while Trump supporters, organizing on Facebook in an astroturfed "Stop the Steal" group, are insistent on watching for "fraud." (There has been no evidence of widespread voter fraud.)
Biden's campaign at least thinks this could be over soon.
"I think the story of today is going to be a very positive story for the vice president, but also one where folks are going to need to stay patient and stay calm," O'Malley Dillon said as she concluded her thoughts Thursday morning. "The counting is happening. It's going to take time. We need to allow it to get done and done well, and we're very confident, whatever happens with the counting and the timing, we will come out ahead. We are absolutely confident that Joe Biden will be the next president of the United States, and we are equally confident that we're going to be able to watch the counting throughout the day and into tomorrow to finalize these last states that are going to put us over the top to 270."