John McCain — a veteran US senator who spent five years as a prisoner of war in Vietnam as a young Navy pilot — died over the weekend from brain cancer.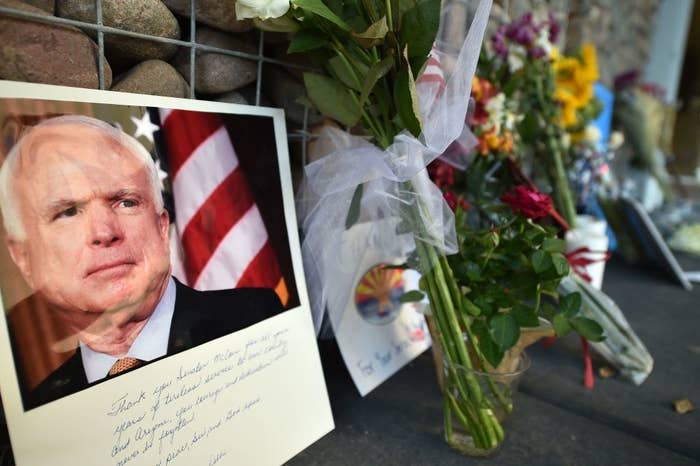 Some of the most prominent figures in the US released powerful and touching statements, including former presidents Barack Obama and George W. Bush, who both ran against McCain for the nation's highest office.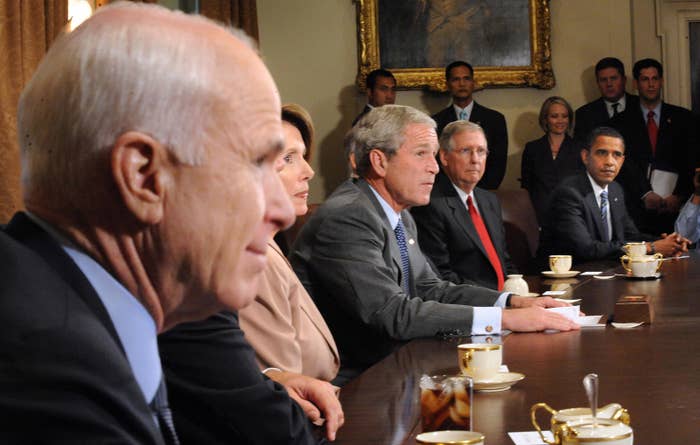 "Few of us have been tested the way John once was, or required to show the kind of courage that he did," Obama wrote.
"John McCain was a man of deep conviction and a patriot of the highest order," Bush wrote.
And then Trump's statement came in.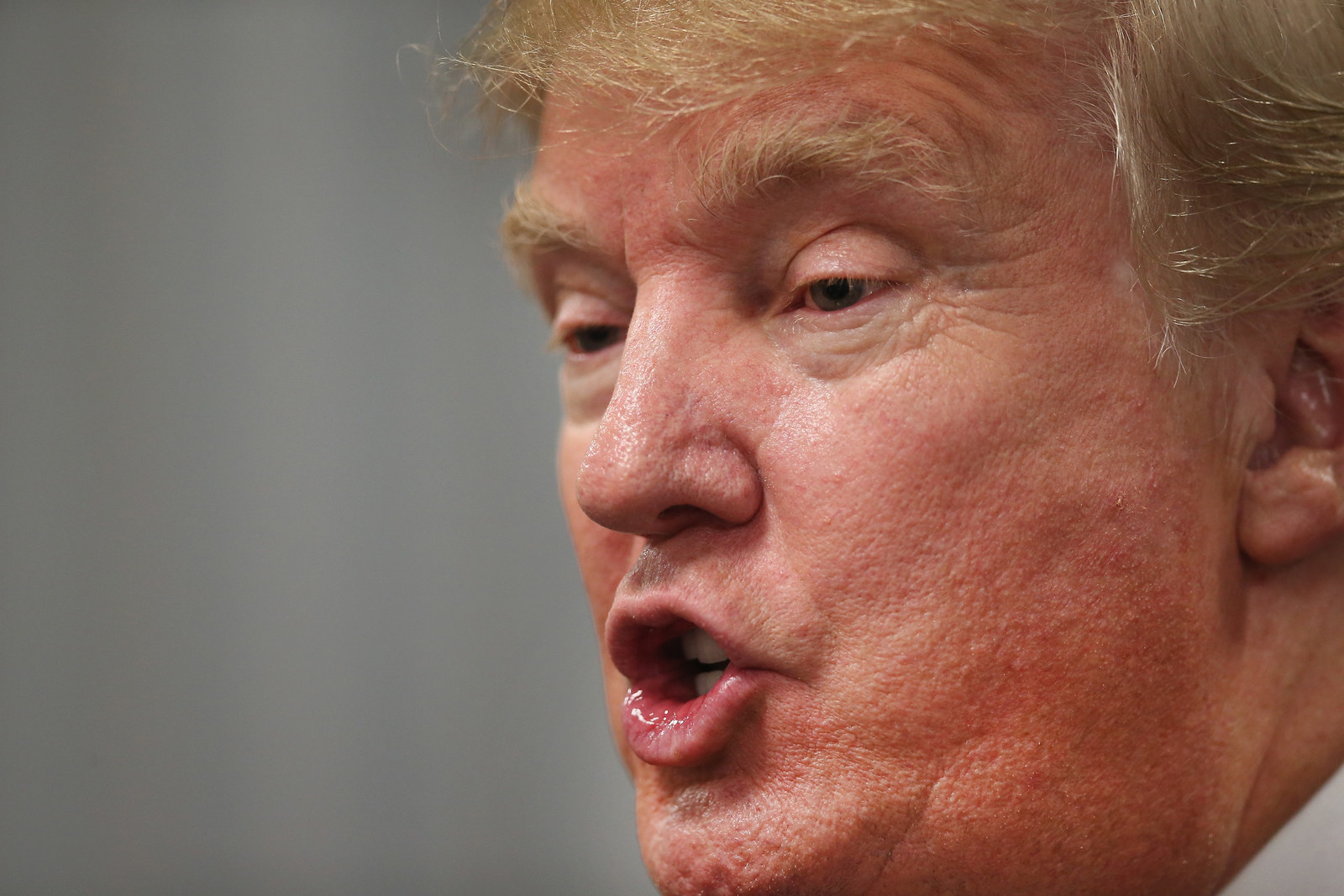 It was this tweet:
Many people pointed out that it didn't address McCain's life at all.
Trump's statement was also posted to Instagram.
People immediately noticed that the photo...is of Trump, not McCain.
And here's the White House's memorial on Instagram.
Some found it...very basic.
Even when asked by reporters multiple times on Monday to comment on McCain's legacy, the president remained mum and...looked like this.
"Do you have any thoughts on John McCain?" a reporter pressed.
"No," Trump responded curtly.
The reporter asked the same question again and then followed up with: "Do you believe John McCain was a hero, sir?"
Trump again ignored him and Melania made this face.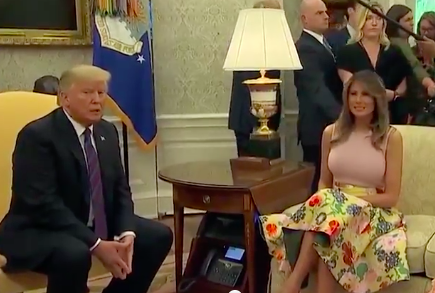 Then there's the question of the American flag. Here it is over the Capitol on Monday, flying respectfully at half-staff to honor McCain.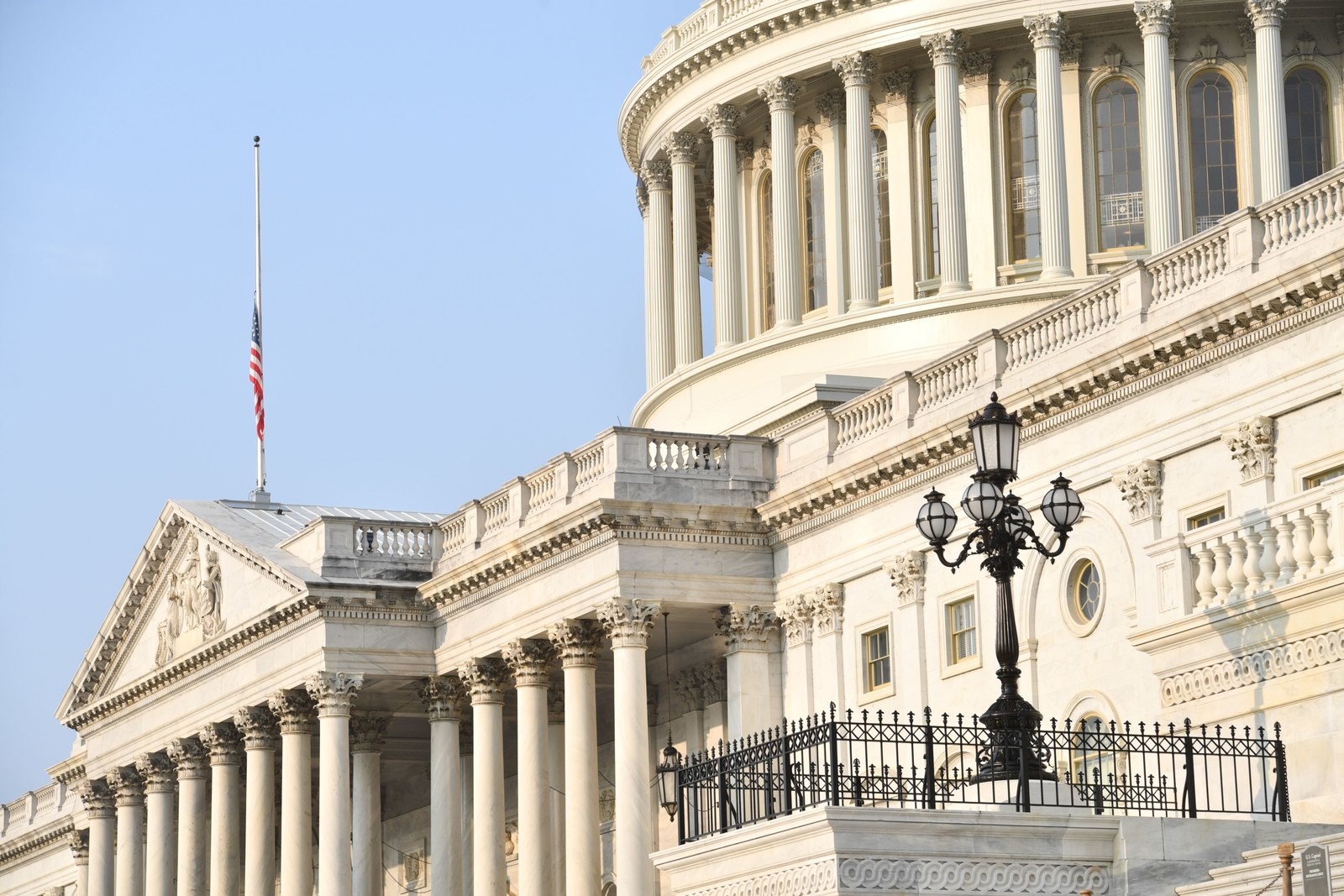 And here it is at the White House on Monday, fully up.
White House reporters noted that the flag appears to have been intentionally brought back up — it was at half-staff over the weekend. They also noted Trump hasn't issued a proclamation, as he has done in the past for other notable deaths.
Quite a lot of other places still have their flags flying at half-staff, including Tampa, Florida...
...and Harford County, Maryland.
And then — after mounting criticism — the flag was back at half-staff Monday afternoon.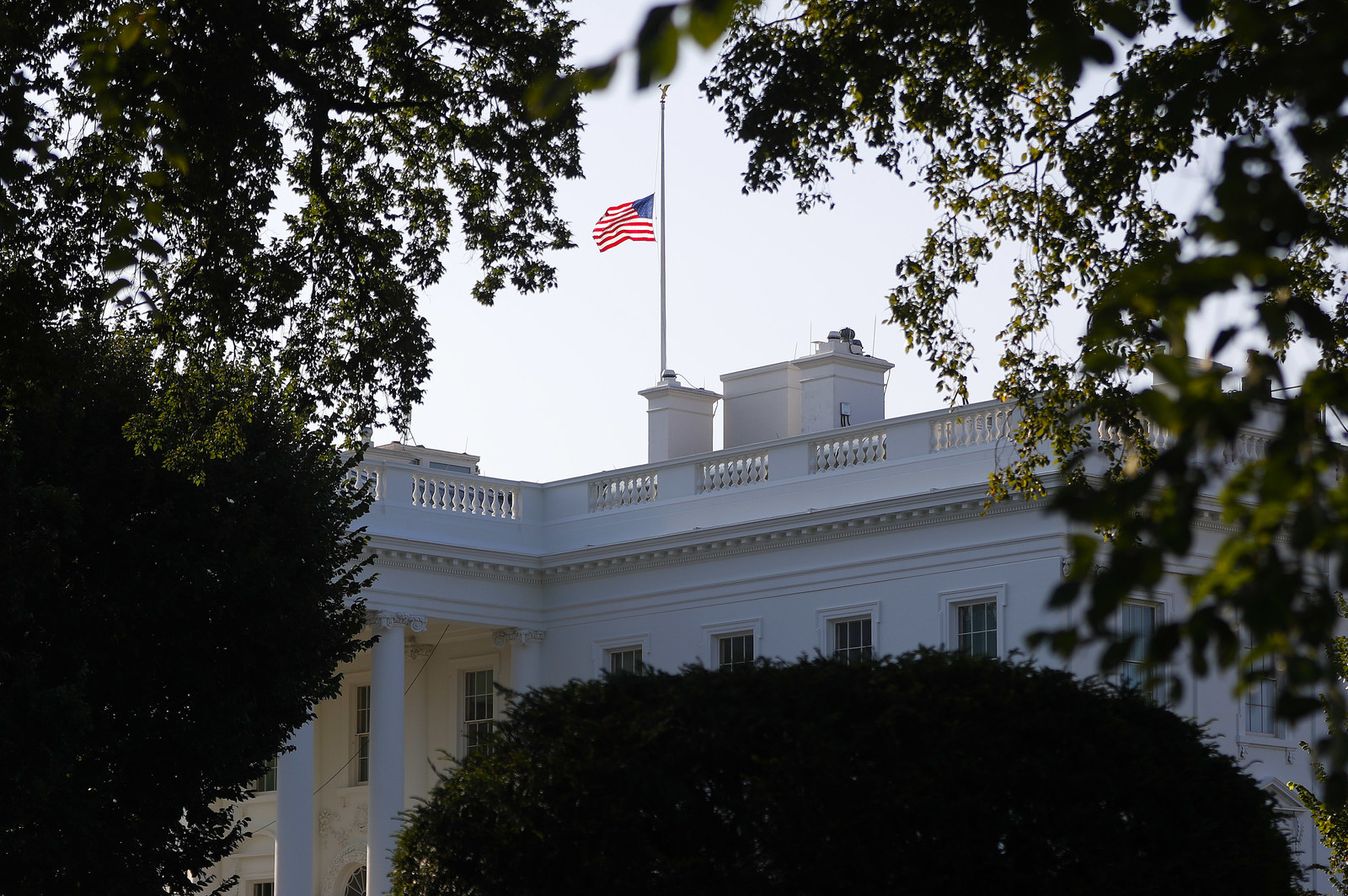 And then, after nearly two days, the White House issued a lengthier statement on McCain's service, while also explaining the decision to (again) lower the US flag "until the day of his interment."
Despite our differences on policy and politics, I respect Senator John McCain's service to our country and, in his honor, have signed a proclamation to fly the flag of the United States at half-staff until the day of his interment.

I have asked Vice President Mike Pence to offer an address at the ceremony honoring Senator McCain at the United States Capitol this Friday.

At the request of the McCain family, I have also authorized military transportation of Senator McCain's remains from Arizona to Washington, D.C., military pallbearers and band support, and a horse and caisson transport during the service at the United States Naval Academy.

Finally, I have asked General John Kelly, Secretary James Mattis, and Ambassador John Bolton to represent my Administration at his services.
It's no coincidence that the White House isn't doing more.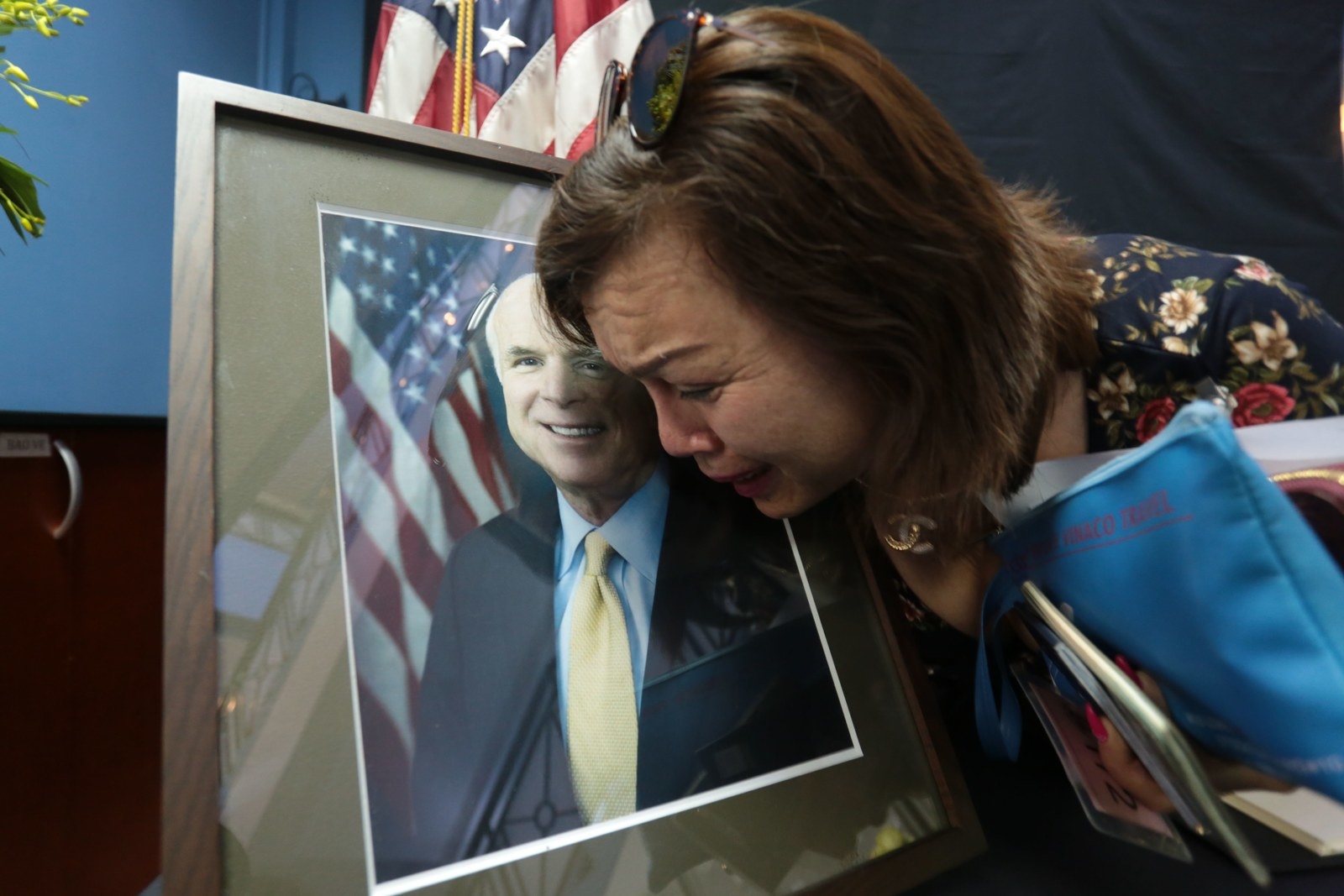 The New York Times reported that Trump "continued to indulge a personal grievance" toward McCain.
And the Washington Post reported that Trump intentionally "nixed issuing a statement that praised the heroism and life of Sen. John McCain" — even over the objections of top aides.
Trump had a long-running feud with the Arizona senator, who spent more than five years as a prisoner of war in Vietnam, where he was tortured and kept in solitary confinement.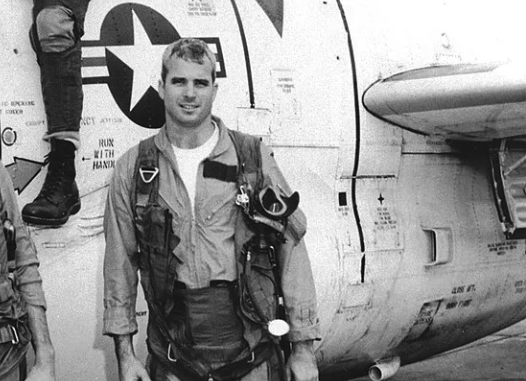 "He's not a war hero," Trump said in 2015. "He was a war hero because he was captured. I like people who weren't captured."
The so-called skinny repeal "offered no replacement to actually reform our health care system and deliver affordable, quality health care to our citizens," McCain said.
The move infuriated Trump, who took to lambasting it at rallies.
"It was done — repeal and replace Obamacare. It was done. Until early in the morning, a man walked in, and he said, 'thumbs down, thumbs down,'" the president told supporters in Nevada in June, almost a year after the incident. "That was not good. And nobody knew he was going to do that. He campaigned on repeal and replace. He campaigned for years — 'Repeal and replace.'"
McCain also issued a blistering statement criticizing Trump for suggesting that he believed Vladimir Putin's assurances that Russia did not interfere in the 2016 election.
"Today's press conference in Helsinki was one of the most disgraceful performances by an American president in memory," McCain said. "The damage inflicted by President Trump's naiveté, egotism, false equivalence, and sympathy for autocrats is difficult to calculate.
And earlier this month, Trump delivered remarks before signing the $716 billion John S. McCain National Defense Authorization Act — without naming the senator once.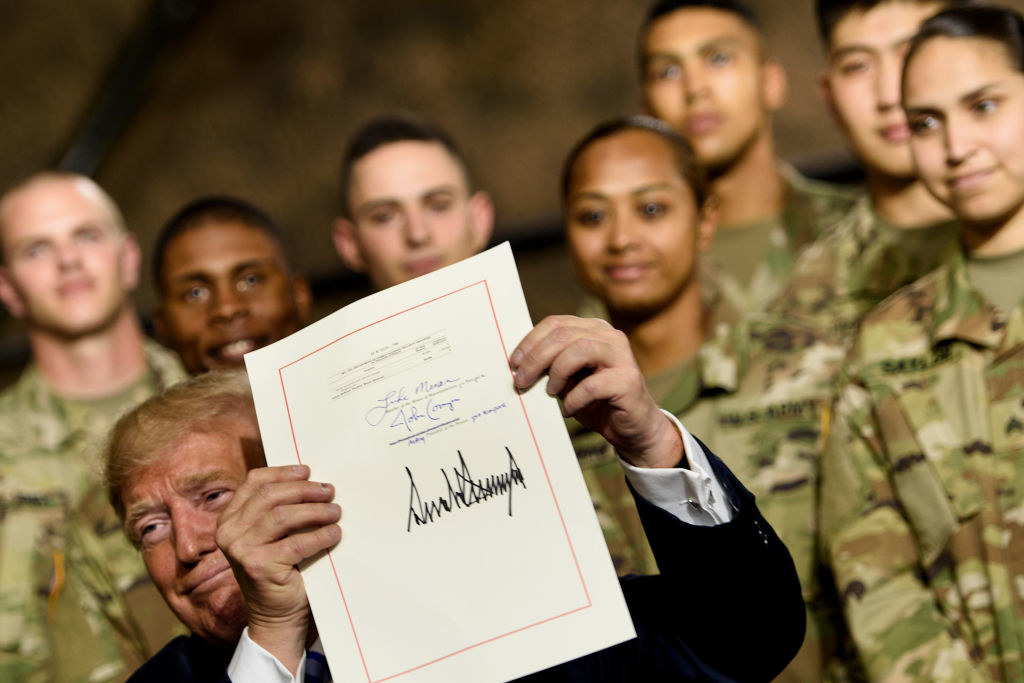 According to US code, the White House is following the rules to the letter of the law.

However, the Department of Veterans Affairs website states that the president "can direct how the executive branch of the government flies the flag, including traditions or customs for flying the flag at half-staff."
But the Huffington Post reported that it would require a presidential proclamation to keep the flags at half-mast.
The White House didn't immediately return a request for comment.