An American hero. A courageous senator with "unparalleled heart and service." A "truth teller." Sen. John McCain's family, friends, and the politicians and world leaders he worked alongside for years delivered powerful and emotional tributes following the news of his death Saturday.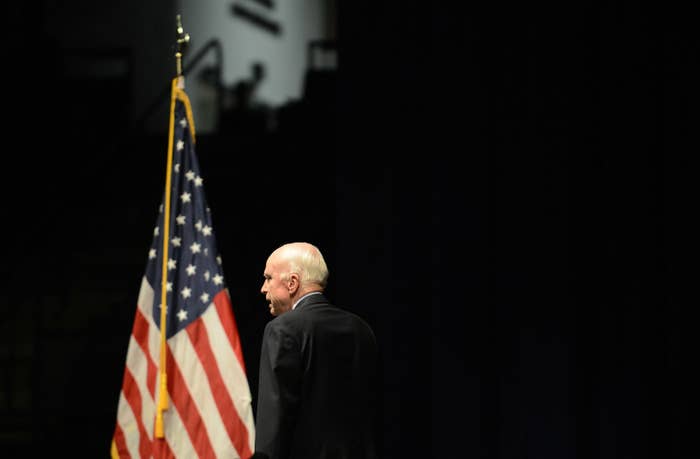 A Navy aviator who spent five years as a prisoner of war in Vietnam, and later rose through the Republican Party as a House representative, senator, and two-time presidential candidate, McCain was remembered for his decades of service, and for an independent streak that defined his storied military and political careers.
Immediately after news of his death broke, politicians who knew McCain, both as an ally and an opponent, paid tribute to his character, courage, and patriotism.
"My heart is broken. I am so lucky to have lived the adventure of loving this incredible man for 38 years," wrote his wife, Cindy McCain. "He passed the way he lived, on his own terms surrounded by the people he loved in the place he loved best."
His daughter Meghan released a long and touching tribute to her father, praising his love, guidance, and strength. "He was a great fire who burned bright, and we lived in his light and warmth for so very long," she wrote. "Today the warrior enters his true and eternal life."
"America and Freedom have lost one of her greatest champions," tweeted Sen. Lindsey Graham, McCain's closest friend in the Senate.
Former president Barack Obama — who beat McCain in the 2008 presidential race — wrote that despite their political differences, he and McCain shared "a fidelity to something higher — the ideals for which generations of Americans and immigrants alike have fought, marched, and sacrificed."
"America will miss John McCain. The world will miss John McCain. And I will miss him dearly," said former vice president Joe Biden, who served with McCain in the Senate and was among those who visited the Republican's Arizona ranch following his cancer diagnosis.
Former president George W. Bush, who competed against McCain in the 2000 Republican presidential primary, called McCain "a man of deep conviction and a patriot of the highest order" and "a friend whom I'll miss dearly."
"Few sacrificed more for, or contributed more to, the welfare of his fellow citizens — and indeed freedom-loving peoples around the world," former president George H.W. Bush wrote in a statement, calling McCain "a patriot of the highest order."
In a brief tweet, President Donald Trump offered his "deepest sympathies and respect" to McCain's family. "Our hearts and prayers are with you!"
Trump's reelection campaign also issued a statement, offering condolences to McCain's family.
"We encourage all Americans to take the opportunity to remember Senator McCain and his family in their prayers on this sad occasion," the statement said.
Vice President Mike Pence also offered his prayers and condolences to the McCain family.
"John McCain was my friend," his 2008 running mate Sarah Palin said in a tweet. "I will remember the good times."
Former US secretary of state Hillary Clinton described him as a "tough politician" and "a trusted colleague."
In his own statement, former president Bill Clinton wrote that McCain "believed that every citizen has a responsibility to make something of the freedoms given by our Constitution" and that "he lived his creed every day."
Vermont Sen. Bernie Sanders, who worked with McCain on a bill to reform veterans' health care in 2014, called McCain "a man of decency and honor" who will be missed "not just in the US Senate but by all Americans who respect integrity and independence."
"In an era filled with cynicism about national unity and public service, John McCain's life shone as a bright example," Senate Majority Leader Mitch McConnell said in a statement.
"Throughout his career, we all saw his integrity, humility, courage and grace," tweeted House Minority Leader Nancy Pelosi.
"He was a truth teller — never afraid to speak truth to power in an era where that has become all too rare," Democratic Sen. Chuck Schumer wrote on Twitter, in a thread honoring McCain's work and character. "The Senate, the United States, and the world are lesser places without John McCain."
"He recognized that for our experiment in democracy to long endure, people of action and passion must serve," US Defense Secretary James Mattis said in a statement.
In a Twitter thread, Sen. Dianne Feinstein recalled her conversations with McCain about the torture he had endured as a prisoner of war in Vietnam, writing that "his experience led him to believe that such evil acts could never be the American way."
Taiwanese President Tsai Ing-wen thanked McCain for his support of Taiwan's democracy.
Canadian Prime Minister Justin Trudeau also shared his condolences, tweeting, "Canadians join Americans tonight in celebrating his life and mourning his passing."
Saudi Arabia also expressed its condolences, calling McCain "a great friend of the Kingdom."