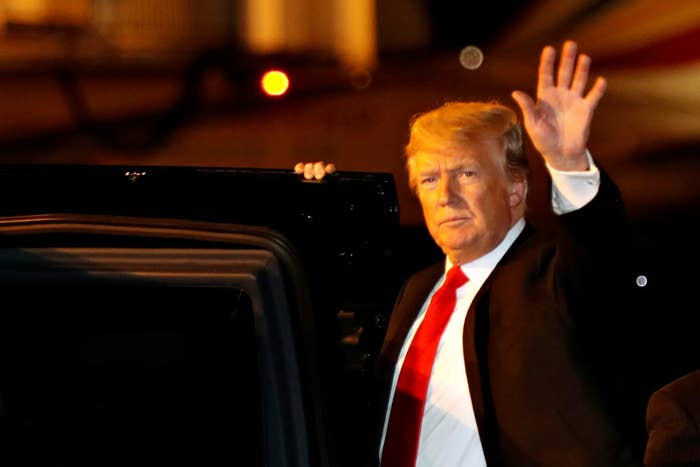 President Donald Trump has defended his business interests as "very legal and very cool" as he comes under increasing pressure after Michael Cohen, his former personal lawyer, pleaded guilty to lying to Congress about pursuing the construction of a Trump Tower in Moscow in 2016.
Tweeting Friday morning, hours after he landed in Argentina for a summit of the G20 leaders, Trump said that he "lightly looked at doing a building somewhere in Russia" but added that he "put up zero money" and "didn't do the project."
"Oh, I get it! I am a very good developer, happily living my life, when I see our Country going in the wrong direction (to put it mildly). Against all odds, I decide to run for President & continue to run my business-very legal & very cool, talked about it on the campaign trail..." he wrote.

"....Lightly looked at doing a building somewhere in Russia. Put up zero money, zero guarantees and didn't do the project. Witch Hunt!"
His tweets come after BuzzFeed News revealed that the Trump Organization planned to give a $50 million penthouse at a mooted Trump Tower Moscow to Russian President Vladimir Putin as it negotiated the luxury real estate development. BuzzFeed News first revealed the Trump Tower plan in May.
Two US law enforcement officials told BuzzFeed News that Cohen discussed the idea with a representative of Dmitry Peskov, Putin's press secretary.
Cohen's guilty plea means he will continue to assist special counsel Robert Mueller's investigation into Russian interference in the 2016 election.
Speaking to reporters at the White House on Thursday, the president dismissed Cohen's plea and claimed that the Russian project would not have broken any rules if it went ahead.
"So he's lying about a project that everybody knew about. I mean, we were very open with it," he said. "We were thinking about building a building. I guess we had — in a form, it was an option. I don't know what you'd call it. We decided — I decided ultimately not to do it. There would have been nothing wrong if I did do it. If I did do it, there would have been nothing wrong. That was my business."
The revelations of the penthouse plan prompted Democratic members of the House Intelligence Committee to say they will investigate when they assume control of the committee in January.

"If true, this story further underscores the need to finish the Committee's counterintelligence investigation to determine what, if any, financial leverage the Russians may hold over President Trump and the Trump Organization, and what Trump may have hoped to gain by any financial offer to Putin," Rep. Adam Schiff, the top Democrat on the committee, said in a statement to BuzzFeed News Thursday evening.
Earlier on Thursday, Trump canceled a planned meeting with Putin on the sidelines of the G20 summit in a tweet following Russia's seizure of three Ukrainian military vessels over the weekend.