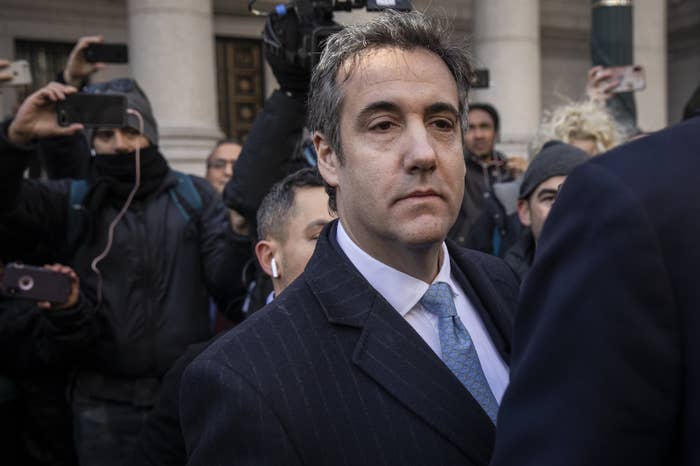 Michael Cohen, President Donald Trump's former longtime personal lawyer, pleaded guilty Thursday to lying to Congress about pursuing the construction of a Trump Tower in Moscow in 2016, the first charge he faces from special counsel Robert Mueller's investigation into Russian interference in the 2016 election.
Cohen appeared in federal court in Manhattan on Thursday morning, admitting that he lied about the "Moscow project" in a letter sent in August 2017 to the US Senate Select Committee on Intelligence and the House of Representatives Permanent Select Committee on Intelligence.
The details of the Trump Tower Moscow deal were first revealed by BuzzFeed News in May.

According to the charging papers, Cohen sent both committees a letter on Aug. 28, 2017, claiming the potential Moscow real estate deal by the Trump Organization ended in January 2016. That was a lie, prosecutors said — the Russia real estate deal was still being discussed within the Trump Organization in June 2016, according to charging papers, and Cohen planned to travel to Russia to work on the deal and took steps toward arranging for Trump to also visit.
Cohen told Congress last year that he had no plans to travel to Russia to discuss the project or to ask Trump (identified in court documents as "Individual 1") to travel to Russia. He also declared that he did not recall any discussion with the Russian government or officials over the proposed tower. Russian officials offered to organize for Cohen to meet with either Russian President Vladimir Putin or Prime Minister Dmitry Medvedev, according to charging papers.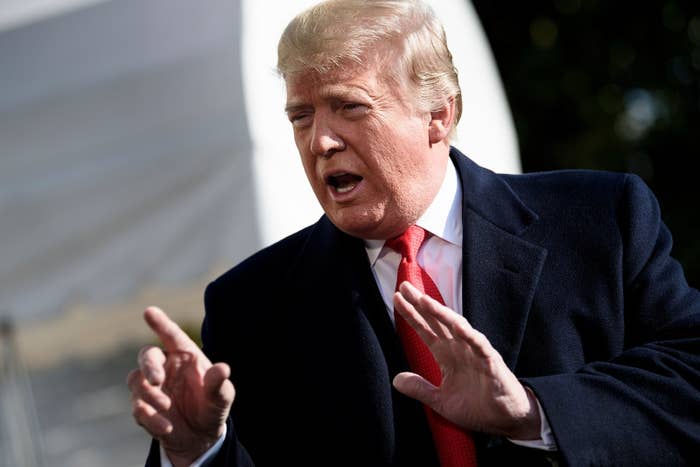 The charging documents contend Cohen lied to Congress in order to minimize links between the Moscow deal and Trump, as well as to limit investigations into links between Trump's campaign and Russia by claiming the project concluded prior to the Iowa Caucus in February 2016.

"As Cohen well knew, Cohen's representations about the Moscow Project he made to SSCI and HPSCI were false and misleading. Cohen made the false statements to (1) minimize links between the Moscow Project and Individual 1 and (2) give the false impression that the Moscow project ended before 'the Iowa caucus and ... the very first primary,' in hopes of limiting the ongoing Russia investigations," special counsel prosecutors wrote.
Speaking to reporters Thursday, Trump called Cohen a "weak person."
"Michael Cohen is lying and he's trying to get a reduced sentence for things that have nothing to do with me," Trump said.
But he also said that even if Cohen was right, "it doesn't matter" because Trump was allowed to run his businesses while campaigning.
"There was a good chance that I wouldn't have won" the election, he said, "in which case I would have gotten back into the business, and why should I lose lots of opportunities?"

Trump saying that his company had been looking at a project in Moscow appeared to conflict with the president's previous repeated denials that he was involved in any dealmaking in Russia.
In January 2017, he tweeted, "I HAVE NOTHING TO DO WITH RUSSIA - NO DEAL, NO LOANS, NO NOTHING!" The following month he tweeted, "I don't know Putin, have no deals in Russia, and the haters are going crazy." During a debate during the campaign in October 2016, Trump said of Russia: "I know nothing about the inner workings of Russia. I don't deal there. I have no businesses there. I have no loans from Russia."
Attorney Lanny Davis, whom Cohen hired to represent him in July, tweeted that Cohen "this morning reaffirmed what he said last July 2 and told me many times since — that he decided to put his wife, daughter, son and country first. Today he again told the truth and nothing but the truth. @realDonaldTrump called him a liar. Who do you believe?"
He followed up with a second tweet to repromote a GoFundMe account that was set up earlier this year to help "Cohen and his family as he goes forward on his journey to tell the truth about Donald Trump."
Cohen's plea deal anticipates that he'll continue to cooperate with Mueller's office. As part of the agreement, prosecutors said they would bring Cohen's cooperation to the judge's attention at sentencing, but only if Cohen "continues to respond and provide truthful information regarding any and all matters as to which this Office deems relevant."
In exchange for pleading guilty, Mueller's office agreed not to bring any additional charges against Cohen "for any other false statements" to Congress or the special counsel's office in connection with the information he was pleading guilty to on Thursday, or for obstruction or perjury. The plea deal only applies to the special counsel's office — it doesn't bind other US attorneys offices or state prosecutors.
Cohen faces an estimated sentencing range of zero to six months in prison, according to his plea agreement, as well as a fine between $500 and $9,500.
At least two prosecutors from the special counsel's office, Jeannie Rhee and Andrew Goldstein, were in court for Cohen's plea hearing Thursday, CNN reported.

The single criminal count that Cohen pleaded guilty to is based on the August 2017 letter he sent to the Senate Intelligence Committee, but the charging documents also accuse him of lying in a statement to the committee in September 2017 that was publicly released and in his testimony to the committee the following month. A committee source speaking on condition of anonymity told BuzzFeed News that the special counsel's office reviewed the transcript of Cohen's testimony with consent from Cohen's lawyer, as required by committee rules.

California Rep. Adam Schiff, the top Democrat on the House Intelligence Committee, said Cohen's plea underscored the need for Congress to continue to explore links between Russia and the Trump Organization. With Democrats set to take control of the House in January, Schiff said the committee would seek Cohen's cooperation. He also said that Cohen's plea highlighted a concern that other witnesses lied to the committee — he did not identify who those witnesses were.

"These false statements regarding the continued pursuit of a Moscow Trump Tower deal during much of the presidential campaign only underscore the importance of a thorough investigation into any financial entanglement between Trump and Russia," Schiff said.
A House Democratic aide told BuzzFeed News that Republicans had "repeatedly refused our requests that the Committee make available all unredacted transcripts to the Special Counsel. However, those transcripts have now been shared with the ODNI as part of a declassification process."

"If the outgoing Republican Majority does not release the transcripts before we take power in January, it will be one of the first things we do both to assist the Special Counsel's work, and enhance the American people's understanding," the aide said.

Schiff and Virginia Sen. Mark Warner, the top Democrat on the Senate Intelligence Committee, reiterated calls for legislation to protect Mueller from interference by the Trump administration.
"With each indictment and each guilty plea, we learn more about the President's connections to Russia in the midst of Russia's efforts to interfere in the 2016 election. Special Counsel Mueller's investigation must continue — free from political interference by the President — until the truth is out, and Congress should pass legislation immediately to make sure that happens," Warner said in a statement.
This is the second criminal case Cohen is facing in the US District Court for the Southern District of New York. In August, Cohen separately pleaded guilty to eight federal charges — including campaign finance–related counts and tax evasion and bank-related charges. That case was brought by the US Attorney's Office in Manhattan, not Mueller's office, but the special counsel's office had referred information about it.
Cohen was due to be sentenced on those charges in two weeks. Cohen separately entered into an agreement with Manhattan federal prosecutors about the potential effect of his new plea deal when he's sentenced in the earlier case, with prosecutors agreeing to tell the judge about his cooperation. Prosecutors have not agreed to file a formal request for a reduced sentence for Cohen, however.
The August charges included one excessive campaign contribution made to Stormy Daniels, hush money paid to the adult film star so she wouldn't go public during the 2016 presidential election with her claims of a relationship with Trump a decade earlier.
Cohen told the court that the $130,000 payment was made "in coordination with and at the direction of" a candidate for federal office, to keep the individual from disclosing the information, and for the "principal purpose of influencing the election." Cohen did not, as part of Tuesday's appearance, specifically name Trump.

US District Judge William H. Pauley III asked Cohen if he knew at the time that his action was illegal, to which Cohen replied, "Yes, your honor."
Trump claimed in an interview with the New York Post on Wednesday that the Mueller investigators were encouraging his associates, including former campaign chair Paul Manafort, to "lie" and incriminate the president, but that some refused.
"If you told the truth, you go to jail," said Trump.
"And I'm telling you, this is McCarthyism. We are in the McCarthy era. This is no better than McCarthy. And that was a bad situation for the country. But this is where we are. And it's a terrible thing," said Trump, who has repeatedly warned that he may shut down the Mueller investigation.

On Thursday morning, before news of the Cohen deal was made public, Trump also tweeted about the investigation.
Emma Loop contributed reporting to this story.