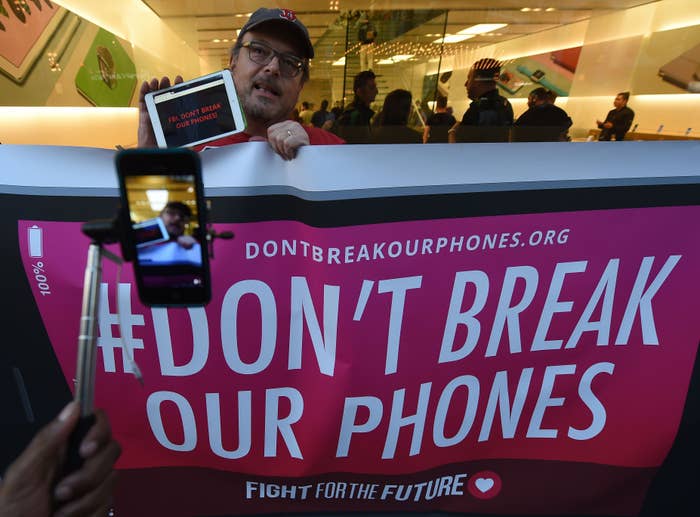 WASHINGTON — Sixteen technology companies including Twitter, CloudFlare, GitHub and Reddit signed onto an amicus brief Thursday in support of Apple's fight against the U.S. government's efforts to compel it to unlock one of the San Bernardino shooter's iPhones.
"The government in this case has invoked a centuries-old statute, the All Writs Act to force Apple to develop software to undermine its own carefully constructed security measures," the brief states. "This extraordinary and unprecedented effort to compel a private company to become the government's investigative arm not only has no legal basis under the All Writs Act or any other law, but threatens the core principles of privacy, security, and transparency that underlie the fabric of the Internet."
Collectively, the technology companies that signed onto the amicus brief process and store the personal information of more than 1 billion consumers. The firms believe that if Apple is forced to assist the FBI in this case, there would be no limit to other similar requests. While government lawyers insist that the security-suppressing software they are asking Apple to create would be used for only one iPhone, the technology companies rejected that claim.

The coalition of Silicon Valley business rivals-turned-courtroom-allies characterized the government's demands as unbounded "by any legal limits."
If the Justice Department prevails, the companies argued, the government would effectively sidestep laws that already define how law enforcement may seek assistance from technology companies. Echoing Apple's own argument, the industry coalition believes the FBI is using the court system to conjure new law enforcement authority.
"By circumventing the procedures adopted by Congress, and thereby overturning the careful weighing of policy considerations they reflect, the government is seeking to enlist the judiciary in re-writing laws without engaging in an essential public debate," the brief states.
Intel, which is backing Apple in a separate filing, also described the government's demands as an "unprecedented step." In a statement, the company that helped give Silicon Valley its name and pioneered much of the technology that undergirds the digital world said the requirement that an American company develop new software to defeat its own security measures would "chill innovation."
While acknowledging the important work of law enforcement, and the emotionally charged debate surrounding San Bernardino, the companies urged Judge Sheri Pym to consider what might be lost.
"In the midst of this digital revolution—and the ever-present and increasing dangers posed by hackers, identity thieves, and other wrongdoers—ensuring that users' data is handled in a safe, secure, and transparent manner that protects privacy is of utmost importance."