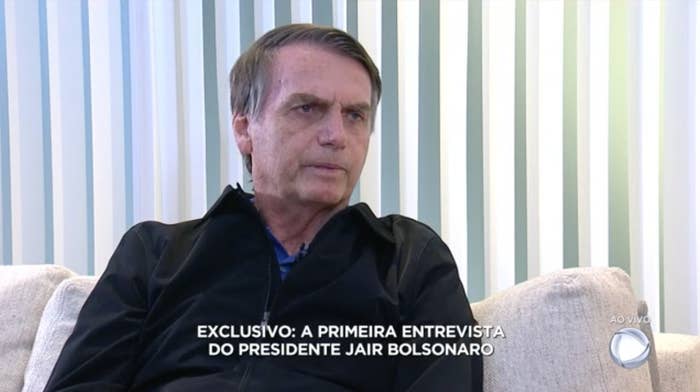 Brazil's President-elect Jair Bolsonaro denied on Monday that Brazil intends to engage in military action against Venezuela.
Rumors had been circulating all day in Brazil by the time Bolsonaro's sit-down with local station Record TV aired. In one telling, Colombian President Iván Duque was rumored to have promised Bolsonaro his country's support if Brazil led any action against Venezuelan President Nicolás Maduro. Bolsonaro denied that they'd discussed such a possibility in their phone call after he'd won Brazil's presidential election on Sunday night.
"I have had conversations with other authorities from other countries, they have brought up the subject of Venezuela, and they ask that Brazil participate in one way or another to solve the problem. After all, it is our brothers who are suffering from the dictatorship of Maduro," Bolsonaro said.
When asked if this could include some military action, he denied that was the case: "On our part there is no such thing. Brazil is always going to seek the peaceful way to solve problems."
But earlier in the day, President Donald Trump congratulated Bolsonaro on Twitter and said he intends to work with Brazil on military and trade issues. The suggestion of military collaboration is likely to be viewed with concern in Venezuela.
Trump said in August 2017 that he wouldn't rule out military intervention in Venezuela to tackle the country's ongoing economic and political crisis. Last month, the New York Times reported that members of the Trump administration had met repeatedly with Venezuelan military officers to discuss a possible coup. Those talks eventually fizzled out.
Bolsonaro said the conversation with Trump lasted longer than his congratulatory phone calls with other international leaders. The president-elect announced that he intends to visit the United States later this year, before taking office in January.

Gen. Augusto Heleno, Bolsonaro's pick to be minister of defense, and Paulo Guedes, who will lead the economy in the new government, will join the president-elect on his trip to the US, Bolsonaro told RecordTV.
Soon after Trump's call Sunday night, US Secretary of State Mike Pompeo also called Bolsonaro. According to the US State Department, the two discussed "collaboration on priority foreign policy issues," such as Venezuela and the fight against transnational crime, and ways to strengthen economic ties between the US and Brazil.

About the comparisons between Bolsonaro and Trump on Monday, White House press secretary Sarah Huckabee Sanders told reporters, "There's only one Donald Trump, in my opinion."