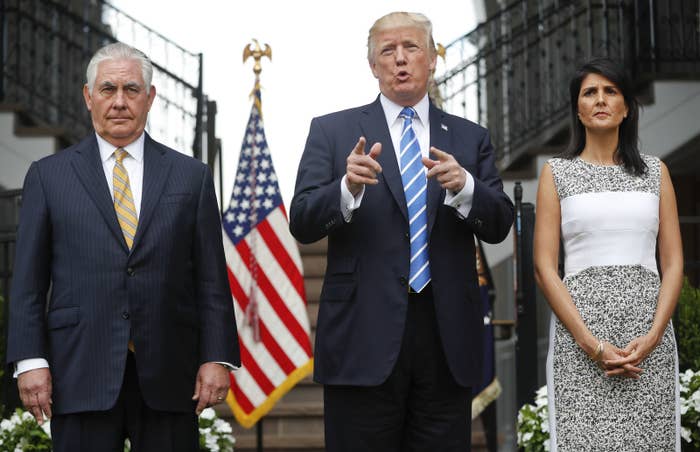 After days of heightened rhetoric over a nuclear-armed North Korea, President Trump said he also wouldn't rule out a "military option" in Venezuela.

Trump did not elaborate on what he meant; sending US troops into another country without provocation would amount to an act of war.
"We have troops all over the world, in places that are very, very far away," Trump told reporters on Friday evening at his golf club in New Jersey. "Venezuela is not very far away, and the people are suffering, and they're dying. We have many options for Venezuela, including a possible military option."
A Department of Defense spokesperson said the Pentagon has not received any orders from the White House on Venezuela. He referred BuzzFeed News to the White House about what Trump's comment might mean.
The US has already imposed sanctions on Venezuela after President Nicolás Maduro rewrote the country's constitution following a controversial vote. Maduro has been called a dictator by US leaders as well as by some of his own people. As Maduro has cracked down on political opposition, the country's economy has also taken a nosedive, resulting in shortages of necessities such as food and medicine while many residents live in extreme poverty.
"Venezuela is a mess," Trump said on Friday. "It's a very dangerous mess and a very sad situation."
A reporter asked if he meant to say the US would lead a military operation in the South American country.
"We don't talk about it, but a military operation, a military option is certainly something that we could pursue," Trump replied.
The comments came a day after Maduro asked his foreign minister to set up a conversation with Trump. Maduro said he may attend the UN General Assembly in New York in September and would take the opportunity to speak with Trump.
"Here I am, Donald Trump," Maduro said Thursday. "If you're so interested in Venezuela, I am willing to have a dialogue."
Later on Friday, a White House statement said that Maduro had requested to speak by phone with Trump. But Trump declined to take the call, citing Maduro's recent actions, the White House said.
"President Trump has asked that Maduro respect Venezuela's constitution, hold free and fair elections, release political prisoners, cease all human rights violations, and stop oppressing Venezuela's great people," the statement said. "The Maduro regime has refused to heed this call, which has been echoed around the region and the world. Instead Maduro has chosen the path of dictatorship.
"The United States stands with the people of Venezuela in the face of their continued oppression by the Maduro regime. President Trump will gladly speak with the leader of Venezuela as soon as democracy is restored in that country."