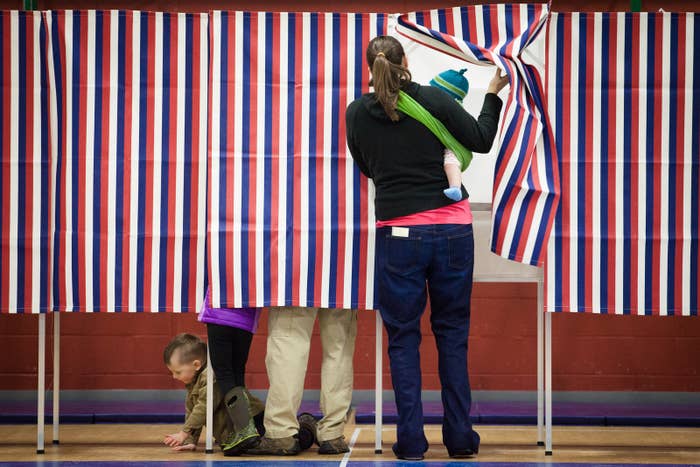 The Senate Intelligence Committee has released a summary of a report on how to help states prevent election hacking that found Russia launched an "unprecedented" cyber-campaign against the US in 2016. The report is the first of several about the panel's investigation into Russian interference during the last election.
The six-page document, released Tuesday, says that during the last election, "cyber actors affiliated with the Russian Government conducted an unprecedented, coordinated cyber campaign against state election infrastructure" and that "Russian actors scanned databases for vulnerabilities, attempted intrusions, and in a small number of cases successfully penetrated a voter registration database."
The committee says this "activity was part of a larger campaign to prepare to undermine confidence in the voting process" but notes that it "has not seen any evidence that vote tallies were manipulated or that voter registration information was deleted or modified."
North Carolina Sen. Richard Burr, the committee chairman, told reporters earlier Tuesday that in the months ahead, the committee will issue a series of other interim reports dealing with different focuses of the Russia probe.
The committee has also written a full, secret report on election security that it says it hopes to release publicly after a declassification review.
As for the 2018 elections, voting has already begun. The report summary was released on the same day as primary elections in Indiana, West Virginia, Ohio, and North Carolina.
"Today's primaries are the next step toward the 2018 midterms and another reminder of the urgency of securing our election systems," Burr said in a statement. "Our investigation has been a bipartisan effort from day one, and I look forward to completing the Committee's work and releasing as much of it as possible. We are working tirelessly to give Americans a complete accounting of what happened in 2016 and to prevent any future interference with our democratic process."
Virginia Sen. Mark Warner, the committee vice chairman, said he remains worried that the US is "still not fully prepared" for the midterms. "That's one reason why we, as a Committee, have decided that it is important to get out as much information as possible about the threat, so that governments at every level take it seriously and take the necessary steps to defend ourselves."
Tuesday's summary report says that "[a]t least 18 states had election systems targeted by Russian-affiliated cyber actors in some fashion," and that that figure could be as high as 21.
"In at least six states, the Russian-affiliated cyber actors went beyond scanning and conducted malicious access attempts on voting-related websites," the summary report says. "In a small number of states, Russian-affiliated cyber actors were able to gain access to restricted elements of election infrastructure. In a small number of states, these cyber actors were in a position to, at a minimum, alter or delete voter registration data; however, they did not appear to be in a position to manipulate individual votes or aggregate vote totals."
The committee noted that states self-reported attempted intrusions and it's "possible that more states were attacked, but the activity was not detected."
Moreover, Russia's influence campaign targeted the voting process itself from 2016 until after Election Day, the committee found. "These activities [...] included traditional information gathering efforts as well as operations likely aimed at preparing to discredit the integrity of the U.S. voting process and election results," the report states.
The committee found that the Department of Homeland Security's "initial response was inadequate to counter the threat." The committee says that though DHS "is engaging state election officials more effectively now," it had "limited success" in warning states about the threat of Russian interference in 2016. "In addition, members of the Obama administration were concerned that, by raising the alarm, they would create the very impression they were trying to avoid –– calling into question the integrity of election systems," the summary report says.
The committee said that it remains concerned about the age of voting machines across the country, recommending — among other things — that they be immediately replaced. "Voting systems across the United States are outdated, and many do not have a paper record of votes as a backup counting system that can be reliably audited, should there be allegations of machine manipulation," the summary report states.
The committee held an open hearing on election security in March, with testimony from Department of Homeland Security Secretary Kirstjen Nielsen and other election security officials. Before the hearing, committee leadership held a press conference announcing six recommendations to improve election security before the 2018 midterms.
The committee's investigation into Russian meddling continues, with staff interviewing the remaining "handful of witnesses" through next month, Burr told reporters.
"This gives us the month of August in all likelihood to wrap up our investigation and for staff to work intensively while we're out of here and not getting in their hair," Burr said, adding that senators could then review final findings in September upon their return from the summer break.
The next report will evaluate the Intelligence Community's January 2017 assessment that found the Russians waged an influence campaign in the 2016 elections and "developed a clear preference for" President Donald Trump.
Asked if his panel would, like Republicans on the House Intelligence Committee, disagree with the Intelligence Community's assessment with regards to Russia's preference for Trump, Burr responded: "I'm not sure that the House was required to substantiate every conclusion with facts. We may have different opinions but whatever we propose, whatever we assess, we're going to have the facts to show for that. So it may be that we don't go quite as far as they did, it may be that we do."
You can read the full report here.