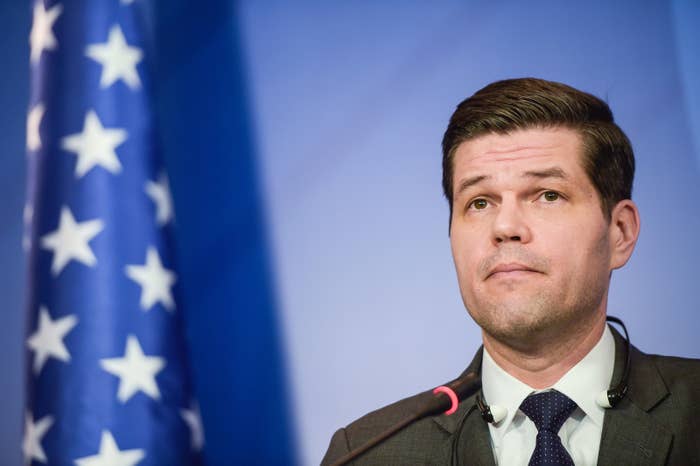 With Secretary of State Mike Pompeo occupied with North Korea, Iran, and, now, the crisis over Saudi journalist Jamal Khashoggi's disappearance, US policy in Central and Eastern Europe has been turned over to an academic who until his appointment a year ago had no experience as a US diplomat.
Since he became the assistant secretary of state for European and Eurasian affairs last fall, A. Wess Mitchell has jettisoned the Obama-era policy of focusing on human rights violations in nations such as Hungary in favor of a policy that sees regional authoritarian governments as potential partners, not diplomatic pariahs.
The logic, say some, is that that's a better way to coax those countries away from Russia. Others worry that reengaging with those governments ends up empowering ideologues who believe they are dealing with a like-minded administration.
The State Department declined to make Mitchell available for an interview.
Mitchell is a political appointee, but his background isn't in politics. Before coming to the State Department, he was at the Center for European Policy Analysis, or CEPA, a nonpartisan, nonprofit think tank in Washington focused on Central and Eastern Europe and Russia. He had been at the institution since 2006, first as its director of research and then as its president.
He's also served on advisory boards on institutes from the region, including the Slovak Atlantic Commission and the Prague Center for Transatlantic Relations. He speaks German and received his doctorate in political science from Berlin's Free University. In short, he's built his career by researching, thinking about, and writing about Europe, and in particular Central and Eastern Europe.
Mitchell was confirmed by the Senate in late September 2017. He was brought in not by Pompeo but by his predecessor, Rex Tillerson.
But Mitchell hung on through the transition, and now, with his boss focused on what appear to be more pressing issues, he's unquestionably the top diplomat in the Trump administration focused exclusively on Europe and Eurasia, a region he has, with his academic and research background, turned into a sort of geopolitical chessboard.
Take, for example, the case of Hungary, which in recent years has cracked down on civic organizations, independent media, immigration, and those who would provide help to migrants and asylum seekers and has publicly battled the European Union and George Soros, the Hungarian-born billionaire whom Hungarian Prime Minister Viktor Orban blames for dissent in his country.
Under Obama, sanctions were imposed on six individuals connected to the government for activities perceived by the United States as undermining democracy. The sanctions were taken to be the work of Mitchell's predecessor, Victoria Nuland (Nuland, now head of the Center for a New American Security, also declined an interview request for this piece).
From 2012 on, there were no meetings between Obama administration officials and high-level Hungarian counterparts, a policy that continued into the Trump administration. In November 2017, the Trump State Department's Bureau of Democracy, Human Rights, and Labor announced a $700,000 grant to help citizens who wanted to increase "access to objective information about domestic and global issues in Hungary."
But then, in late May 2018, the Hungarians were brought back into the fold. Foreign Minister Peter Szijjarto came to Washington and met with both Secretary of State Mike Pompeo and national security adviser John Bolton. Szijjarto credited Mitchell with the change in approach. "He was able to push through, by his political power, a change in this regard," he told BuzzFeed News at the time.
By July, the State Department had cancelled the announcement of a recipient for the independent media grant and said the money might be used elsewhere. Sources with knowledge of the matter say the plan was scrapped before a winner had even been chosen.
Some speculated that the change was due to Mitchell's own past professional connections to Hungary — CEPA received $25,000 from the Hungarian government in 2017. Others took it as a natural by-product of the like-mindedness between Orban's anti-immigrant government and the Trump administration.
But a European diplomat in Washington with knowledge of the decision to meet Szijjarto said the move had more to do with Russia than immigration.
In late 2017, Ukraine passed a law banning the teaching of minority languages. The law was presumably directed at Russian but also affected the teaching of Hungarian to Ukraine's considerable Hungarian minority. Over the course of 2018, tensions between Ukraine and Hungary worsened, leaving Western leaders worried that Budapest, already friendly with Moscow, would break ranks with the European Union over sanctions on Russia for its involvement in Ukraine and block Ukraine's path to membership in both the European Union and NATO.
So Mitchell arranged the meetings between Szijjarto and Pompeo and Bolton.
Neither the Hungarian Embassy in Washington nor the State Department would comment on the record about why the meetings were arranged.
"With him," the European diplomat said of Mitchell, "it's all geopolitics." If Washington wants to stop Budapest from going to Moscow, the thinking goes, then it must bring Budapest back to Washington.
But human rights activists argue that the more practical-sounding strategy hasn't worked any better than the Obama administration's strategy of ignoring high-level Hungarians.
"If anything, things have [somehow] gotten worse," said Zselyke Csaky, research director for Europe and Eurasia at Freedom House, a Washington-based advocacy group. She pointed to Orban's September meeting with Russian President Vladimir Putin in Moscow, and to the fact that, on Oct. 4, Hungary and Ukraine each expelled diplomats (Ukraine expelled a Hungarian consul for issuing a passport to an ethnic Hungarian in Ukraine; Hungary said its expulsion was based on the principle of reciprocity).
"If the US really wants to counter Russian and Chinese influence, the best it can do is to make sure [Central and Eastern European countries] are strong, vibrant democracies," she added. "Russia has a chance to play a spoiler role because institutions are weak and easy to circumvent."
In Congress, too, some wonder whether Mitchell's strategy is all that strategic. Rep. Marcy Kaptur, a Democrat from Ohio, sent a letter to Mitchell last week asking why the media grant was cancelled.
Hungary is not the only place where Mitchell has changed policy. He also, sources say, favors US support for the possibility that Serbia and Kosovo might agree to a land swap or border adjustment. Serbian President Aleksandar Vucic has long pushed for such a swap or partition policy. Vucic himself is often criticized as an aspiring strongman; in September, he told Serbs in Kosovo that Slobodan Milosevic "was a great Serbian leader." Milosevic is widely considered responsible for the wars and bloodshed that wracked the Balkans in the 1990s, including a campaign against Kosovo Albanians, and was on trial for war crimes at The Hague when he died in 2006.
For years, the conversation about a border adjustment or land swap was a nonstarter for Americans, the concern being that moving borders in the Balkans would bring still more violence in Kosovo. There was also concern that a border adjustment or partition would empower others in the region to try to adjust borders, in particular Milorad Dodik, the Serb nationalist leader in Bosnia who has urged Bosnian Serbs to secede — and who won a presidency seat in elections earlier this month.
Mitchell is not alone in signaling that he would support a deal — Bolton has said so publicly. And unlike in the case of Hungary, Mitchell is not seen as mostly responsible for the shift in policy. Still, his tenure has marked a transition for how seriously the idea is taken.
"What I can say is that with the arrival of Mr. Mitchell, the US involvement in the Balkans has intensified to deal with challenges that this region is currently facing. It seems that the US is ready to hear options from both parties on how to move forward, and ultimately reaching a deal which will bring long-term stability for the region," a Kosovar diplomat wrote to BuzzFeed News in an email.
Diplomatic sources say that the United States has communicated to Kosovo that there is a limited timeframe to make a deal — no one knows what the European Union will look like in a year or two — and Kosovars themselves realize the current situation, in which Serbia refuses to recognize their independence, is unsustainable.
"One place where strategic competition is intensifying dramatically is Europe's Eastern frontier," Mitchell said in a speech in June. "Our priority has been, first and foremost, to check Russian aggression."
And some think that a potential Kosovo land swap is Mitchell using geopolitics to counter Russia. If this unsustainable situation were to resolve itself, the thinking goes, Russia would have one less avenue through which to foment discord.
Russia's strategy is to "insert itself into ongoing controversies in the region to cause instability … [it] maintains strong ties to Serbia in part because Serbia is still caught up in a dispute with Kosovo that is blocking its path to Europe," said Charles Kupchan, a senior fellow at the Council on Foreign Relations, and a onetime special assistant to Obama and senior director for European affairs on Obama's National Security Council.
"If you clear away that obstacle and Serbia sees a roadmap to EU membership and NATO membership — [that's a] decisive check back for the Kremlin," he said.
But others think a partition is an invitation to further chaos, which is exactly why Putin — and, for that matter, Serbian President Vucic — have been advocating for it. Kosovo's prime minister, Ramush Haradinaj, told BuzzFeed News that Moscow's lack of opposition to the plan is proof positive that a partition is not a solution.
But here, too, that the US is entertaining a strongman's wishes hasn't worked to pry him from Moscow: Earlier this month, Vucic expressed his "deep gratitude" to Putin for his support of Serbia.