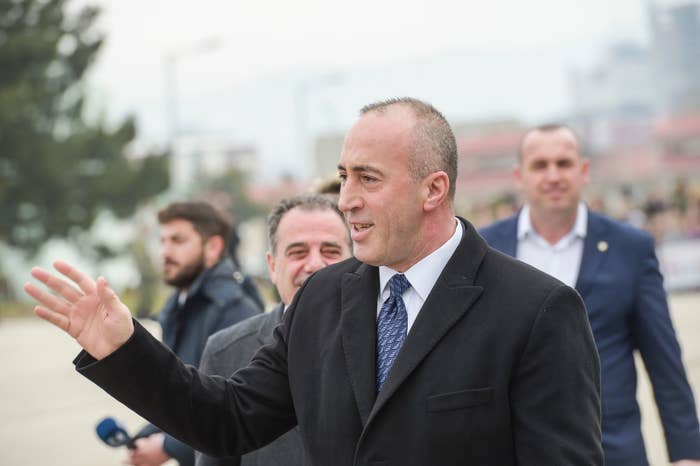 The prime minister of Kosovo is warning the United States that backing a proposal for his nation and Serbia to swap land risks triggering a renewal of the most violent European conflict since World War II.

Some in the United States, Serbia, and even in Kosovo have suggested that a border adjustment might finally resolve Kosovo's conflict with Serbia, which still does not recognize Kosovo's independence, which Kosovo declared unilaterally a decade ago. Leaders in both countries have hinted that a land swap — potentially an exchange of a northern area of Kosovo, populated by ethnic Serbs, and a southern area of Serbia, populated by ethnic Albanians — might be a way to finally settle the matter of Kosovo's statehood.
But Prime Minister Ramush Haradinaj is adamant that such a move would exacerbate the region's problems, not solve them.
Haradinaj met with US officials in New York, including Wess Mitchell, the State Department's assistant secretary for Europe and Eurasia, in a bid to bolster the US–Kosovo relationship. He then went to Washington to meet senior defense officials and members of the Senate Armed Services Committee.
"There is an enthusiasm for an agreement between us and Serbia," he told BuzzFeed News, noting that such a deal would come on the heels of other agreements in the region. "But the latest idea, on the swap of territory or borders or population — it is not a solution."
Serbian President Aleksandar Vučić and even Kosovo's president, Hashim Thaçi, have suggested they would be open to the idea. A senior European diplomat said John Bolton, President Donald Trump's national security adviser, has signaled that the US would support a border adjustment.
Haradinaj said that, while he appreciated the United States' wanting a mutually beneficial agreement, he was confident that "all levels of government" understood that a land swap or population exchange was not a solution.

Diplomats with knowledge of the matter believe Thaçi has supported the deal, despite the overwhelming disapproval from Kosovo's population, because he wants to make himself indispensable to an agreement with Serbia to avoid indictment by the Kosovo Specialist Prosecutor's Office. Haradinaj, who has already been tried and acquitted by the International Criminal Tribunal for the Former Yugoslavia, doesn't share that fear — or the optimism that a land swap might work and doesn't think US policymakers should, either.

"All the tragedies of the past happened because of territories, borders, and ideas of maneuvering with populations … I myself was part of them. I don't want to see, after 20 years, my children going through the same thing."
US policymakers understand, he said, that "It's not theirs to say what's right, what's wrong." And the idea of adjusting borders, he said, is wrong and would lead to fighting and bloodshed not only in Kosovo, but throughout the region.
As proof that a potential partition would be bad for the stability of the region, Haradinaj pointed to one supporter of a potential swap.
"Russians are often proactive in our region," he said.
Russia still does not recognize Kosovo and strongly opposed the US-led intervention that stopped then-Serbian leader Slobodan Milošević's government from carrying out war crimes against the Albanian minority in the late '90s. In the region more broadly, Russia is believed to be connected to the arrival of arms in Republika Srpska, the Serb-majority state in Bosnia, and to be behind an alleged attempted coup in Montenegro. Serbian Foreign Minister Ivica Dačić said Friday that there can be no lasting solution on Kosovo without Russia.
"This is exactly what they look for," the prime minister said.
As if on cue, Russian Foreign Minister Sergey Lavrov hinted in his address to the UN General Assembly on Thursday that Russia supports the idea of Serbia and Kososov reaching an agreement.
CORRECTION
Republika Srpska and Prime Minister Ramush Haradinaj's names were misspelled in an earlier version of this post.