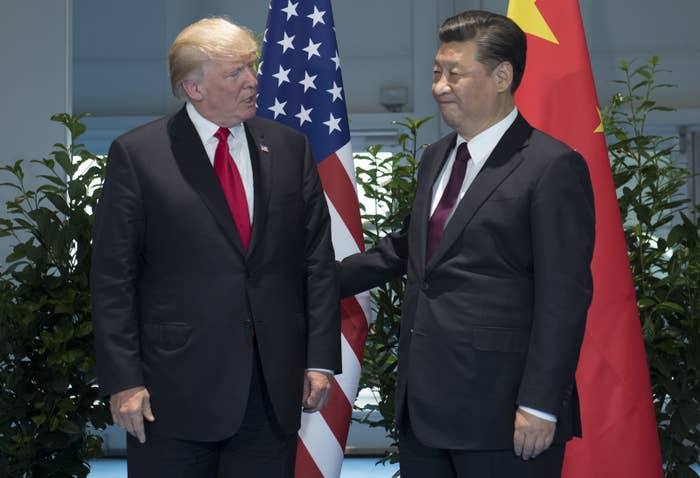 Publicly, the United States and China have exchanged heated words over the opioid crisis.

"It is outrageous that Poisonous Synthetic Heroin Fentanyl comes pouring into the U.S. Postal System from China. We can, and must, END THIS NOW! The Senate should pass the STOP ACT — and firmly STOP this poison from killing our children and destroying our country. No more delay!" Trump tweeted late last month.
Yu Haibin, a senior official with China's National Narcotics Control Commission, responded: "The United States has no proof that most fentanyl in the country comes from China. It's highly irresponsible to draw such a conclusion based on some individual cases."
Harsh words for China aren't limited to the White House: On Thursday, the House Foreign Affairs Subcommittee on Africa, Global Health, Global Human Rights, and International Organizations is holding a hearing titled, "Tackling Fentanyl: Holding China Accountable."
But US officials say that, while China publicly denies that it's the source of fentanyl, privately, US and Chinese diplomats and law enforcement officials are cooperating to fight the opioid crisis.
"They still argue publicly that they can't confirm how much fentanyl comes from China," James Walsh, deputy assistant secretary in the Bureau of International Narcotics and Law Enforcement Affairs (INL), told BuzzFeed News. But diplomatic pressure has led China since 2015 to schedule — that is, define as drugs with no accepted medical use and a high potential for abuse — 143 substances that resemble or are related to fentanyl or are used in its manufacture. "Predominantly because of us asking them to do so," Walsh said.
While the US–China relationship is deteriorating over issues as varied as trade and North Korea, cooperation over the opioid epidemic has continued. The United States and China have been talking to each other about law enforcement and drug issues for the past 10 or so years, Walsh said, with cooperation and communication on the issue of fentanyl explicitly a goal for the past few years — that is, since the United States realized that the "vast majority" has been coming from China.
Cooperation, Walsh said, "is in their interest. They want to be recognized as a global leader on various issues, and this is a global issue." What's more, "China's starting to recognize they have an issue with drug consumption and drug addiction in their own country."
"I think China has a lot on the line, reputationally, on this, and does not want to be seen as negligent or indifferent in any way in something that is accounting for basically 100% of the rise of opioid fatalities in the US over the last few years," said Stephen Morrison, director of the Global Health Policy Center at the Center for Strategic and International Studies, a Washington think tank. Morrison added, "[It's] going to be very dangerous to them if it works its way into consumption in China itself."
In addition to scheduling, the Chinese responded to information developed by US Homeland Security Investigations in late 2017 and earlier this year with arrests and raids on fentanyl labs in Jiangsu and Hebei provinces. The takedowns resulted in the seizure of 175 kilograms of fentanyl and fentanyl precursors, the arrests of 21 Chinese nationals, and the dismantling of one lab.
The Department of Homeland Security, to which Homeland Security Investigations belongs, did not respond to a request for comment on whether that one lab was the only one dismantled or whether the Chinese have dismantled others.
The State Department's INL funds specialized Drug Enforcement Administration training with and of their counterparts in China's Narcotics Control Bureau, which the State Department says has led to unprecedented expert exchange on how to cut the demand for drugs and how to recognize the chemical makeup of suspicious substances.
"This issue impacts both our citizens. Our goal is to try to keep this particular issue out of the fray of other very difficult issues our countries are addressing right now," Walsh said, adding, "So far we've been pretty successful."
Still, not everything can remain above the diplomatic and bureaucratic noise. "China struggles with managing their pharmaceutical and chemical plants. The challenge we have is, at what level do we push on those issues and how are those tied to other trade and economic issues?" Walsh said. "We have to be cognizant that our relationship right now is unfortunately rather transactional."
And, while the State Department touts its success with China's scheduling of substances, it's also, by its own admission, an area in which it's struggling.
A drug needs to be declared illegal if law enforcement is going to convict someone for its production, sale, or consumption. But making, say, cocaine or heroin illegal is one thing. Synthetic drugs are different. "Because these synthetics are so easily changed … it's easy for criminals and chemists to create a new substance," Walsh said. "So our approach to China has been to schedule all these things as a global class. … If it looks like fentanyl and it has the same chemical response, it's illegal."
But China hasn't done that yet, blaming its own bureaucratic obstacles.
And even if China did do everything the United States asked, and even if China did publicly accept blame for contributing to the US's opioid crisis, the reality, per Morrison, is that "The big problem is capacity and control. I don't think the problem is sincerity or commitment. … I think the big problem is that they don't have control over this."
"We don't exactly have control of this problem either on our side," he added.
And the flip side of keeping it insulated from the broader US–Chinese relationship is that there's only so much attention that can be brought to this issue at the highest levels.
"I think we're getting cooperation from the Chinese. But there's got to be some higher level of effort to have more effective interdiction efforts," Morrison said. "If this is something of such a gravity to both the US and Canada and to China — has the potential to migrate into other places — it's a broader problem — there should be some leadership taken at high levels to try to get it beyond the technocrats."
And there's also the reality that fentanyl is a good business model. It can be made in an apartment lab. It can be sent into the United States by the postal service or FedEx. And those involved can get very rich very quickly, creating incentives for the crisis to continue, and to spread around the world.
"What's kind of keeping me up at night," Walsh said, "is, if we're successful in China, then what?" He pointed not across the ocean, but closer to home. The department is looking at production and criminal connections in Mexico, through which fentanyl made in China is thought to come to the United States.