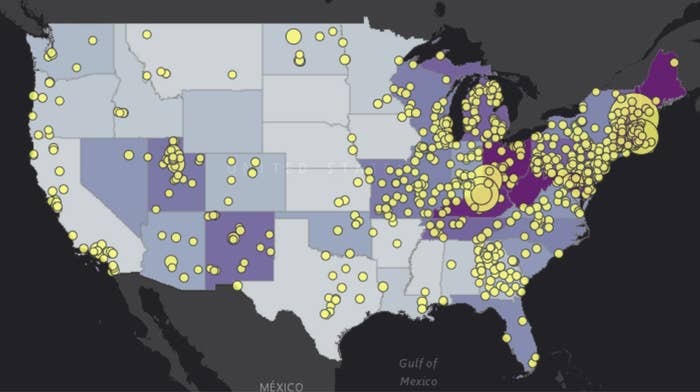 When offered free samples of the overdose-reversing drug Narcan, only about 1 in 14 high schools or colleges nationwide took advantage of the offer, the drug's manufacturer reports.
Opioids such as painkillers, heroin, and fentanyl killed about 48,000 people nationwide last year through fatal overdoses, according to preliminary federal data. A drug called naloxone can reverse an overdose if given within minutes, and is estimated to have saved tens of thousands of lives every year.
Starting in 2016, Adapt Pharma of Radnor, Pennsylvania, offered to give away four doses of Narcan, its nasal-spray version of naloxone, to some 16,000 high schools and colleges nationwide. Only around 1,100 schools — just 7% — accepted the offer.
Some schools might have been reluctant to take advantage of the company's offer because of backlash from parents, experts say.
"There is a great deal of stigma still around Narcan distribution and use in schools," addiction nursing expert Dorothy Moore of San Jose State University told BuzzFeed News. (Moore was not involved in Adapt's project.) There is a mistaken belief in some quarters that having an overdose-reversing drug available would make kids think that it's no problem to overdose because, she said, "someone will revive you."
A company analysis shows acceptance of Adapt's offer came mostly in East Coast states, along with Pennsylvania and Kentucky, all hit hard by overdoses. "But there is still opportunity to get it where it could do more good," Thom Duddy, a spokesperson at Adapt Pharma, told BuzzFeed News.
Narcan sells for $125 wholesale, and Adapt has faced criticism for its prices, along with other naloxone makers, such as an auto injector version made by Kaléo that sells for $4,100 for two doses. Naloxone prescriptions only modestly increased — from 2.8 million to 3.2 million — between 2009 and 2015, leading the New England Journal of Medicine to call for making the drug an over-the-counter medicine.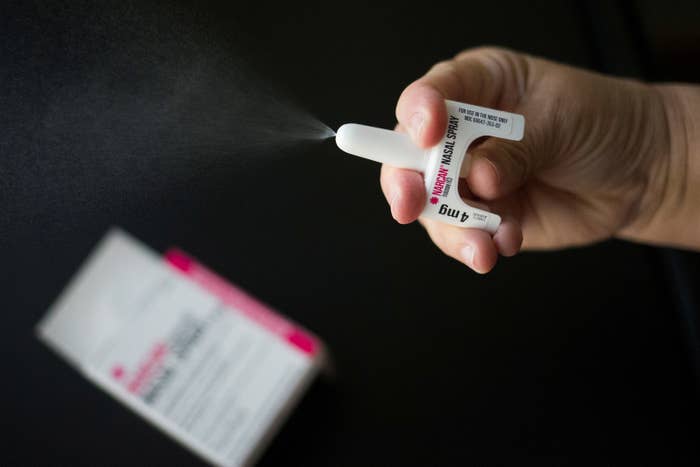 In the face of this criticism, Adapt began its campaign to give out free meds to schools. Most opioid overdoses happen at home, but schools are not immune from the crisis, with reports of overdoses even in schoolteachers, such as a New York City special education teacher who died in a high school bathroom last year.
Schools in five states — Pennsylvania, Massachusetts, New Jersey, Georgia, and New Hampshire — were the top recipients, accepting about 2,000 doses collectively.
"The district has not needed the medication so far," school nurse Micelle Argenti of the Morrisville, Pennsylvania, school district, which took Adapt's free samples, told BuzzFeed News. Morrisville is on the largest East Coast highway, I-95, where many schools were aware of the opioid crisis and interested in the free naloxone.
In higher education, schools such as the University of Wisconsin took advantage of Adapt's offer, giving the Narcan to police and campus security at nine of its branch campuses. (Its main campus in Madison already had a source of naloxone and didn't take part in the program.)
Perhaps the main reason that more schools didn't want Narcan is because they didn't really need it. Overdose death rates for people in their thirties and forties are more than twice as high as those in their early twenties and younger. In the Washington Post last year, Jennifer Plumb of Utah Naloxone, a community naloxone program, wrote that doses held by school nurses won't help people by themselves. A better strategy, she wrote, would be to provide it directly to students, parents, and roommates of people suffering from an opioid use disorder.
"I think the [Adapt] program is laudable, but not enough and not aimed at the right population," Moore of San Jose State said. "How about giving free samples to EMS departments so they can train the public?"
Duddy noted that his company's program is just a small part of its effort to make naloxone more accessible. A larger partnership between the company and the Clinton Foundation that will release 40,000 doses of Narcan to colleges and universities has even drawn praise from President Trump.
CORRECTION
An auto injector version of naloxone made by Kaléo sells for $4,100. An earlier version of this story misstated the price.