Kourtney Kardashian and Travis Barker have celebrated multiple milestones recently, making their red carpet debut over the weekend as Travis marked his fifth flight since he survived a fatal crash in 2008.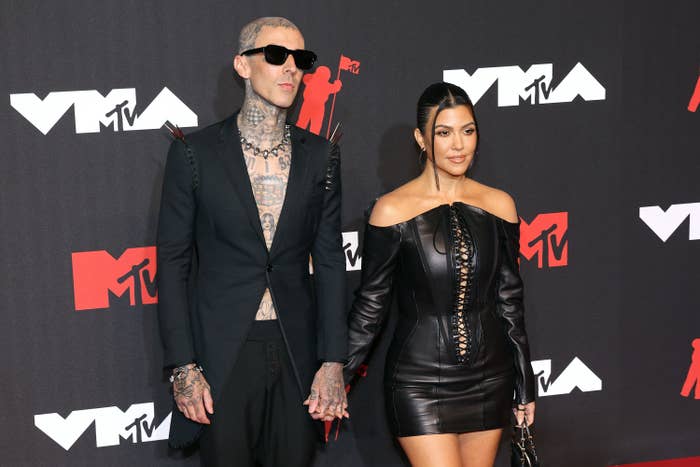 The longtime friends turned lovers made their highly anticipated debut on the VMAs red carpet on Sunday, just weeks after Travis credited Kourtney for helping him overcome his fear of flying.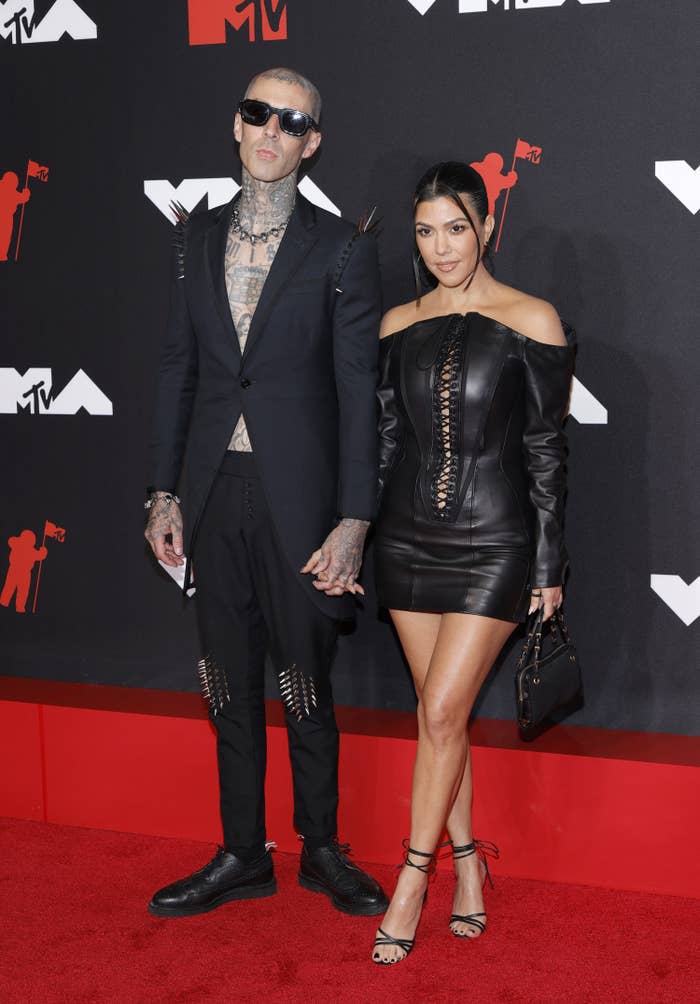 Travis shocked fans last month when he was photographed boarding a private jet which later landed in Cabo, Mexico.
Shortly after the pictures surfaced, Travis commemorated the milestone with a sweet Instagram post of himself lifting Kourtney in front of the aircraft, which he captioned: "With you anything is possible."
Last month's trip to Mexico marked his first airplane journey since he survived a deadly plane crash back in 2008. Travis and his friend Adam "DJ AM" Goldstein were the only survivors after their private jet crashed during takeoff at an airport in South Carolina over a decade ago.
The tragic incident killed four of the six passengers on board, including two of Travis's close friends — his security guard Charles "Che" Still and assistant Chris Baker — as well as both of the pilots.
"The plane's on fire and my hands are on fire so I unbuckle my seat belt and I jump right into the jet, which holds all the fuel," Travis recalled of the incident during an interview on Good Morning America in 2015. "I basically ignited my whole body in fire. I'm so soaked in jet fuel, there's nothing I can do to put the fire out."
"I'm completely nude at this point ... I'm running, grabbing my testicles, my genitals ... and then the plane explodes," he went on.
The Blink-182 star suffered third-degree burns on 65% of his body. He spent 11 weeks in the hospital where he underwent 27 surgeries, and almost lost a foot due to the severity of the burns.
Adam Goldstein also managed to escape the aircraft at the time of the crash, but died from a prescription drug overdose a year later, making Travis the last remaining survivor.
Shortly before taking his first flight last month, Travis opened up about his "haunting" experience with survivor's guilt and post-traumatic stress disorder in an interview with Men's Health.
"I couldn't walk down the street. If I saw a plane [in the sky], I was determined it was going to crash, and I just didn't want to see it," he said in May, reflecting on the aftermath of the tragic incident.
He did express that he one day hoped to overcome his fears. "I have to, I want to make the choice to try and overcome it," he said when asked if he would ever fly again.
Well, it appears that Travis — with the help of Kourtney — has made some incredible progress since his first flight in August, having traveled to Italy, France, and New York in recent weeks.
On Sunday night, Travis celebrated his progress with his fans on Twitter, writing: "Flew 5 times in the last month," to which he added "ANYTHING IS POSSIBLE."
Travis's accomplishments and the couple's red carpet PDA weren't the only moments from the night that had everyone talking.
While introducing Travis and Machine Gun Kelly's live performance, Kourtney and Megan Fox sparked cheers from the audience after they referred to their respective partners as their "future baby daddies."
Inevitably, Twitter lost it over the comments — and it wasn't just the fans who were excited.
Kourtney's family seem to be huge supporters of her new relationship, with Kim Kardashian posting a clip of herself watching the award show on TV, letting out an excited scream as Kourtney and Megan teased fans with the "baby daddy" line.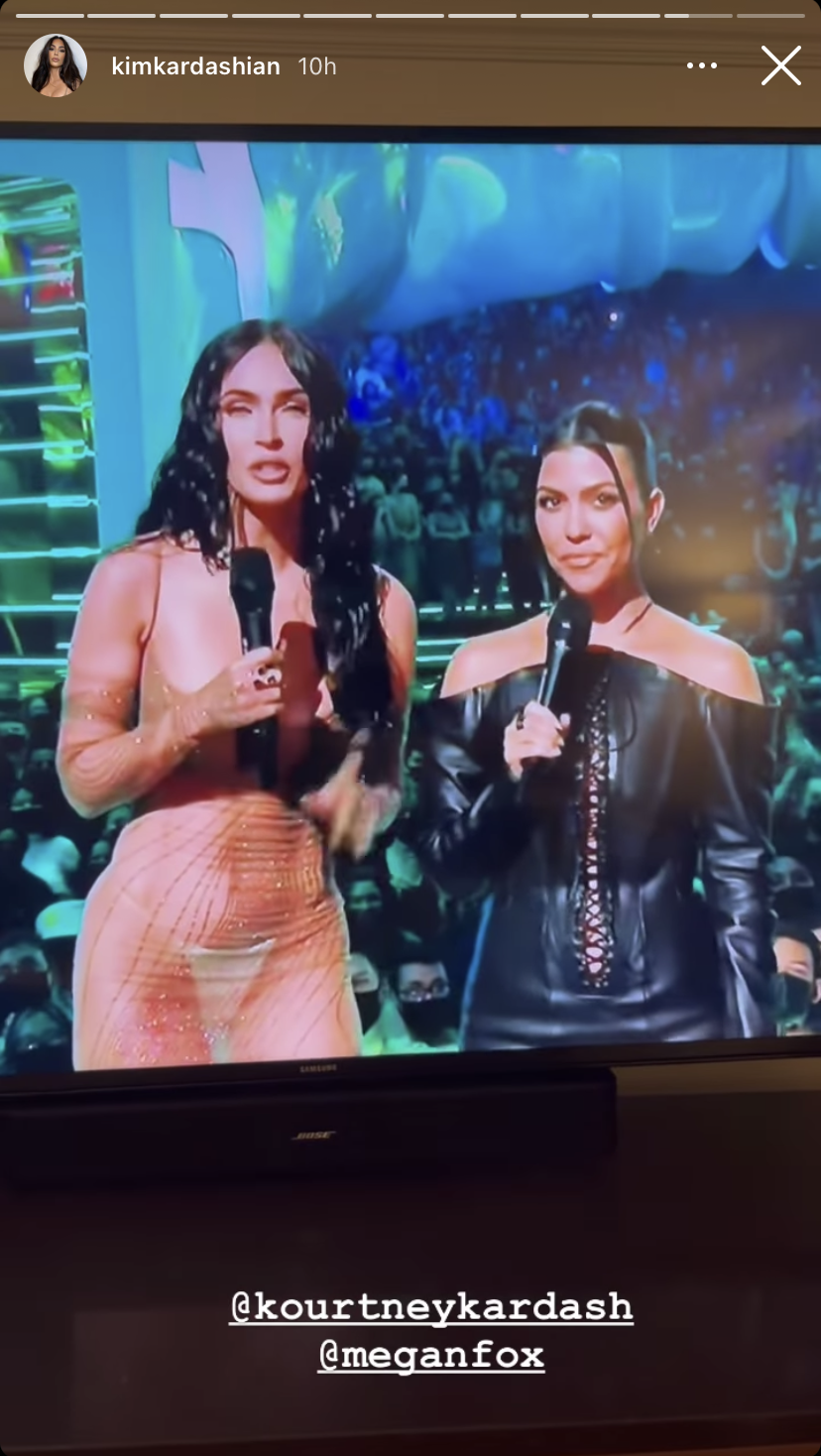 It's hard not to love Kourtney and Travis as we continue to see them conquering new heights together.