As Kim Kardashian and Kanye West's divorce proceedings play out, the matter of co-parenting their four children — North, Saint, Chicago, and Psalm — continues to be a major source of contention between the pair.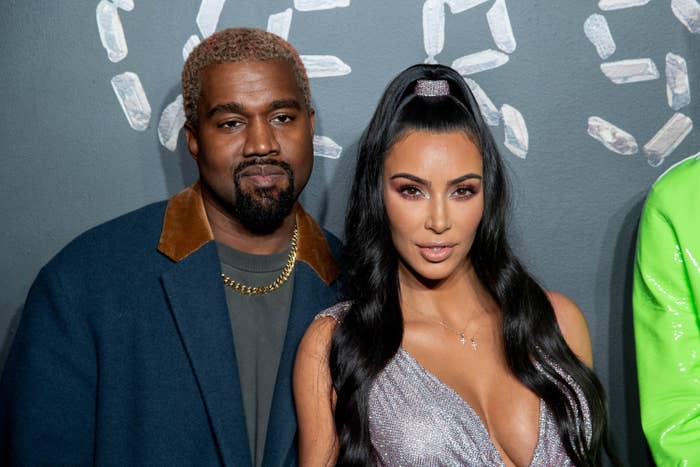 Marking their latest parenting conflict, Kanye — who's now legally known as Ye — has publicly said that their 4-year-old daughter, Chicago, is looking "too grown" for his liking.
The rapper aired his grievances on Instagram on Saturday, reposting a collage of photographs that were originally shared on Khloé Kardashian's account earlier that day.
The two selfies, which Kanye shared side by side, show Chicago sitting strapped into a car seat before she ventured out for a "girls day" with her aunt Khloé and her cousin True on Saturday.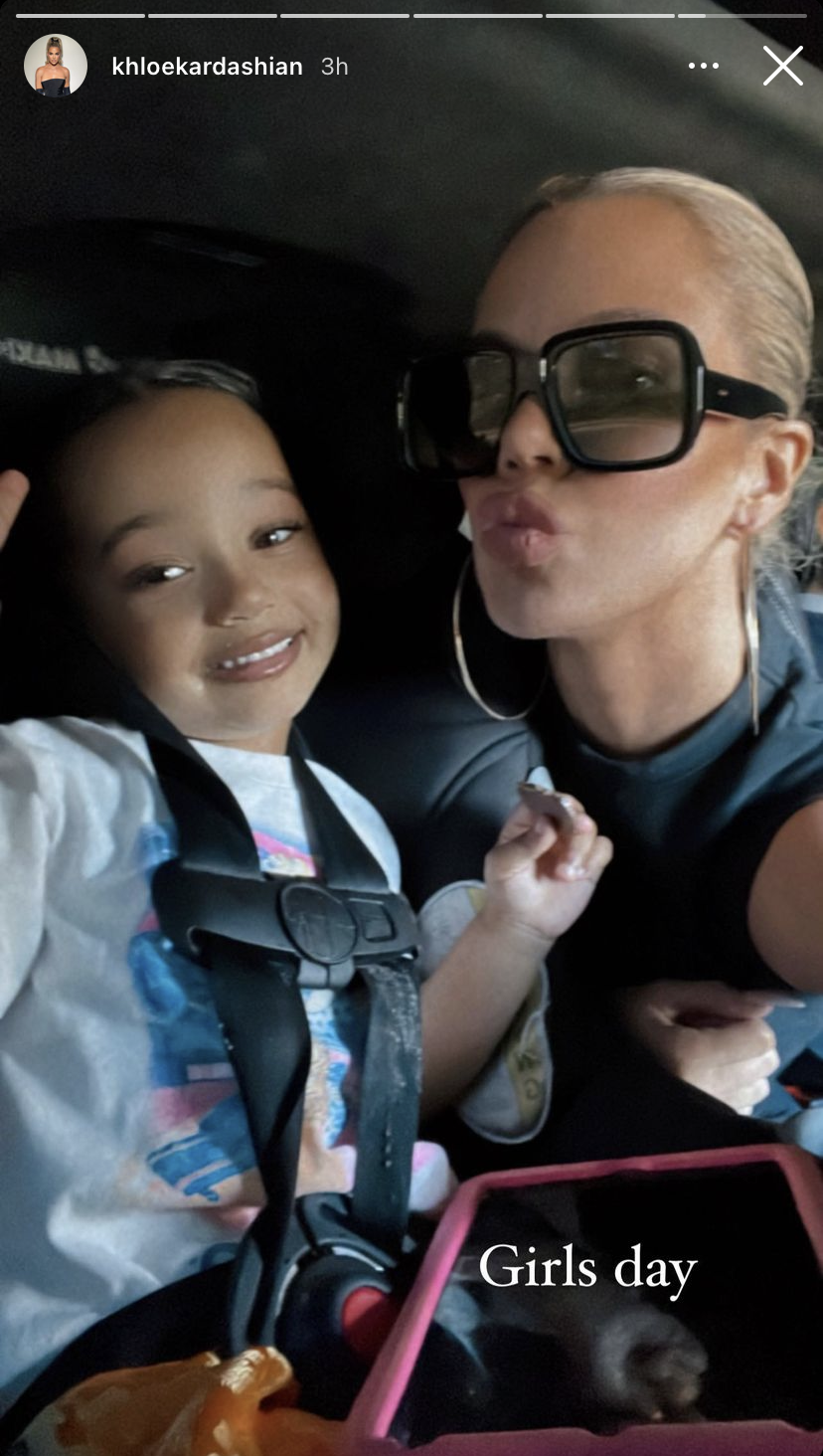 In the first image, Chicago smiles happily alongside her aunt, who took the photographs and shared them to her Instagram story. In the second snap, she pulls a pouting face mirroring Khloé's expression.
Shortly after they were uploaded, Ye reposted — and later deleted — a collage that had been created by a fan account. He screenshotted the fan post and shared it with his followers, writing: "These pics are too grown looking for my little girl."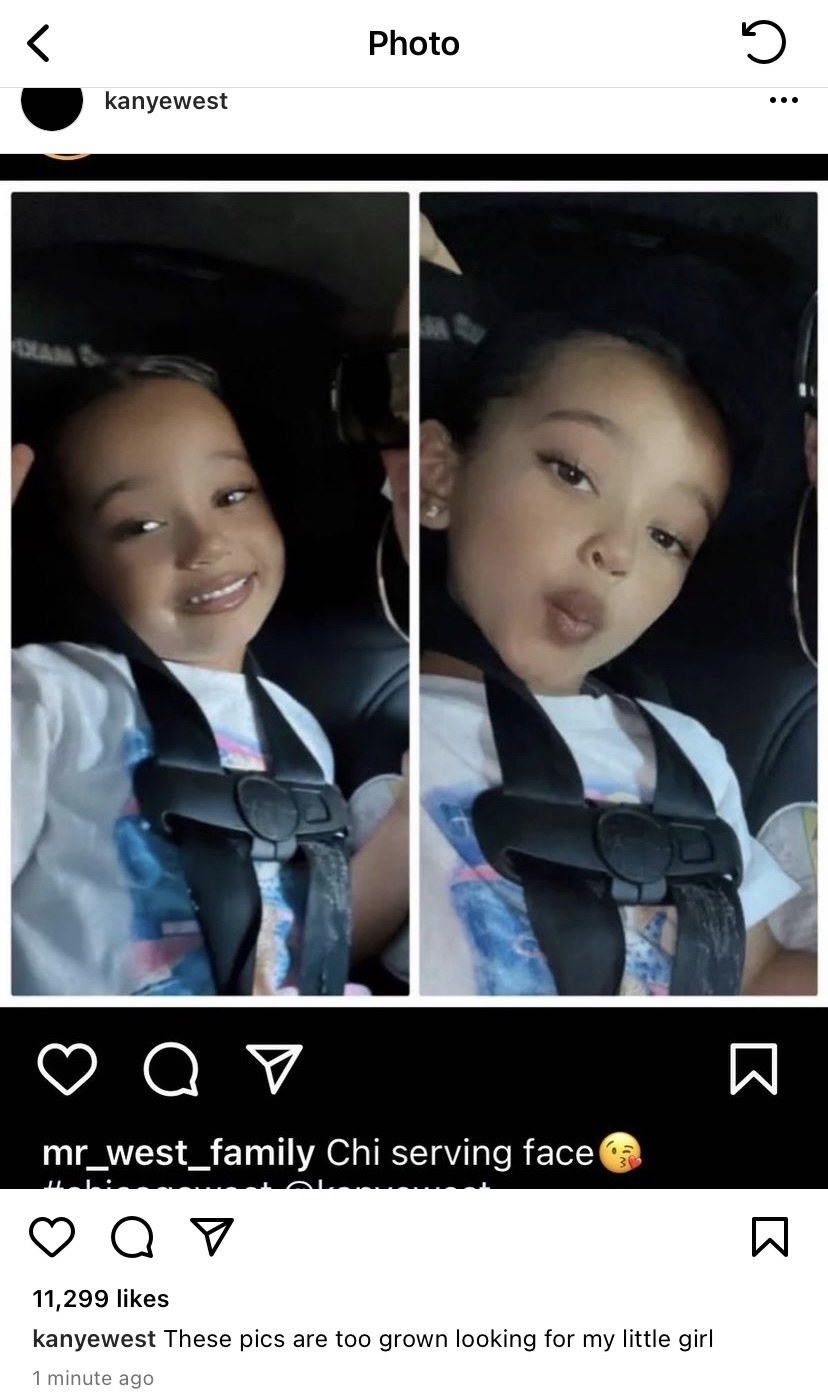 In the photographs, it does appear that Chicago is wearing makeup. She looks to have longer eyelashes and an airbrushed face, which prompted fans to speculate that Khloé used a face-altering Instagram filter on the selfies.
Gathering to discuss the post on Reddit, fans were quick to voice their disapproval of Khloé's apparent use of a filter on a 4-year-old girl, with some saying that Kanye was right to call it out.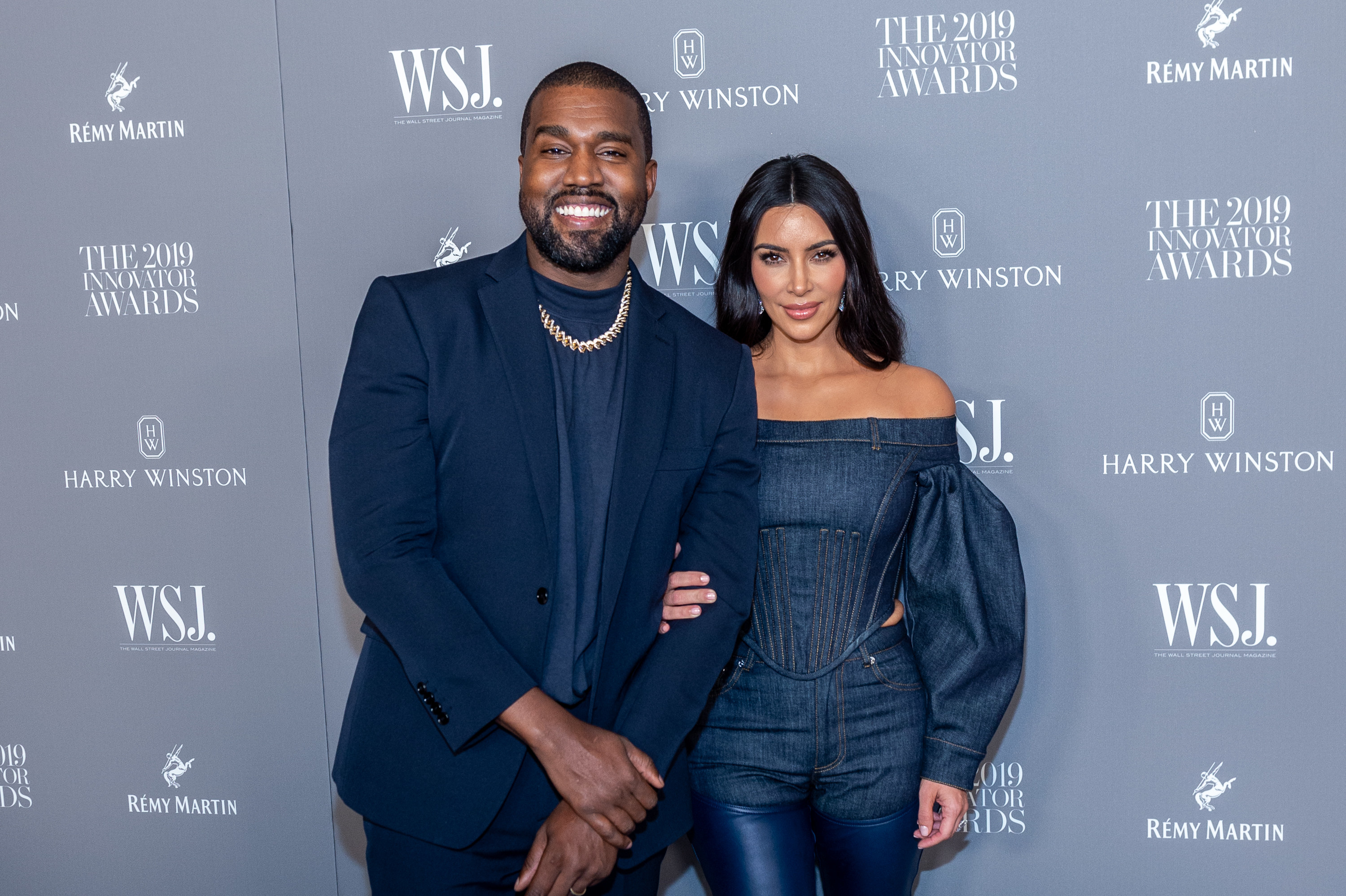 "These pics bother me. A little girl should not be subject to filter use or make-up. Let the damn kid be a kid and enjoy their childhood without starting to chip away at their confidence," someone wrote.

"I hate filters on children's pictures, filters distort your perception of your face," agreed another. "Kids should never be exposed to this, makeup filters are very different from fun ones like animal ears kids like to play with, he's got a point here."

However, the majority of fans suggested that if Kanye had an issue with the photographs, he should have dealt with the matter privately rather than broadcasting his concerns to millions of followers.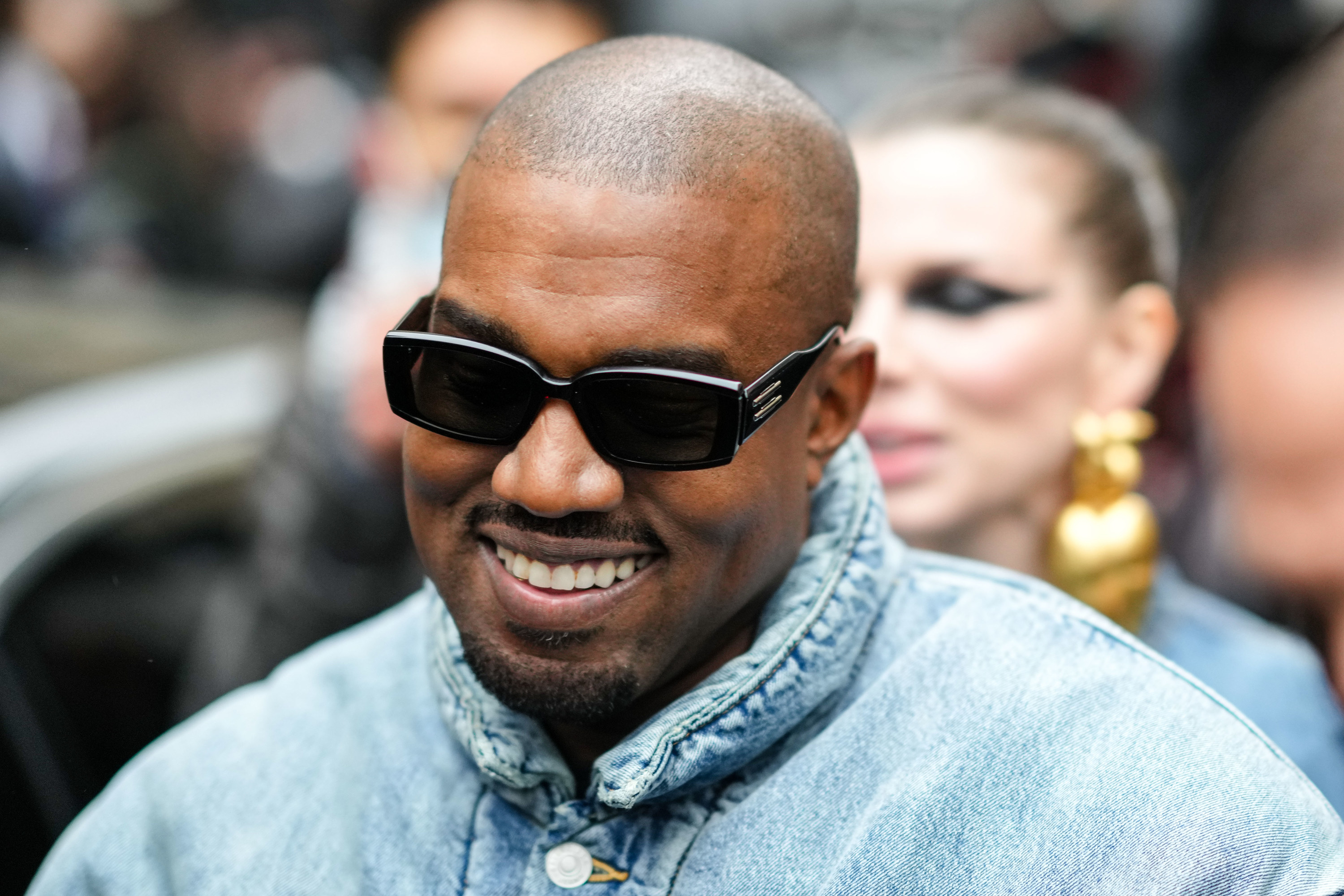 "As a parent, he has the right to be concerned but if that was the case then he should have texted Khloe privately instead of posting it on the internet," one person wrote.

"She doesn't look 'grown' she looks like the baby she is, is absolutely normal for kids to pose for pictures like that she's just making faces with her aunt nothing wrong with it, again, if he has a big problem with the pictures why repost it?" added someone else. "Most comments on his Instagram have such a negative energy[,] why expose your daughters to that?"

And others even felt that Kanye was perpetuating a wider issue by using the term "grown."
"[The] word 'grown' is a bit icky to use cause while I do find it strange that some parents feel the need to photoshop/filter their kid's faces, it doesn't mean they are necessarily trying to make them appear 'grown,'" someone wrote. "Phrasing is a bit inappropriate on Kanye's part."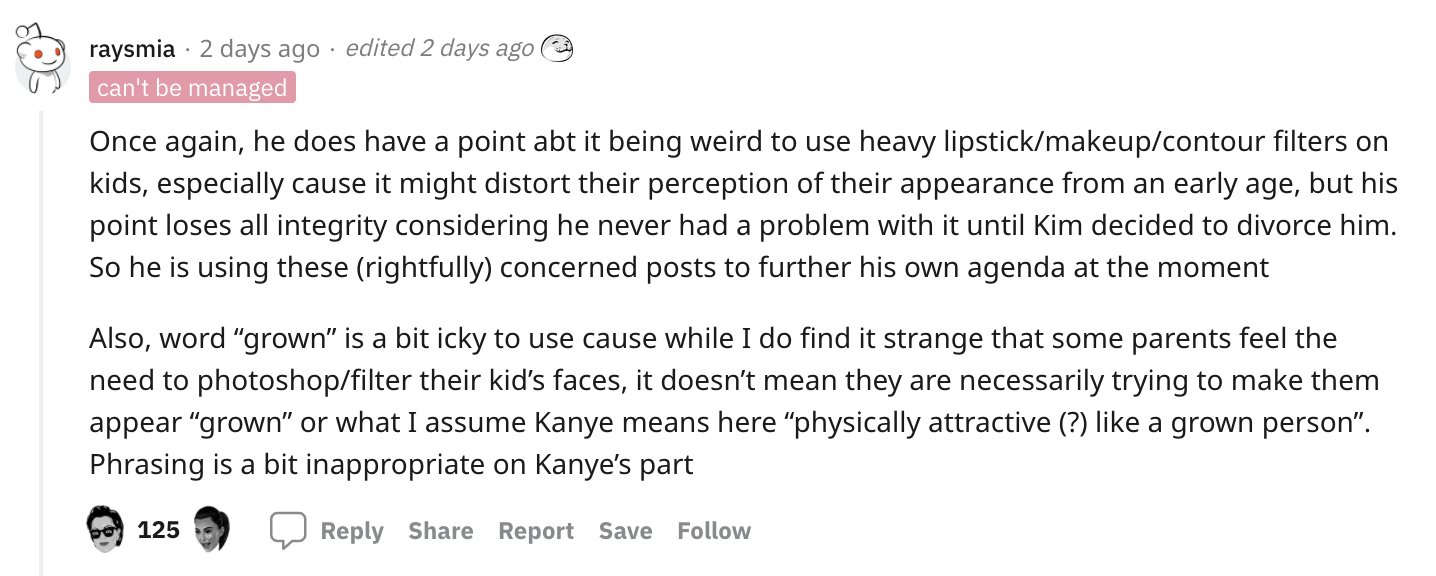 "I think he said Grown because Chi is posing like she's a teenager/adult. No [toddler] naturally [makes] duck faces. I think he has a point but the wording is off," responded another. "Him & Kim need to talk privately on how the children should be raised & they need to hear both of each other out."

Some also highlighted that Kanye's coparenting frustrations seem to typically center on his daughters rather than his two sons. This prompted one fan to criticize his seeming "fixation" on the girls and women in his life, including Kim, who recently accused him of trying to "control" her.
"I'm so sick of his fixation on the two girls specifically," someone wrote.

And of course, as many fans of the Kardashians will be aware, this isn't the first time that Kanye has expressed his concerns about his daughters' appearances.
Even when they were still together, Kim revealed that she had gotten "in trouble" with her husband for allowing their eldest daughter, North, to wear makeup on special occasions.
Speaking at an event in 2019, Kim had said: "I'd let [North] wear — you know, she has a little red for Christmas — I'd let her wear a red lip, or I'd let her do one pop of something. I'd let her, if she's wearing a black dress, a black lip. So I kind of got in trouble for that."
She went on to explain that Ye had decided to "change all the rules" and ultimately banned their children from experimenting with makeup until they are teenagers.
Interestingly, Kim told E! News shortly after that she and Kanye wound up getting into a huge fight about the subject, explaining: "North is trying to get in on the makeup but she's being blocked heavily because her dad has stopped all makeup for her until she is a teenager."
Around this time, Ye was also very vocal about how his renewed Christian faith had changed his perspective on parenting, particularly with regards to North, who is now 8 years old.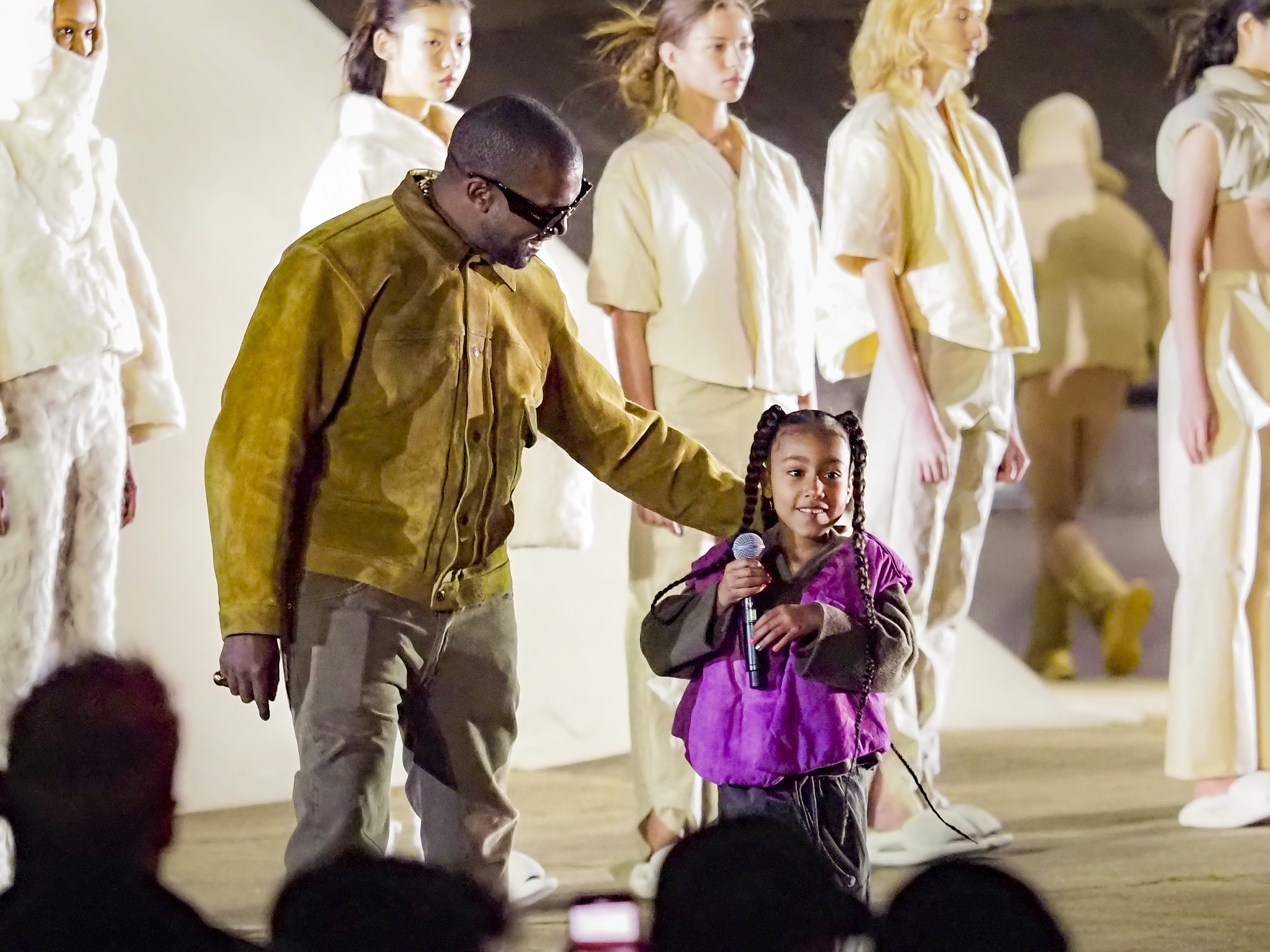 "I don't think North should wear crop tops just because I had her wearing a slip dress when she was 2 years old. I think and feel differently now, now that I'm Christian, now that I'm founder of a $3 billion organization and married for five years," he said during an interview with Zane Lowe in 2019.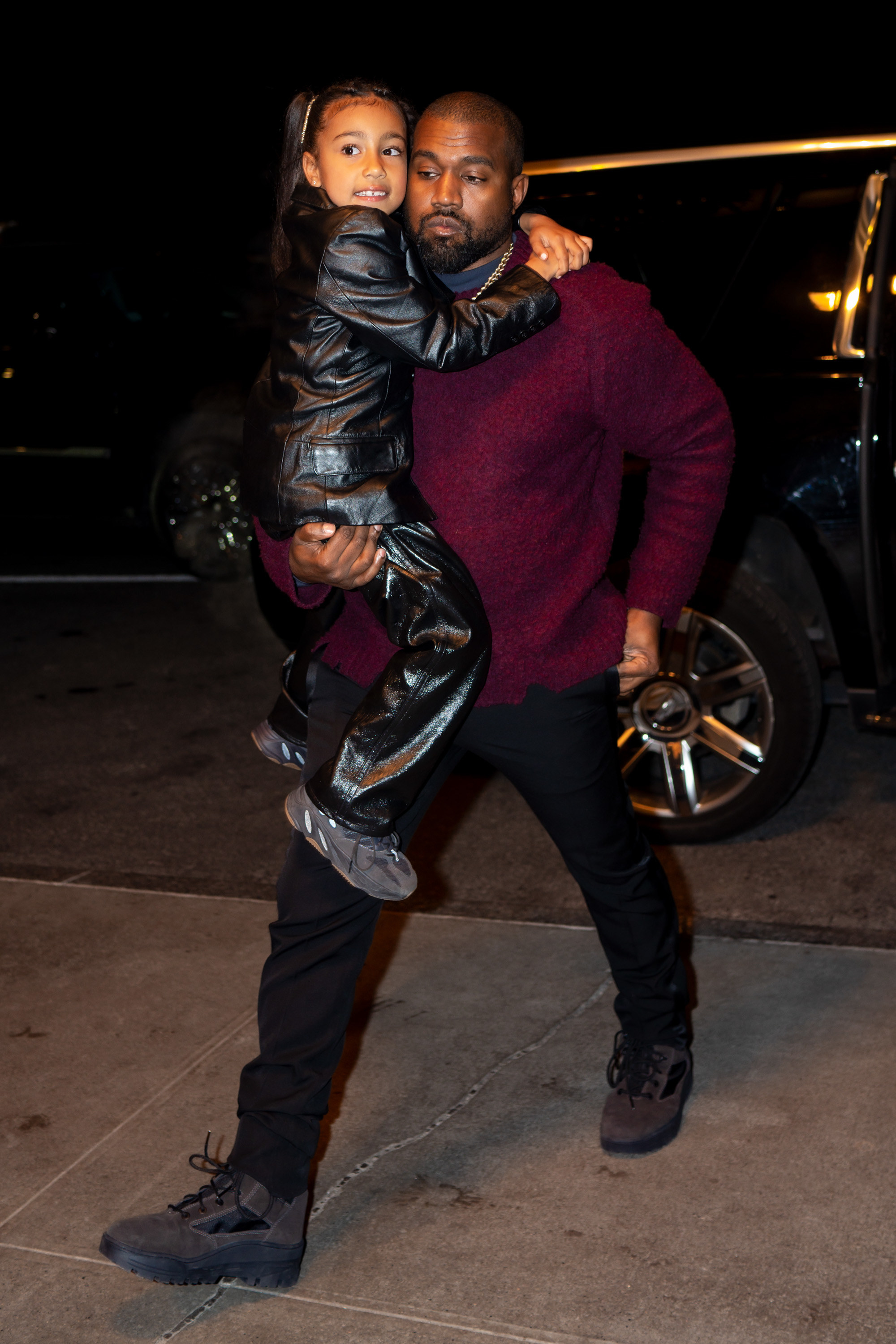 Three years and one divorce later, and it seems that Kanye still holds the same strong values when it comes to his daughters' style. Even as recently as last month, the father of four accused Kim of trying to "antagonize" him by allowing North to wear lipstick on TikTok.
As I'm sure you're already aware, Kanye has made it explicitly clear that he does not approve of North being on social media in general, but in a sit-down interview with Hollywood Unlocked in January, the rapper spoke more specifically about his daughter's online activity.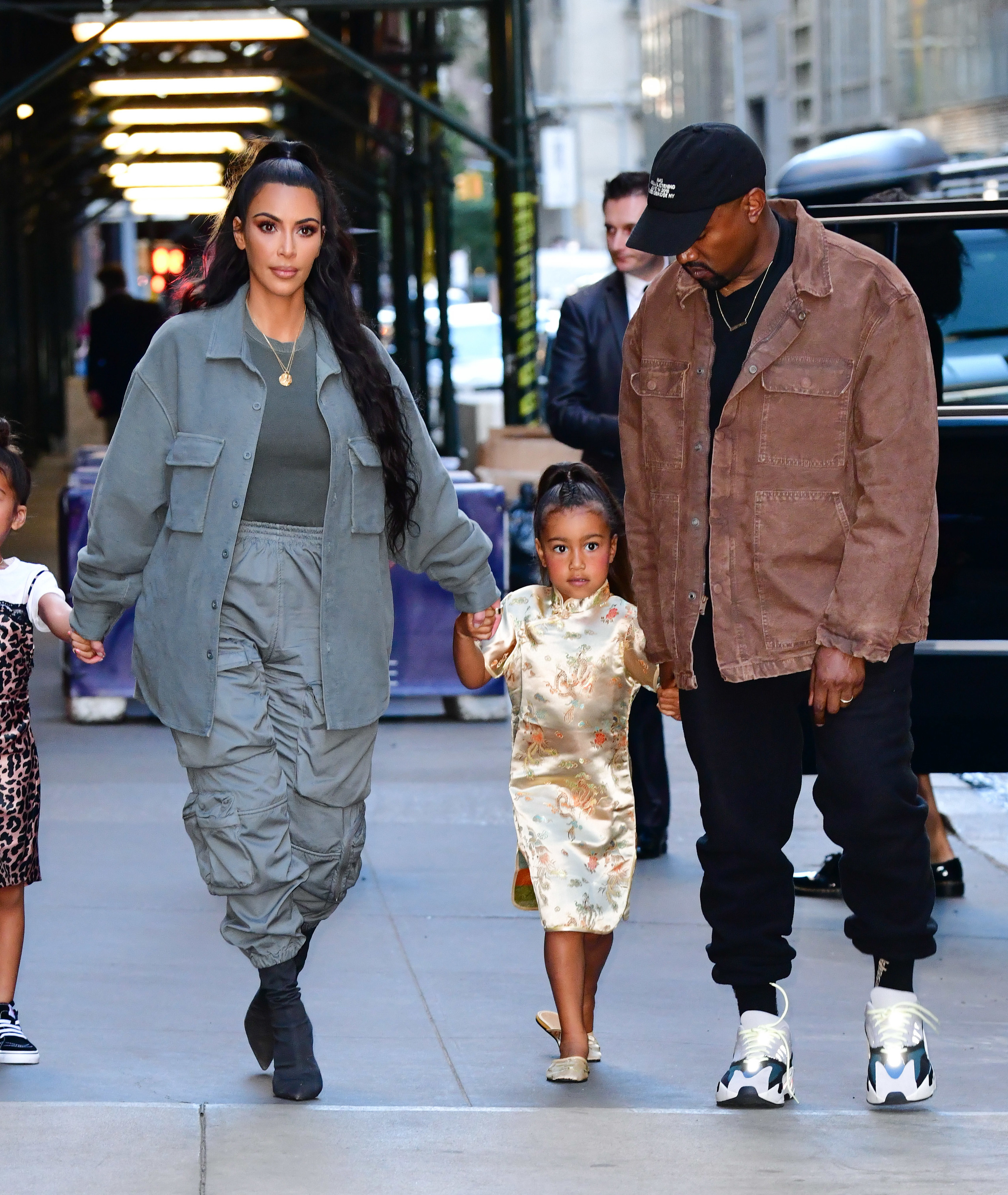 Because he didn't want to risk engaging in an "argument" with his ex, Ye explained that he recently sent his cousins to meet with Kim to discuss their coparenting arrangements with two specific "directives" in mind.
"There's two things I said, tell her — security not gonna be in between me and my kids, and also tell her, don't have my daughter wearing lipstick on TikTok," Ye said. "And don't have her TikTok at all if I don't approve that."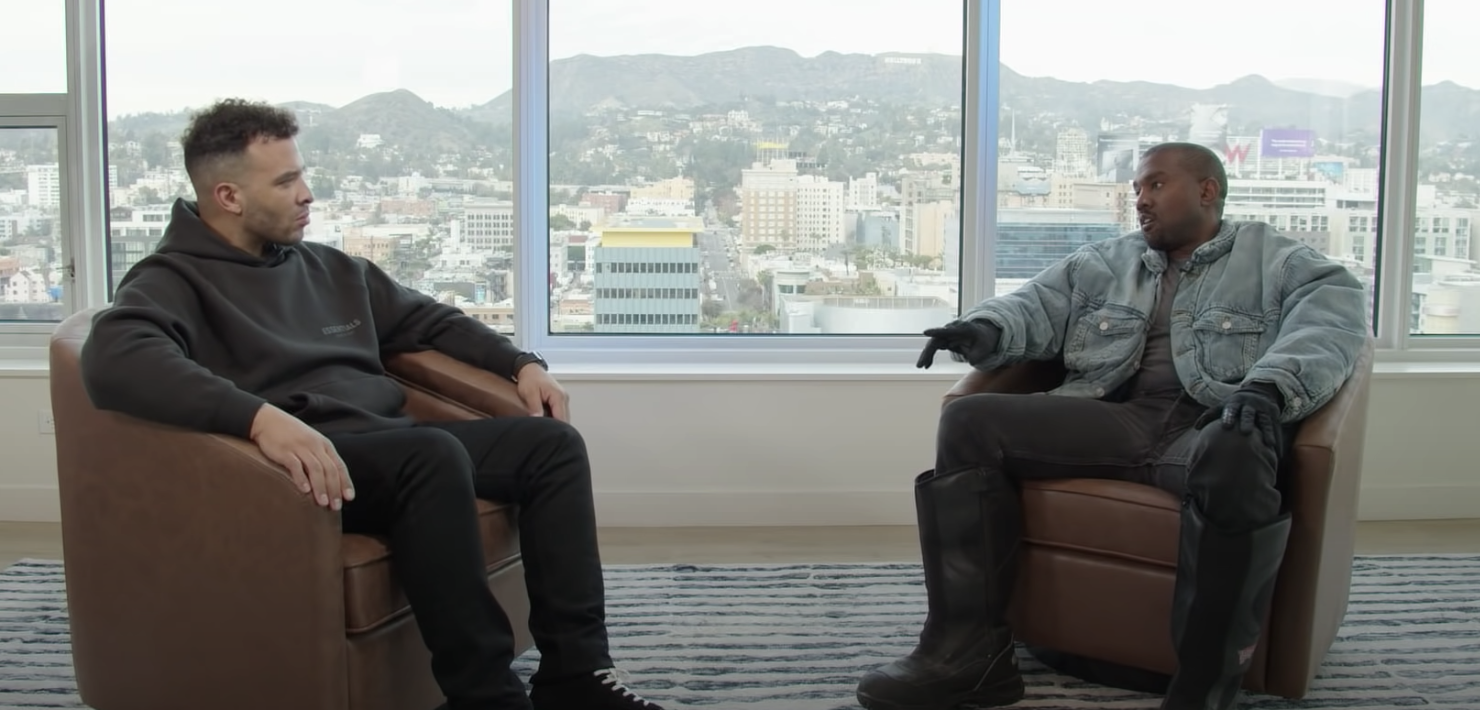 "And I said it after it was done without me knowing," he went on. "And then it happened again. So I feel like it's poking the bear or trying to antagonize me or create this crazy narrative."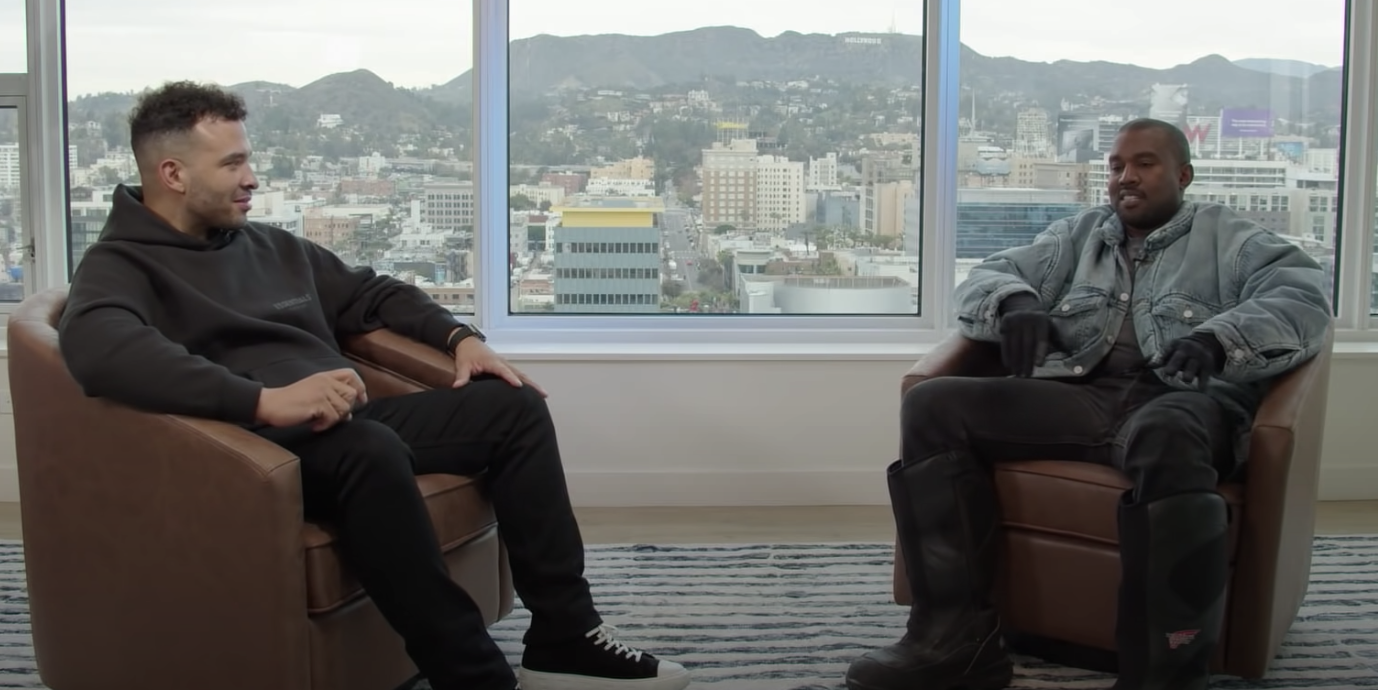 North — who posts on an account called @kimandnorth, which is managed by her mom — shared her first TikTok video on Nov. 25, 2021, and has only worn makeup in three of her uploads so far.
Interestingly, she has not posted on the account since Kim accused Ye of making "constant attacks" on her in her first formal statement against her ex, after he shared an Instagram post about North being "put on" TikTok "against [his] will."
In case you missed it, earlier this month, Ye sparked a rare response from his ex after he sought public advice on Instagram about North's TikTok account.
"Since this is my first divorce I need to know what I should do about my daughter being put on TikTok against my will," he wrote alongside a screenshot from North's page.
And despite Kim lying low throughout their recent months of conflict, she went on to directly address Kanye's post in an Instagram story of her own, suggesting that his "constant attacks" are actually "more harmful" than anything North might create on TikTok.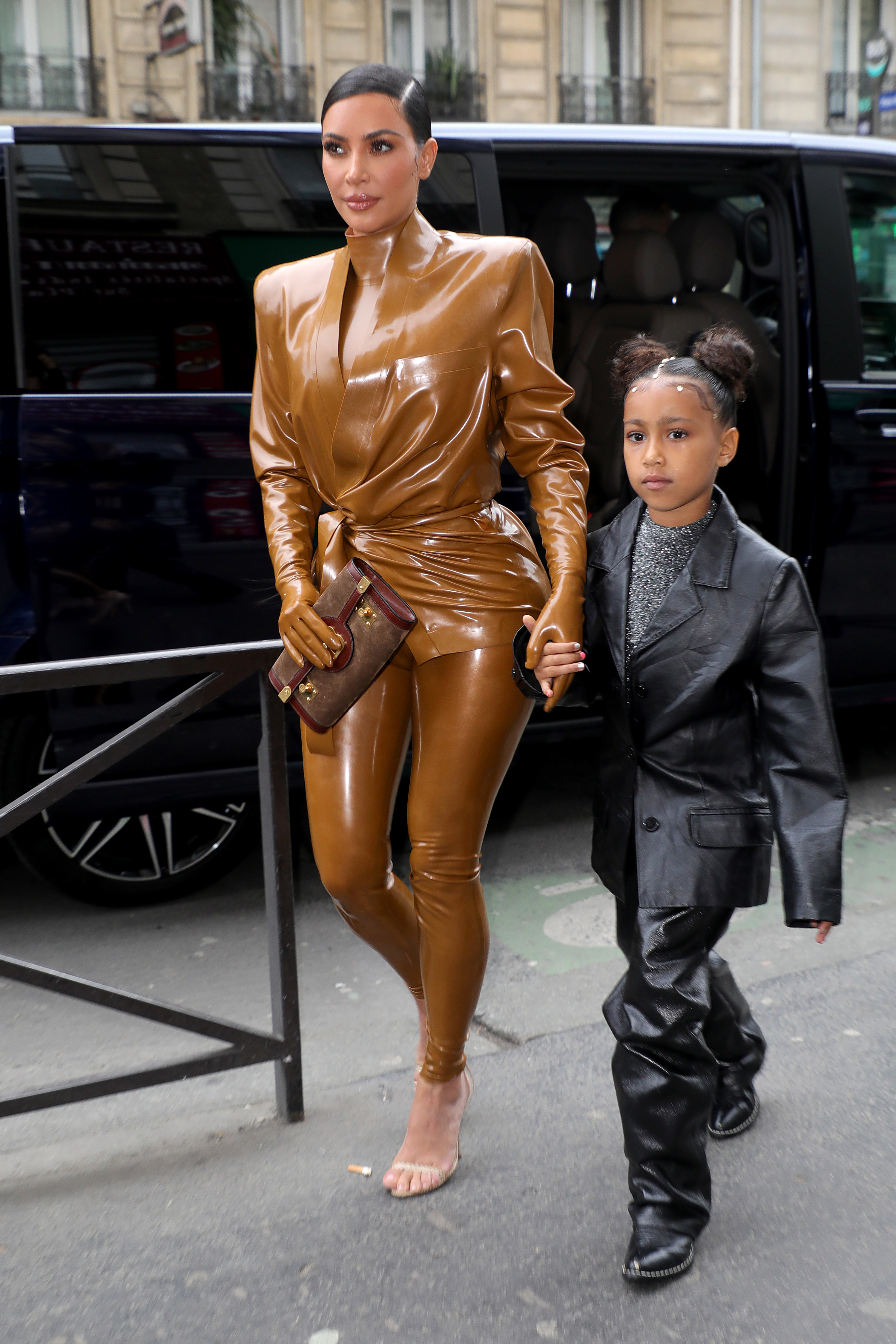 "As the parent who is the main provider and caregiver for our children, I am doing my best to protect our daughter while also allowing her to express her creativity in the medium that she wishes with adult supervision - because it brings her happiness," she wrote, addressing their shared TikTok account.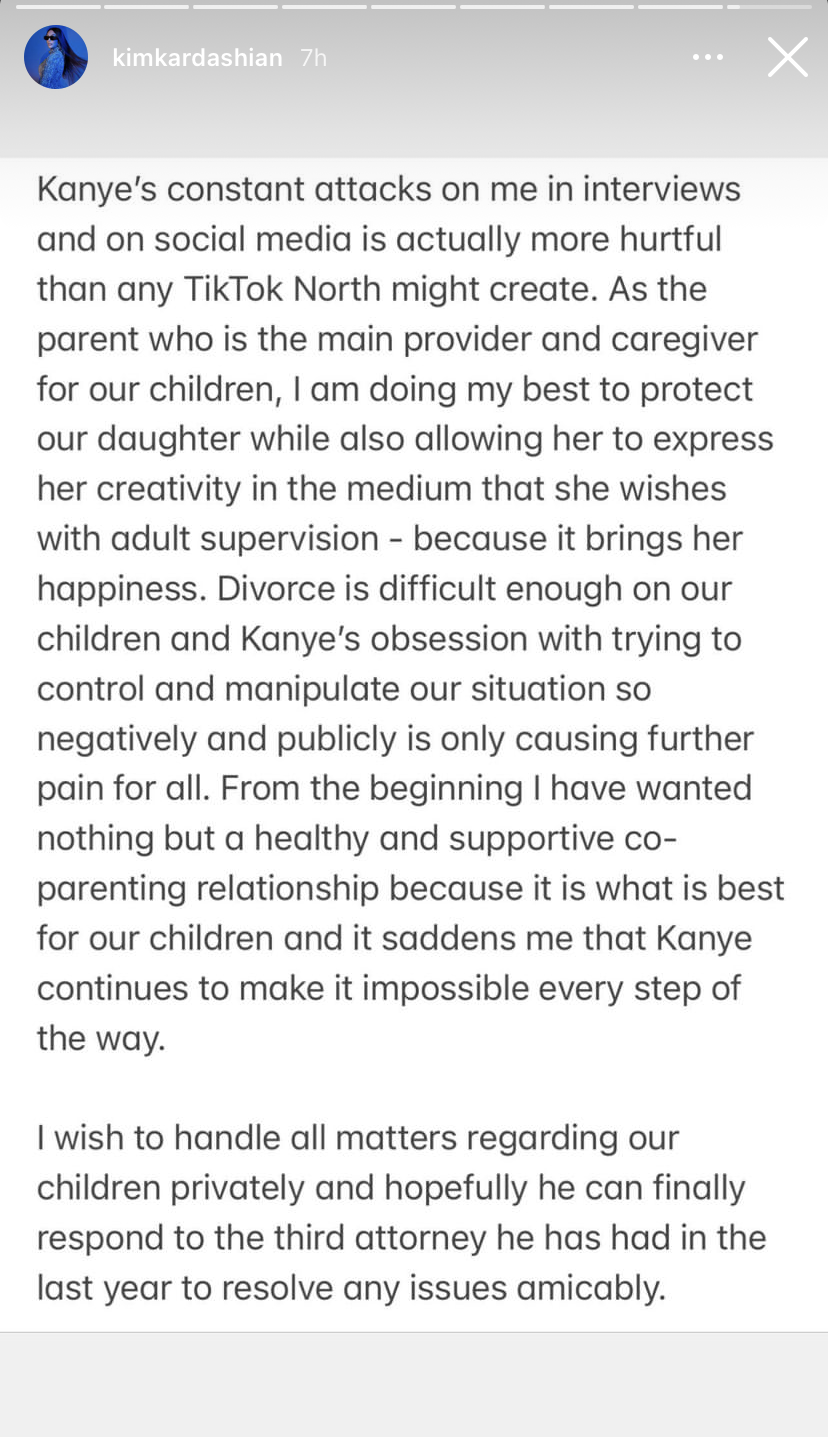 "Divorce is difficult enough on our children and Kanye's obsession with trying to control and manipulate our situation so negatively and publicly is only causing further pain for all," she continued. "From the beginning I have wanted nothing but a healthy and supportive co-parenting relationship because it is what is best for our children and it saddens me that Kanye continues to make it impossible every step of the way."